We use affiliate links. If you buy something through the links on this page, we may earn a commission at no cost to you. Learn more.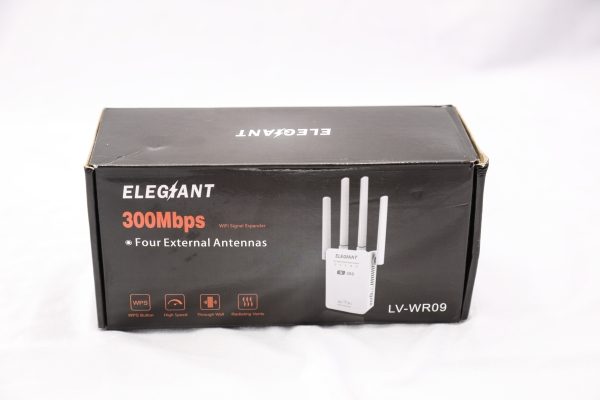 REVIEW – When I  use my own mobile hotspot at work, I often lose connection to it as I roam about my floor which is quite large. Knowing that an extender/repeater could possibly provide a solution for better coverage and signal strength, I accepted the offer to test this device that boasted an easy installation and solution.
What is it?
The ELEGIANT 300Mbps Wireless Signal Booster WiFi Repeater is a device that can work as a signal relay or access point to provide extended wireless access to your router.
What's in the box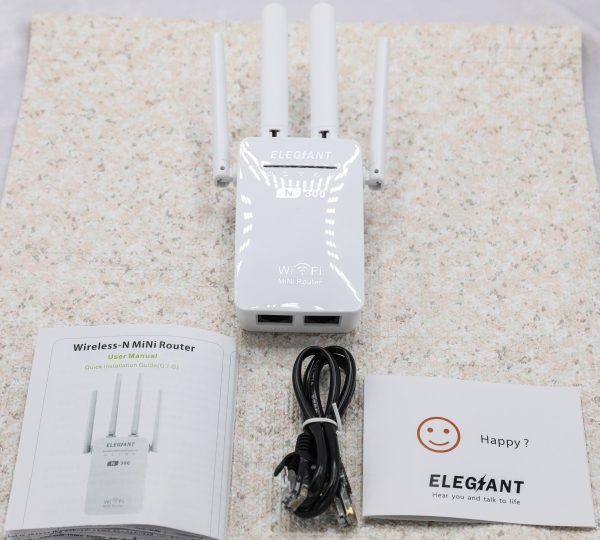 1 x ELEGIANT 300Mbps Wireless Signal Booster WiFi Repeater
1 x Ethernet Cable
1 x Instruction Leaflet
1 x Contact Card
Design and features
The ELEGIANT 300Mbps Wireless Signal Booster WiFi Repeater is a small white box measuring 4″ x 1″ x 2.25″, with 4 antennas attached and a built-in AC plug.  The antennas are on hinges that allow you to move them around for the best signal strength. On the front of the device, there are 5 LEDs that represent the following from left to right:
1. Power
2. WPS
3. WLAN
4. WAN
5. LAN
It operates in 3 modes: Repeater Mode, AP Mode, and Router Mode. In the router mode, you can create a wireless network and share Internet access with to multiple Wi-Fi devices. In the repeater mode, you can extend the wireless coverage range, and in AP mode you can connect to a wired network and share your internet connection. It provides 360-degree coverage.
Never miss one of our posts again. Sent MON, WED, and FRI with the latest gadget reviews and news!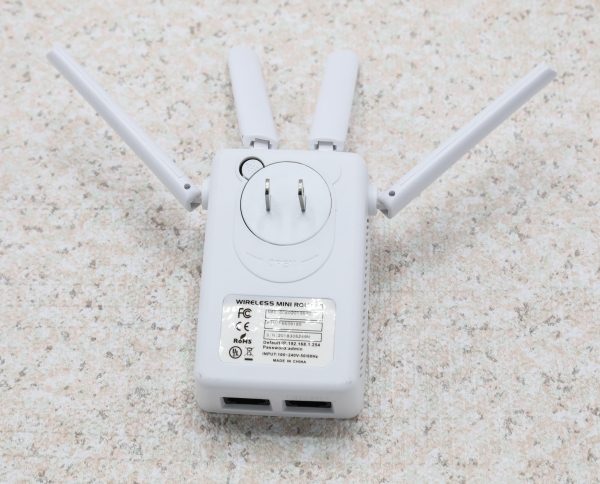 On one of the short side of the device, there are 2 Ethernet ports for the WAN and LAN connections.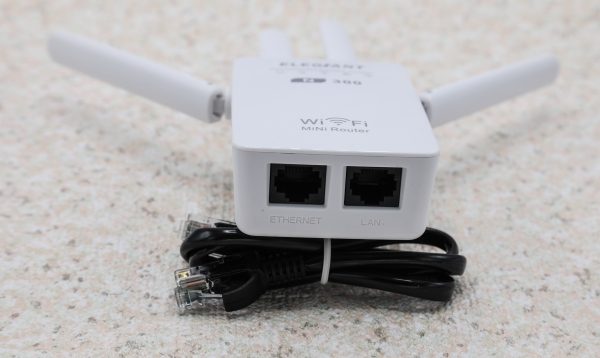 On one of the long sides, there is a Reset button, a WPS button, and air vents.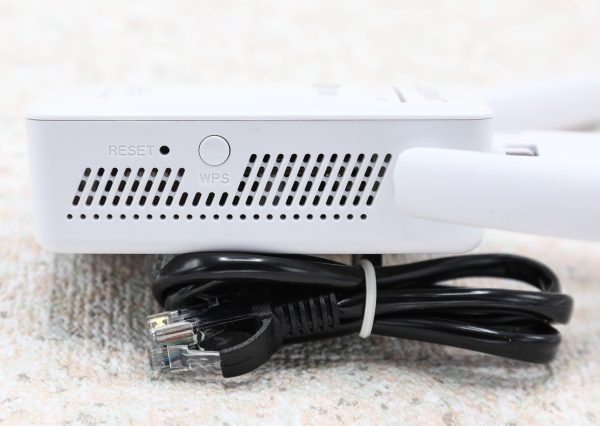 Performance
The instruction booklet gave precise directions, and setup was easy once I connected to the Elegiant. I used my iPad Pro 12.9 to set up the device, and I did have to try a few times including starting over and refreshing the browser to get all of the settings to load completely. This started with the login screen. Since this could be caused by uncontrollable things like environmental interference, I will not blame the device. However, the distance between the Elegiant and my mobile hotspot was only about 2 feet. The actual configuration process was very easy and straightforward. For this review, I set mine up in the relay mode to extend the signal coverage. Here are some of the setup screens:
I work in a high security IT environment, and signal interference is very present. For several reasons, I was only able to place the repeater about 3 feet away from my mobile hotspot. Nevertheless, I was completely impressed by the performance of this device. It literally doubled my wifi range and that is despite the fact that when I move around my floor, there are multiple security doors in between me and the repeater. Based on this experience, I suspect that the other 2 modes will provide the same level of performance.
What I like
The small and compact size
The user-friendly browser GUI
The consistent wireless range it provides
What can be improved
The browser settings and how slowly and inconsistently they load.
Final thoughts
The ELEGIANT 300Mbps Wireless Signal Booster WiFi Repeater is a very useful device that performs a very useful and needed function and does it very well. The small footprint means that it can be present but hidden, and the range is superb for its specifications. I do know that there is an AC1200Mbps version that is available, and likely provides even more range and an even stronger signal. Based on the performance of this 300Mbps model, I am very pleased and now very eager to get the chance to test the 1200Mbps model.  For the price, this is a win.
Price: $26.99
Where to buy: Elegiant website or Amazon.
Source: The sample for this review was provided by Elegiant.