We use affiliate links. If you buy something through the links on this page, we may earn a commission at no cost to you. Learn more.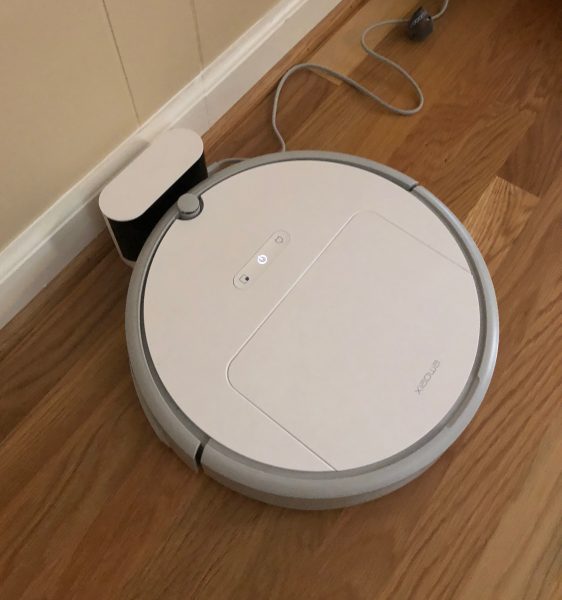 REVIEW – Robotic vacuum cleaners have been around for at least the last quarter-century, but the idea goes back much further. While they don't look like Rosie from The Jetsons, the idea of a machine to pilot itself around your home, rather than you having to guide the nozzle of a machine around is home automation gadget dreaming at it's finest. Xiaowa has released a new entrant into this category, the Xiaomi Lite, and sent one to The Gadgeteer for testing. Despite protests from Jack, our Sheltie, we've been giving this thing the run of the house for a few weeks now. Read on for the results.
Note: Photos may be tapped or clicked for a larger image.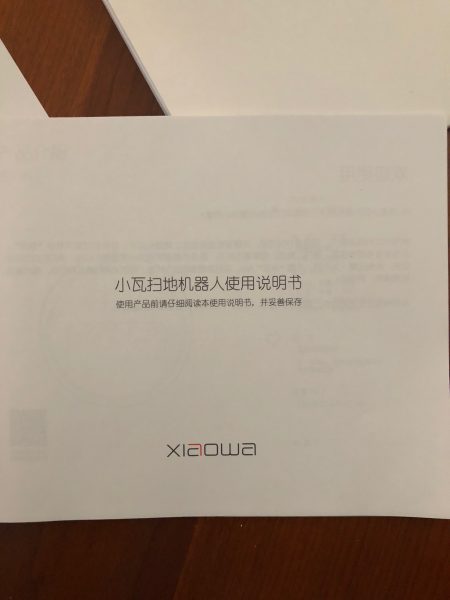 What is it?
The Xiaomi Lite is a white disc 13.5" x 3.5". It roams the floors randomly, sweeping dirt and debris into an inner dustbin. There is an IR sensor across the front that it uses to home in on the charging dock and to slow it down as it approaches walls. There are also two physical bumpers that tell it when it's run into something. One is the entire front of the disc, and the other sticks up from the center front to measure the height of overhangs.
What's in the box?
Assembled vacuum unit
Charger
Power cord for charger
Cleaning brush (with hair remover pick)
Instruction sheet with no Roman characters whatsoever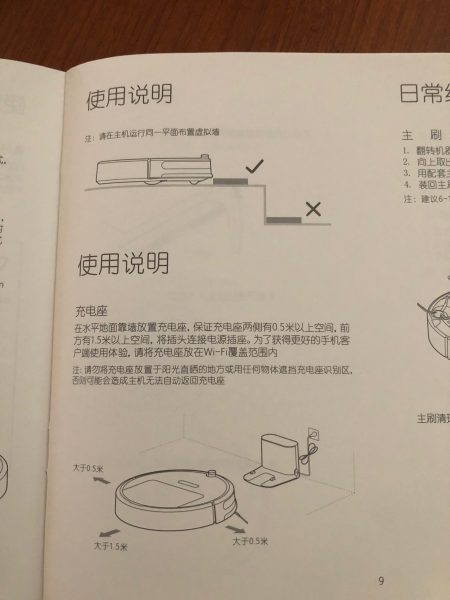 Design and features
The Xiaomi Lite (or Rosie, as we nicknamed it) is not programmable, as some units are. That said, there are some internally programmed obstacle avoidance actions, which may or may not be included in the instruction sheet. There are instructions given in very clear English when certain things happen: "Charging" "Starting with the cleanup" "Dustbin removed" "Dustbin replaced". There are three buttons on the top center area and a flap door that can be lifted to reveal a containment box. This can be removed and easily shaken out into a trash can. It holds maybe a cup or more of debris. There are clear English warning labels to not rinse or remove the filter. I did clean the filter out with some canned air out in the yard since it gets a coating of fine dust after a few loads of dog hair and other debris.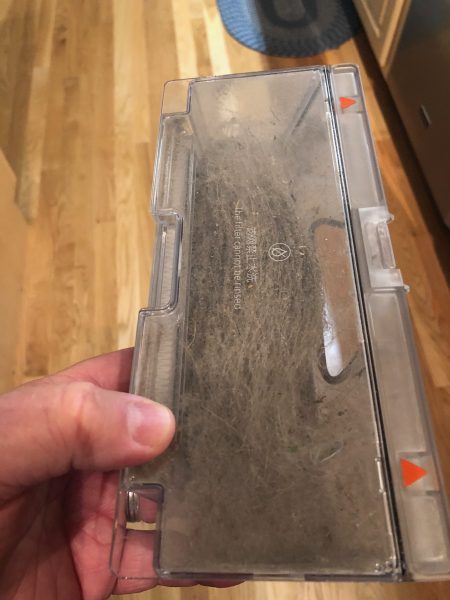 To start the cleaning process, you simply press the illuminated power button, and she announces "Starting with the cleanup." From there, it just ricochets around the room until the battery runs down when it returns to the charger and announces "Charging." I only had it get stuck once under a piece of furniture where it stalled out and said some warning. (I was in another room and heard it dimly through the headphones I was listening to.) It had turned off the motor and was wedged under the decorative scrollwork under our hall tree. The only other times I've seen it get confused is around the chairs in our dining room. When all 5 chairs are under the table, that's 24 legs with some truly random clearances. Rosie manages it well, but I think it is a drain on her batteries since there is so much hacking and backing involved.
There is another button to the left of the power button. When this is pressed, the Xiaomi Lite says "spot cleanup" (I think), and starts cleaning in concentric circles. This continues until the circle is about 4' across, then reverses and going back to the center. (In an unplanned accident just before I posted this, the dog's food bowl was kicked over, and the area needed a spot cleaning. Here's the video.)
If you have a spill or especially dirty area, this would handle it well. I used this in the center of the sewing room, and it got almost a full canister of dog hair, loose threads, and tiny snips of fabric the color of the rug. This is a very nice feature.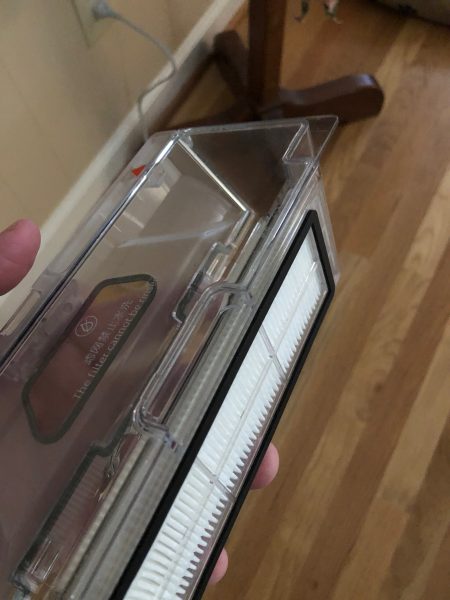 The charger has a black window with some sort of homing beacon inside. It's a 4" high x 5" x 2" tower with a 4" charging apron in front. There was never a time when the Xiaomi Lite ran low on battery and didn't know how to get back to it, which is not the case for some, according to friends who have used other brands. We're supposed to leave half of some distance to each side and 1.5 of the same distance in front to allow it to enter. (See photo below) We have it set about 14" from a hat rack and open in front and to the other side, and as I said, never had an issue. (see video of self-docking)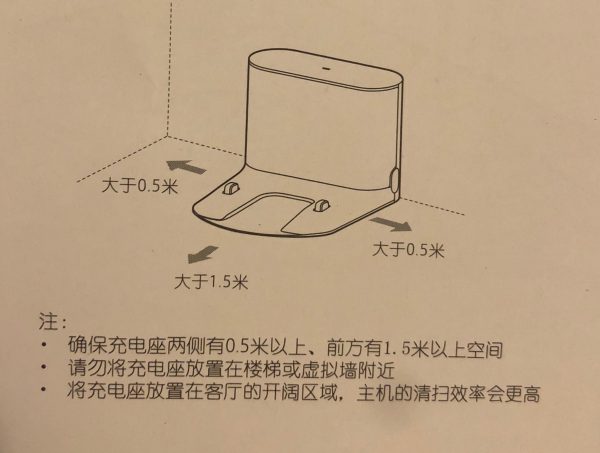 Setup
Setup is pretty minimal – unless you have stairs or wires running over the floor. If it's safe for your toddler or your 90-year-old mother, the Xiaomi Lite can probably navigate it. If not, you'll need to block off areas you don't want it to get lost in. We close off the hall bath (two loose rugs), my office (too many wires), The Lovely Bride's sewing room (fabric, pattern papers, and sewing machine pedals), and the master bedroom (cords under the bed for chargers and the Sleep Number pump.) Other than surprising Jack on more than one occasion (he won't believe that just getting on the couch will keep him safe!), we really didn't have any issues.
According to the website, you can use it with an Alexa-powered device. (We are the only household in the US that has held off from buying into this use of our Prime account.) There is also an app, but I could not get it to pair to my Wifi router. It's not compatible with 5GB wifi.
Performance
The Xiaomi Lite runs fairly quietly and reliably. Obviously, it's louder on hardwood floors than on carpet or rugs, but it makes the transition between the two without issue. (We have no shag, fringed, or loose throw rugs, which may be part of this. All of our rugs are straight-edged and short napped.) The Xiaomi Lite speeds up across open floors but slows when approaching a solid wall or furniture. If the obstacle is solid, it will just tap it, but if it's light enough (like my Grandmama's antique rocker), it may push it a bit. Sometimes, this results in trapping itself into a corner, which is irritating, but it's rare.
What I Like
Picks up trash well
Returns to base to recharge reliably
Avoids most obstacles
Gets under furniture
What needs to be improved
No automatic start (without an Alexa device)
No known programmability
Seems very random in coverage
Final thoughts
I've been talking with friends since getting this unit, and have been surprised how many have one and use them constantly. During a visit to my doctor, for instance, she was having an issue with her chair being stuck under the table leg and I laughed and commented that it was similar to this robotic vacuum I've been testing out. This launched us into how they clean and different models, etc. She's had them for years, and we talked about it for several minutes. I also read up on how some models map the home and can clean systemically, rather than randomly. While this is not part of the feature set of the Xiaomi Lite, the ones that offer this are also selling at much higher price points! If you want a basic automatic vacuum that will spot clean or get the greater part of the random household mess, this could be just the thing. If I didn't have this, I'm not sure I would go out and buy it, because the carpet in the three rooms we block off still require dragging out the manual vacuum. If I could have it reliably run while I was at work, and know it wouldn't get caught under a chair or caught up in one of Jack's beds, it might make a difference.
Price: $149.99, normally $241.64
Where to buy: GeekBuying
Source: The sample of this product was provided by GeekBuying.