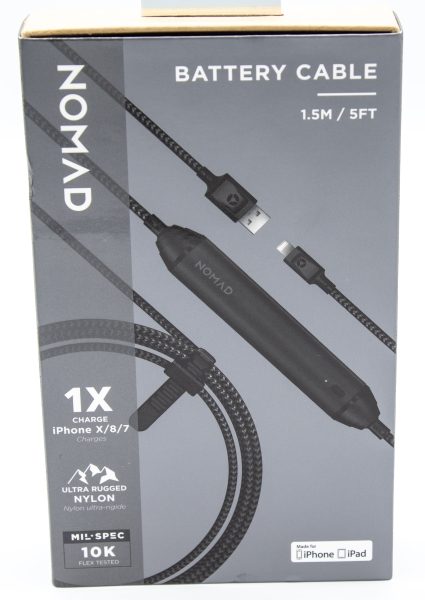 REVIEW – If you depend on your smartphone as much as I do, then anything that adds convenience is worth at least a "second look", and in many cases, is worth trying. When I saw the Nomad battery cable, its initial appearance seemed to be unique, so I decided to test it out.
What is it?
The Nomad Battery Cable is a cable designed for the iPhone that offers the ability to charge the phone and transfer date all in one cable, with a lightning adapter on one end, an inline battery, and a USB plug on the other end.
What's in the box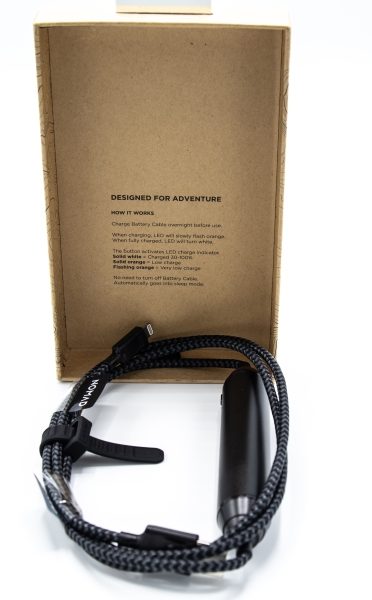 In the box, you will find the Battery cable, and the instructions printed on the inside of the box.
Design and features
Specifications
1X iPhone charge
Apple MFi approved
Pass-through charging technology
Capacity: 2800mAh
Input: USB A 5V/1.5A
Output: Apple Lightning 5V/1.5A
Length: 1.5 meter
The Nomad Battery Cable is a rugged cable that according to the manufacturer is made from Ballistic Nylon. The inline battery is encased in an aluminum housing. This cable is compatible with the iPhone 5 through iPhone X, and it is not designed for iPad. When fully charged, the inline battery is capable of providing one full phone charge. During testing, my iPhone 8 Plus was charged at about 20% per hour.
The cable is 5 feet long, with a USB connector on one end and a lightning connector on the other. The inline battery starts at approximately 11 inches from the USB end of the cable and the length of the battery enclosure is approximately 5 inches long.
Nomad includes a silicone cable strap on the cable to conveniently keep the cable wrapped up neatly when not in use or when in use in close proximity.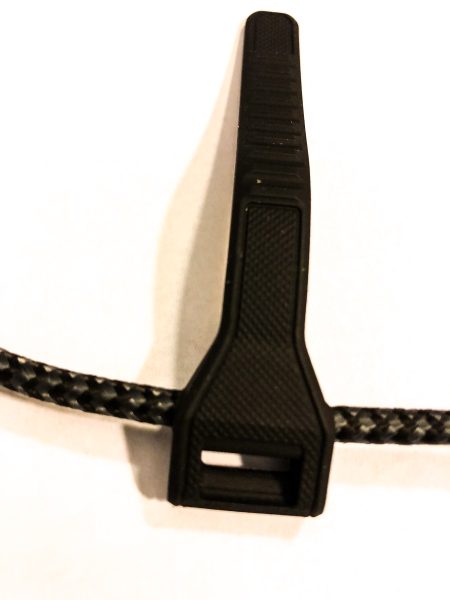 Rather than include an instruction booklet, Nomad uses a minimalist style and prints the instructions on the inside of the box.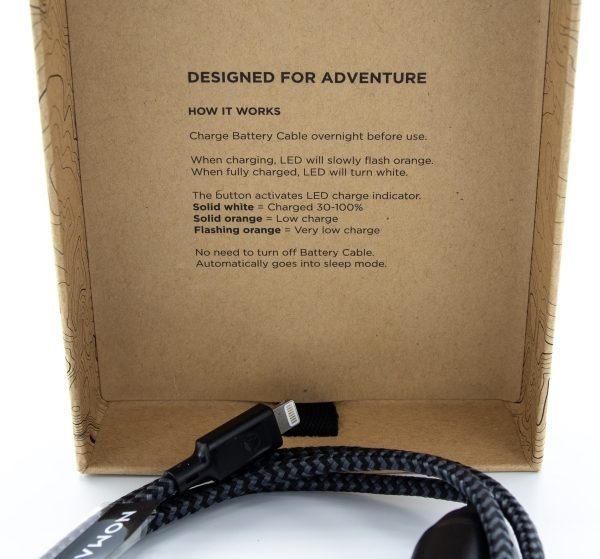 On the side of the battery enclosure, there is a button to test the battery charge status, and a LED that lights orange when the battery needs to be charged or is less than 30 % charged, and lights up white when it is fully charged or charged anywhere between 30% and 100%. If the battery charge is really low, the LED flashes orange.
What I like
I like that the cable is made extremely well, and seems very unlikely to easily suffer from the fraying damage that most cables do. I also like that the battery is built into the cable so that I can carry just this one cable for both data and charging purposes.
What can be improved
I find that the length of the cable can become an issue at times even with the silicone strap. I think that if the cable can be housed in some retractable way, then it would work better for my daily use.
Final thoughts
After using the Nomad Battery Cable for a while, I am still "on the fence" about whether or not it will become a part of my "go to" bag of accessories. While the concept is good, I can buy a USB battery pack with more capacity and a well-built lightning cable for much less than the cost of this item. While this cable offers the two options in one convenient package, its use is limited to specific phones and to only providing one charge before it needs to be recharged. It can definitely be very helpful in an emergency, but I am undecided about its practicality beyond that. Maybe I will post an update in a month or two if my opinion changes.
Price: $49.95
Where to buy: Nomad website and Amazon.
Source: The sample for this review was provided by Nomad
Some of our links in posts like this one are affiliate links, which means that we may receive a small commission on purchases at no cost to you.