We use affiliate links. If you buy something through the links on this page, we may earn a commission at no cost to you. Learn more.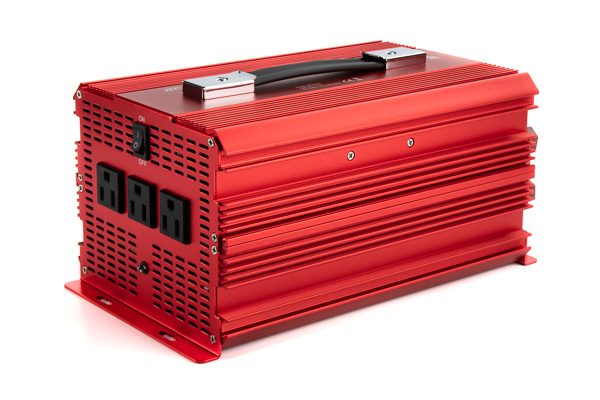 Electrical Power. It's such an integral part of our everyday life that we don't give it much thought until it's not available. The BESTEK 3 AC Outlets 2000W Power Inverter is a great solution for just such a situation.
What is it?
The BESTEK 3 AC Outlets 2000W Power Inverter provides up to 2000 watts of 115v power from a 12v battery (or two). It coverts 12v DC power to 115v AC power.
Hardware specs
Rated Power: 2000W, Max Power: 2300W
Peak Power: 4600W
Input: DC 12V (12V Car or Boat but not 24V)
Output: AC 110V-120V
Outlets: 3 AC
Weight: 10lb
Fuses: 6 external 50amp fuses
What's in the box?
BESTEK 3 AC Outlets 2000W Power Inverter
Two sets of cables to hook up to batteries
12v cigar type plug for low power use (300w max)
Instruction sheet
Design and features
This review isn't designed to be a primer on the ins-and-outs of power inverters, so you'll want to do little research on your own for what you intend to run off the inverter. I don't recommend just plugging things in just to see if they'll work, a little research is best. I will say though that questions like "how long will it run" or "how much stuff can it run" will vary depending on how many and what kind of batteries you're using, and the power requirements of the devices you're connecting to it. Good Deep cycle marine rated batteries are a good source for things like this.
This is a modified wave inverter. Some motorized items such as water pumps may need a more expensive true sine wave inverter. This inverter should run just about anything that has a power plug that converts to DC such as a phone charger, laptop charger, clocks, etc. However, for those DC items that are less than 12 volts, you would be better off connecting them to a straight 12v source, as you'll lose a lot of battery potential by converting the 12v to 115v just to then have its power cord convert back to 12v.
It can run most refrigerators, freezers, small kitchen appliances, microwaves, lights, and TV's just to mention a few. Some items like some high end blenders might not work as they take quite a bit of current to get started. For example, something as simple as a toaster can draw up to 1600 watts!
The clamps are pretty good, I've seen heavier duty clamps but these seem like they will work and last just fine for the job they are intended to do. The wires are both crimped and soldered to the clamp, and the entire clamp is copper. The eyelet of the wiring is very good, it is also crimped and soldered very nicely – and I've got a military electronics background.
Although the instruction sheet doesn't mention it, there is a warning label on the 12v cigar plug cord that states connections using that are limited to 300w. That's perfectly normal because the wiring in a vehicle and its fuse won't handle more than that.
The inverter also has circuitry to automatically shut down in the event of a short-circuit. The unit will also resume working automatically after these events are eliminated. This prevents damage to the unit.
I tried various items like my Surface tablet, phones, clock, and some lights. All worked just fine. Most importantly, the coffee maker worked!
What I like
Carry handle for portability
Beautiful anodized finish
Auto protection circuitry
What needs to be improved
Would be nice to have 12v plug outlet incorporated into the unit for charging phones and such.
Final thoughts
This unit is a nice thing to have around for emergency uses. If you're planning on using an inverter for continuous or frequent use, or off-grid use where it's really important you might want to find a unit that has more features.
Price: $139.99
Where to buy: BESTEK
Source: The sample of this product was provided by BESTEK