We use affiliate links. If you buy something through the links on this page, we may earn a commission at no cost to you. Learn more.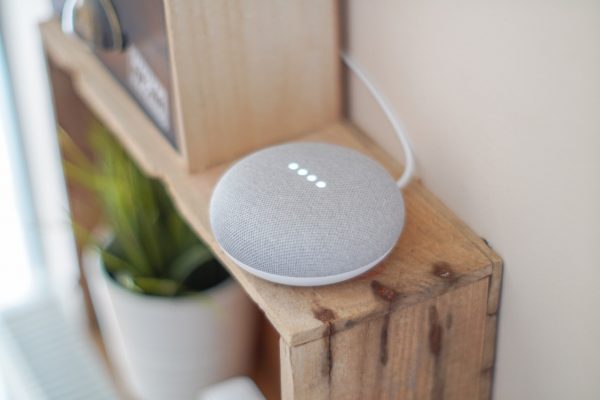 Depending on the terms of your rental agreement and the flexibility — or lack thereof — displayed by your landlord, it may not be possible to install smart home items in your abode if they require making permanent alterations.
Fortunately, there are still plenty of high-tech items that cater to your apartment-based lifestyle.
Smart plugs let you turn your residence into a smart home and control your lights or appliances with an app. The especially convenient thing about the Belkin Wemo Mini smart plug is that it connects to an existing outlet without obstructing it or otherwise compromising its future functionality.
You can use the app to set a timer for the gadgets you plug in, such as a fan to keep your indoor dog cool while you're at work. The plug also has an Away mode that randomly turns lights on to make it seem like you're home, making your residence less obvious to potential burglars on the prowl. ($34.99)
A Google Home smart speaker can answer your questions, give you reminders about your schedule and help you call friends with the integrated speakerphone feature — and that's just the start.
Set it on a table or choose another prominent place in your home, then see how the speaker helps you get things done more efficiently by using your voice. It also integrates with numerous smart home gadgets. That means you may find that it works with some of the other smart tech you decide to buy. ($99.00)
The bathroom is probably among the first areas of your apartment you visit after waking up, and it's a factor you probably made sure to assess when renting your first apartment and all the residences after that one, if you've lived in several.
This ultra-fancy mirror ensures you can start using tech as soon as the day begins, and you can interact with it while brushing your teeth, washing your face and otherwise getting ready.
It offers Wi-Fi connectivity and a disappearing TV screen that's only 1.5 inches thick and streams content from DirecTV or YouTube. Furthermore, the mirror streams content from Spotify and features integrated speakers, letting you hear favorite tunes.
Features like a clock, calendar, stock ticker, weather forecast and public transit information give you the crucial details needed to feel informed each morning and any time after that. ($929.00 and up)
This plug-and-play option features a sturdy base and a magnetic stand, letting you place the camera almost anywhere in your apartment to keep an eye on things. If you purchase a Nest Aware subscription along with this gadget, the service records footage 24/7 and stores 30 days worth in the cloud for your later review.
Nest Aware also uses intelligent algorithms that recognize people and alert you if things happen in areas of your house you deem most important, such as the baby's room or a home office that features computing equipment and a valuable painting on the wall.
The Nest Cam has a built-in microphone and speaker, allowing you to use the app to talk to an anxious pet or clarify instructions for a house sitter, plus listen to what's happening in the apartment. Since it's an easily portable piece of smart tech, you can also take it other places if you move.
($149.00 and up for the camera, with prices ranging from $5.00-50.00 for the Nest Aware subscription, depending on the billing cycle.)
This sleek and modern table lamp offers just the right amount of light for every moment, courtesy of a dimming remote and a complementing app. You can even set it to display a particular color to set the mood and impress friends.
Compatibility with the Google Assistant and Amazon Alexa make this Wi-Fi-enabled lamp one that listens to your voice too. ($199.99 for the lamp and $49.99 for the Hue Bridge accessory that makes the lamp work with the app and voice controls.)
Start customizing your apartment today
Living in an apartment doesn't have to make you feel limited concerning what you can do to make the place your own. These gadgets help you set up the abode so that it fits your tech-savvy lifestyle — and you won't have to worry about that annoying the landlord.
Image by John Tekeridis