We use affiliate links. If you buy something through the links on this page, we may earn a commission at no cost to you. Learn more.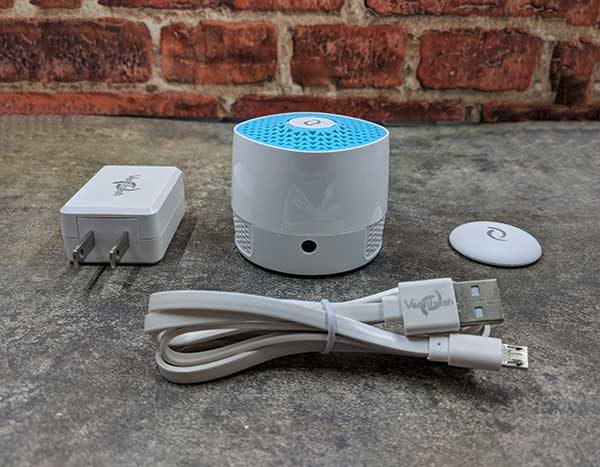 Do you have any small spaces in your home that are stinky? Maybe it's a trashcan in the kitchen, a closet where you keep your sneakers, or maybe it's your cat's litter box? How do you get rid of odors without burning candles or spraying aerosol air fresheners that just cover up the stink with a new odor? That's what I was wondering until I received the VentiFresh air purifier.
What is it?
The VentiFresh is a very small air purifier that uses photocatalyst technology which is the same tech used on the international space station. According to the VentiFresh website:
Put simply, the UV catalyst core inside VentiFresh decomposes odor through natural photosynthesis and produces clean air as a result.
What's in the box?
VentiFresh air purifier
Mag dot steel mounting button
micro USB power cable
USB AC adapter
Design and features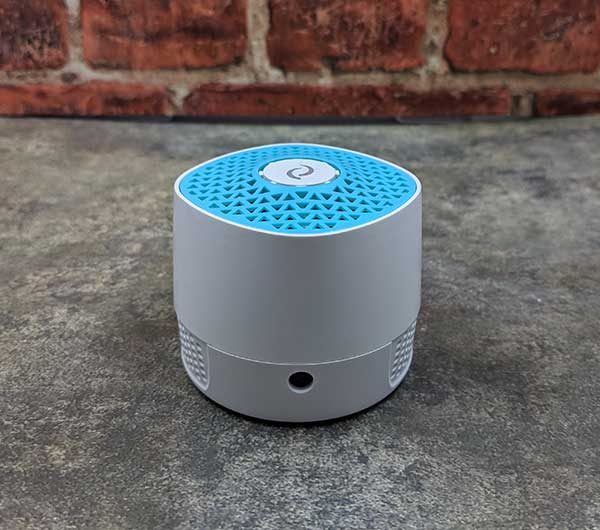 Compared to 99.9% of the air purifiers that I've seen, the VentiFresh is absolutely tiny at only 2.5 x 2.0 inches.
It has a white plastic housing with a light sensor on the front and on top is an open blue covering over the built-in fan inside the unit.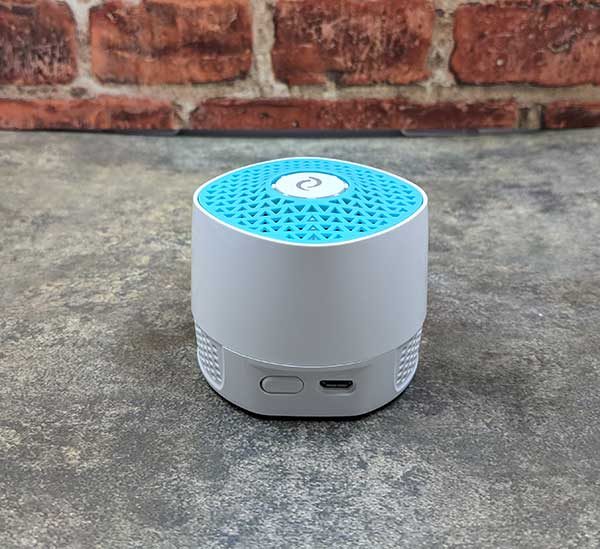 On the back of the air purifier is a micro USB connector for power and a power switch.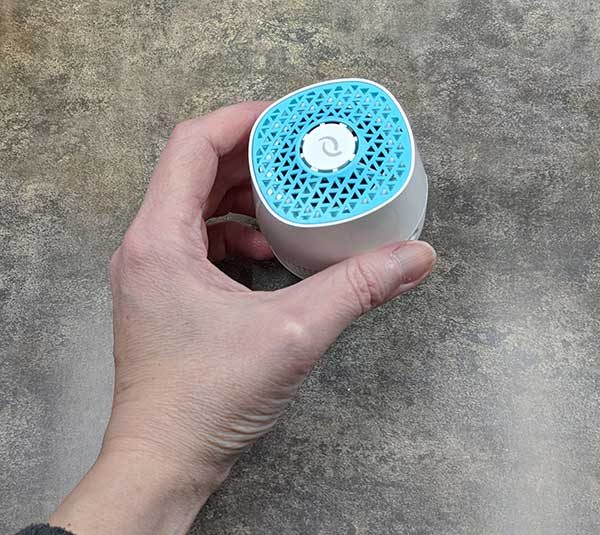 The VentiFresh air purifier is so small, that it can be placed almost anywhere. You can set it on a flat surface or you can use the magnetic base and the included metal button to mount it on thin material like a trashcan lid or a litterbox cover.
It looks cute, but does it actually work?
I was excited to see if the VentiFresh air purifier would help with cat smells. To give you a little background, I share a house with a 15lb cat named Max. Max is mainly an indoor cat so we have a litter box in our spare bathroom which is now his bathroom. I don't like going in there because he kicks litter on the floor. That is when he actually takes time to dig in the box.
Jeanne and I spend evenings downstairs on the couch in front of the TV. We'll be watching a show and all of a sudden we'll hear Max running around upstairs like a maniac and then he'll come flying down the stairs. This is his "I just pooped and I'm amazing" celebration.  At this point, we will almost immediately notice the smell wafting its way downstairs because he almost NEVER covers up his mess. In the past, we'll have to stop what we're doing, go up the stairs, clean the litterbox, and spray a bunch of air freshener to cover up the poo smell which only masks the smell and doesn't truly get rid of it. Ick!
As soon as the VentiFresh arrived, I plugged it in and set it up in Max's bathroom.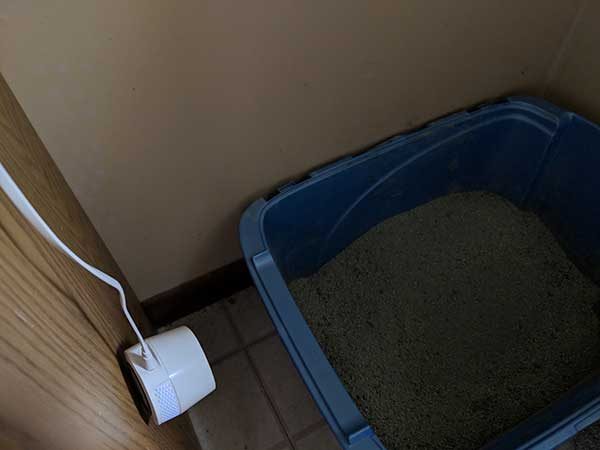 We don't have a cover over the litter box so I just hung the VentiFresh from an outlet next to the box like you see in the image above.
The VentiFresh didn't come with much in the way of instructions. Just a small business card sized quick guide that showed how you can mount the unit using the magnetic base and that the unit is supposed to be used in a small space about 1.5 cubic feet in size. Max's bathroom is tiny, but it's obviously much larger than 1.5 cubic feet, but I set it up anyway.
Once you plug it in, it will start running when the room is dim. Light will cause the VentiFresh to turn off. But since I have the unit hanging with the light sensor pointed down, it runs continuously. When it's running you'll also see a blue light emitting from the vents in the sides and top of the unit. This is UV light and the instructions advise you not to look at it. The unit also has a slight fan noise as it's running. I didn't find it loud enough to be annoying, but I do notice it when I walk past the bathroom.
The million dollar question is: Does the VentiFresh actually work? I really didn't think I was going to be impressed, but I have been very surprised just how well it has tamed Max's litter box smells. If you have a cat and a litter box, you know what they can smell like even if you clean them every day like we do. With the VentiFresh next to the box, I've not smelled any of Max's "presents" even when he doesn't cover them up. I've even walked into the bathroom done a sniff test right over the box of uncovered "presents" and I can't smell anything. I think it's witchcraft and I love it and so does Jeanne. Max doesn't seem to mind it either.
If you're wondering about power consumption, it only uses 3W per hour and according to the VentiFresh website, even if it runs 24hrs a day, it's only going to cost you about 50 cents per month.
What I like
Tiny size
No consumables
Doesn't use much power
What needs to be improved
Nothing needs to be improved except that I want a bigger one for the whole house!
Final thoughts
The VentiFresh air purifier is amazing. No more litter box smells means I don't have to worry if visitors can smell something bad when they come in my house. I love this little thing. I'm thinking about ordering another one just to have on hand if the one I have now ever decides to die on me. I'll definitely update this review after a couple of months to let you all know how it's standing the test of time.
Updates 09/11/18
They now include a gel pad for easier (non-magnetic) installs.
Updates 01/16/18
The VentiFresh that started using back in May of last year broke last month. One day it just started making a loud noise and when I unplugged it and plugged it back in, it wouldn't run. Something inside rattled when I shook it. I don't know why it broke but I had a back up unit that they sent me so I've been using it for the last month and will post an update to let you all know how long this one lasts.
Price: $64.99
Where to buy: Amazon
Source: The sample for this review was provided by VentiFresh.