Update:
Several of our readers have reported that this SkyWire TV antenna does not perform as advertised and that the company does not accept returns or offer refunds. According to the response one reader received, SkyWire will only accept a return if the buyer received the item already damaged. (Beware that this may be almost impossible to prove).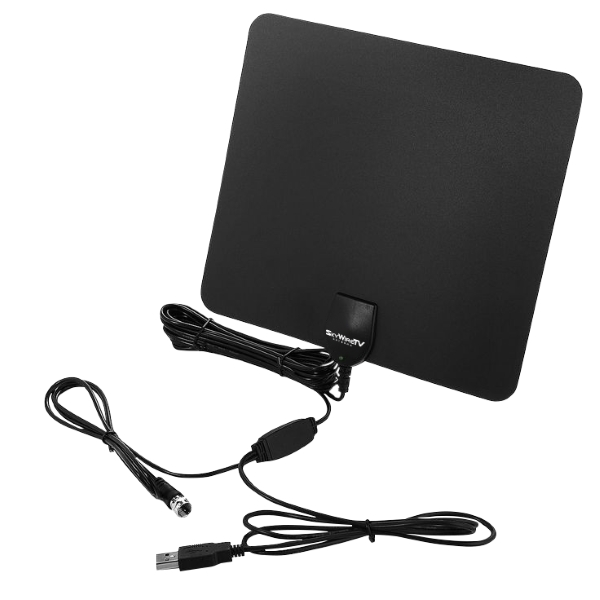 A few days ago, I wrote a review of the Mohu Blade Over-The-Air HD antenna that I was quite pleased with. It was sleek, and light, and gave me a decent amount of OTA HD channels, with excellent quality very close to the 1080P HD quality that we have all come to expect from cable TV. While I am very satisfied with it, I began to wonder what else is available, and recommended, and how it would compare to the one that I have.
Trolling around on Google, I came across the SkyWireTV Antenna. Several different review sources seem to have this antenna ranked at the top or close to the top of their recommended antennas, with the considerations of cost and performance dominating their opinion.
SkyWire TV claims that the technology behind its product is "Developed by a NASA scientist using military technology to capture full 1080 HD signals". Their specs go on to include a 30 mile range that works anywhere in the United States, and dual band reception (VHF/UHF) with a 20 dB gain. Installation is similar to any other HD OTA antenna, with a coaxial cable to connect it to your TV, and this antenna comes with double-sided adhesive tape to mount it to a window or a wall.
If you would like to read more about the SkyWire TV antenna or purchase one, you can head over to the SkyWire TV website for additional information. You can also purchase one for $39.95.
The Gadgeteer may receive a commission on purchases made from affiliate links on our posts.