We use affiliate links. If you buy something through the links on this page, we may earn a commission at no cost to you. Learn more.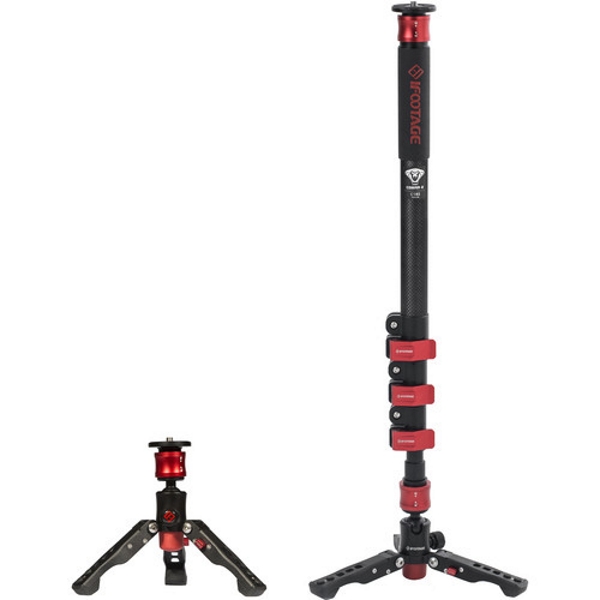 Staying on the subject of monopods, I found another interesting one that I think is worth mentioning, and has its own place in the photo/video gear box.
The iFootage Cobra 2 C180 Carbon Fiber Monopod is not necessarily considered a small footprint monopod for traveling or for easily attaching to a backpack, but its features are great, and it would work well on location. It does come in two sizes, but for this news story, I will be focusing on the larger one that when fully extended reaches a height of 70.9 inches, and when collapsed is still reasonably small at 27.8 inches. The leg has 4 sections and uses "buckle-like" leg locks. It can support a load up to 22 pounds, and the mounting plate includes both ¼"-20 and 3/8"-16 threaded studs to accommodate just about any tripod head. At the base of the monopod there are 3 feet that provide stability. The base has a lock, and includes a knob that allows you to adjust and apply the correct amount of friction to accommodate the weight of your camera. The base is also completely removable. The feet have a button release that either allows them to fold up completely, or at specific angles of 20, 50 or 78 degrees. Despite its size, this monopod weighs only 3 pounds. If necessary, the entire base-foot section can be removed, and the monopod can be used as low-angle minipod.
If you would like to take a closer look at the iFootage Cobra 2 C180 Carbon Fiber Monopod, you can head over to B&H photo video and check it out. You can also purchase it there for $179.