We use affiliate links. If you buy something through the links on this page, we may earn a commission at no cost to you. Learn more.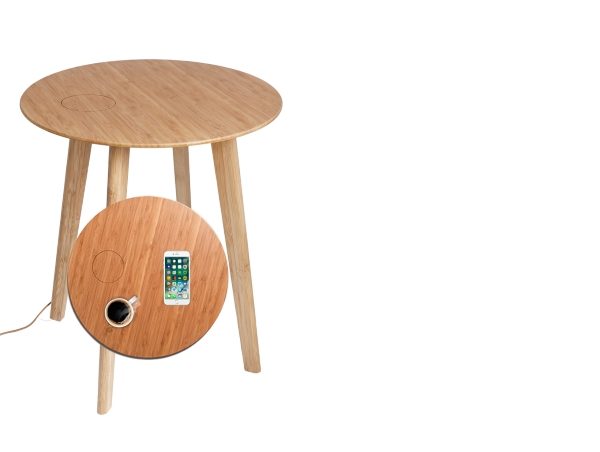 Some days when I wake up in the morning, I often wonder to myself: "where will technology take us next?" From smart locks, to smart cars, to entire smart homes, innovative designs and gear are continuously stretching the boundaries of what we can do, when we can do it, and how we can do what we do.
A few days ago, I was in my usual browsing mode when I came across the FurniQi – Bamboo Qi Wireless Charging Side Table. Now I am used to the small Qi wireless charging devices that I use to charge my phones, but I never even thought that a table existed somewhere out there that incorporated the wireless charging feature into the tabletop.
This table is a very nice and simple looking side table and it has a built-in USB port that is colored to blend into the table. You can use any USB cable and wall adapter to provide power to the table. The electronics are well hidden so that it looks like a normal table, with the charging spot discreetly marked on the surface, and an optional audible indicator to notify you when you have made the appropriate contact. The charging spot is also visible in the dark.
If you would like to purchase the FurniQi – Bamboo Qi Wireless Charging Side Table, you can head over to the Fone Salesman website and pick one up for $199.