We use affiliate links. If you buy something through the links on this page, we may earn a commission at no cost to you. Learn more.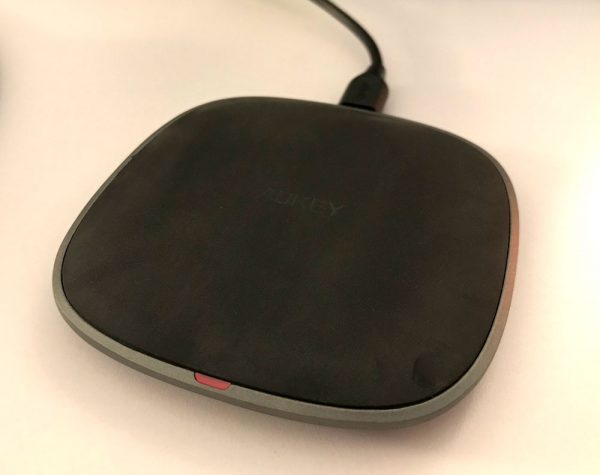 Wireless charging isn't a new technology, but it's rapidly becoming an industry standard in mobile devices because of its ease of use. Despite this fact, I haven't seen very many chargers that are visually impressive. Most of the time, they're just black, plastic pucks relegated to the corners of a desk or nightstand. AUKEY's Graphite Wireless Charger adds a touch of class to that boring appliance.
What is it?
The AUKEY Wireless Charger is small pad, about 3.5" squared, that wirelessly charges devices compatible with Qi technology. This includes a variety of Samsung Galaxy phones and newer iPhone models.
Hardware specs
The Graphite Wireless Charger features broad compatibility, working with all Qi-enabled devices such as iPhone X / 8 / 8 Plus and Samsung Galaxy Note8 / S8 / S8+, even through most cases (thickness less than 3mm/0.12"). Non-wireless-charging devices require a wireless charging adapter (not included). The charger supports standard wireless charging speed (5W output). Product dimensions are 3.4 x 3.4 x 0.5" and it weighs in at 7.2oz.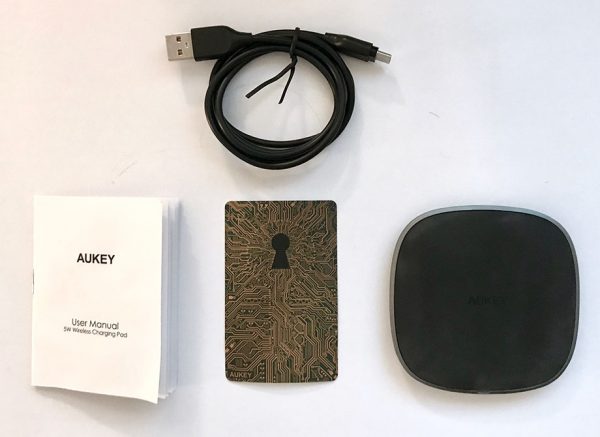 What's in the box?
Graphite Wireless Charger
1m/3.3ft USB 2.0 A to C Cable
User manual
Design and Features
After browsing Amazon's selection of wireless chargers, I found that the AUKEY's Graphite Charger stands out as one of the classier offerings. In fact, this compact charging pad won a couple of  awards for its design. It's quite a handsome piece of kit. The charger has a good amount of weight to it, nearly half a pound, and the grips on the underside keep it from sliding around on most surfaces.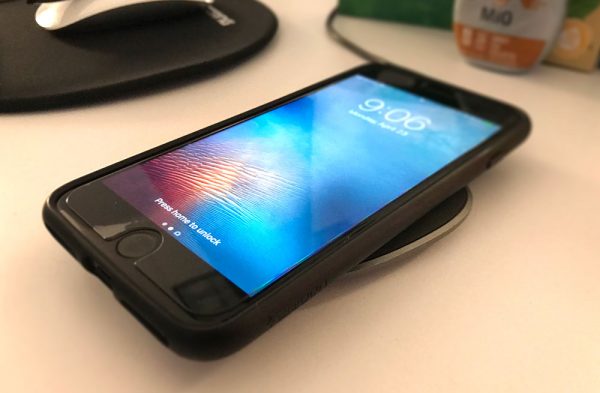 The port on the charger is USB C. I haven't seen very many examples of this. Although your mileage may vary when it comes to interface preferences. I just happen to have a bunch of USB C cables laying around from owning a Nintendo Switch, so for me, it was a pleasant surprise.
In terms of function, the Graphite Charger works how you would expect. Place the phone on the surface and it starts charging at a standard speed (5W output.) It's not a fast-charge device, more suited for a work desk or nightstand for long trickle charging.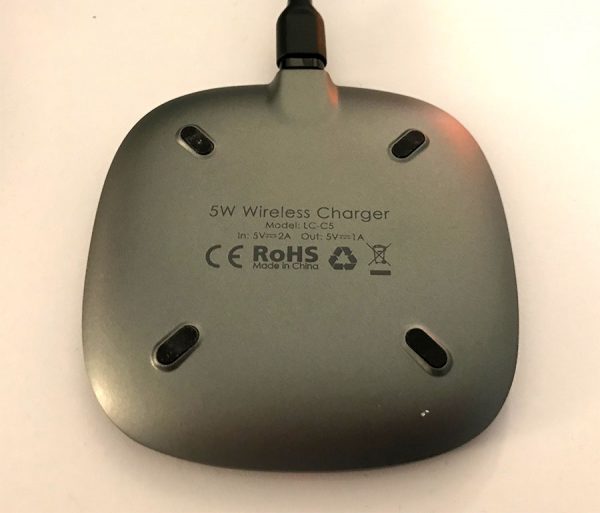 There is one LED light on the top of the charger that is very dim, which I can appreciate. So often, I come across USB chargers or adapters that have an insanely bright LED indicator that must have never gotten properly tested in a dark room. The light on this charger is barely noticeable, and is covered completely when a phone is placed on top of it. That sounds like such a minor thing until you've seen your bedroom bathed in the blue glow of some unnecessary light.
One last feature worth mentioning is the fact that you can charge your phone with the case on, which I must plead ignorance on if this is or isn't a normal function. I just know that I did keep the case on the phone while charging and it didn't impede the functionality.
Final thoughts
AUKEY's Graphite charger design looks like it would be right at home alongside an iMac or sleek, aluminum laptop. I appreciated the future-proofing of the USB C port, the non-overwhelming lighting, and the weight and grip of the charger itself. It brings form as well as function.
Price: $31.99
Where to buy: Amazon
Source: The sample of this product was provided by AUKEY.