We use affiliate links. If you buy something through the links on this page, we may earn a commission at no cost to you. Learn more.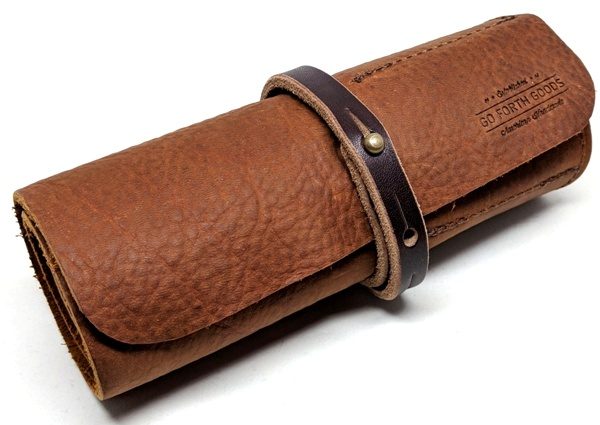 Leather products attract my attention, but it takes a really well-made leather product using high-quality materials to maintain my interest and entice me to purchase it. Recently, I received the Go Forth Goods Leather Charging Cable Tool Roll to review. Is it a high-quality leather product? Indeed, it is! But I'm not sure it will appeal to many people because the product itself is a sizeable and hefty travel organizer when empty and even more substantial when carrying your cables and chargers.
What is it?
The Leather Charging Cable Tool Roll is a leather travel organizer for your device cables, chargers, earbuds, etc. It comes in Mocha, Saddle, and Black colors.
What's in the box?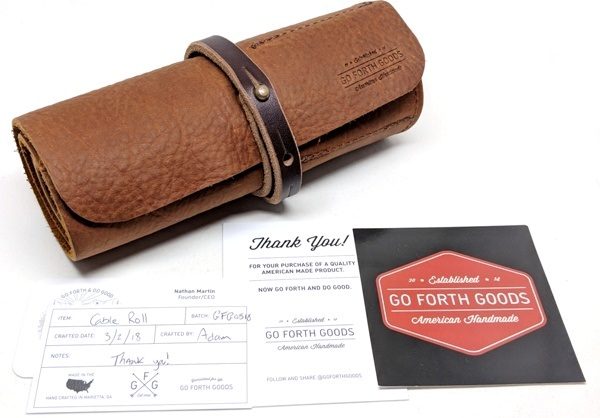 Leather Charging Cable Tool Roll
Business card from Nathan Martin, the Founder/CEO of Go Forth Goods
Card stating who crafted my leather tool roll
Thank you card
Design and features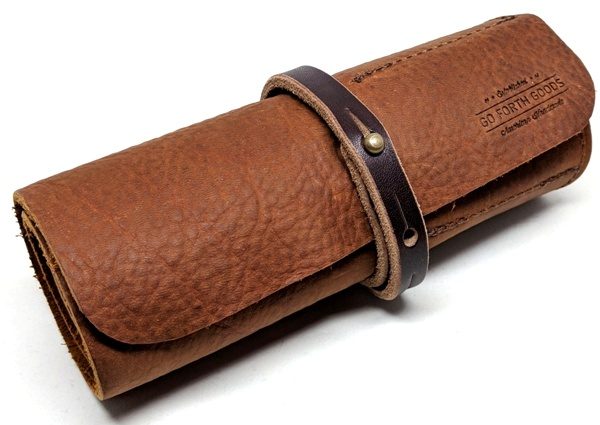 I received the Saddle colored Go Forth Goods Leather Charging Cable Tool Roll. It is made from 6 oz. (2.4 mm) full grain leather (the hides are sourced and tanned in the United States). The tool roll measures 3″ high x 7″ wide x 3″ diameter when rolled and weighs 11 oz. (311 g) when empty.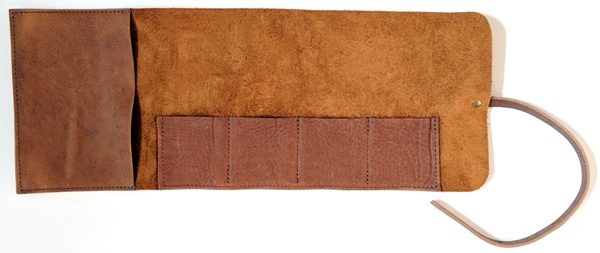 It has five pockets: one larger 5″ x 7″ pocket for chargers, portable batteries, laptop cables, etc. and four 3″ x 3″ pockets for storing smaller cables or items like earbuds, etc. You'll notice in the above photo that the four small pockets are made from one piece of leather with seams sewn in to divide the pockets.
According to their website, Go Forth Goods believes that fewer seams means fewer stress points and thus a stronger more durable product. They also use polyester thread, back stitch at least four stitches, and burnish the ends of the thread to prevent unraveling.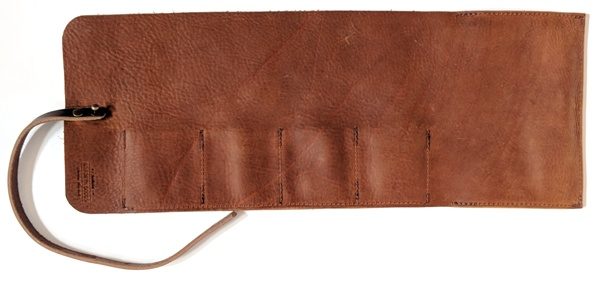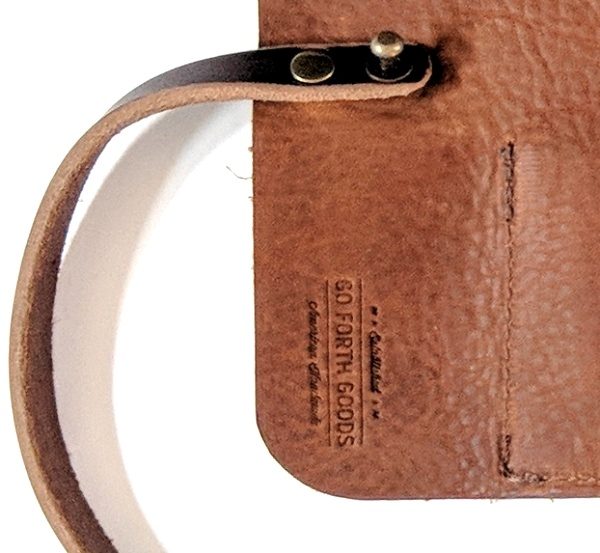 The back of the tool roll shows the Go Forth Goods embossing near the solid brass button stud end. The strap is attached to the roll with a solid brass rivet and the strap wraps around the tool roll and fastens onto the button stud.

The length of the tool roll when unrolled is about 19.5″ long x 7″ wide.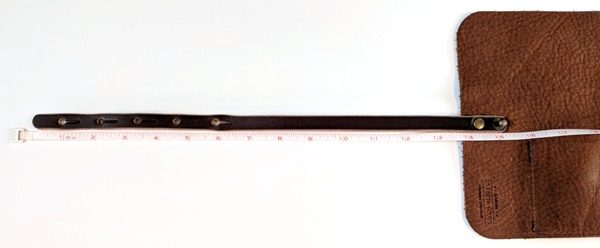 The strap used to keep the tool roll closed is about 14″ long x 0.75″ wide (from the rivet to the end of the strap).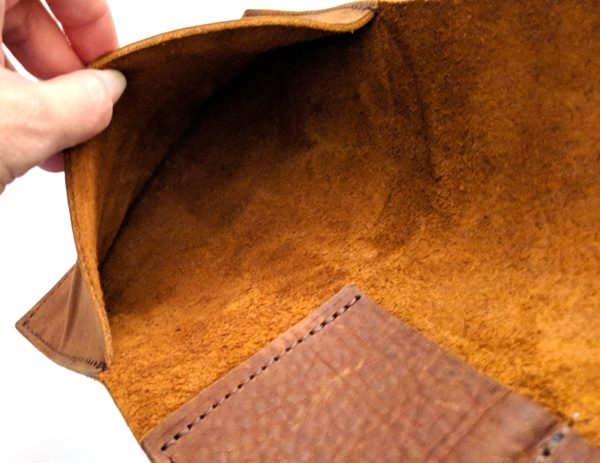 There is no lining in this leather tool roll. I like it.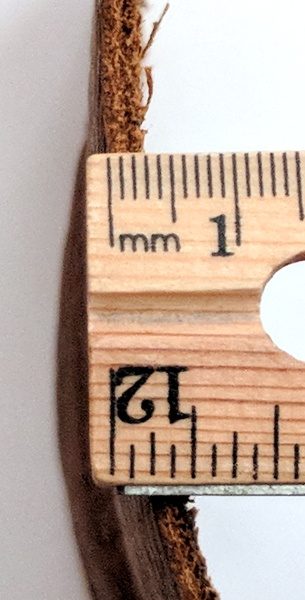 As I mentioned earlier, the tool roll is made from 6 oz. leather which is about 2.4 mm thick.
Use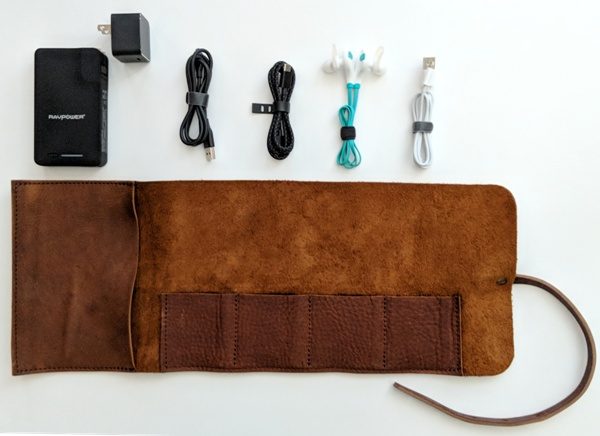 These are all of the items I inserted into the roll: my RAVPower Savior 9000 mAh External Battery Pack, my Essential PH-1 charger, a micro-USB charging cable, my USB type C charging cable for my Essential PH-1, my MPOW Swift Bluetooth 4.0 Headphones, and a Lightning cable.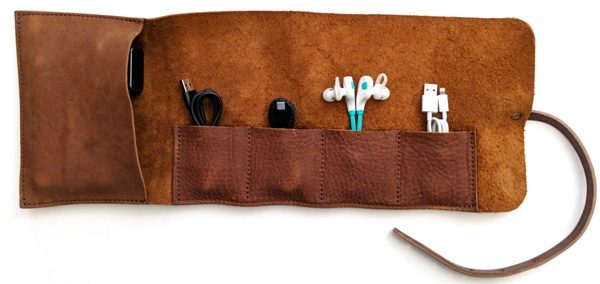 All of my items fit very nicely into the roll. The smaller pockets are really only good for cables or rather small items. Most of my device chargers were not able to fit into those pockets …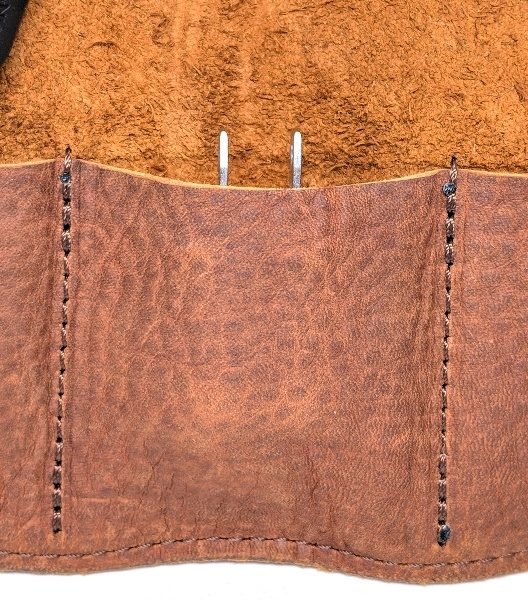 … with the exception of a small Apple 5 W USB power adapter which is one cubic inch in size and fits snugly as shown above.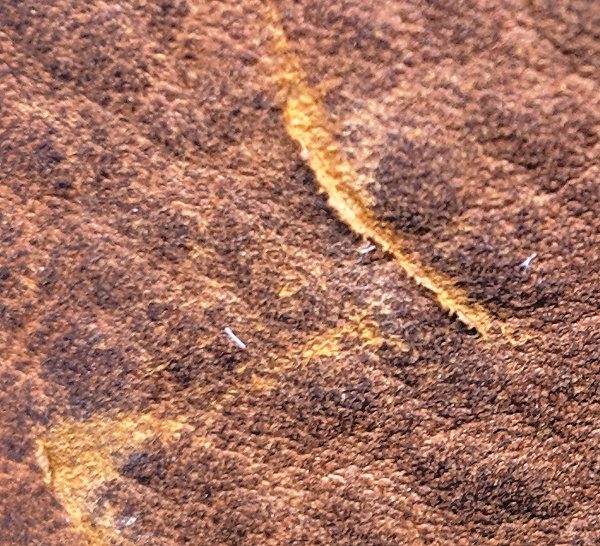 Since this tool roll is made using very supple full grain leather, it is prone to scratches. A few of those are actually very shallow cuts into the uppermost layer of the leather as shown above.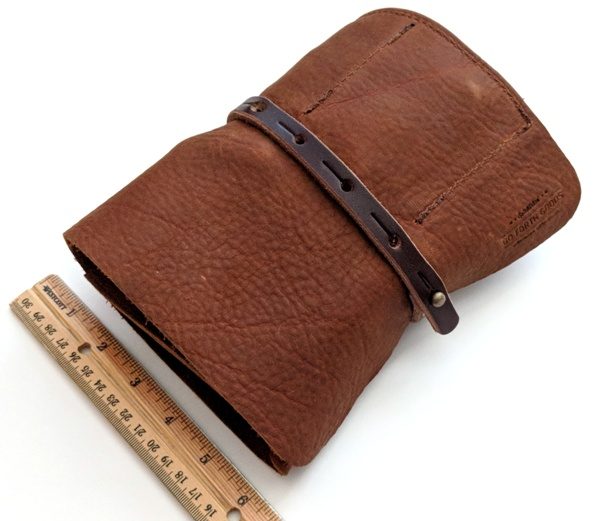 When rolled up, the tool roll is about 6″ wide x 7″ long.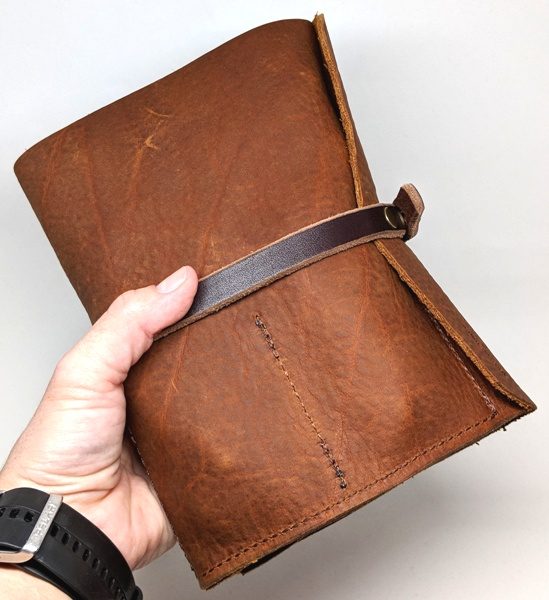 And as you can see by comparing the size of the tool roll to my hand, this is a rather large travel organizer. It weighs about 1lb. 8oz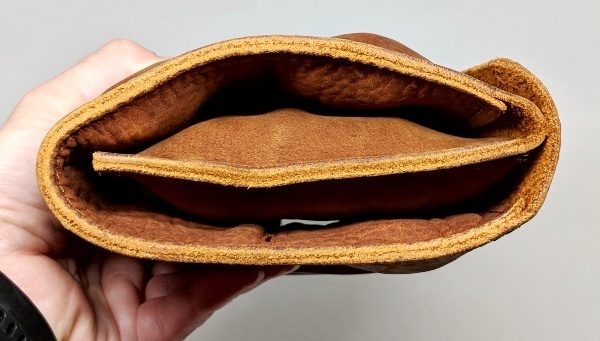 It's also rather thick – about 2.25″.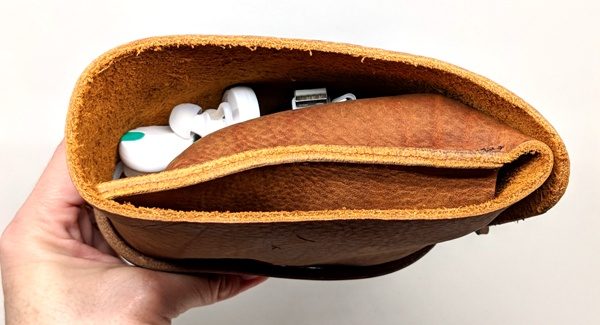 This is the view from the "open" end.
This leather tool roll is simple, well-made using high-quality materials and craftsmanship, and organizes my basic device accessories well. I also like how easy it is to roll it up (because the leather is supple and not stiff), its rugged good looks, and its smell – ahhh, yes, the wonderful smell of leather. However, it is large and heavy when full and it is prone to scratches but then all full grain leather products are.
What I like
Made using 6 0z. (2.4 mm) full grain American leather, polyester thread, solid brass rivet and solid brass button stud
Backstitched at least four stitches and burnished thread ends to prevent unraveling
Carries and organizes my device accessory needs
Lifetime warranty
What needs to be improved
Nothing (it is thick, but leather needs to be thick enough to be durable)
Final Thoughts
I really liked the Go Forth Goods Leather Charging Cable Tool Roll. It is really well made using soft supple 6 oz. (2.4 mm) full grain leather sourced and tanned in the U.S., polyester thread, with a solid brass rivet and a solid brass button stud. It organizes my basic accessories well, is easy to roll up, and smells good too. Everything about this simple tool roll indicates a high-quality product. However, this is a substantial travel organizer in size and weight and if you are only using it to organize your cables and chargers, then it might suit you; but if you are using it to travel, it will definitely take up a lot of space.
Price: $75.00
Where to buy: Go Forth Goods
Source: The product used in this review was provided by Go Forth Goods.