We use affiliate links. If you buy something through the links on this page, we may earn a commission at no cost to you. Learn more.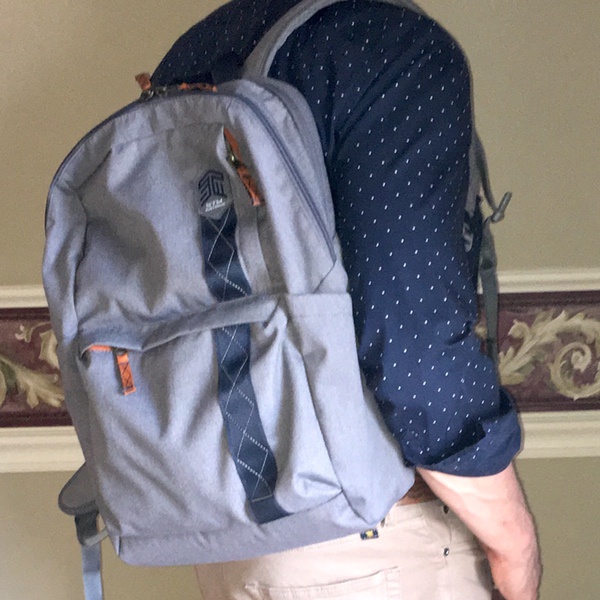 Who says business casual has to be dull? The STM Banks Laptop Backpack is a great looking daypack designed to organize your work life, with some clever extras to make your daily commute easier. Let's check it out!
What is it?
It's an 18L backpack designed to carry your laptop and daily essentials.
Hardware specs
Main material(s): 100% polyester

Outer dimensions: H 17.9 x W 12.4 x D 6.5 in / H 45.5 x W 31.5 x D 16.5 cm

Device space: H 10.04 x W 14.76 x D 1.18 in / H 25.5 x W 37.5 x D 3 cm

capacity: 18 L

weight: 1.96 lbs / 0.98 kg
Design and features
Hailing from Australia, the STM Banks Laptop Backpack is all about modern style. A trim, squared profile is highlighted by little design elements (like that racing-stripe fabric strip) that add a bit of sportiness to the overall look. This bag fits right in at the business casual workplace.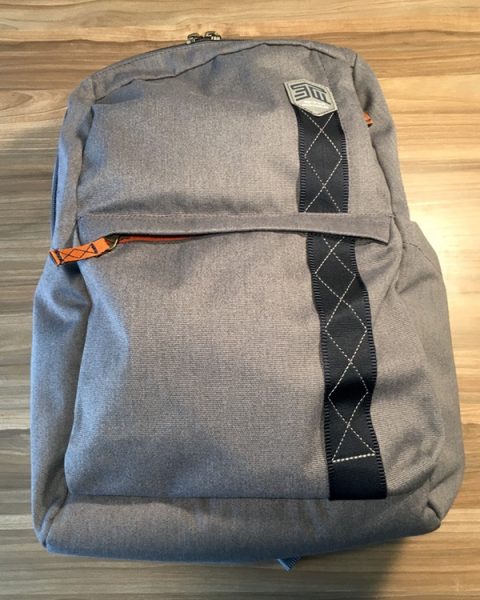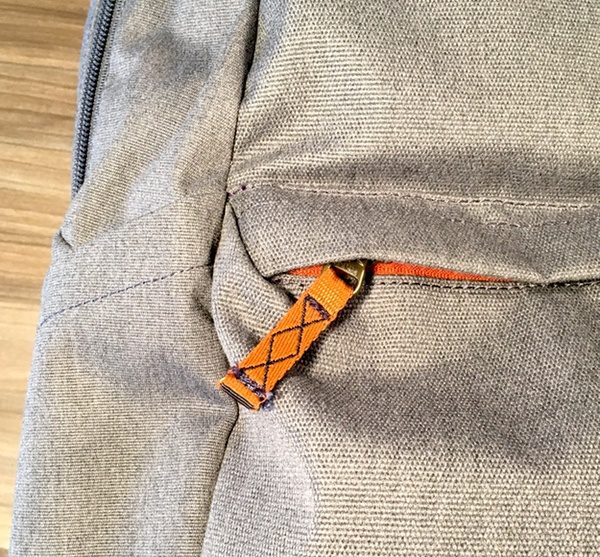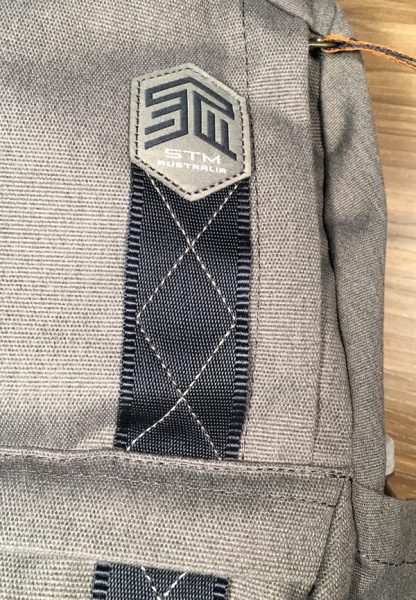 The form factor of the Banks is a two-chamber top loading daypack. At a compact 18-liter size, it's made to organize your tech and work essentials. As we'll see in the walkthrough, there are some bonus "easter eggs" in the design that add even more functionality.
Your laptop rides in it's own padded compartment that sits closest to your back, and is accessed by a separate top zipper. This chamber uses what STM Bags calls the "SlingTech" design: it's suspended above and away from the edges in the main compartment of the bag to protect against impacts. A 15" laptop or large tablet (not both) will fit in this space, and two additional padded vertical pockets will accommodate a notebook, a standard sized tablet, or documents.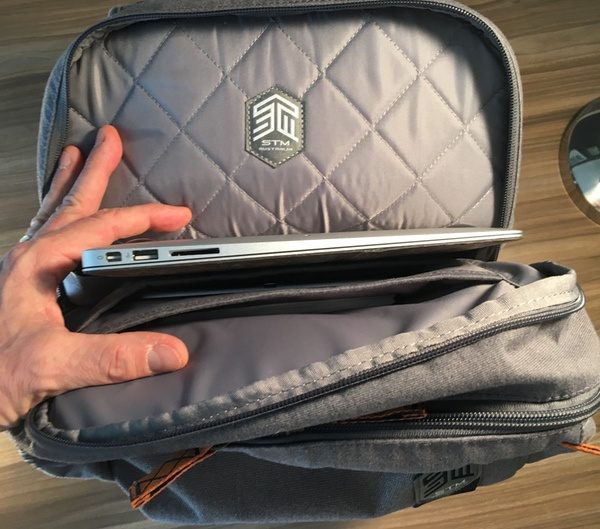 The main chamber is accessed from the second top zipper and serves as your open storage space. There's an additional padded sleeve on the rear face that will take up to a 12.9" iPad Pro in its case, and a fleece-lined top pocket on the front face for delicate electronics or your sunglasses. The whole chamber is 5" deep, but note that this space is shared with the laptop compartment. You'll have room for some extras if you add a laptop and a tablet, but things start to get tight pretty quickly.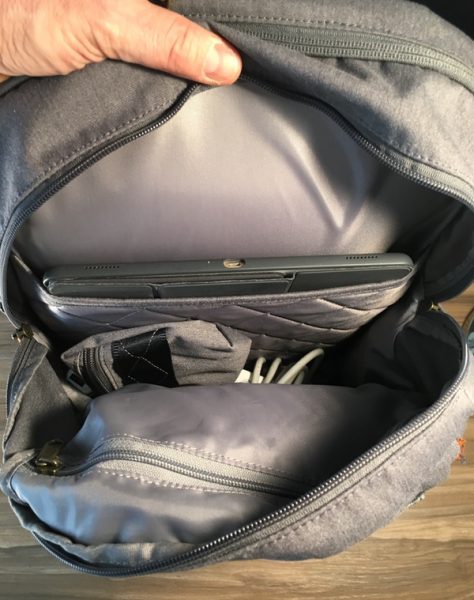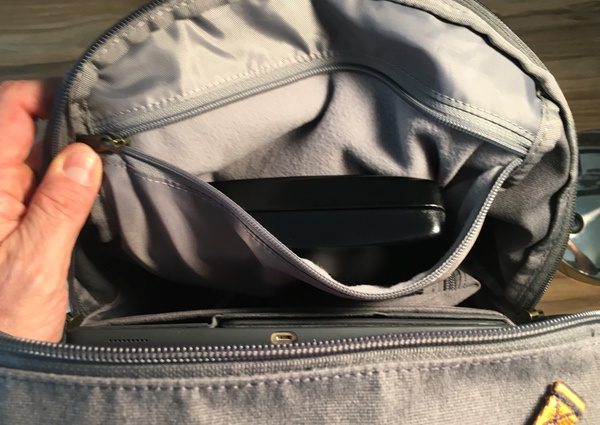 Moving to the outside of the bag, you'll find 4 additional storage areas. A 5" by 9" pocket on either side of the bag is sized up for water bottles, but there's no elasticity to these pockets to accommodate larger hydration bottles. A 5 1/2" by 9" horizontal pocket at the top of the front face serves as multifunctional quick stash area.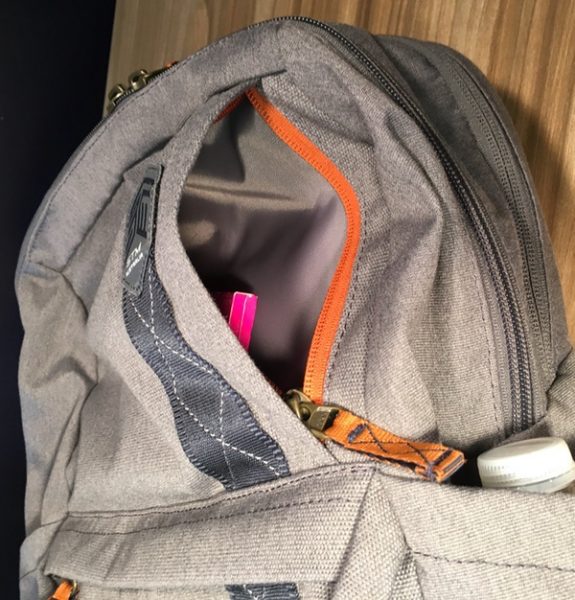 There's also a 10" by 8" pocket on the bottom of the front  face that's includes two padded smartphone-sized pockets backed by an internal zippered pocket for smaller bits and doodads.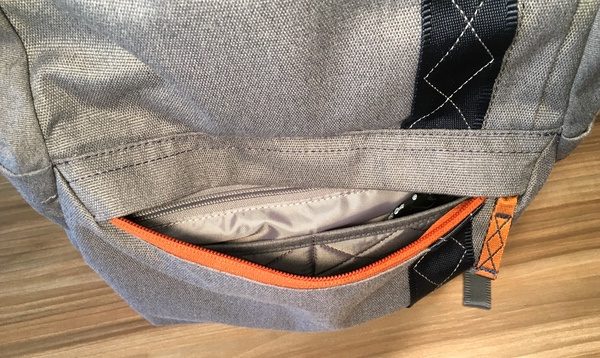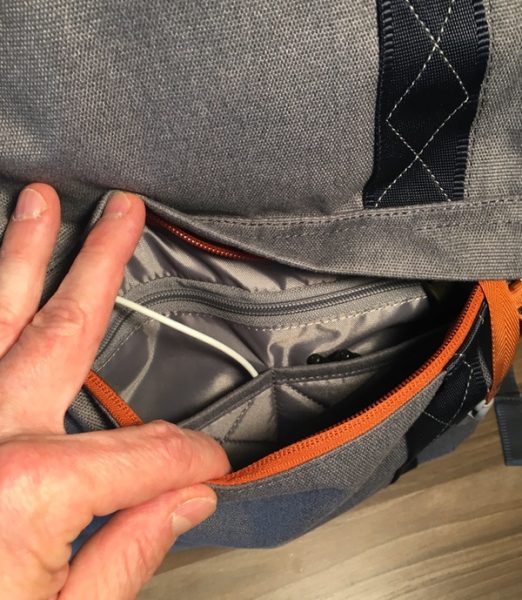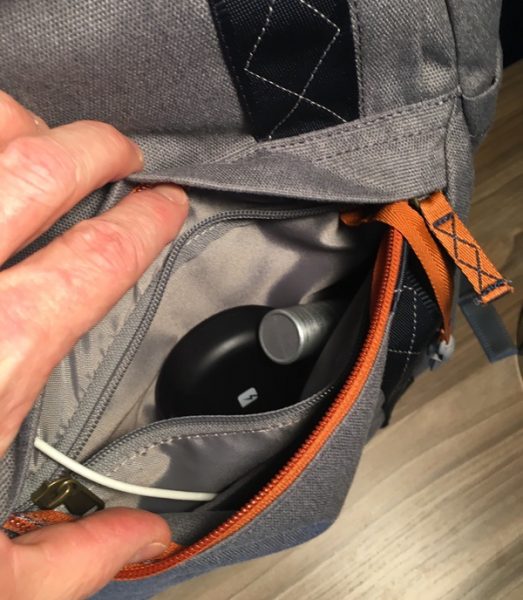 There's also a key leash hidden in that rear zippered pocket. This is always worth bonus points to me. I love the convenience of key leashes. Every bag should have one.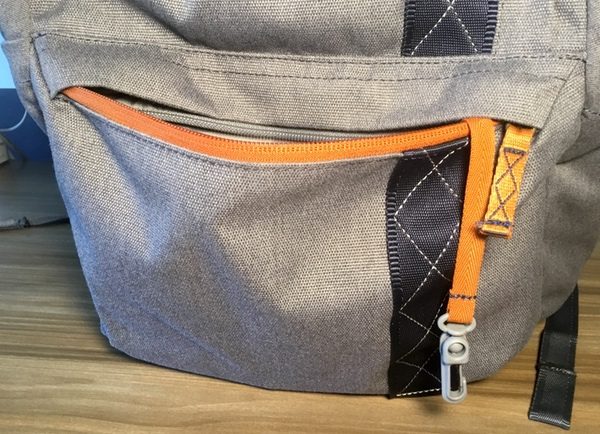 The Banks Laptop Bag also includes a 5" by 10" matching accessory pouch called "The Stash." It comes attached to an 8" tether in the main compartment, and can be unclipped and removed from the bag if you'd like to use that tether for something else. It's a generous size for wrangling cables, pens, and any other items that may be less frequently needed.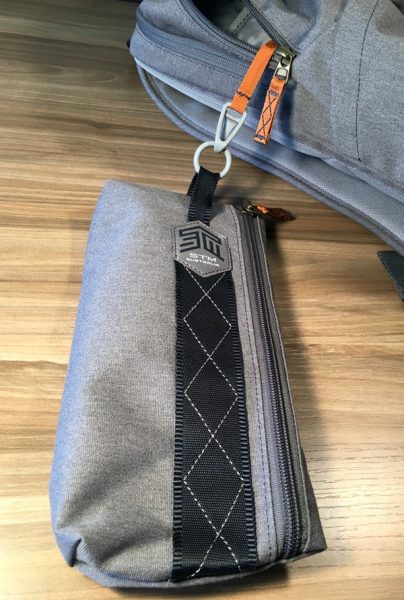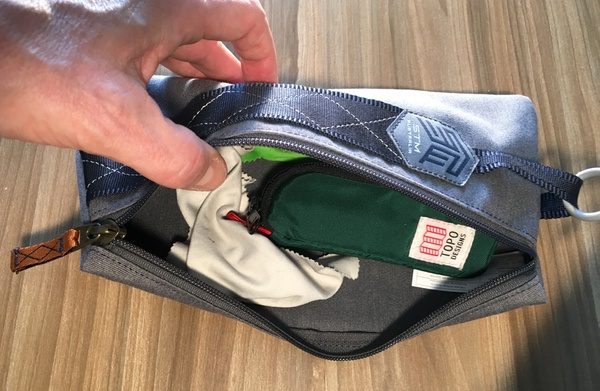 The STM Bags Banks Laptop Backpack also has a feature called "Cableready" organization. Tucked away against the side panel in the main chamber is a velcroed pocket that will hold a portable charger, along with a hook to keep the charging cable attached the side of the bag. Both the laptop chamber and lower front pocket have pass-through portals so that you can charge your accessories on the go. If you have a multi-port charger, you could theoretically charge a smartphone and tablet simultaneously. Very, very clever.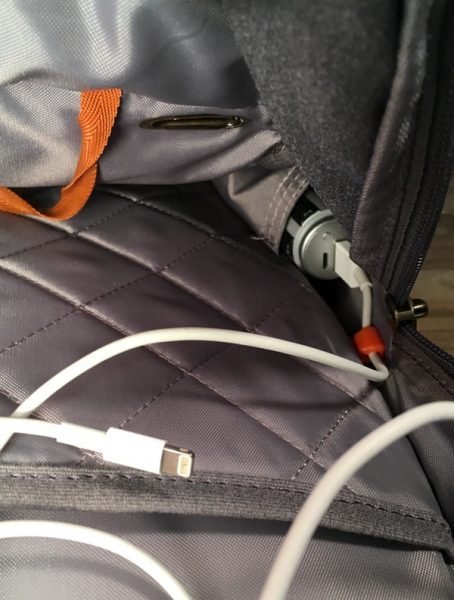 Here's the charging cable hooked up to my iPad riding in the laptop compartment.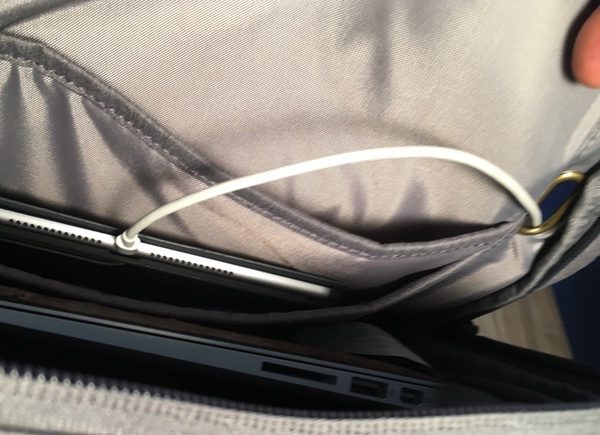 And here it's been snaked through to the front compartment to charge my iPhone.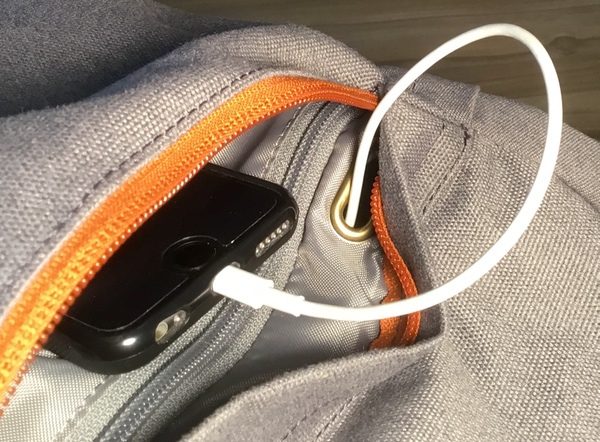 As far as carry goes, the pack features two padded & adjustable shoulder straps and a sternum strap to tweak the harness to your ideal fit. The shoulder straps and back pad both use air mesh surfaces to improve breathability. A nylon grab handle at the top of the bag is also included for quick maneuvers. Padding is generous on both the back panel and the shoulder pads.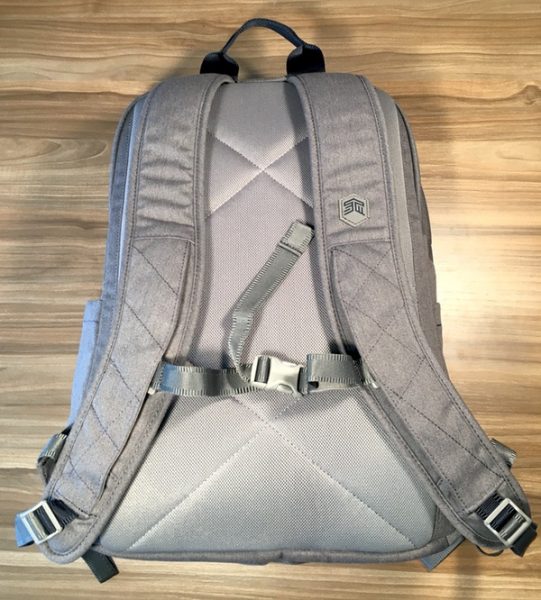 I really like the finishing on the STM Bags Banks Laptop Backpack. The primary textured weave material is classy and has a nice soft-touch feel. Internal surfaces are soft with additional quilted padding or fleece lining built into the delicate electronics pockets. Little finishing elements like fabric zipper pulls, angled pockets, and nicely-finished shoulder straps add some class and style to the bag.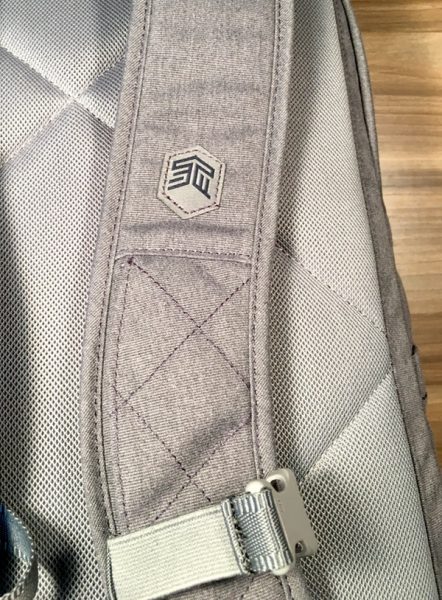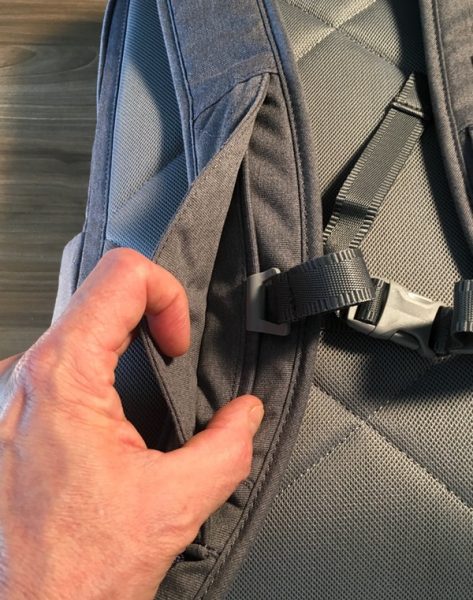 Performance
The STM Bags Banks Laptop Backpack makes for a great compact office daypack. Its trim size rides close to your back, which is ideal for maneuvering in crowds. It will also work perfectly as an under-the-seat carryon. Here are some size pics for reference (I'm 5'10", 190 lbs.):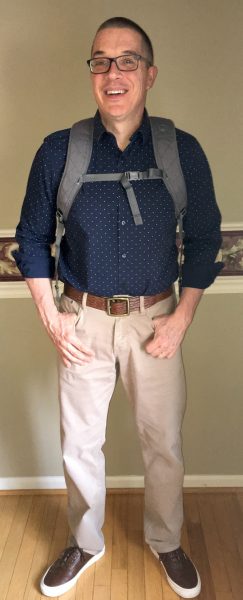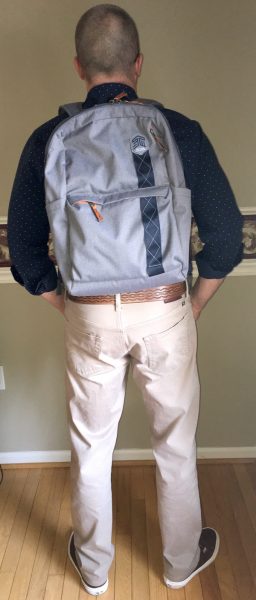 Did I mention the business casual style? This is the perfect bag for that look. Not too formal, but not so casual that it looks like you just wandered into the office from the hiking trail.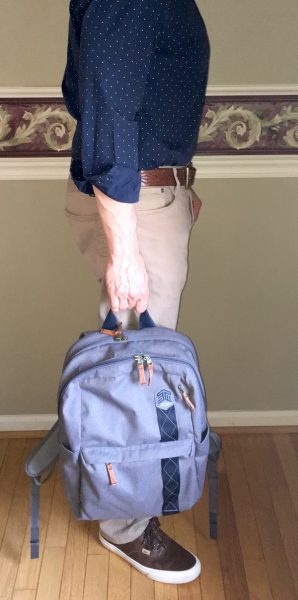 I really like the layout of this bag for the work essential minimalist. If you're rolling in with your laptop, tablet, notebook(s), some folders, and the required accessories… you're good to go. You won't get your gym gear in here, but you can fit a lunch, a power brick, and some small extras in there even if the laptop area is fully loaded.
Those little design extras really elevate this bag for me. The included accessory bag is great by itself, but including a tether that allows you to pull it out without detaching it from the bag is brilliant (I'm always fumbling for something on the train). The charging solution is equally brilliant, providing a permanent place for your portable charger that stays nicely tucked out of the way. Both of these additions are well thought out for practical use, and I appreciate that level of detail.
If there is one flaw in the STM Bags Banks Laptop Backpack, it's in the pockets on the front face of the bag. I don't have especially large hands, but I find myself struggling with the tight openings. Especially that lower front pocket… the opening is a narrow space that constricts access to the two smartphone pockets and the rear zippered compartment. Getting through both layers of zips can be a bit of a wrestling match. It's actually a plus for keeping out wandering fingers if you're in a crowded space, but it can be a bit annoying if you're trying to get to your keys quickly.
What I like
Contemporary look.

Great size and organization for tech and work essentials.
Bonus tethered (and removable) matching accessory bag.
Clever solution for charging devices on-the-go (you'll need to bring the charger).
What needs to be improved
Check your daily carry requirements to see if the smaller size will work for you.

Water bottle pockets won't stretch to fit larger hydration bottles.
External pockets on the front face have tight openings which may not work for larger hands.
Final thoughts
If you like compact & efficient work organization but prefer a backpack over a shoulder bag, you'll love the STM Banks Laptop Backpack. A well organized layout, excellent finishing, and little design extras make for a great overall package. Just keep in mind that it is a compact bag, so you'll need to plan accordingly.
Price: $129.95
Where to buy: But it at the STM Bags Site or on Amazon.
Source: The sample of this product was provided by STM Goods.