We use affiliate links. If you buy something through the links on this page, we may earn a commission at no cost to you. Learn more.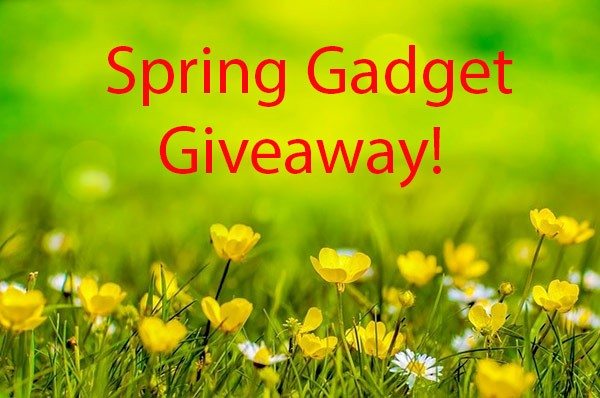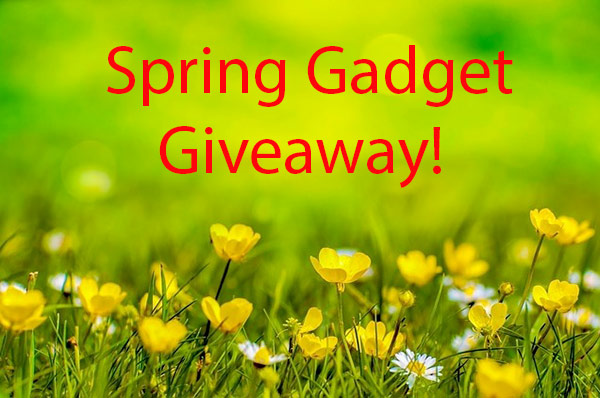 To celebrate spring (finally!), we are giving away seven awesome prizes. One winner takes it all! Entering is easy! Just answer three questions in a comment at the bottom of this post and if you're willing to jump through a few extra hoops, you can earn up to three additional entries which will greatly increase your chances of winning. Please read the details on the prizes and the rules before you submit your entries for a chance to win our spring gadget giveaway prize pack!
Prizes:
One person will win a prize pack consisting of 1 of each of the 7 products shown below:
Keyport Pivot Outdoor Bundle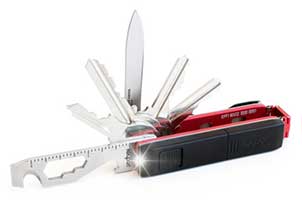 The Keyport Pivot Outdoor Bundle = Keyport Pivot + Pocketknife Module + Mini-Flashlight Module + MOCA 10-In-1 Multi-Tool combines the most universal keychain tools into a single indispensable device. Includes:
Price: $57.99
Website: mykeyport.com
YEVO Labs: YEVO 1

A new generation of smart headphones without any wires for total freedom of movement
Experience freedom: Bluetooth 4.1 connection and Near-Field Magnetic Induction – NFMI pairing for secure flawless connectivity
Excellent music experience: Integrated the latest advancements in audio quality with balanced armatures from Knowles delivering safe, crystal clear audio quality, fine-tuned to hit crisp highs and deep lows for a fully mesmeric experience
Audio transparency: Allows users to remain connected to their surroundings by letting sound in with just a tap
Two-touch sensors: 4 built-in microphones allows users to take phone calls, control music and volume, and access Siri or Google Now
Battery life: 20 hours of battery life* with the beautifully designed, elegant and slim charge and storage case
Available in Jet Black, Ivory White and Onyx Black
Price: $249
Website: YevoLabs.com
Skylink: SkylinkNet Alarm System Kit

Connected home security kit integrates directly with Alexa Voice Services and nearly all major smart home devices on IFTTT (If This Then That)
Utilizes Alexa Voice Service technology for maximum integration into the connected home
IFTTT function allows users to connect their kit to other industry leading connected home accessories including Amazon Echo, Nest® Cam™, WeMo®, and Phillips Hue
Homeowners can run recipes for functions unrelated to smart devices, such as receiving immediate email notifications for any occurrences in the home
Equipped with back up battery in case of power failure
App allows up to 6 users to monitor one or various locations at the same time
Works with up to 100 wireless sensors and controllers and 10 wireless cameras
No monthly fees or long-term contracts
Kit includes an Internet Hub, 2x motion sensor, 2x keychain remote, 2x door or window sensors, and 2x plug-in dimmers
Wireless Indoor Camera features 2-way talk with night vision and an audio output jack
Controlled by an Internet Hub that connects through a wireless router to coordinate sensor and receiver activity
iOS & Android smartphone app sends push notifications when sensors are triggered or if the alarm is armed or disarmed
Price: $212.99
Website: www.skylinkhome.com  
V-MODA: Crossfade 2 Wireless

V-MODA's most versatile model boasts virtually identical sound quality in both analog and wireless playback
Crossfade Wireless Over-Ear headphones offer the best of both worlds with wired and wireless modes for hybrid listening
Simultaneous Device Pairing – Multitasking users can pair the headphones with two sources at a time, such as a smartphone and laptop for work or a smartphone and smartwatch for working out
BLISS Large Enhanced Memory Foam Cushions – Unparalleled supple comfort
VAMP – Legendary V-MODA VAMP AMP/DAC technology condensed
Qualcomm aptX (On Rose Gold version) – State of the art audio codec enables CD-like quality sound over Bluetooth which allows for the best lossless wireless listening experience
Passive Noise Isolation – Naturally cut the distractions of jet engines and unwanted noise without the hiss and pressure of Active Noise Canceling (ANC)
Crystal Clear Communication – Hidden mic and included 1-Button SpeakEasy™ cable allows calls on-the-go, at the office or gaming
CliqFold Hinge – Luxury lighter-like hinge mechanism precisely folds the headphones into impossibly small exoskeleton case perfect for on the go and traveling
V-PORT Vents – New ventilation system for air circulation after use on stage or working out
15% Longer Battery – Bigger battery provides up to 14+ hours of music, unlimited hours in wired analog
Custom Shield Kits – 3D print or laser engrave your logo, change your shield material and color
Available in Black Matte, White Matte and Rose Gold (with aptX)
Price: $330.00 (Matte Black and Matte White); $350 (Rose Gold with aptX)
Website: www.V-MODA.com
LunaX
Portable Bluetooth speaker with light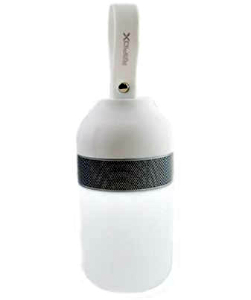 The ideal table lamp for your bedroom, dorm, or living room
For all your outdoor adventures (camping, hiking, picnic, beach, or pool)
Travel with Luna X–it fits in most standard-sized cup holders (car and boat)
LED white light with 2 brightness settings
The lamp function can be used for emergency situations
Price: $29.99
Website: rapidx.io
SOUL Electronics: X-TRA Wireless

Performance Bluetooth over-ear headphones features a myriad of functions to fit any workout
Boasts advanced HD drivers and circuitry design for a balanced bass and clear mids and highs
Provides up to 24 hours of playtime and includes an extra cable to connect directly to the music source
Features fast charge function that provides 150 minutes of playback time with a 15 minute charge
Features safety LED lights with still and flashing options for added safety during night workouts
Includes removable and washable earpads for added convenience and cleanliness
Equipped with a breathable headband designed to provide a cooling sensation
Features a foldable and lightweight design for easy storage
Available in black and blue
Price:  $149.99
Website: www.soulelectronics.com
BEEM UNITED: BeMe D200

Eye-catching colors and cutting-edge tech deliver customizable sound and high-performing Active Noise Canceling for a unique listening experience
Dual mic features Active Noise Cancellation (ANC) with Adjustable Awareness
Keep your volume at safe listening levels with ANC to enjoy a pure, premium audio experience
HD Audio for a full digital – not analog – audio experience
Use the BEEM UNITED app to enable 10-band equalizer control
Delivers studio-quality bass for personal use
Striking LED light display brings the listening experience to life
Lightning connector cable supplies superior sound quality
Lightweight with no battery needed
4 different sized ergonomic eartips for a secure fit with included carrying case
Available in fashionable colors including Rose Gold, Rebel Purple, Black and Flash Green
Price: $139.99
Website: http://beemunited.com/
How to enter (please read carefully – any missed steps and your entry will be disqualified):
Between now and 04/28/2018 midnight EST leave a comment on this page answering the questions below.
Do you come here for news, reviews, or both?
What is your favorite thing about The Gadgeteer?
How would you make The Gadgeteer better?
Get a 2nd bonus entry by subscribing to our newsletter:
You'll receive 3 emails a week with latest post info. Subscribe here.
If you're already a newsletter subscriber, let me know and you'll get a 2nd bonus entry.
Get a 3rd bonus entry by tweeting:
The Gadgeteer is giving away a giant prize pack of 7 gadgets. Entering is easy! https://the-gadgeteer.com/2018/04/24/spring-2018-gadget-giveaway/
Get a 4th bonus entry by linking to The Gadgeteer home page on Facebook.
Make sure you come back to this page and leave a separate 2nd comment stating that you subscribed to the newsletter, a 3rd comment with a link to your tweet and a 4th comment with a link to your Facebook post. To get the links for Twitter and Facebook, just click the time stamp of your post and it will give you the page with that post so you can grab the link.
At some point on 04/29/2018, I'll pick one random winner using random.org. The winner will be contacted by email and will have 48 hrs to claim their prizes. If I do not receive an answer to my email in that time period, I'll do other random.org drawings till the prize pack is claimed.
Rules:
1. Only one entry per person (warning: I check IP addresses).
2. Gadgeteer writers and their immediate family members may not enter this contest.
3. the-gadgeteer.com is not responsible for any lost packages due to incorrect shipping addresses.
4. the-gadgeteer.com is not responsible for the winner not accepting their prize offer within 48hrs. The winner will be posted on this contest page, in the contest page comment section and will be emailed using the email provided in the comment section. Check your spam folder.
5. Winner must have a US shipping address.
Update
The winner of this contest is comment #20 from Lisa L. Congrats to Lisa and special thanks to everyone who entered and to the sponsors you are supplying the prizes.