We use affiliate links. If you buy something through the links on this page, we may earn a commission at no cost to you. Learn more.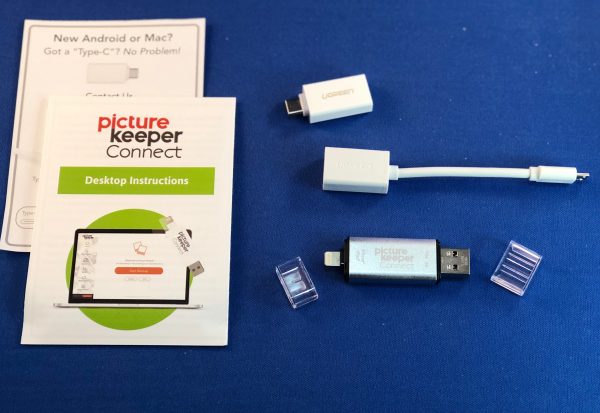 Using a portable device is immensely freeing, as most of the world has discovered over the past decade. What happens, though, when you run out of space on your phone/tablet and don't have a wireless service to back it up to? While having a Mac or PC around is nice, that defeats the mobility aspect, if you're on a long-term trip or project where carrying a laptop is not practical. There are a number of small devices that have come on the scene to bridge this gap, and we were recently offered a new one that offers a few new wrinkles to this solution. It's called the PictureKeeper Connect and is from Simplified I.T. Products, LLC.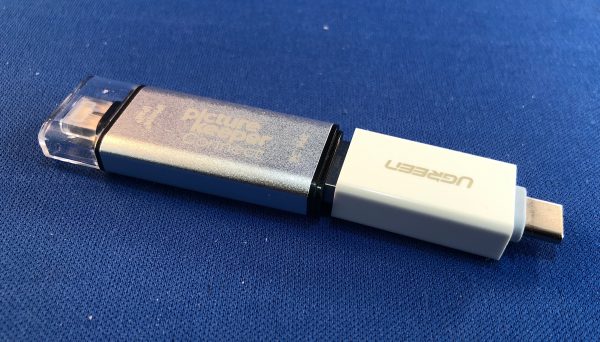 What is it?
The Picture Keeper is a data backup/transfer device and service combination that gives you access to your mobile's photos, videos, and contacts without having to have an internet service. With the standard USB type A port, you can upload this data to a computer, or download it for uploading to a new device for setup.
Hardware specs
Mobile Requirements: iPhone 5 and newer (iOS 8+) and Android OTG (Android 4.1+).
Computer Requirements: Windows 10, Windows 8, Windows 7, Vista, XP (SP3), Mac OS 10.7 (and newer) computers.
Newer devices with a USB Type-C (Thunderbolt 3) port will require an adapter, like our Keeper Converter.
What's in the box?
In the box, there is the PictureKeeper itself (which has a USB type A plug on one end and a Lightning connector on the other), a cable to attach the USB-A plug to a micro USB device, and an instruction sheet.
Design and features
The Picture Keeper looks for all the world like a larger-than-normal thumb drive with an extra connector. One end is a standard USB type-A connector, and the other end has an Apple Lightning connector, which will fit any iPhone or iPad made in the last few years. The included female USB-A to male micro USB plug allows you to plug it into any but the most recent Android devices. If you have a newer device that requires USB type-C, the company will send you an adapter.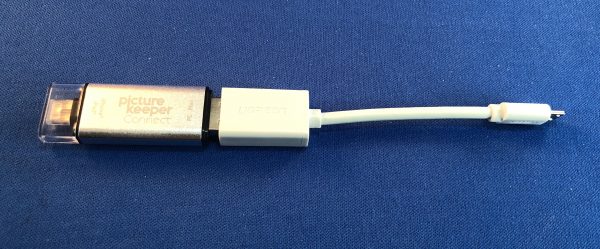 When you plug the PictureKeeper into either a portable device or a computer, you are given the opportunity to create an account, and can then backup photos, contacts, and videos. Once you've backed them up, you can then, through the app or your device, remove them from your device or from your iCloud backup.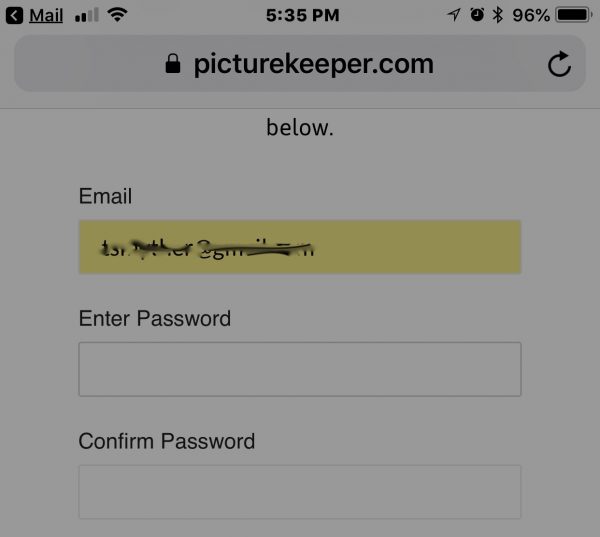 Built into the software on this unit is also an installer for MacOS and another for Windows that will install a program to manage the picture archives copied from your portable device. This allows the same access to your data.
Once your photos, videos, and/or contacts are loaded, you can access them from any other device the PictureKeeper is inserted into. Data is stored on the unit itself but can also be linked to your online repository.
Creating an account isn't required to use the device, nor is uploading your content to the service. (There is a separate app where you can upload photos for magnets, mugs and the like.) Initially, I could not figure out how to use it without sharing it with the service, which was a bit unnerving. With privacy concerns abounding due to data breaches, I'm less than excited about loading up one more online service from an unknown company with my most personal of data. But once I found the data is not tied to my iCloud account (unless I specifically link it), I was a little less panicky.
Performance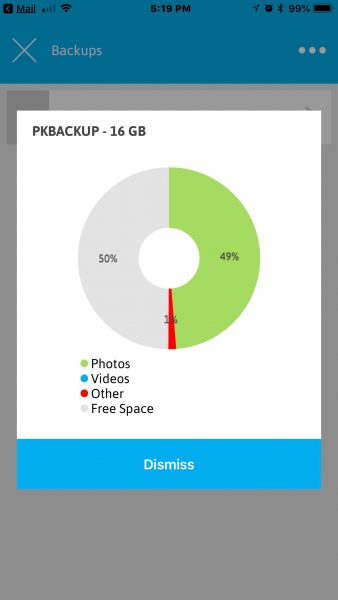 I was kind of shocked that the device would hold as much as it does. I'm not sure if there is some sort of compression going on beyond what is normal, but I have quite a few photos at very high resolution, and they did not fill this 16 GB of storage. I think I may have stopped it early since there's not really a way to tell it "only back up the past year of photos." The interface is a bit spartan, only offering a view of 6 at a time on my iPhone 8 Plus. There's no way to do anything other than "Select All" or "Unselect All" from the menu, and no filtering at all. For a product offering to help manage large photo collections, there are few data management tools.
Also, there is zero security. When you plug it in, you have to create an account, but putting in any combination of characters that fit the format will create an account on the device that will then be able to read every file stored on it from any account. I'd rather they not have the account thing at all, rather than give the illusion of security without the reality. (I was worried I would forget my password or which email address I used until I tested it with the default data in the fields.)
What I Like
Small, easy to use "one trick pony" that does what it says.
The softwaree is functional and supports all major platforms and devices
Allows sharing data without giving access to iCloud accounts
What needs to be improved
No deep filtering of data
No indication on the device when data is being written or read
No real security – any account can read everything on the drive
Final thoughts
I like the idea of this device, but I think it's about 6 years too late to market. Between Google Photos and iCloud, not to mention the dozens of others not tied to an operating system, there are any number of ways to backup and share photos and videos that don't require keeping up with another device.
Only two scenarios where this device would be needed come to mind in 2018: You're traveling to a truly remote area that has no cell signal or wifi, and are planning to document a lot of activity. The jungles of Costa Rica, Peru, or Africa, for instance. I have been to the far north of Wales, the West of Ireland, and central Italy in the last 5 years, (not to mention rural areas in the US) and have never been more than a few hours away from an internet connection if I wanted it. (When you're in a Gaelic-first community and the publican understands the phrase "Wifi Password" in my Southern US English, the internet is truly everywhere!)
The second scenario is if you're someone who is just violently opposed to putting your photos online, then this would be a good thing. I feel the security risk of losing this device, however, is larger than having your iCloud or Google account hijacked – unless you are reusing passwords or just cluelessly careless. Those are not traits that are going to go well with an unsecured device like this.
As a point of price comparison, the price of online storage on iCloud is cheap. For a dollar a month, you can get 50 GB of online storage that is way more secure than this, and share it with your "family" account – up to 4 other people, on all their devices. At the Picture Keeper's $120 price for 32 GB, that's almost twice the storage for a full ten years! I'm sure I'll lose this device or it'll get broken in less than 10 years. And what do I do when I run out of room on this device? I'll have to buy another, but with iCloud, I can get four times the 50 GB storage for only 3 times the price ($3 a month for 200 GB), and it's instantly available as an increase in space, not another account. For $10 a month, I can get 2 TB. And if there are several family members in various places, how do you share a physical drive? My advice? Bite the bullet and pay the buck a month to iCloud.
Price: $119.00 USB-C adapter adds $4.99
Where to buy: Picturekeeper.com and Amazon
Source: The sample of this product was provided by Simplified I.T. Products, LLC.