We use affiliate links. If you buy something through the links on this page, we may earn a commission at no cost to you. Learn more.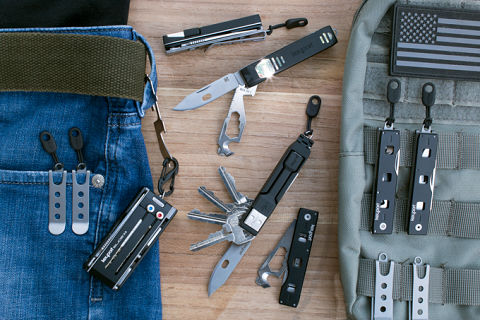 Keyport is one of my favorite companies because they think out of the box when it comes to gear. They started out with the popular Keyport Slide and Pivot key organizers and have now launched a Kickstarter crowdfunding campaign for their new Anywhere Tools.
What is it?
Keyport Anywhere Tools take the modular approach that Keyport uses with the Slide and Pivot and have applied it to EDC pocket tools that don't require a Keyport Pivot or a Keyport Slide 3.0 to carry them.
Why do I like it?
I like the Keyport Anywhere Tools because they are small stackable tools that can be carried in your pocket or clipped to your bag with the Anywhere Tools Pocket Clip.
The Anywhere Tools system includes:
Anywhere Pocket Clip – One piece clip that uses the same modular attachment mechanism as both the Pivot and the Slide 3.0; expands the reach of our modular system beyond our universal access devices
MOCA II Multi-Tool – 11-In-1; added Philips Head screwdriver, and backstop so that a user can apply significant leverage without having to place a thumb on the product's spine
NEBA Knife – Beefier knife in honor of our fallen team member, Nebiyu Detti
Pocket Flare Mini-Flashlight – More than 2x stronger than our original Mini-Flashlight; rechargeable; features edge glow
WeeLink Charger Cable (USB – Micro USB / USB – Lightning)
RuSH Module Removal Tool – Suspension clip that also assists with Pivot setup (screw/unscrew pin) and module removal
ParaPull Paracord Zipper Pulls – Custom pulls that can be added to either the pocket clip or as a D-ring attachment on the Pivot or Slide
Where can I find more info?
The Keyport Anywhere Tools campaign ends on 5/18/2018 and they have just begun working towards their funding goal of $20,000. You can pre-order starting at $18. After the Keyport Anywhere Tools campaign ends, rewards are estimated to start shipping in September 2018. Visit mykeyport.com and their Kickstarter page for all the details.