We use affiliate links. If you buy something through the links on this page, we may earn a commission at no cost to you. Learn more.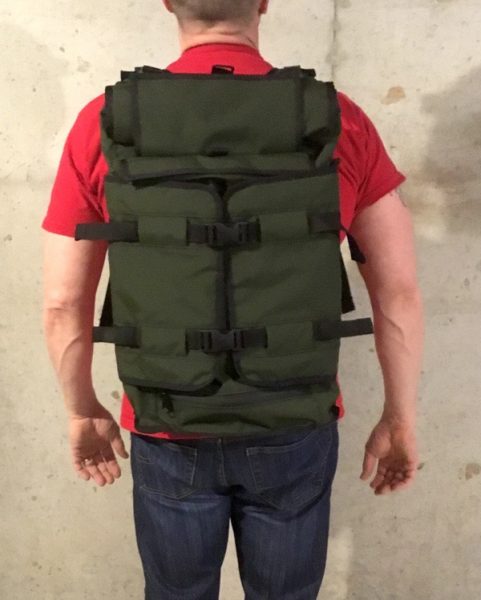 If you spend time on a bike, you probably know about Mission Workshop and their amazing bags. Today we're looking at their latest pack: The Rhake. Designed with tons of dedicated organization for your tech and gear, the Rhake is a true multitasker for cyclists, commuters, and travelers alike. It's a good one, folks. To the review!
What is it?
It's a burly weatherproof laptop backpack with all kinds of organization and enhancements for your tech gear and travel needs.
Hardware specs
External dimensions: 21" x 13" x 5"

Internal volume: 1,350 cu. in. (22 L)

Weight (empty): 3.1 lbs.

Body Fabric: Available in HT500 or MultiCam® Black Camo Cordura®.

Two-layer weatherproof construction and water-resistant zippers.

Arkiv® rails on the shoulder straps for easy addition of Mission Workshop Arkiv® accessories.

Perforated foam back panel.

Made in the USA from domestic and imported components.
Design and features
The Mission Workshop Rhake wears it's heritage as a bike ready bag proudly. It's a rugged looking bag, but a lean profile and sophisticated styling details give it a contemporary look. There's no doubt that this is a bag made to work hard, but it will look good doing it.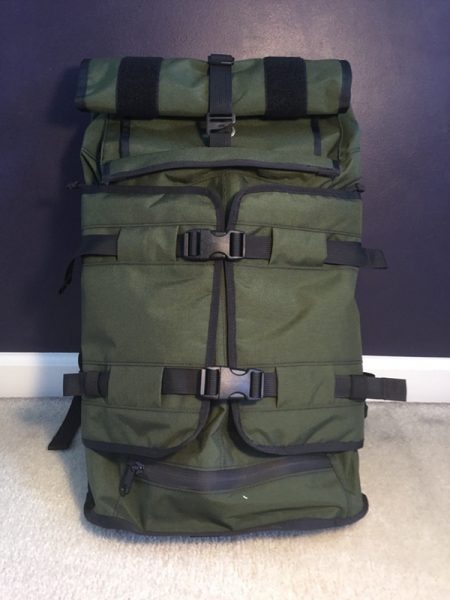 The Rhake is built around Mission Workshop's signature rolltop-style design for access to the main storage compartment. As opposed to a simple flap, the rolltop "hood" is an 8" extension of the bag that is secured by either a velcro flap or an adjustable strap that hooks into a loop on the bag. This setup gives you a flexible, cavernous space (22 liters) when rolled tight for a completely waterproof seal. Use the adjustable strap and that space expands to up to 28 liters for taller/larger loads. There's also a deep zippered pocket on the rear panel of this chamber to keep documents flat and dry.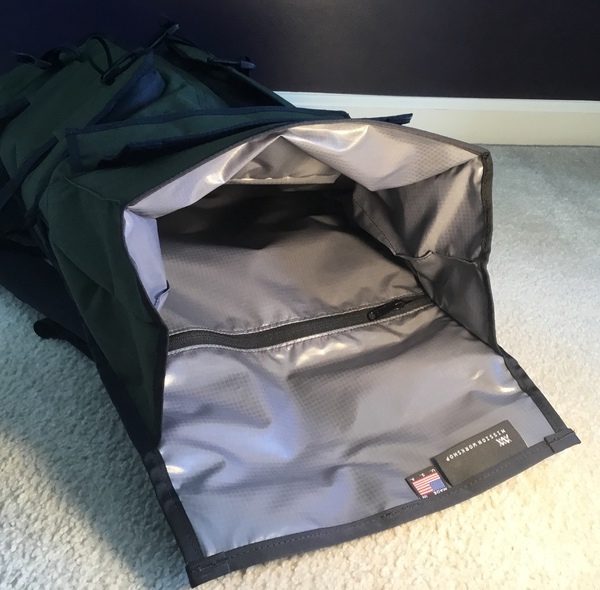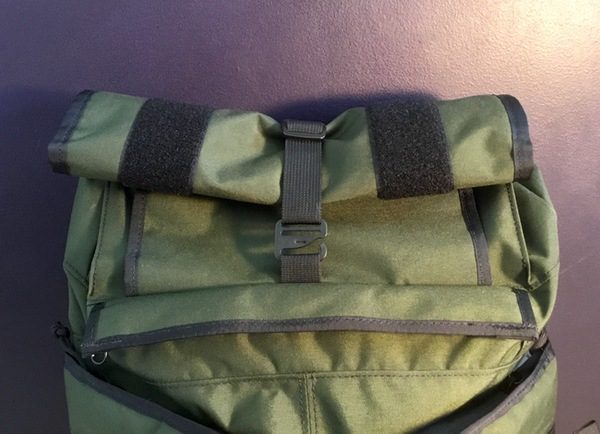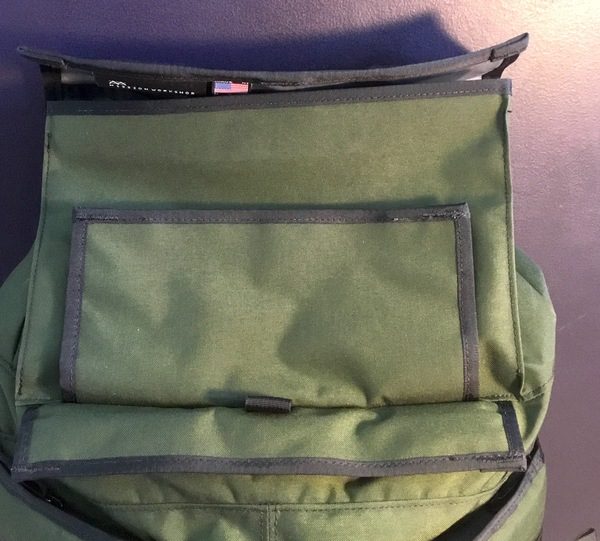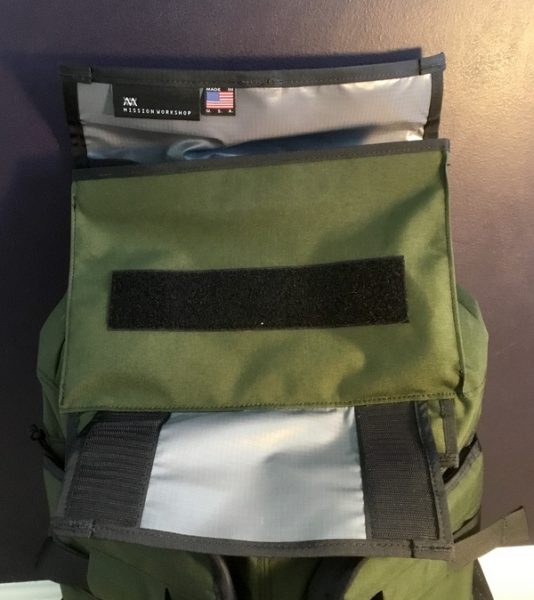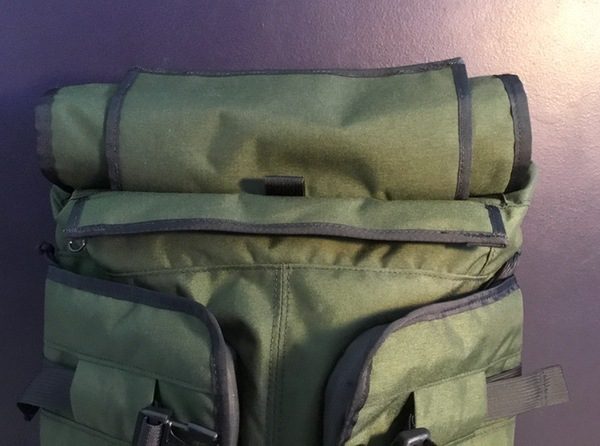 Your laptop rides behind the main compartment, closest to your back, in a padded laptop compartment that runs the height and width of the bag. Accessed by a full-height zipper on the rear seam, this compartment will easily accommodate a 15" laptop and some 17" laptops. You can also fit a laptop and a larger tablet here, depending on the size of your gear.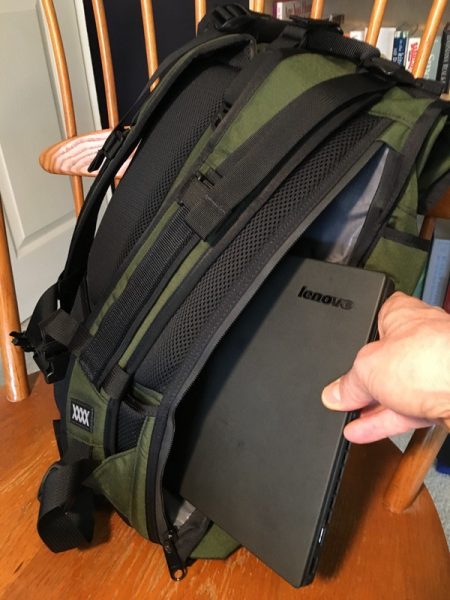 A collection of compartments on the front face of the bag are used to sort out your small stuff. Two 7" by 12" zippered organization panels unzip to reveal a set of zippered mesh compartments (and a key leash!) on the left panel, and an open pocket for quick grab stuff on the right panel. A pair of adjustable buckled straps in front of these panels can also be used to secure additional items like a tripod or a rolled-up jacket. A vertical tablet/notebook pocket sits behind the organization panels and is accessed by a horizontal zipper with its own rain flap. Below the organizational panel is a horizontal compartment intended for chargers, headphones, or other similar small chunky items.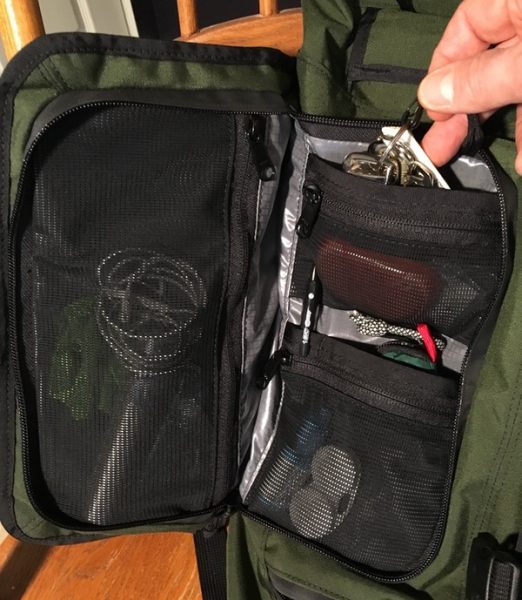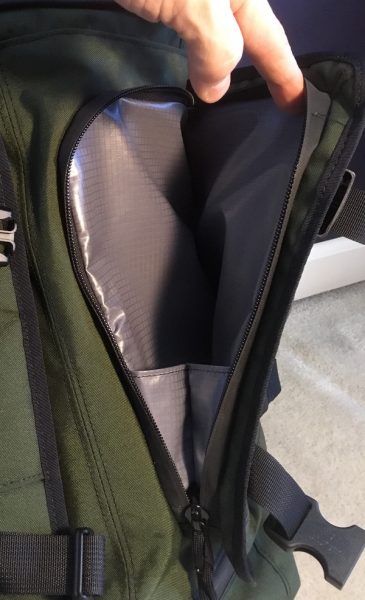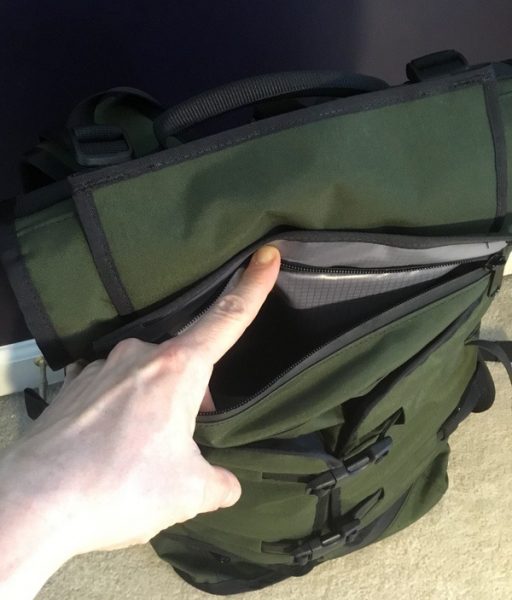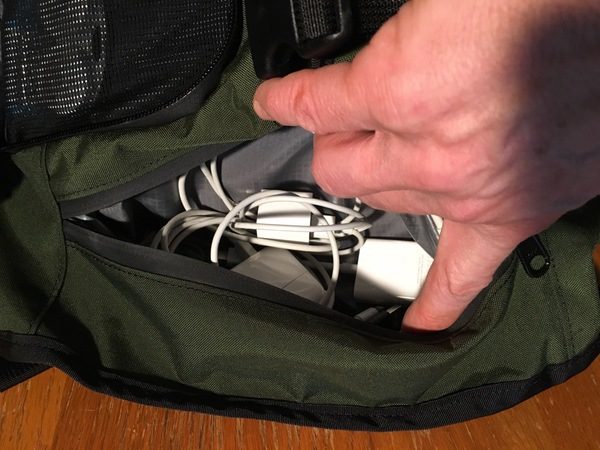 Rounding out the organization is a brilliant 10" by 6" "hidden" pocket on the opposite rear seam from the laptop zip. This pocket contains an elastic mesh pouch you pull out to sling your water bottle, including oversized bottles. Tuck the pouch away and you can use this pocket for valuables like a wallet or cell phone since it sits close to your back. Very clever.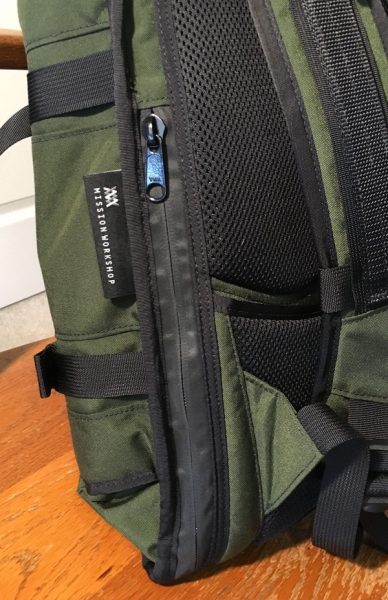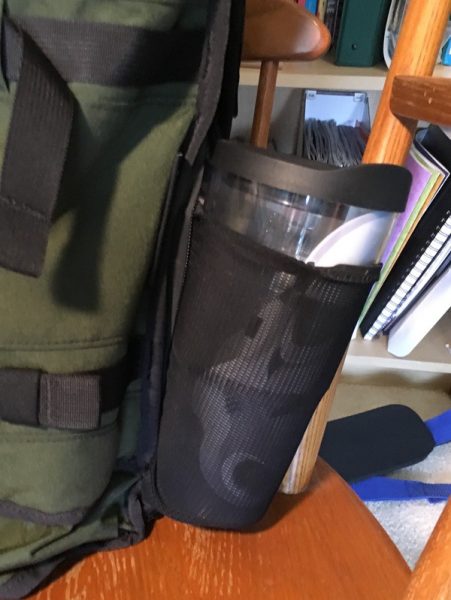 The harness configurations is completely adjustable. The shoulder straps are wide, well-padded, and curve slightly at the hips for a contoured fit. Adjustment points at the top and bottom of the shoulder straps and an adjustable sternum strap enable you to dial in the perfect fit for your body type. Generous back pads provide additional comfort, with a lower lumbar panel designed as a pass-through for your luggage handle. A wrapped foam top handle completes the rig for three different carry options.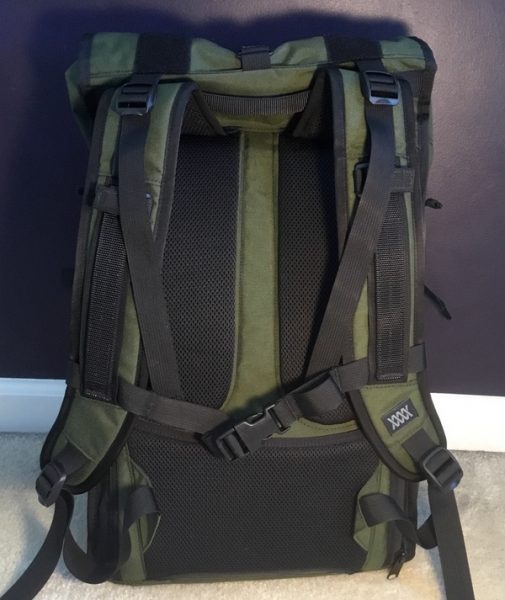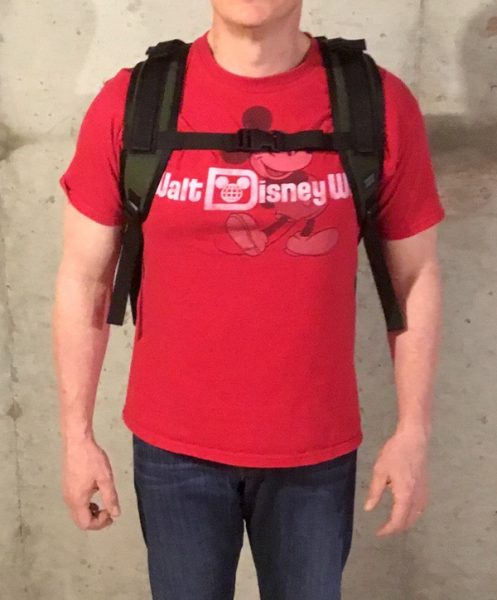 The shoulder straps also feature Mission Workshop's proprietary Arkiv rail system, designed to work with MW's modular accessories. Open the locking tabs and you can slide accessories (like a cell phone holder) onto the straps for additional organization. You can read more about the Arkiv system here.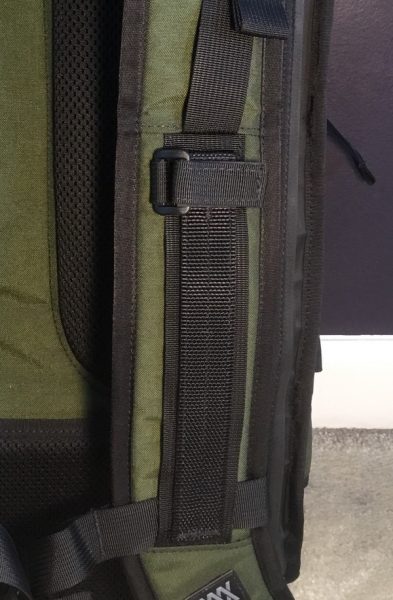 The build on the Rhake is extraordinary. The primary material is MW's exclusive HT500 high-tenacity fabric, a sophisticated upgrade over Cordura (read more about it here). Dual layer construction is used throughout, providing an additional layer of smooth waterproof material for extra element protection. Duraflex buckles are standard (some options offer Cobra buckles!) along with water-resistant zips throughout. Every seam and corner is overbuilt for durability, and little enhancements like zipper garages and a blinky light loop on the bottom of the bag show the attention to detail. It's all made in the USA, and backed by a lifetime warranty.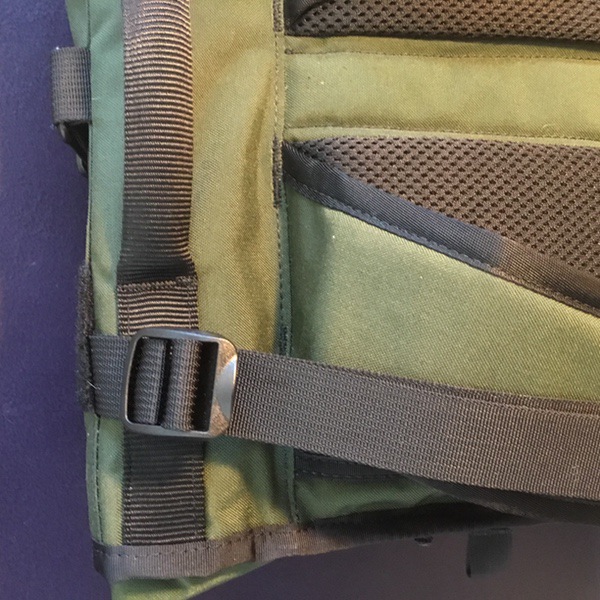 Performance
If you're a commuter or traveler that carries your life on your back everywhere you go, the Rhake is your new best friend. It's a great design that makes life easier on the road.
For extended carry, the Rhake may be the most comfortable pack I've carried. The harness setup is much chunkier than most business-style packs, but you'll appreciate all of that padding and the ability to adjust the rigging when you're running through an airport or train station (or hitting your two-wheeled commuter).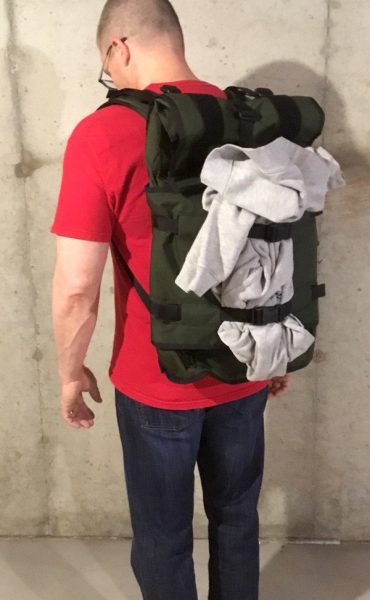 If you're a smaller framed person, you should be aware that the Rhake is quite wide and tall (21″ by 13″). But at a mere 5″ deep, it's lean profile hugs tight to your back for active maneuvering. I'm 5'10" and 190 pounds, and tend to favor slightly shorter packs based on my body type. I don't have any comfort issues with this pack, because I can adjust all of the strapping to get to a comfortable fit. I'm thinking that this bag won't fit under an airline seat, but I plan to test that on an upcoming trip.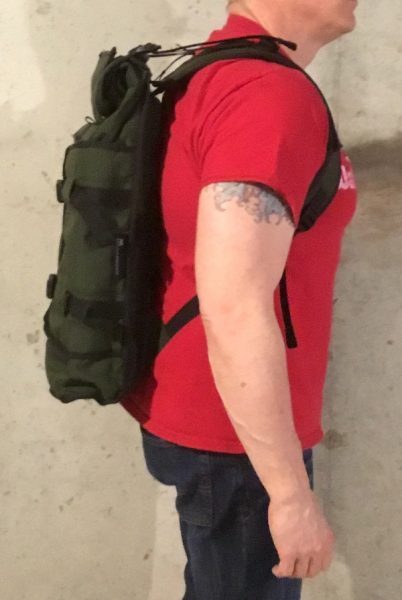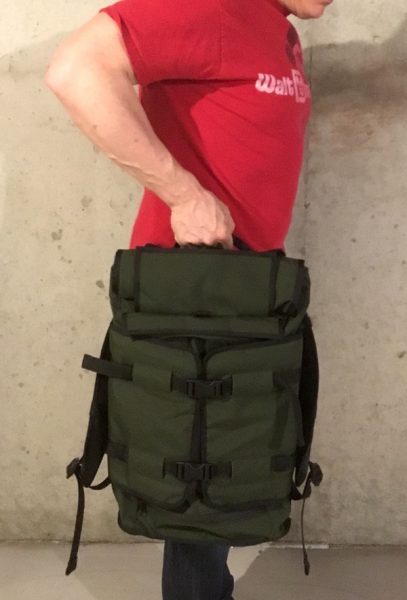 When you are living out of your bag for extended periods of time, the multi-zone organization of the Rhake is brilliant. Since every storage area is accessed independently, you can organize your gear based on size and frequency of use. The main compartment is waterproofed inside and out, which is ideal for the safe transport of gym stuff or groceries (or a six pack, shown below) without risking that your electronics could get hit with an accidental leak. At 22 liter plus capacity, you could easily get a couple of days worth of clothes in there as well.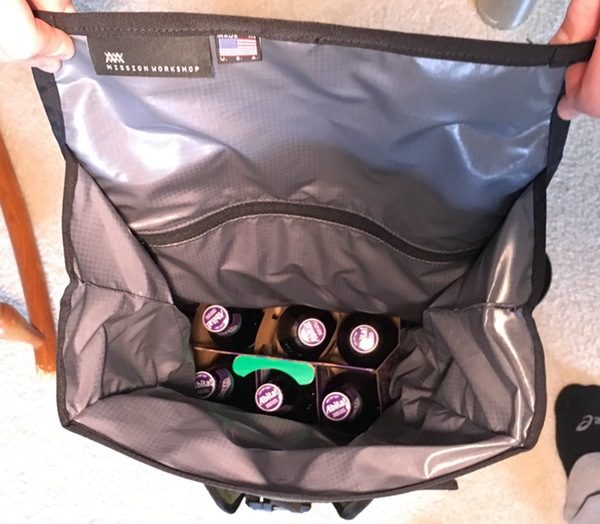 Mission Workshop has clearly put some time into thinking about user needs, and how you might sort out the rest of your kit. Laptop, tablet, and notebooks have dedicated spaces. That left organization panel, with its different sized mesh sub-pockets, is perfect for sorting out all of those little business or travel bits. The quick grab right pocket is flexible enough to handle everything from travel documents to sunglasses, while chargers and power bricks have their own garage so they don't ensnare everything else. Hydration is optional. It all adds up to a well sorted, flexible system that doesn't require any additional organization add-ons to work. I will probably add the Arkiv cell phone holder to the rig so I have a dedicated phone holster, but that's about it.
I have zero concerns about durability with the Rhake. I'm very picky about quality in my bags, and the Rhake is among the best that I've tested. Every aspect of the bag is overbuilt to take a lifetime of beatings. If you're looking for a travel bag that will log a lot of miles, you'll be happy with this little monster.
My final comments are related to style. It should be noted that the Rhake is not a streamlined fancy business bag. It's a technical pack that has lots of straps, and there's a chunky rugged look to the whole package. I don't know that I would wear it with a suit. But I think that the contemporary style looks great in business casual environments.
What I like
Outstanding build and material quality

Built to handle the elements, on or off a bike
Brilliant  multi-zone organization for your big stuff, small stuff, and technology
Extremely comfortable, adjustable fit for all-day carry
Dedicated key leash
Brilliant water bottle pocket that tucks away when not in use
What needs to be improved
Wide, tall form may not work for smaller-framed people
Lots of straps
May not fit under an airplane seat (something I will be testing shortly)
Final thoughts
While I have handled MW products in the past, Mission Workshop Rhake is the first of their products that I have had the opportunity to put through an extended test. It's fantastic. The flexible organization for your tech and gear is really well thought out. Carry comfort is excellent. You're going a pay a premium for the Rhake, but I think the quality and craftsmanship is in alignment with the pricing here. It's an investment piece that will last a lifetime.
Updates 05/18/18
This one is in the top spot as my favorite commuting backpack so far in 2018. The pocketing and organization is outstanding for keeping your tech, work, and personal stuff all sorted out. That weather resistance came in handy during a recent visit to the city by train, facing a day full of random downpours with nary a leak to be found. I was also able to strap on an umbrella using the back straps to keep my head dry. It's a bit heavier than most mid-sized packs due to the burly construction, especially when fully loaded… but the harness system does a great job of distributing the weight. I've a got a couple of packs that are being tested right now for future reviews… we'll see if it stays at the top of the charts!
Price: $365 – $455 depending on options
Where to buy: Mission Workshop and some bags are available on Amazon.
Source: The sample of this product was provided by company Mission Workshop.