We use affiliate links. If you buy something through the links on this page, we may earn a commission at no cost to you. Learn more.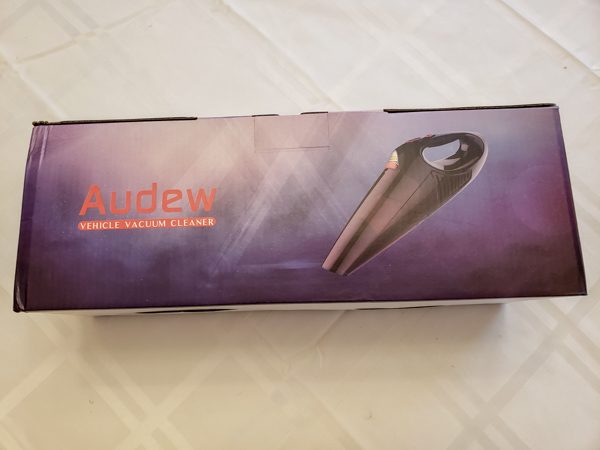 I have always been a fan of a well-kept vehicle.   Ever since my first car at 16 (Yay! Because of H.S. band and I had to be there before the bus) I have had what you call OCD about keeping it clean and looking good.  That is why I was excited to get a chance to review the Audew portable vehicle vacuum cleaner.
What is it?
The Audew vehicle vacuum cleaner is a completely portable vacuum cleaner that runs off the 12-volt socket in your automobile.  It comes with a very long power cord and multiple attachments to make cleaning your car easy and fast.  It will handle wet and dry tasks and when finished it all goes nice and neat into a storage bag.
What's in the box?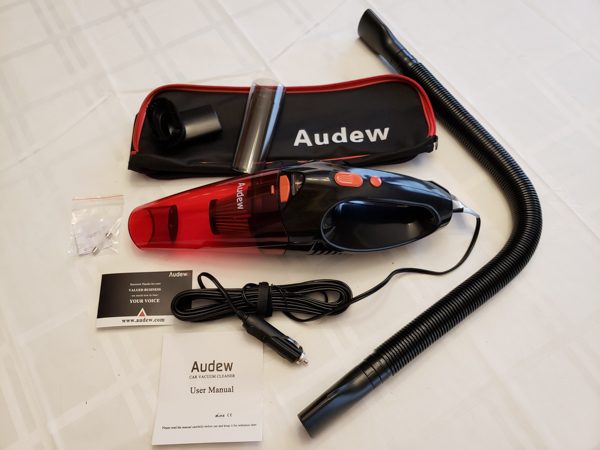 You get a nice collection of cleaning tools with the Audew.  These include:
The vacuum cleaner itself with an attached 15 ft power cable that plugs into the cigarette lighter.
EVA stretch soft long hose
Detachable crevice head
Detachable soft brush head
Extra fuse
Storage bag
User Manual
Specifications
The vacuum is rated at 4500 – 4800pa
They recommend not using it over 20 minutes at a time
15 ft power cable with a nice Velcro wrap attached
Stainless Steel HEPA filter – it can be removed and washed
LED light that can be turned on and off with a button
Can work with both wet and dry items.
Setup and Use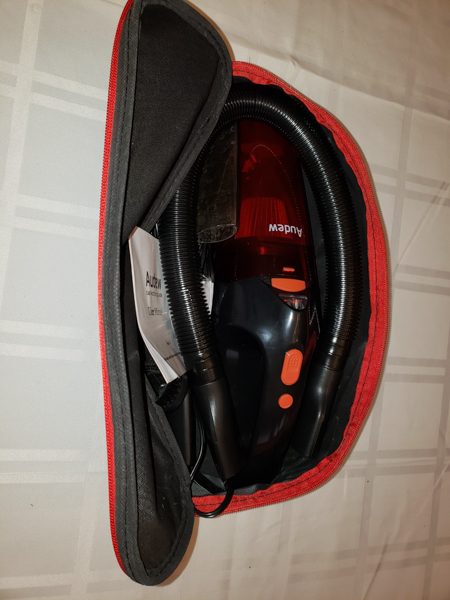 I loaded everything into the bag right away to see if the bag was big enough to hold all of the items.  It held everything nicely as you can see in the picture above.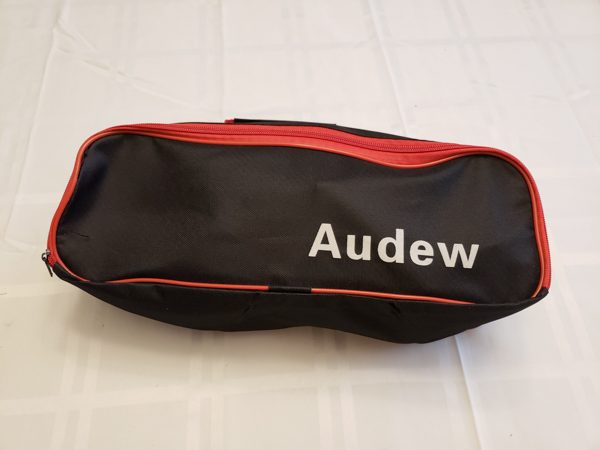 I then zipped up the bag and it was all ready for me to carry out to my ready and waiting truck.  Now I have to mention that I have been detailing cars and trucks for a while.  I normally use a really nice wall hanging shop vac in my garage for all of my vacuuming needs.  I will admit that it is a pain to have to pull the vehicle into the garage in order to get my vehicle close enough for the hose to reach the car.  I am hoping this handy dandy portable vacuum will eliminate the need for moving the vehicle.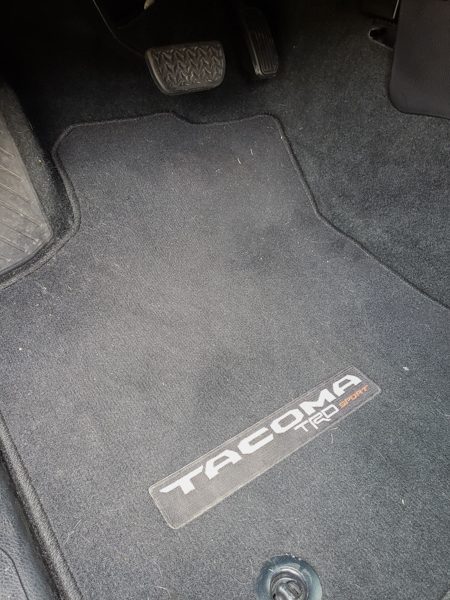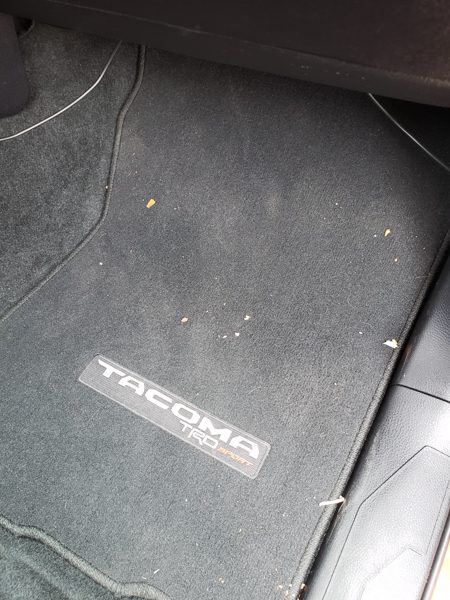 In the pictures above you can see my driver's side and passenger side floor mats.  The driver's side will be in my opinion the tricky one to clean.  I have a dog with long fur and I swear it just likes to embed itself in the carpet.  The driver's side also contains a lot of very small particles.  The passenger side has some larger leaf particles and rock pieces.  This truck is not quite a year old and the carpets are still pretty full and thick.  I am now going to include some videos of me actually vacuuming the carpet.
This video shows me trying to vacuum the driver's side floor mat.  As you can see it simply pushes the dog hair around and does not really pick it up with the brush.  I will admit the dog hair even gives the shop vac some difficulty.  The suction power of this vacuum is much less than that of the shop vac and it has an even harder time with the dog hair.
The video above is showing the vacuuming of the passenger side.  The vacuum had an easier time of it picking up the larger particles.  There was one stubborn piece that was giving me some issues, but otherwise, it seemed to do a decent job.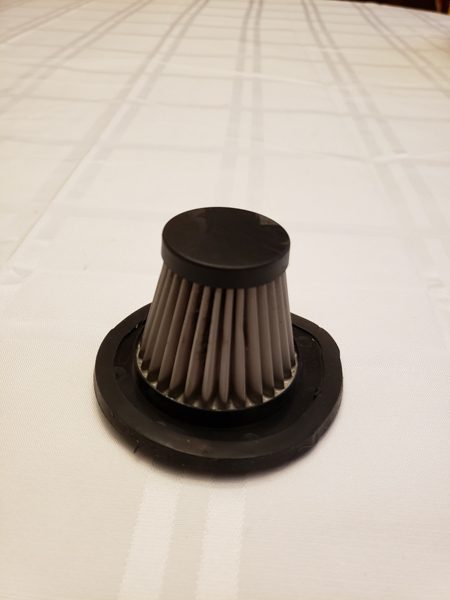 Finally, I have a picture of the HEPA filter after the cleaning.  It is very easy to pull out of the vacuum cleaner.  I simply ran water from the other side forcing the particles out the way they came.  You then let the filter air dry and it is ready for the next use.  I was not going to sacrifice my truck for this review and pour water on the floor mats to test the wet capabilities of the vacuum.  I did, however, try suctioning up water off the floor and it did an OK job of getting most of it off.   If the water were embedded in carpet I am not sure it would get much of it out.  The suction power is just not there.
What I like
Nice storage bag – I am all about stuff going into bags and being easy to keep
You can clean the air filter yourself.  It reminds me of a K&N type filter you would use on your car except that it does not need to be oiled.
Inexpensive
Nice long power cord.  You could easily reach the back of a suburban with this cord.
Runs off the car cigarette lighter
Nice attachments
What needs to be improved
Suction power – using the brush head the area trying to get suction is almost too wide for the amount of pull the vacuum has.  This means little to nothing gets picked up with that head.
Final Thoughts
I would recommend this vacuum to the minivan owner with little kids.  I know how the kids like to drop food in the car and I think this vacuum would do a good job of picking up those messes.   You can be anywhere and whip out this vacuum cleaner from the back of the van and quickly clean up messes.   I would not recommend it for someone who has dogs or cats and loves to take them for car rides all the time.  It just does not have the suction power to pull embedded fur out of carpets.
Price: $32.99
Where to buy: Amazon
Source: The sample for this review was provided by Audew.