We use affiliate links. If you buy something through the links on this page, we may earn a commission at no cost to you. Learn more.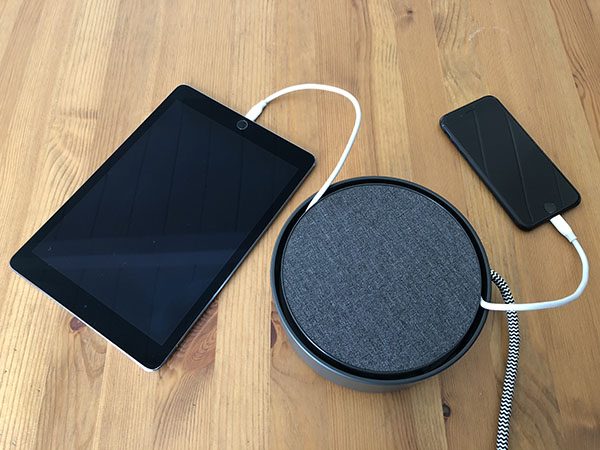 I'm pretty good about charging my phone throughout the day, and with wireless charging now included on more phones it's easier than ever to stay charged. Inevitably though, I'm actively using my phone or other non-wireless-charging device when I really need a charge. My solution has been to strategically place cables around the house. It gets the job done, but the result is a visual mess (cables never getting put away), or the cables get into a fight with the Roomba. This has resulted in countless hours browsing for a functional and aesthetically pleasing solution. The latest candidate is the Eclipse Charger from Native Union which I've been using for a couple weeks now.
What is it?
The Eclipse is a smart USB charger that has more in common with home decor than the typical wall adapter. It sits on a table top and can provide 7.8 Amps of power for up to three devices at the same time. Native Union clearly has a vision for the Eclipse, and for a device that's meant to blend in visually, they've made sure that it still stands out.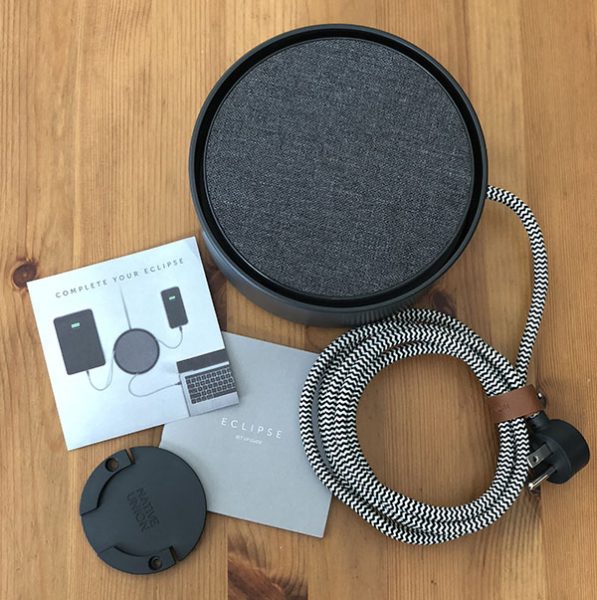 What's in the box
Eclipse Charger
Wall Mount
Quickstart Guide and Cable Offer
Design and features
The Eclipse is available with different top surfaces. I've chosen to review the textile version (shown here) that looks right at home next to our fabric covered sofa. It's also available with wood or marble top surfaces for a premium. It has a good heft keeping it in place during operation with smooth sides and fabric covered power cord giving it a clean look. The 90º plug keeps the cord close to the wall with a letter wrap to handle any extra length.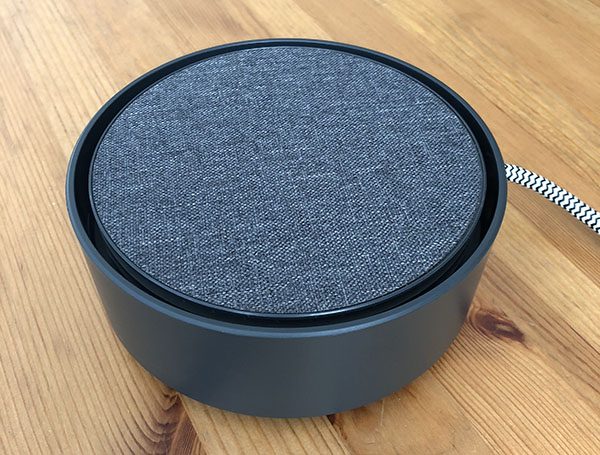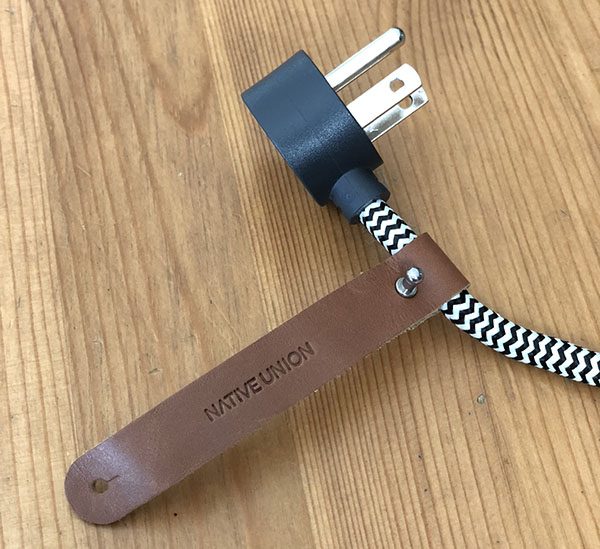 Cable management is a central function of this product and Native Union has a pretty novel solution that involves providing your own cables. The Eclipse uses a gesture based system where two taps on the top results in a cable reel magically emerging out of the center of the product. A single tap activates a nightlight "halo" feature that helps you find and connect your cables in the dark.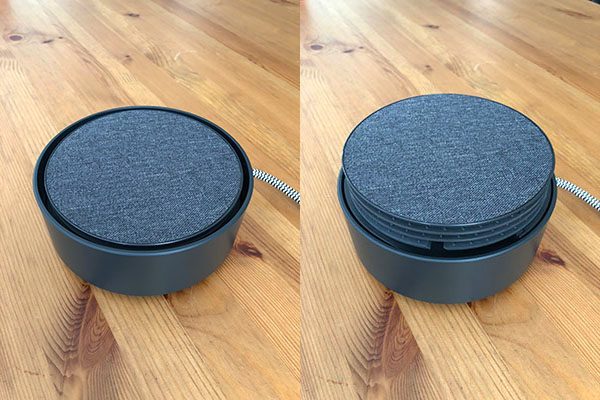 You should only need to access the ports during initial setup. A slight counterclockwise turn and then a lift of the reel, reveals 3 USB ports, one of which lets you choose between USB-A and USB-C.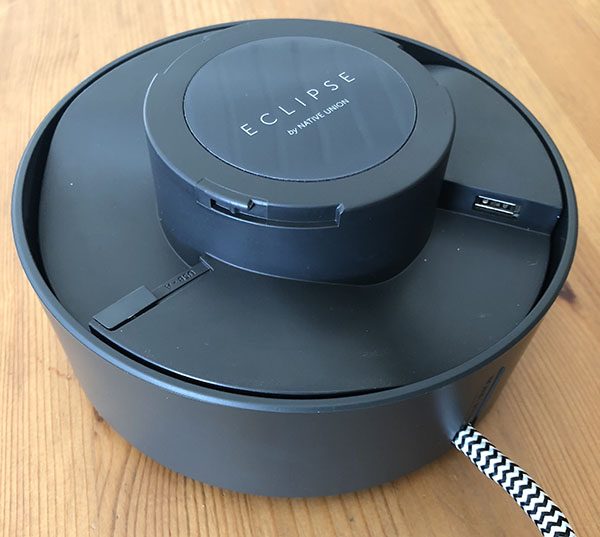 Connect your 3 favorite cables (up to 6' long) to each of the USB ports. I've used a pair of Anker 6' Powerline Lightning cables and Micro-USB that came with a Mophie battery case.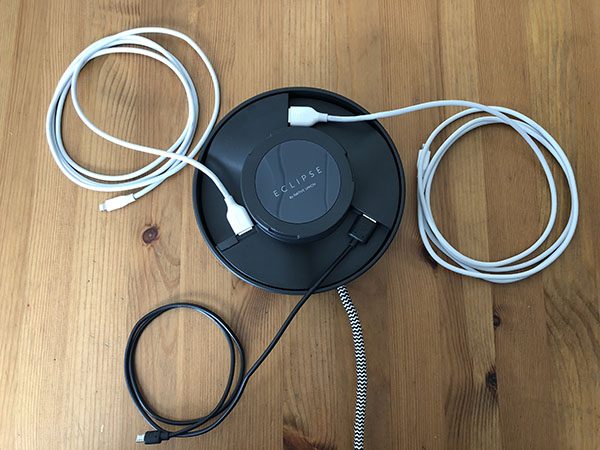 The reel has 3 channels equidistant around the perimeter and it's important to note how they work as you put it back into place with a clockwise twist.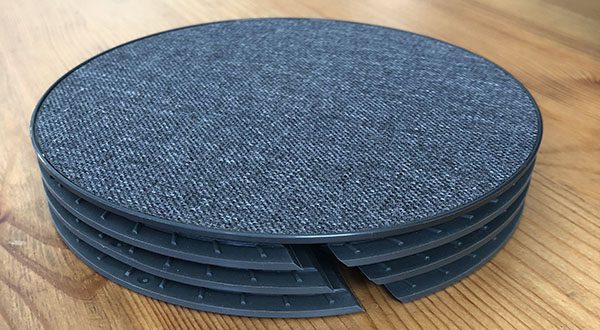 Your first cable needs to route up to the top channel through the slot that breaks through all three tiers. From there you'll wind it clockwise until your cable end tucks away. Repeat this process with the second and third channels. When finished a double-tap hides it all.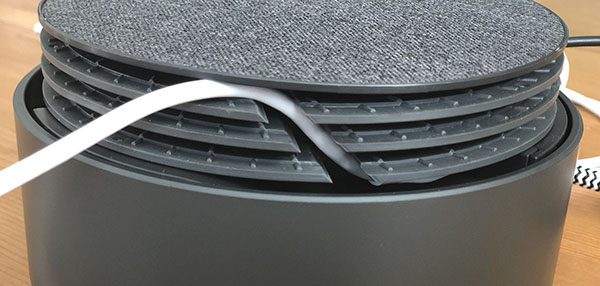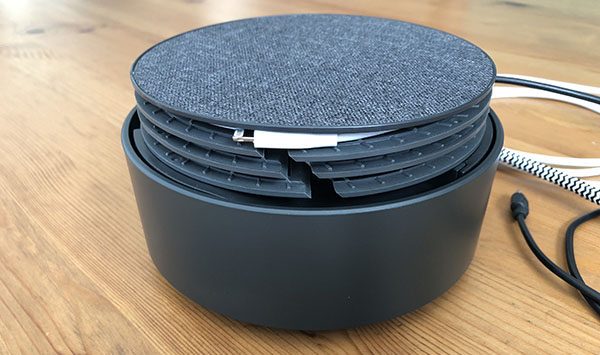 What I like
It looks great and is very functional. In designing the Eclipse, they purposefully left a gap between the center reel and the outer wall which lets you close the mechanism with cables in use. You can unwind as much (or as little) cable as you need before closing it back up.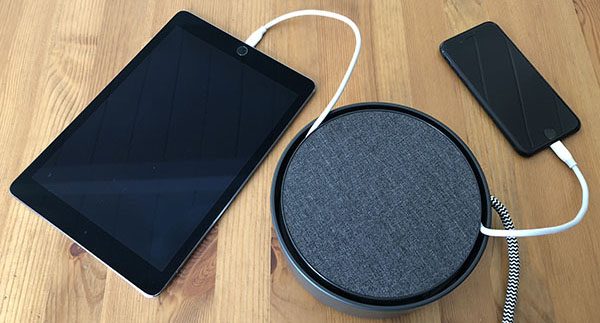 What needs to be improved
There are a couple of things that I feel could use some refinement. It's supposed to work with most cables, but cables come in a lot of sizes and shapes. The micro/USB cable I used has an oversized end that barely fits. Winding it loosely allowed me to shift the end to an area with more allowance. It's not a deal-killer as you likely have a few varieties as I do.


The gesture thing is cool at first, but seems to misfire frequently, either ignoring my taps or reading it as a single tap turning on the nightlight that glows from the bottom of the device. Adding a slight delay between taps helps remedy this but I find myself wishing for a physical button that just works every time.
Final thoughts
Overall I like the Eclipse as it has solved a rat's nest cable problem for me. Something about the design and the manual nature of winding has me wanting to put them away when not in use. A quick tip is to put your most frequently used cable into the bottom channel. If you connect your top cable and go to use cable 2, you'll end up having to thread it under the first cable every revolution.
The only other thing you should know is that the Eclipse is significantly bigger than you might think. Here it is next to a soda can for reference. That said, the diameter makes sense for limiting the number of times you need to wrap cables and if you have a big enough table, it's not a major issue. The Eclipse has found a place on my side table.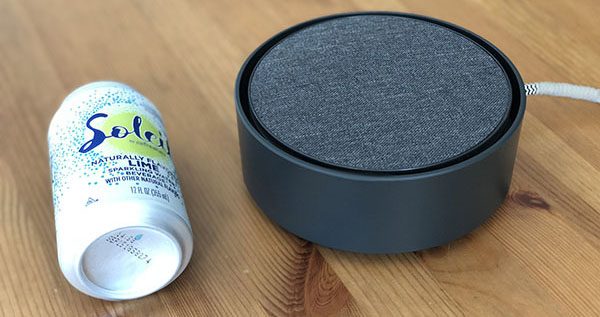 Price: 
$80 / $100 / $160 for Textile / Wood / Marble
Where to buy: 
Native Union
and
Amazon
Source: The sample for this review was purchased with my own funds.