We use affiliate links. If you buy something through the links on this page, we may earn a commission at no cost to you. Learn more.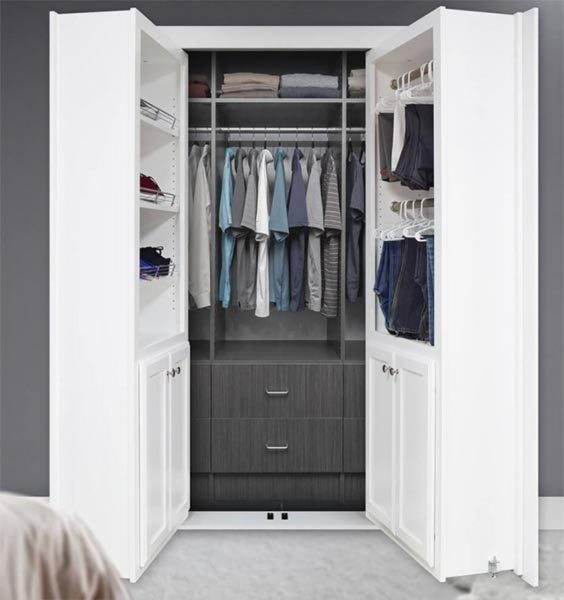 Murphy doors aren't quite the same as a Murphy bed; they utilize a door to add shelving, but the storage isn't necessarily hidden away.  There are several varieties of Murphy doors.  Some look like a built-in bookcase, some look like free-standing bookshelves.  Some have the storage visible in the room; others have the storage on the inside, like the closet doors seen above.  You can convert an existing door into a flush-mounted built-in bookcase that still operates as a door.  You can cover a wall opening with a set of free-standing bookshelves that open like bifold doors.  The closet doors seen in our image open like French doors to reveal hidden storage inside.  The Murphy Door company even has introduced barn door styles.
The storage can be all shelving, or you can add upper or lower cabinets, or you could have a wine rack, pool cue storage, or even a laundry hamper door.  You can enter your door or entryway dimensions to get a custom-sized door, or you can select from ready-to-ship doors (when available).  Accessories for the doors include keyed locks, magnetic locks with optional remote, lighting kits, and even a biometric fingerprint scanner.
Of course, the doors vary in price with size, material, and styles – but can you really put a price on having a hidden room behind a built-in bookcase?
You can design and order Murphy Doors at the Murphy Door website.  You'll also find a local-dealer locator at the Murphy Door site.