We use affiliate links. If you buy something through the links on this page, we may earn a commission at no cost to you. Learn more.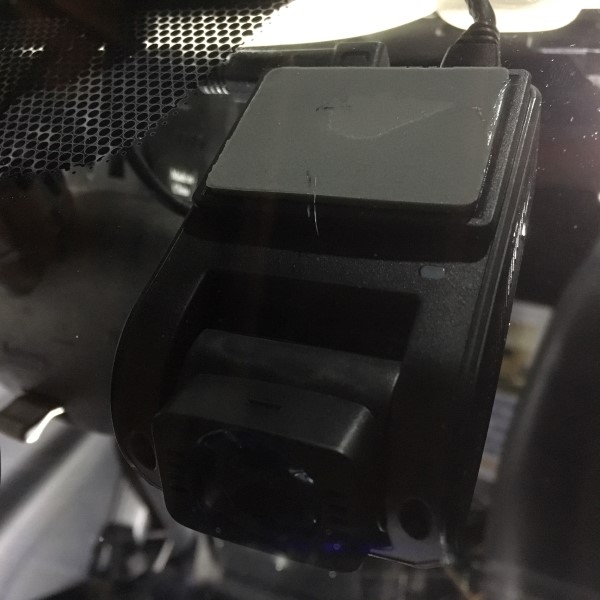 I drive one of the smallest cars on the road, so I leaped at the chance to review the Aukey Dual camera dash camera.  I drive a Smart. It's 8'3", but being so small comes with a price – bullies!  I'm a very conservative driver (I'm old) and each week, I get tailgated, cut off, and even flipped off, FAR more frequently in my tiny Smart Car than in a year of driving my gigantic Nissan Armada. I'm not doing anything wrong, but my car seems to bring out the worst in some. Aukey's DR02 dual camera system is just what the doctor ordered to bring peace of mind to happy motoring.
What is it?
The Aukey DR02 is a dual-camera dash cam featuring a primary main unit for front recording, and a secondary camera for rear-view recording. It captures video simultaneously from both cameras in 1080P and has a set of features.
Hardware Specs
Sony Exmor Sensors in both cameras capture super-sharp 1080p video (accompanied by optional in-car audio) and perform well for nighttime driving
Full Six-Lane View: The wide-angle  170° front and 152° rear fields of view monitor vehicle movements and other activity in front, behind, and even towards the sides
Emergency Recording & Loop Recording: Emergency Recording automatically captures unexpected driving incidents and protects the recordings. Loop Recording allows continuous use by writing over old, unneeded footage. Connect to the AUKEY GM-32 GPS Antenna (sold separately) to embed location & speed data for trip tracking and greater protection.
What's in the box?
Dual Dash Cameras (front and rear camera), Dual-Port USB Car Charger, 4m / 13ft USB Mini-B Cable, 6m / 20ft USB Mini-B Cable, Two Sticker Mounts, Six 3M Stickers, Six Cable Clips, User Manual, 45-Day Money Back Guarantee and 24-Month Product Replacement Warranty Card
Design and Features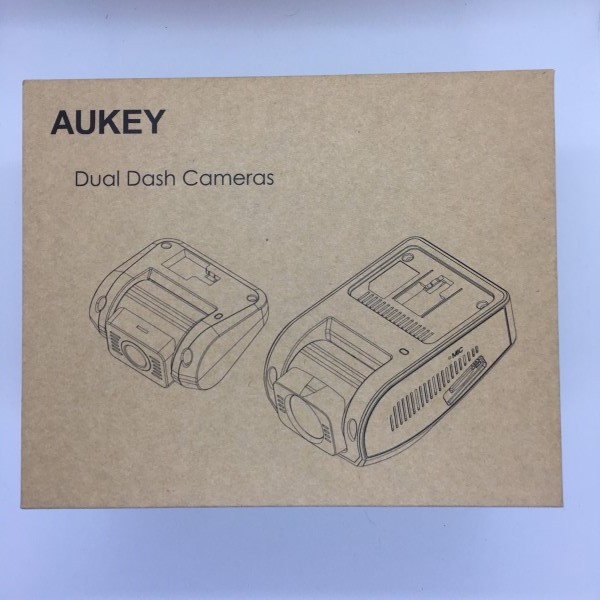 The cameras arrived in a well-padded box with USB plug adapter, power and video cables, instructions, mounting plates for front and rear, and cable clips. I carefully read all of the instructions and jumped into the installation process.  Because I planned on making this a permanent fixture in my Smart Car, I went a few steps further, removing all of the internal body trim panels to hide the wires and make the installation as professional looking as possible.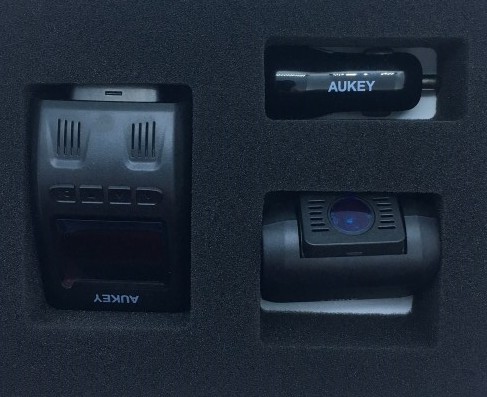 I even cut a small notch into one of the trim panels to hide the somewhat bulky cable connector for the rear-facing camera. The system can be powered up by the car's ignition but has the option of wiring it always on, triggering by motion detection. I chose the former.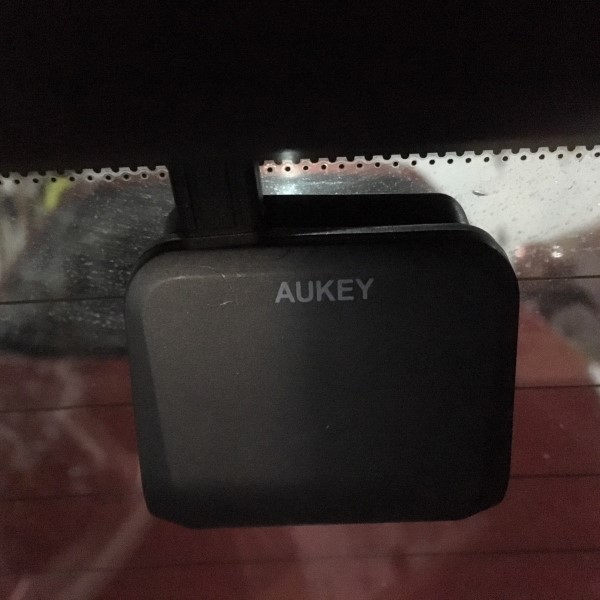 After running the power and video cable to the rear camera and plugging in a 128GB SD card, I powered up the system for the first time and an image appeared on the front camera, but I was unable to access any camera functions. I found the main camera would function unless the rear camera was connected. As soon as I plugged in the rear camera, all of the lights would come on indicating everything was correctly powered, but the image and all of the functions on the main camera would lock up. After many hours of troubleshooting, Aukey graciously sent me a replacement.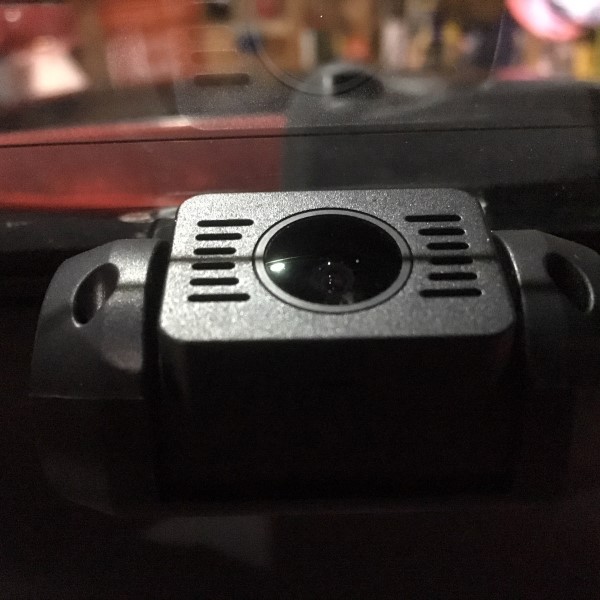 I had a few issues running the cables – the cable is a 10 conductor Mini-USB male. You read that correctly, a 10-conductor oddball, not the run-of-the-mill 5-conductor connectors that were used everywhere as a precursor to the Micro-USB. It would have been ideal to purchase another cable and move the cameras from one vehicle to another, but this isn't an option. I contacted Aukey's customer support to inquire if spare cables and mounting plates could be purchased, but they are unavailable apart from the kit. Bummer.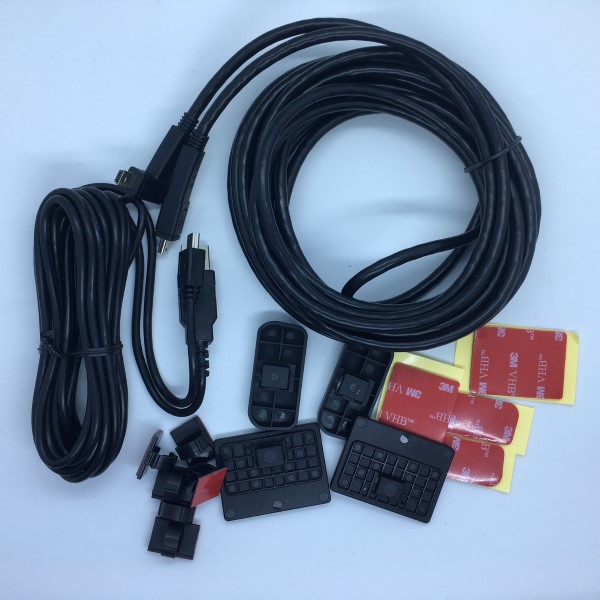 Next, the connectors, particularly on the rear-facing camera have bulky, inflexible strain reliefs with very a wide bend radius, so I found routing them through existing cable paths was VERY challenging. Admittedly though, if I had just used the included cable clamps and double-sided tape, this wouldn't have been an issue.
Because of the density of the rear-facing camera cable and the rigidity of the connectors, coupled with my Electrical Engineering background, I have some concerns that any lateral forces applied to the cable when being plugged into the cameras could result in broken connectors on the cameras, so care should be taken not to apply any stress. Been there, done that. It's no fun.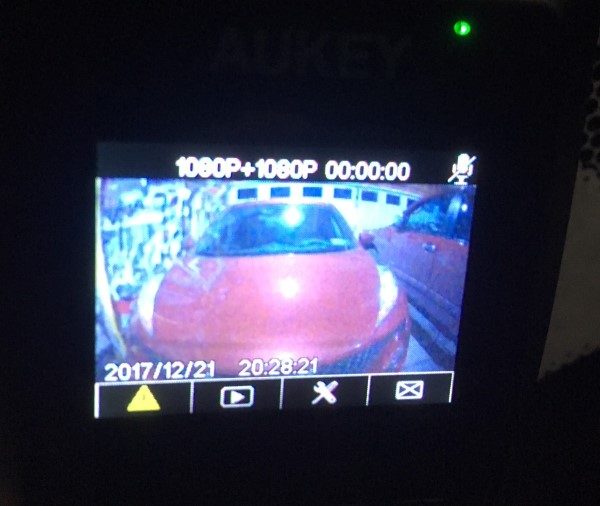 Since everything was wired and ready when the replacement arrived, installation of the front and rear cameras only took a few minutes. I reformatted the card, chose 10-minute loop recording, no audio, and the rear camera as the display, and went for a drive. The system records 1080P from both cameras simultaneously which could prove invaluable in a fender-bender. It's also fun just to review the recordings just to see things you missed while paying attention to the road like a well-behaved motorist should.
For the most part, the videos were crisp and clear, but on occasion, the screen would lock up, display a corrupted or pixelated image. I found with one of my SD cards, I would get frequent "Memory Error" errors and the corresponding files could not be viewed. This was particularly disappointing as I had an incident where I was tailgated and passed by a truck, on the right, that ran a red light in front of several other drivers, putting several lives in jeopardy. It really should have been reported to the police, but without the video evidence, there's not much point.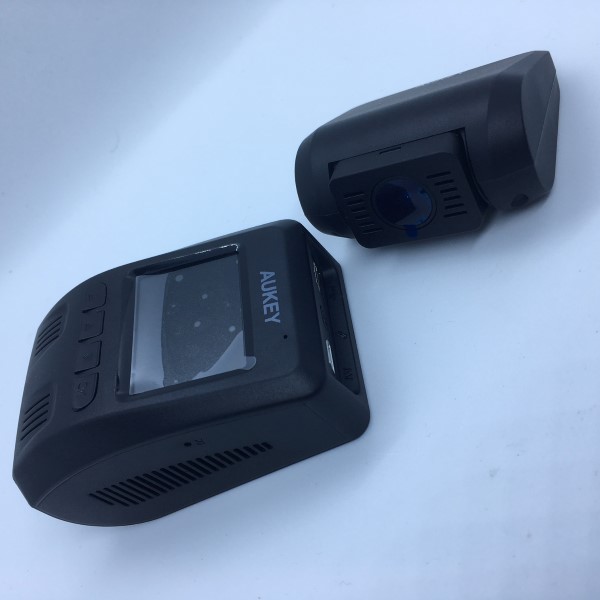 Final Thoughts
I really liked the features, video quality, compact size and dual-cameras in this system and will definitely keep it running at all times while I'm in the most bullied vehicle on the American roads. Having a record of my surroundings will be used with the inevitable interactions I will have with my insurance company.  As an entertaining bonus, I can keep an eye on the driving habits of my 16-year-old daughter and I'm looking forward to preserving picturesque drives through the mountains of Vermont.
Positives
Small size
Good video quality
Lots of features
Negatives
Bulky cables
Expensive
Sometimes glitchy recording
Has some trouble starting when the weather is extremely cold
Price: $129.99
Where to Buy: Amazon
Source: The sample for this review was provided by Aukey. Please visit their site for more info.