We use affiliate links. If you buy something through the links on this page, we may earn a commission at no cost to you. Learn more.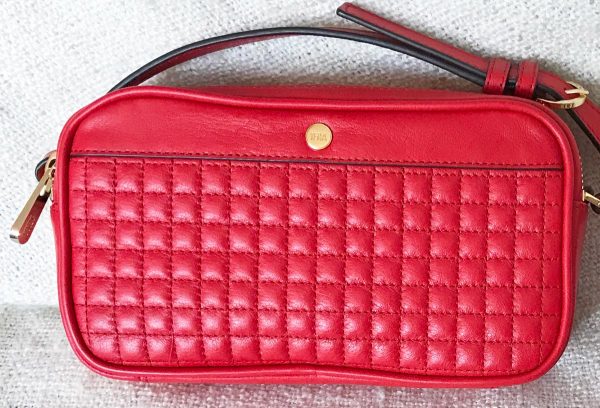 Because my days have no set format, I don't like relying on a single gear bag.  Some days I need a laptop or my 12.9″ iPad Pro, so I need a big bag.  Other days, I'm just running a few errands, so I only want to carry some keys and a wallet, but I still want a small bag to hold them since my clothing never seems to have useable pockets.  The Isa Crossbody Leather Hand Bag for smartphones from Sena Cases seems like a great bag for my errands days, and I was happy to be selected when Sena offered one to The Gadgeteer for our review.
What is it?
The Isa Crossbody bag is not a fitted case; it is a universal phone bag, and it has extra room inside to hold a small EDC kit in addition to a phone.  It holds everything I need for most of my days when I'm just going out to do some errands or go shopping.
Specs
The Isa Crossbody is about 8″ long,  4.5″ tall, and 2.5″ deep (empty).  It has a strap that's about 5/8″ wide and adjusts from 48″ to 52″ long.  It's designed as a crossbody bag, so the strap is longer, but you could carry it on your shoulder at the shorter length if you don't mind carrying it low.
The bag is available in black or red leather.  I asked for the red, of course!
Design and features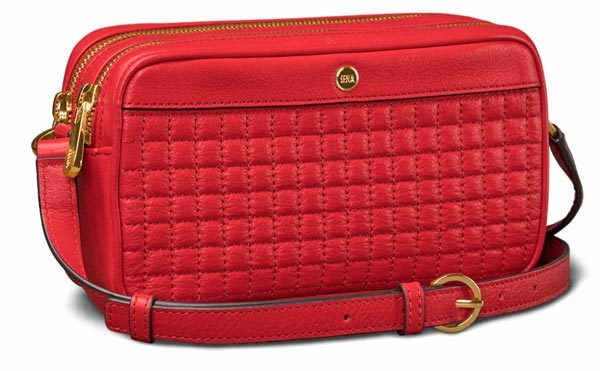 The lead picture is a photo of my actual bag, but I thought I'd also include the one from Sena's website so you can see the strap adjustment buckle.  They more artfully staged the Isa than I was able to do.  You can see the small, round metal Sena badge at the top center.  This was the only branding on the bag's leather exterior.  You can also see the gold-toned metal hardware and zippers.
The leather on the front of the bag has been quilted into an attractive small grid design.  There is no external pocket on the front of the bag.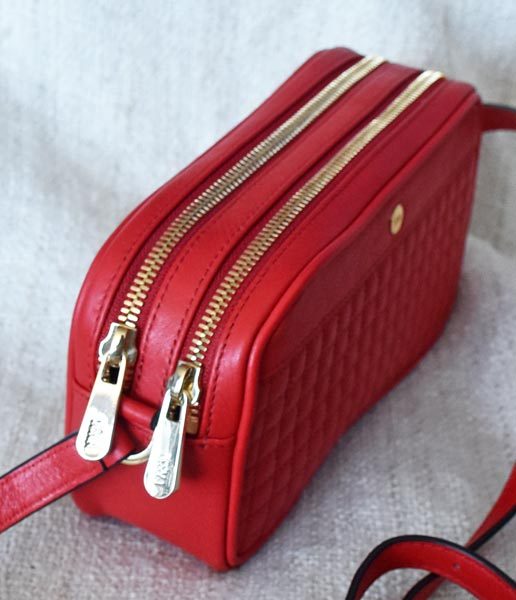 The zipper pull tabs are made of metal, as well, and they are very thick.  So thick, in fact, that they can get stuck in strange positions that make it hard to operate the zipper sometimes.  It's impossible to see in this image, but the zipper pull tabs are branded with the Sena name.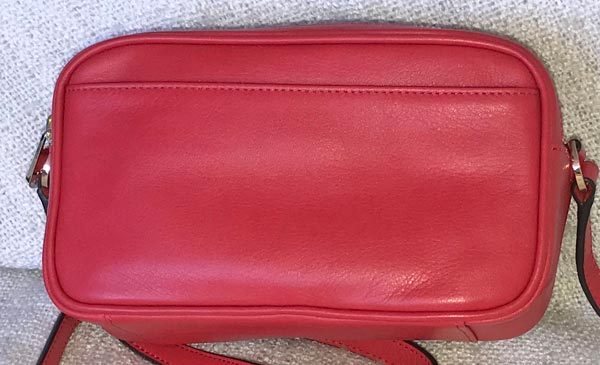 The back of the bag has no quilting.  There is an open pocket that covers most of the back.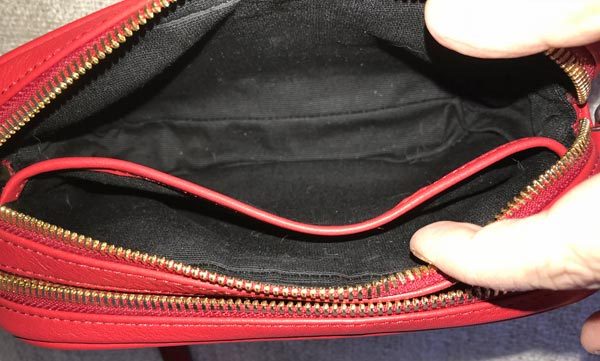 The bag has two separate zippered compartments.  The front compartment has a sewn-in sleeve that holds a phone with up to a 5.5″ screen.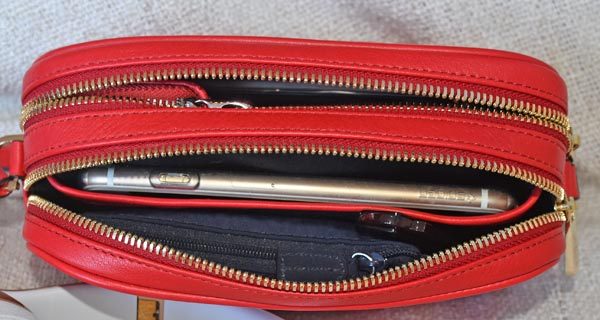 It easily held my iPhone 7 Plus in its thin, clear Spigen case.  I stored my Vera Bradley zippered card case and a folding Kent comb in the rest of the front zippered compartment.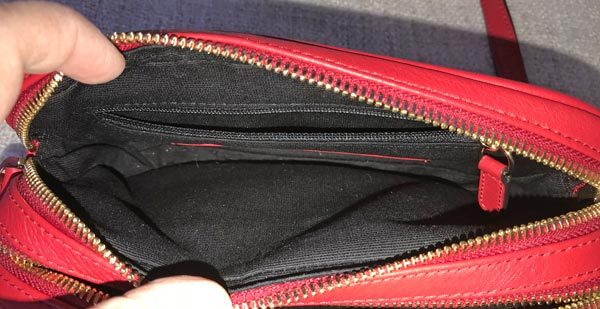 The back compartment has a little zippered pocket on the back wall; it's unzipped in this image.  There's also a leather badge imprinted with the Sena name on the back wall, but it can't been easily seen in this image.  The red line visible just under the interior zipper is the top of the badge.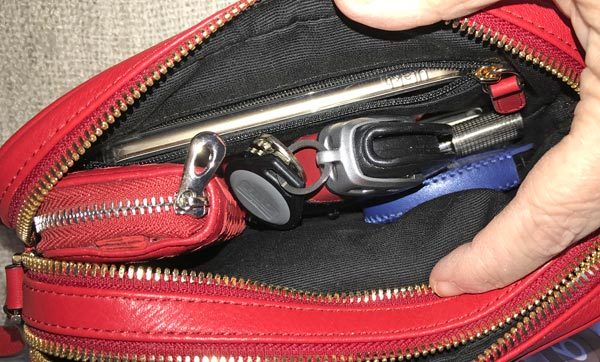 I packed most of my stuff in this back compartment.  I have my iPod touch in a clear Spigen case in the zippered pocket.  I have three car fobs in cases, a Bic 4-in-1 pen/pencil, and a small LED flashlight with a Swiss Army knife attached in this pocket.  And the compartment actually zips!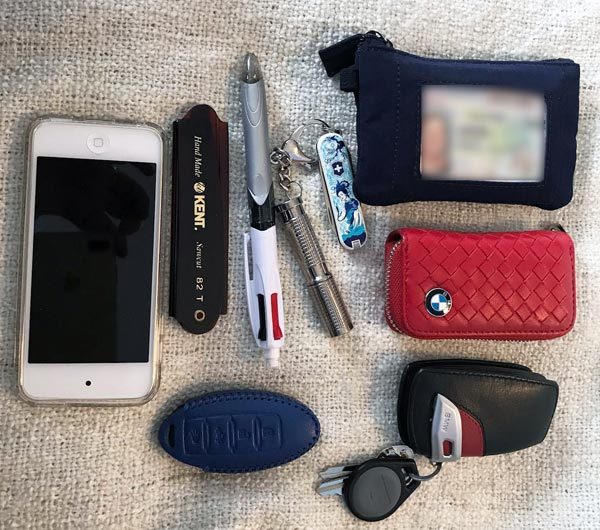 Here's a look at everything, except the iPhone 7 Plus, that I carry in the Isa Crossbody.  (I used the iPhone to take this photo.)
Granted, the bag was a bit cramped, but I could leave behind the fobs for my husband's car (red leather case) and my daughter's car (small oval, blue leather case) and have room for other stuff.  Truth is, I never remember to pick up the fob for the other car if I'm going to to be using someone else's car, so I'd rather just carry all three fobs.  I'm glad the Isa allows me to carry them all.
I like the Isa Crossbody universal smartphone bag.  If I get a new phone, I won't have to worry if it will fit in the Isa, because I can just leave it out of that phone sleeve if I need to.  I like that I can segregate my stuff to keep the keys away from the phone screen, and I like that I can fit what I consider to be my minimal EDC items in the bag and zip it all up securely.  I like that it's a crossbody bag, because that leaves my hands free, and I don't have to worry that I'll set my bag down to look at something then walk off without it.  I think Sena has a winner with this well-constructed, reasonably-priced, attractive phone bag!
What I like
Great size for a phone, keys, and wallet
Beautiful leather, design, and construction
Adjustable strap so you can carry it on your shoulder or wear crossbody
Interior zipper pocket and two main zippered compartments help organize contents
What needs to be improved
Zipper pull tabs are thick and can get stuck in a position that makes it harder to pull open the zipper
Final thoughts
The Sena Cases Isa Crossbody Leather Hand Bag for smartphones is an attractive, well-made bag that's perfectly sized for a minimal carry kit when you want to travel light.
Price: $129.95
Where to buy: Sena Cases
Source: The sample of this product was provided by Sena Cases.