We use affiliate links. If you buy something through the links on this page, we may earn a commission at no cost to you. Learn more.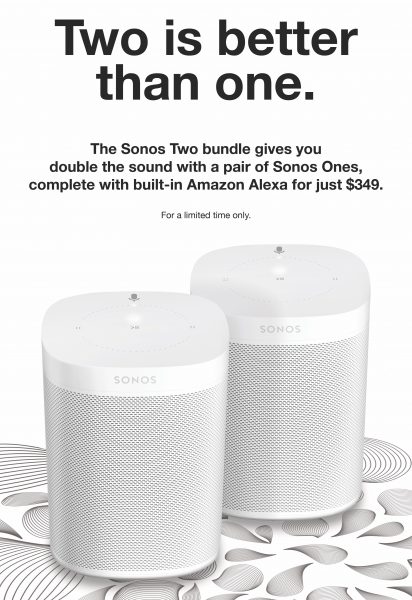 As if the $199 Sonos One wasn't already a better value than the soon to be released Apple HomePod, Sonos just added insult to injury by announcing a special "Sonos Two" bundle that includes two Sonos One systems for $349. The deal will be available starting today (1/26/18), for a limited time only in the UK and US.
We reviewed the Sonos One back in October, when Sonos used the new speaker to bring Alexa into their eco-system. But it's not just Alexa that Sonos supports, Sonos is committed to bringing Google Assistant support to the device sometime soon 2018. Furthermore, since the launch of the Sonos One, Sonos has added Spotify voice support, Alexa flash briefings, and they've improved the set-up process.
There's no question about it, between HomePod and the Sonos One, the Sonos One is the more versatile of the two with support for more services and eco-systems – and it's only going to get better with time thanks to software updates. But if that wasn't enough to convince you, this deal might do it. After all, would you rather get two speakers and true stereo sound for $349 – or just a single HomePod for the same price? Details on this deal should be available on the Sonos site today.
It's your move Apple.