We use affiliate links. If you buy something through the links on this page, we may earn a commission at no cost to you. Learn more.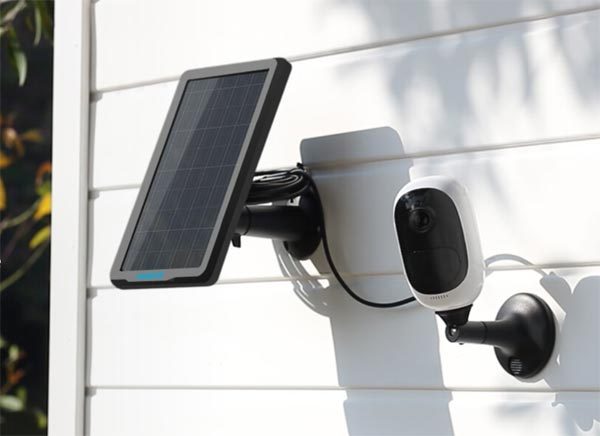 At my old house, I had a security camera on my front porch.  It was nice to have, but it required an electrical connection.  When we moved to the condo, I couldn't have a camera by my door because there is no electrical outlet nearby.  The Reolink Argus 2 security camera would work perfectly by my condo door, because it operates on a rechargeable battery, so no electrical connection is required.  It can also be powered by the optional solar panel seen in this image.
The camera also uses 2.4GHz WiFi, so you don't need any cabling to get connected to the internet, either.  Because it is completely wireless and waterproof, you can place the Argus 2 anywhere you like, indoors or outdoors.  You'll access the camera with the Reolink app on your smartphone or tablet.  With the app, you'll be able to see what's happening outside your door, and with two-way audio, you'll be able to talk with anyone who comes to your door – no matter where you happen to be at the moment.
Features of the Reolink Argus 2 include:
PIR smart sensor that activates the camera and sends instant app push notifications, email alerts, and sound alarms (siren) when motion events are detected.
Card slot for optional SD card; when installed, recording will be activated when motion is detected.
Full HD 1080p camera; 

130° wide viewing angle; Sony Starlight CMOS sensor for clearer night vision, up to 33 feet.

Live view available any time on your smart device, and recording when motion detected available with optional SD card
The Reolink Argus 2 wire-free, rechargeable security camera is available for $129.99 and the optional solar panel is $29.99 now from Reolink and will probably be added to their Amazon store soon.