We use affiliate links. If you buy something through the links on this page, we may earn a commission at no cost to you. Learn more.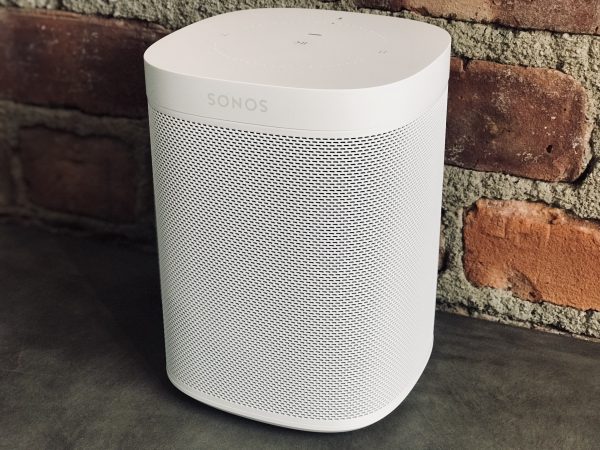 I'm an avid Alexa user. I use Alexa to control my lights, my Dyson, and even my air conditioner. I even miss her when I'm staying at a hotel. But until now I've been using the Amazon Echo Dots and Echo Taps to boss her around. I also have two Sonos PLAY:1 speakers at home, so when Sonos announced that they are bringing Alexa into their eco-system with the new Sonos One, I was ecstatic. 
The Sonos One is nearly identical in design to its predecessor the PLAY:1, but it houses touch sensitive buttons on its top side. The touch controls let you swipe to skip a track, and tap to turn up the volume. There is also a mute "button" for the mic for when you want privacy. An LED indicator light at the top is also used to indicate when the Sonos One's microphone is active. But having a similar form factor to the PLAY:1 is where their similarities end, because on the inside, Sonos has completely reengineered the speaker system of the Sonos One. To that effect, on the inside you get two Class-D digital amplifiers, one tweeter, and one mid-woofer, that are complimented by a six-mic array that uses an adaptive noise suppression algorithm.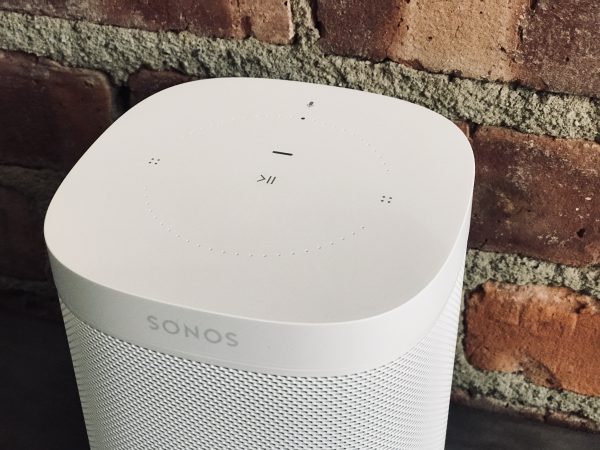 To make sure your Sonos One is operating at its peak, Sonos has a Trueplay feature in the Sonos app which automatically tunes the Sonos One for the room it's playing in. So how does the Sonos One sound? It sounds incredible for its size. I've been listening to the two and comparing them, and would say that the Sonos One edges out the PLAY:1 in terms of clarity. To that effect, instruments and subtle details can be heard with more detail on the Sonos One. That's not to say that the PLAY:1 is a slouch by any means, but the Sonos One does sound better than the PLAY:1. Furthermore, it's worth noting that a single Sonos One sounds very powerful – even when not playing in stereo mode with another Sonos One. That said, we do wish that Sonos would let us pair a Sonos One with a PLAY:1 in stereo mode, and we're hoping that Sonos will offer that feature eventually through a software update.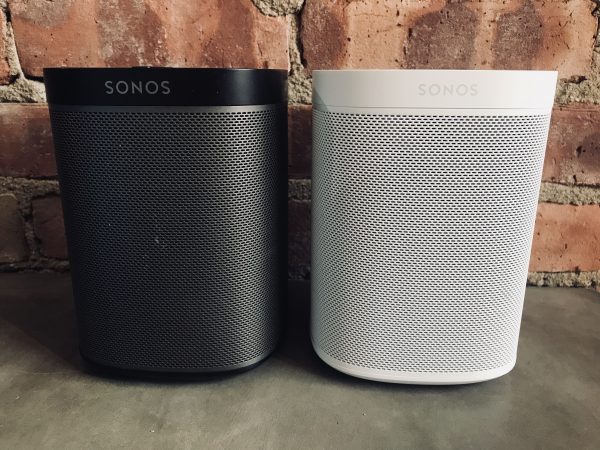 Sonos has packed in a 6 microphone array into the Sonos One. As a result, Alexa is super responsive, even while music is playing. Thanks to voice capture technology with echo cancelation, you can call out Alexa and the Sonos One will hear you – even while playing loud music. The experience is way superior to the Amazon Echo Dot and Taps that I've been using. So far I have been testing Alexa's music commands on the Sonos One with Amazon Music. I've been telling Alexa to do things like "play Haim", or "lower the volume" and Alexa on the Sonos One has been very responsive, and in general a pleasure to use. When you do call out for Alexa, the volume on the Sonos one will duck out to a lower volume so that you don't have to shout.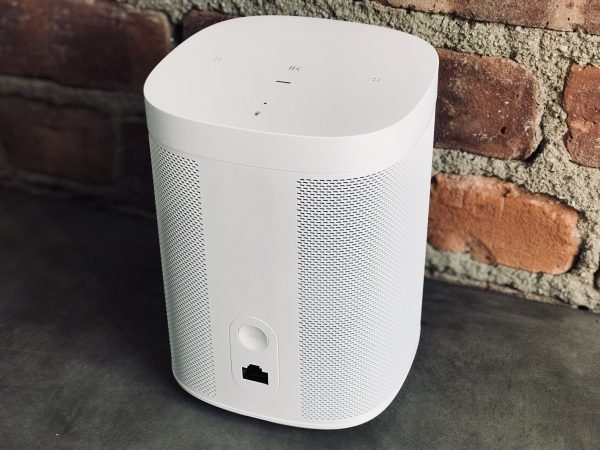 Sonos is a pioneer and leader when it comes to multi-room speaker system set ups, and Alexa on the Sonos One can be used to control other Sonos speakers connected to your network. So you can tell your Sonos One in your bedroom to play music in another room, i.e.: "Alexa, play Alanis in the kitchen".
We tested playing music with Alexa through Amazon Music on the Sonos One, but Spotify support should arrive soon, and hopefully before the holidays. The Sonos One will actually be the first third-party speaker to offer Alexa control for Spotify. At present, not all of Alexa's voice commands work with the Sonos One, such as asking Alexa for a flash briefing, but an update will address this soon. Speaking of updates, Sonos has a great track record with bringing out software updates that continue to improve on their devices, and they are planning on bringing support for Google Assistant and Siri in 2018.
Final Thoughts
The Sonos One represents the next step for Alexa and voice control. To that effect, instead of voice control technology coming first and sonics coming second, the Sonos One offers the perfect marriage of beautiful audio with voice control technologies. And thanks to Sonos' commitment to software updates, you won't have to choose Alexa over Siri over Google Assistant. You'll be able to have your cake and eat it too.
Like its predecessor the PLAY:1, the Sonos One sounds incredible for a $199 Speaker. Plus the fact that it has got Alexa built in makes it a pretty good value. Overall, the Sonos One is another superb connected speaker product from Sonos, it's also the best sounding Alexa speaker you can get right now, and we're looking forward to future software updates that further unlock its potential.
Source: The sample for this review was provided by Sonos. Please visit their site for more info.
Product Information
Price:
$199.00
Manufacturer:
Sonos
Pros:

Superb sound for its size
Alexa works great thanks to a 6 microphone array with noise cancellation Redesigned Sonos app is cleaner and more intuitive to navigate
New touchscreen controls are neat
Support for Siri and Google Assistant is on the way

Cons:

Spotify support is not available yet, but it's coming soon!
Not all of Alexa's skills are enabled yet - but software updates will address this
We would like to see the ability to pair a Sonos One with a PLAY:1 in stereo mode