We use affiliate links. If you buy something through the links on this page, we may earn a commission at no cost to you. Learn more.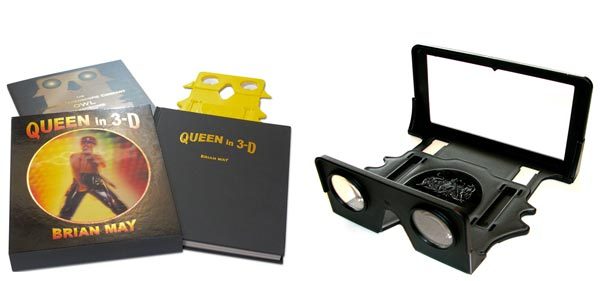 You've probably seen someone in an old movie looking at photo cards using a device that looks like funny binoculars mounted on a wooden handle.  That device is a stereoscopic viewer, and they allow you to see 2D photographs in apparent 3D.  They were quite popular around the turn of the previous century, with many photo cards created covering a huge variety of subjects.  Brian May, Queen's guitarist, started collecting stereoscopic cards when he was a child, and his fascination with 3D photography followed him into adulthood.  He even used a 3D camera to document the history of Queen from the Freddie Mercury days through the current time with Adam Lambert.
May decided to make reproductions of some of his collection of vintage photo cards available to the public, but he knew people would need a viewer to appreciate them.  He created the Owl, a stereoscopic viewer that folds flat for storage.  He also offers sets of stereoscopic photo cards, and he has written a few books with compilations of the vintage photo cards printed right in the books.  The Owl viewer works with both the individual cards and with the photos printed in the books.
I first learned of these viewers when I heard about May's book collecting some of the 3D photos he took of Queen, called Queen in 3D.  I received the Queen book for Christmas, and the included Owl viewer works wonderfully well to transform those printed images into a 3D look at Queen.  (I still miss Freddie!)
You can purchase the Owl viewers at May's London Stereoscopic Company LTD online store.  The store also offers several photo card sets and books covering topics like Diableries – Stereoscopic Adventures In Hell, Crinoline: Fashion's Most Magnificent Disaster, and the Queen book, of course.  You can also find the Queen book at Amazon.