We use affiliate links. If you buy something through the links on this page, we may earn a commission at no cost to you. Learn more.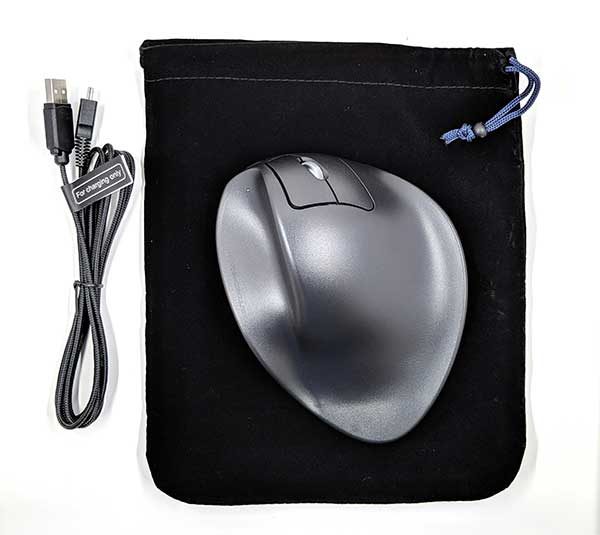 I haven't been to a doctor (yet), but from my own research, I think I may have the beginnings of carpal tunnel or De Quervain syndrome in my right hand. My mouse hand. The fleshy part of my thumb in the palm of my hand and the same area on top of my hand feels inflamed and a little swollen. I also have some pain in my hand when I  touch my thumb to the tips of my fingers or when I try to open jars with that hand. I'm sure this problem comes from years and 1000's upon 1000's of hours of using a mouse. So I decided to check out some alternative mice to see if I can halt the progress of carpal tunnel and even hopefully reverse it.
The first ergonomic mouse that I'm testing is the Hippus HandShoe Mouse. It has a weird name, but can it heal my issues? Let's see.
What is it?

The HandShoe Mouse looks similar to a traditional two button mouse, but it's much larger and provides a place for your whole hand to rest instead of just two fingers and your thumb.
Design and features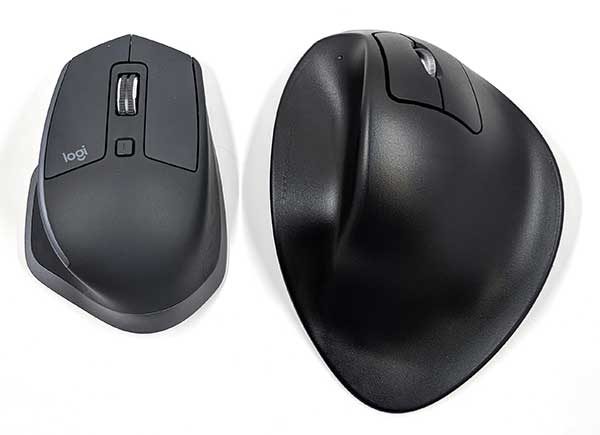 In the image above is a traditional mouse on the left and the HandShoe mouse on the right. As you can see, the HandShoe mouse is significantly larger and it sort of reminds me of a horseshoe crab, which makes me suddenly wonder if that's where the name of this mouse comes from.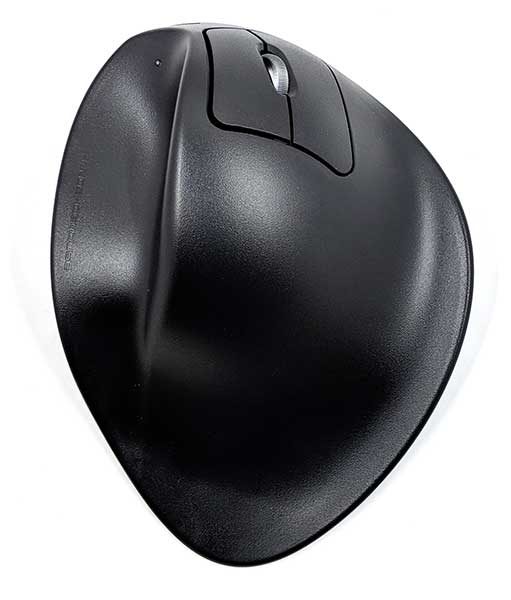 The HandShoe mouse is available in wired and wireless version. I was sent the wireless version which can also be used with a USB cable while it's charging. This mouse is also available in four sizes from extra small to large. For my hand size, I was sent the medium-sized HandShoe mouse.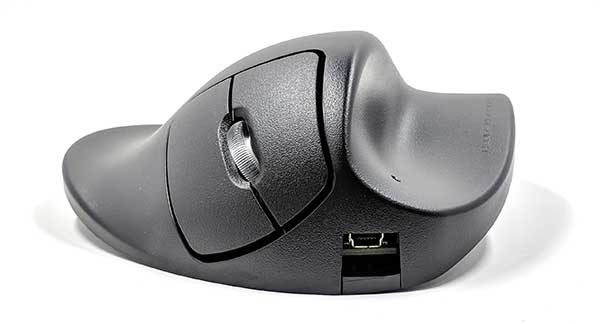 The mouse has 2 buttons and a scroll wheel. You can also see the mini USB charging port. According to the directions that come with the mouse, it should work for about 4-6 weeks per charge. There's a small battery status LED above where your thumb tip would rest. This LED will turn red with the battery is running low. Luckily, you can use the mouse while it's recharging and connected to a USB port using the included mini USB cable.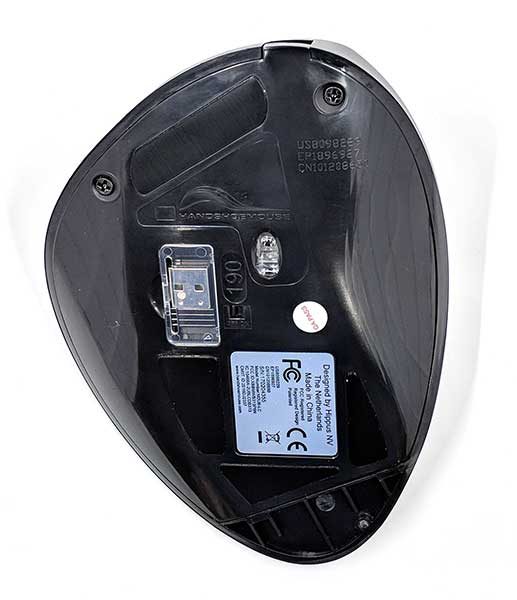 The HandShoe mouse does not use Bluetooth as a connection method. On the bottom of the mouse is a holder for the included USB receiver.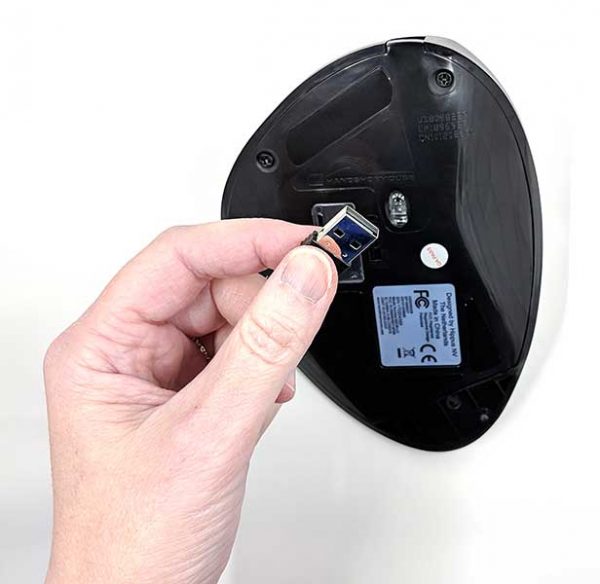 The USB receiver plugs into an open USB port on your computer. It goes without saying that this mouse won't work with a laptop or computer that doesn't have a USB Type-A port.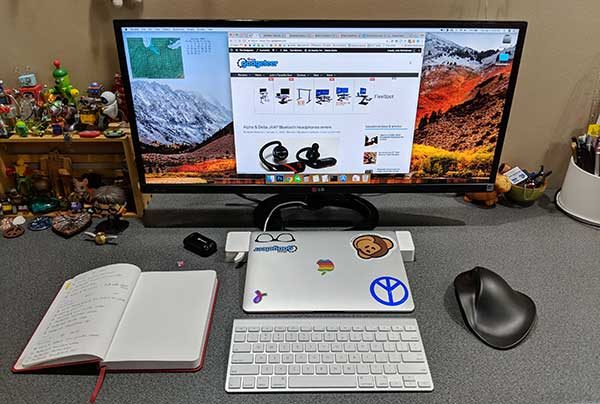 This is something to keep in mind for newer computers like my 12-inch MacBook which only has one USB Type-C port. However, I use my laptop with a LandingZone Docking Station which adds 2 Type-A USB ports to my MacBook.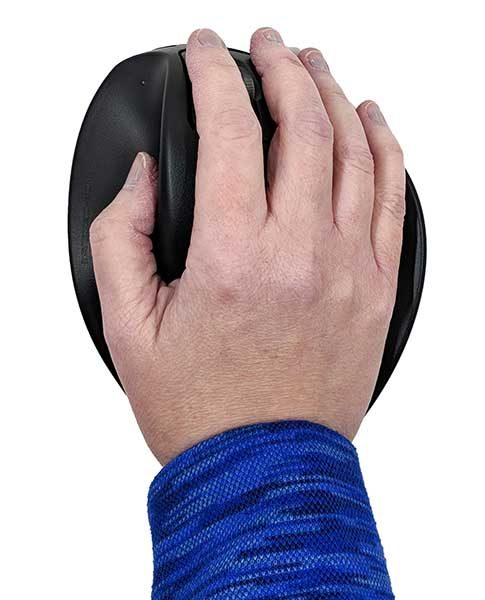 When I first placed my hand on the HandShoe mouse I was worried about how large it was. But the design allows you to place your whole hand on it and helps eliminate the need to squeeze the mouse with your thumb like I do with a traditional mouse. I'll admit that I still find myself squeezing the HandShoe mouse, but I'm trying to learn to relax my thumb and move my whole arm when I need to move the cursor. Note that you need to support for your forearm on the desk or the arm of your chair.
What I like
Comfortable
Helps you relax your whole and not squeeze the mouse with your thumb
What needs to be improved
Expensive
Probably not a great mouse for gamers and people who need really fine cursor movement
Final thoughts
I've been using the HandShoe mouse for a few weeks now and have noticed some slight improvement in my hand. It isn't the fault of the HandShoe mouse that I haven't noticed more improvements because I have only been using the mouse at home. I have a traditional mouse at my day job. So I've only been using the HandShoe about 35% of the time. I plan to take the mouse to work and will update this review in a few weeks.
The biggest issue that I have so far with the HandShoe mouse is that it's not optimal for making fine cursor movements. I do a lot of image editing and was finding that I would constantly move the cursor past the area where I needed it to be. I tweaked with the mouse sensitivity settings on my MacBook which improved things, and I hope I'll get better as time goes on.
Other than the fine cursor movement issue, I do like this mouse. It's comfortable to use and may be just what the doctor ordered for my hand problems. Time will tell though, so look for an update in a few weeks.
Price: $109.99
Where to buy: Amazon
Source: The sample for this review was provided by Hippus.