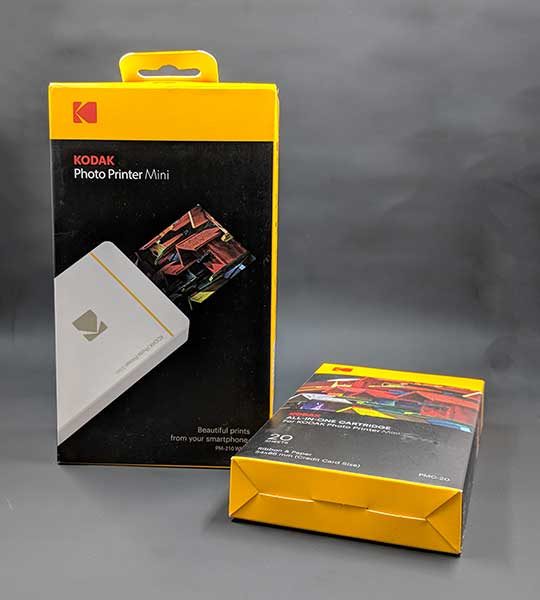 Back in the day, the only way you could see a picture that you had taken with your camera, was to have the film processed and prints made. Today, most images that we take are passed around digitally via email, and social media sites like Instagram, Facebook, and Pinterest. Is there still a place in this digital world for physical prints? KODAK sure hopes so and have created the Photo Printer Mini to get the job done fast and easy. Let's see how well they've done.
What is it?
The KODAK Photo Printer Mini is a portable wireless color photo printer for Android and iOS devices that uses a WiFi connection instead of a Bluetooth connection.
Design and features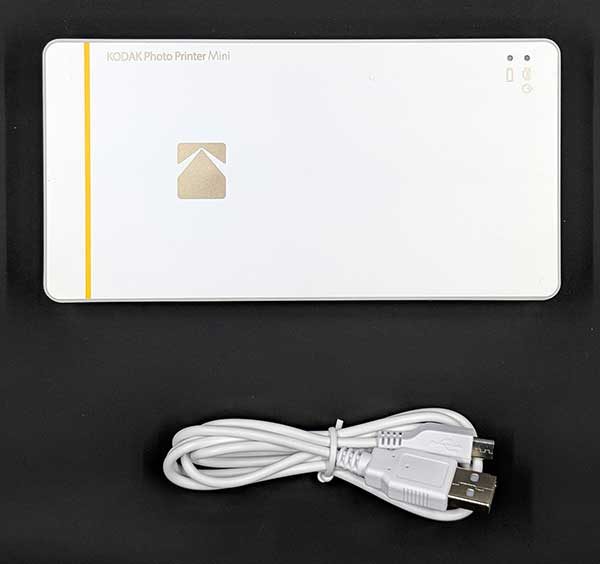 The Photo Printer Mini is about the same size as a large backup battery at 6 x 3 x 1 inch. Included in the box is an all-in-one print cartridge and a micro USB charging cable. The printer is available in white, black, and gold. As you can see, I was sent the white version.
There are 2 status LEDs on the top of the printer. One status LED is for power and printing, and the other one is a battery status LED.

On one side of the KODAK Photo Printer Mini, you'll find a power button.

The micro USB charging port is located on one end of the printer along with a reset switch.

On the opposite end, you'll find the print eject slot.

And on the other side is the print cartridge door.

The door opens to provide access to the all-in-one print cartridge. The cartridges combine paper and ribbon in one package and come in 20, 30 or 50 prints per cartridge.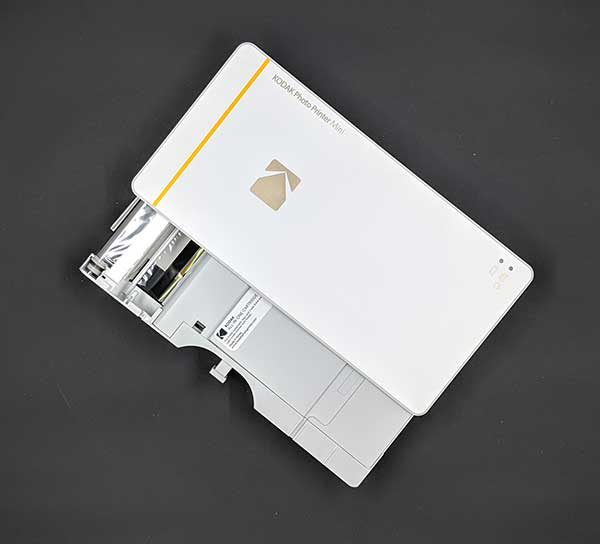 The cartridges are easy to insert and remove.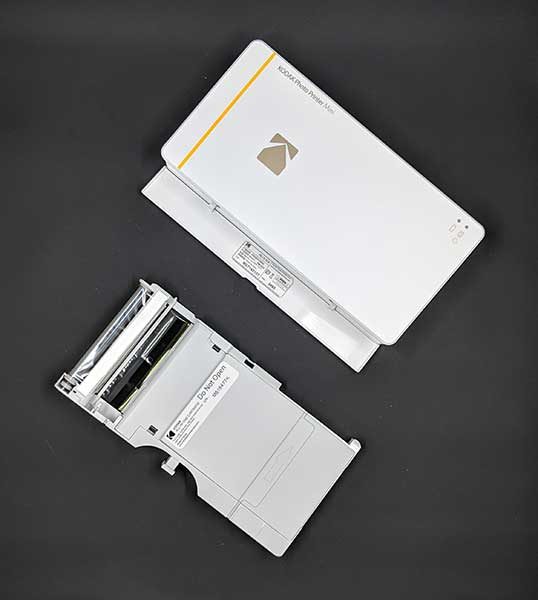 An 8-print cartridge is included with the Photo Printer Mini. This is the only consumable that you need to worry about with this printer. I think KODAK cheaped out by only giving you a cartridge with 8 prints instead of a 20-print cartridge. You can find refills on Amazon where the price ranges from $19.99 each for the 20-print cartridge, up to $35.73 for the 50-print cartridge. The 20-print cartridge is also available with sticky backed prints so you can use them as stickers.
The app
Before you can print your first picture, you'll need to install the app on an iOS or Android device. I did my testing with a Google Pixel 2 XL. This printer uses a WiFi connection instead of Bluetooth, so you will have set up the WiFi connection including the password.
If you have an Android smartphone, you can also tap the phone on top of the printer to quickly launch the app. But I still had to manually connect the printer to my phone each time by going into the WiFi network list.
If you look at the two images above, you can see that the app is trying to connect to the printer. I saw this message quite often and found the connection between my phone and the printer to be very fiddly.
Once connected, you can access photos from your phone's camera roll, Facebook, Instagram and a couple other social media platforms, Google images, or even screen grabs from your videos.
The KODAK Printer app has some built-in editing features that allow you to crop, rotate, add frames, stickers, and do other rudimentary adjustments to the image before printing.
After you have chosen and edited the image, all that is left to do is print it. Printing is relatively quick and the print is dry and ready to handle immediately after printing is finished.
See it in action
As you can see, the print time is pretty quick.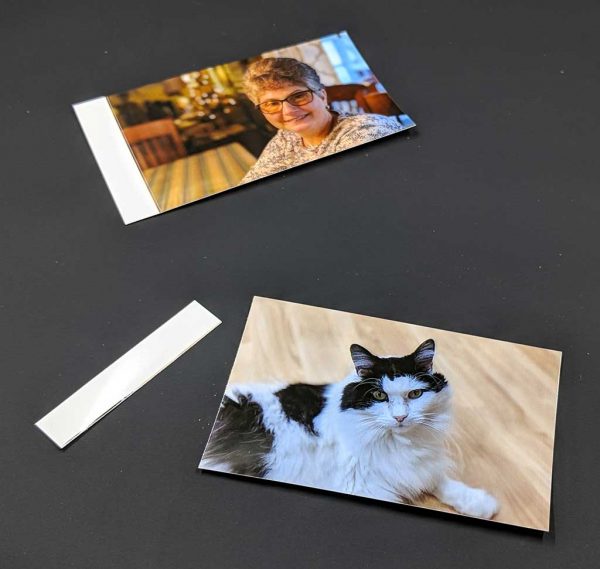 The credit card sized 2.1 x 3.4 inch (54 x 86 mm) photos are printed in seconds and dry instantly.
I don't quite understand the purpose of the small perforated tab that tears off the image though. It leaves one side of the print with a fine serration.
I've reviewed other wireless printers over the years like the Polaroid ZIP which use dye-incorporating paper (ZINK) and I find the KODAK Photo Printer Mini's image quality to be superior in sharpness and color. That's because the KODAK printer uses dye sublimation thermal transfer with 256 gradations and 16.7 million colors. It also puts a laminated protection layer over the print that is fingerprint and water resistant.
What I like
Sharper and more colorful prints compared to other small printers that use ZINK paper
Quick and easy to use when the WiFi connection is behaving
Fingerprint and water resistant prints
What needs to be improved
WiFi connection is too fiddly
Only comes with an 8-print cartridge
Final thoughts
Except for the problems that I had with the WiFi connection dropping between the printer and my phone, I would say that this is the easiest portable wireless printer to use and prints the best-looking prints. As long as you remember that you'll need to buy extra printer cartridges, the KODAK Photo Printer Mini will let you have fun bringing your favorite digital prints into the physical world.
Price: $99.99
Where to buy: Amazon
Source: The sample for this review was provided by KODAK.
Some of our links in posts like this one are affiliate links, which means that we may receive a small commission on purchases at no cost to you.