We use affiliate links. If you buy something through the links on this page, we may earn a commission at no cost to you. Learn more.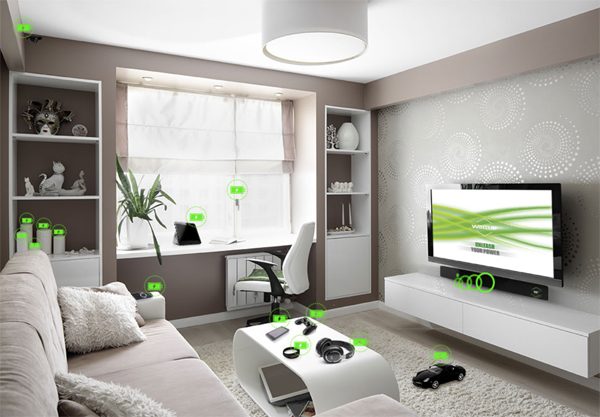 A couple years ago, we told you about wireless charging from Energous Corporation.  They created the WattUP wire-free charging technology that allows over-the-air, wireless device charging from a distance of a few millimeters to up to 15 feet away.  In a press release on December 27, 2017, Energous announced their WattUp RF-based Mid Field transmitters had received FCC certification, the first certification in this field.
Energous has developed three power transmitters.  The Far Field energy transmitter can be placed in a TV's bezel or a soundbar, or it can be placed on the wall or ceiling of your room to extend charging coverage into the room.  Multiple Far Field transmitters can even create a charging network, to extend coverage even further into your space.  A Mid Field transmitter embedded in a monitor or speaker could offer coverage to the devices over the 2-3 feet of your desktop, where all the small devices on your desk could be charged without cables or charging pads.  Near Field transmitters would be the smallest and cheapest wireless charging option; embedded into a laptop or a piece of furniture, it could replace a USB cable to charge a mobile device.  Using software control, the Far and Mid Field transmitters could charge multiple devices simultaneously, and you could even use software controls to prioritize which device gets charged quickest and first.
Of course, devices must have a WattUp receiver to collect and convert the RF energy into electrical energy for charging.  WattUp receivers have multiple antennas that use "pocket-forming technology to accurately direct energy to the receiver. The technology dynamically adjusts the shape and content of the RF waves so they can be directed to a specific location in 3D space. There, the energy is gathered by the receiver's special antennas where WattUp® ASICs convert the RF signal to DC current, delivering a charge to the battery."
On December 26, 2017, Energous announced they have been granted "Federal Communications Commission (FCC) certification of its first-generation WattUp Mid Field transmitter, which sends focused, RF-based power to devices at a distance. As the first FCC certification for power-at-a-distance wireless charging under Part 18 of the FCC's rules, this development represents a new era of wireless charging, and opens up a tremendous opportunity for the electronics industry."  This certification was granted after months of rigorous testing for safety and efficiency of WattUp devices.
Energous announced in the same press release, that they will be demonstrating their very latest WattUp technology at CES 2018, in Las Vegas, NV, January 9-12. They urge you to learn more about Energous, by visiting Energous.com or by following them on Twitter, Facebook, Instagram or LinkedIn.