We use affiliate links. If you buy something through the links on this page, we may earn a commission at no cost to you. Learn more.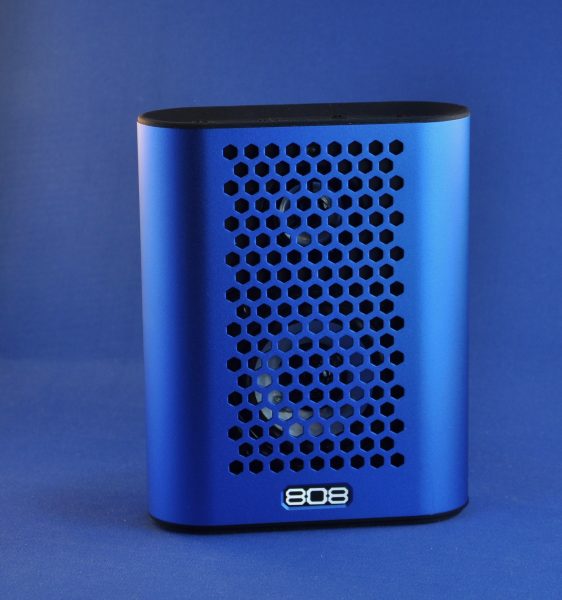 There's a lot to be said for Bluetooth speakers. We review a goodly number here at The Gadgeteer, but I daresay few of us as reviewers stop and consider the fact that just 10 years ago, having a full-power speaker system embodied in a single device and your phone was a dream as yet unrealized. Sure, there have been speakers out there for a while, but they weren't this powerful, this small, or this cheap. The latest unit I have been asked to review is the 808 HEX TLS speaker, which measures smaller than most of the cookbooks in my kitchen. At 6″x4.75″x 1.75″, it's easy to slip into a day bag, a bike pannier, or most parka pockets. You can play it while traveling, or wait until you're somewhere you want to fully set up shop.
Note: Photos may be tapped or clicked for a larger image.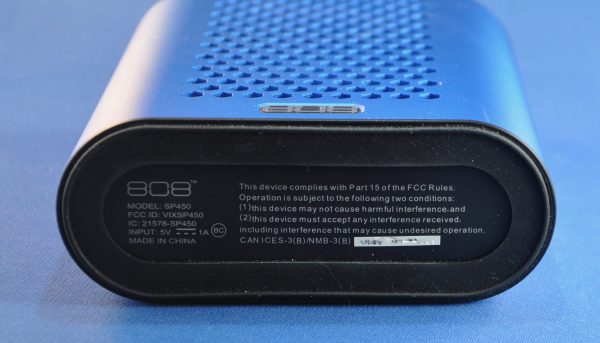 I have been using it around the house for a week or two, when I'm wanting to listen to some music or a podcast while cooking, installing various security upgrades to the house, or playing a game. The size belies the amount of sound this little unit can put out. We have two public rooms in our house that are nearly 30″ long each. The sound playback from a phone, laptop, or even a newer iPad can thin out over that much space. The 808, however, fills it quite well, and the sound has a full, rich quality, due to the size of the speakers. While there is no thumping bass, there is a loudness switch, which gives the illusion of bass. This afternoon, I was listening to a Diamonds and Rust from Joan Baez playlist Stefan Larsson on Spotify curates. The close-mic-ed acoustic guitars of Baez, Nick Drake, Leonard Cohen, Simon and Garfunkel, and Neil Young, as well as the easy swing of Dire Straits and the Mamas and the Papas all sounded better than I've heard in years. When I finished my listening session, I still had well over 75% of the battery left. Actually, I've had several sessions of an hour or more on this charge.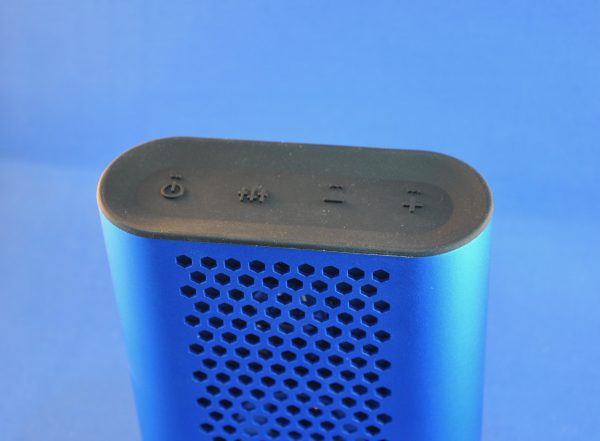 There are volume controls on the top of the unit, as well as the on/off and loudness buttons, but what is missing is a speakerphone control. If I could add one thing, it would be the ability to start, mute, and end calls without having to fumble for the phone if it rings. For $59.99, this is a really nice size, weight, and sound space.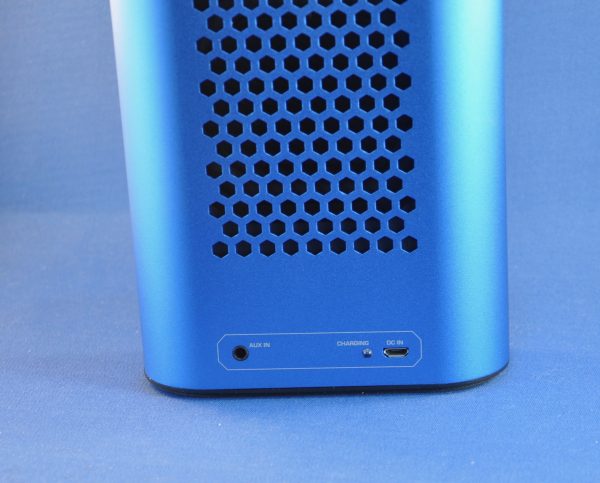 The rear of the unit has the AUX in, a microUSB charging port, and an LED that indicates charging. There is a single blue LED that lights on the top center of the front grille when it's up. While there are slightly irritating startup and shutdown sounds, those can easily be silenced through the controls.
Positives
Really good sound
Easy access ports on back for charging or connecting non-Bluetooth sources
Loudness button boosts bass
Negatives
No dedicated phone controls or mic
Without using the Loudness button, sounds can be a little thin
Final thoughts
Being just a bit larger than a paperback novel, this speaker will not crowd your gear bag while you're running off for a weekend getaway or midweek hike. While there's no phone control, the sound is pretty good for whatever place you find yourself. It definitely improves the sound to have the speaker stand upright. Larger diaphragm gives more consistent low notes than many similar powered speakers.
Price: $59.95
Where to buy: Amazon
Source: The sample for this review was provided by 808Audio.