The Gadgeteer is supported by readers like you! If you buy something through links on our site, we may earn an affiliate commission. Thank you! Learn more.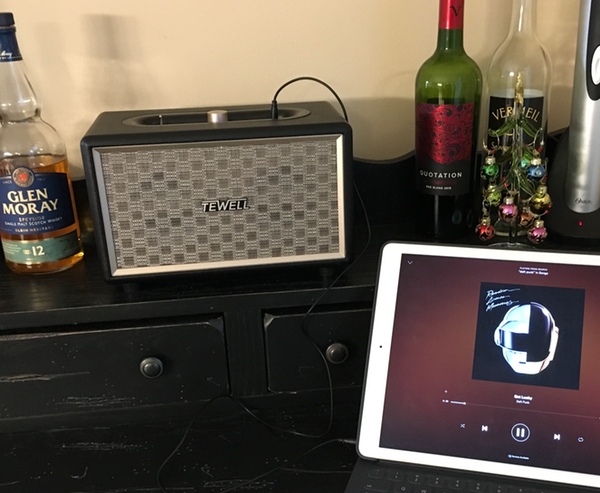 This may be one of the coolest looking vintage-styled speakers I've reviewed. Seriously… if you don't tell anyone they might think you swiped it from your dad's (or grandad's) rec room. With Bluetooth connectivity and great sound, however, it's more than just a good looking room ornament. Let's get our groove on with the Tewell RetroRock!
Retro-Styled Goodness and Simple Controls
The TEWELL RetroRock speaker is a beauty. The vintage look is highlighted by a metallic fabric front face, gold accents, and a leatherette casing. It's even got an old-school toggle for a power switch and an honest-to-goodness volume knob!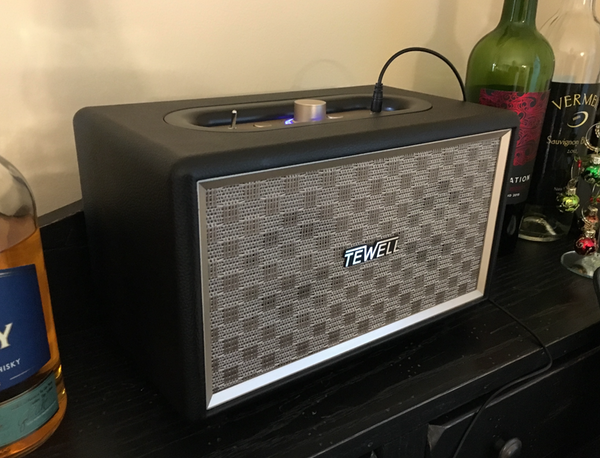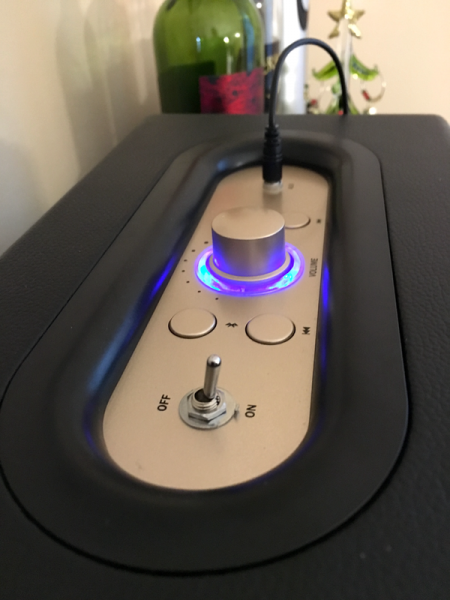 It's a good-looking accessory that stands out in any room. My wife even asked to put it on display on the bar in our kitchen. This is a thing that never, ever happens.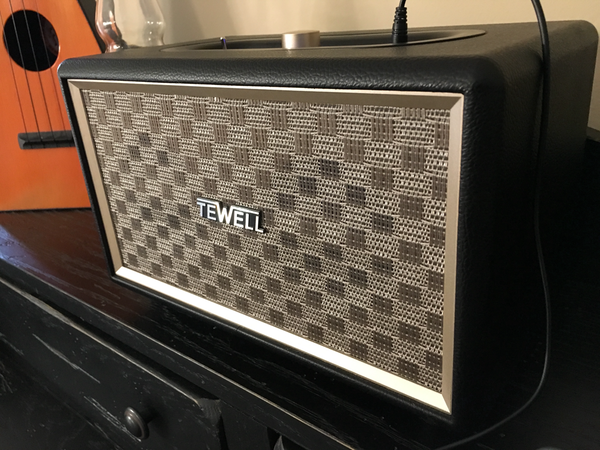 The Tewell RetroRock offers Bluetooth connectivity or an aux-in audio cable port to connect to your preferred music device. A recessed panel on the top of the speaker contains all of the controls (and the aux port). There's a button to switch between Bluetooth and aux mode, and three buttons for Bluetooth control (play/pause, next track, previous track). The buttons all have nice tactile feel, and everything is laid out nicely so that you're not fumbling for the controls.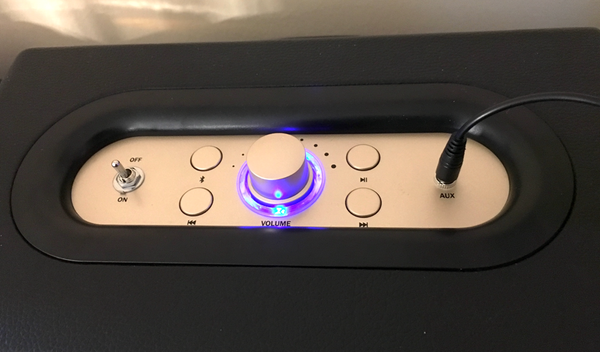 Rounding out the package, you'll find a standard AC jack on the back. A power adaptor and aux cable are included in the package. The whole unit is a shelf-friendly 10.2" wide by 5.9" tall and deep, and weighs about 4.5 pounds.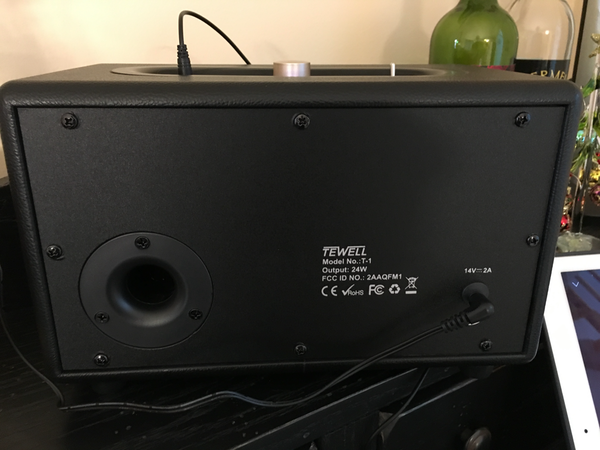 As far as connectivity goes, Bluetooth connectivity is a pretty straightforward affair. Turn the unit on and pair with your device. A blue led light around the volume knob flashes rapidly during pairing mode, and goes steady when the connection is made. I tried pairing it with multiple devices without an issue.
If you want to use the aux cable, plug in and hit the Bluetooth button to start playing from the cable. Hit the button again, and it picks up the last Bluetooth device automatically. All the controls are simple, no user manual required.
Does It Bring the Funk?
The Tewell RetroRock sports two 12w speakers on the front face, and a "bass reflex system" with the bass port on the rear of the unit. I'll be the first to admit that I am not an audiophile, but I'm impressed with the sound quality. I tested the speaker with a variety of music styles, podcasts, streaming music services, and stuff loaded to my devices. Audio is crisp and clear. The bass has a well-rounded, deep resonance that adds nice depth. Quality is also consistent at high and low volume ranges without breaking.
Other Considerations
While the RetroRock has a 30-foot range for Bluetooth devices, I did notice some drops if the device is farther away than 10 feet from the speaker. After reading the reviews on the RetroRock, however, I don't see this as a commonly reported problem. I also noticed that sounds quality and volume range seems to be slightly better when using the aux cable, but it sounds great either way.
The Tewell RetroRock is not a battery-operated device, so you can't charge it and move it around the house. Tewell offers a chargeable variant called the "RetroGo" that is portable and wireless if that's your preference.
There's also no microphone/speaker integration on the RetroRock for integrated Bluetooth calling. If you get a call, it will switch automatically to your phone and back again when your call is complete. I don't see this as a big drawback, but you may want to consider this if you're shopping based on feature sets.
Tewell offers an 18-month refund or replacement policy if you find any defects with your speaker. At this price range that's a pretty impressive warranty. According to other reviews, they also offer excellent customer service support.
Positives
Great looking retro-styling
Bluetooth and Aux-cable support for compatibility with all of your devices
Simple, easy-to-use interface
Great, deep sound
Excellent customer support & warranty
Negatives
Does not support integrated Bluetooth phone calls
Noticed some drops in Bluetooth connectivity, but it does a good job of picking up if drops occur
Final thoughts
I really dig the Tewell RetroRock speaker. Not only does it have great sound and device compatibility, but it's a great looking and interesting design piece that you'll be happy to display anywhere in the house. At a retail price of $69.99 with excellent customer support, it's also a great value. The battery-powered version, the RetroGo, retails for
Price: $49.99
Where to buy: Amazon
Source: the sample for this review was provided by Tewell.
Support The Gadgeteer
:
The Gadgeteer is supported by readers like you! If you buy something through the links on our site, we may earn a small affiliate commission. Thank you! Learn more.