We use affiliate links. If you buy something through the links on this page, we may earn a commission at no cost to you. Learn more.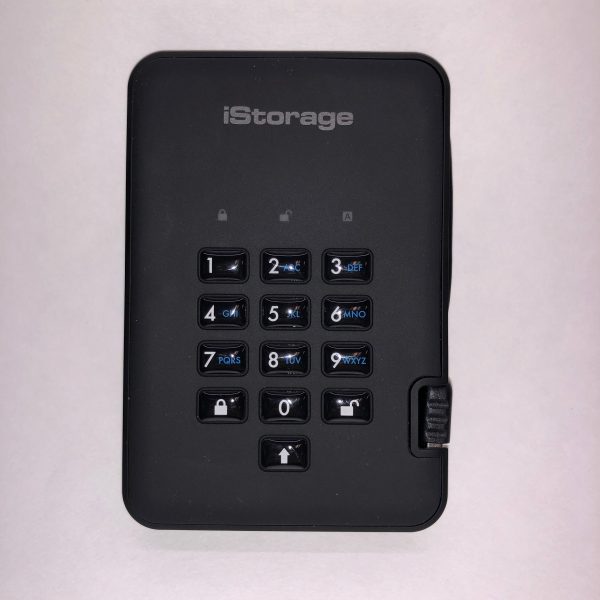 About a month ago I reviewed the datAshur PRO password protected flash drive from iStorage. I was so happy with the datAshur PRO that I am now following up with a review of the 1TB capacity diskAshur2  Solid State Drive.  We are all aware of the risks of our data falling into the wrong hands.  Whether that is our personal information that puts us at risk for identity theft or our sensitive work information or files that could cause a security problem for your company, protecting our data is more important than ever.  Up until now, I have been guilty of knowing these risks but not taking actions to prevent the accidental dissemination of my private information.
I have been using the datAshur PRO flash drive for backing up my personal records but also in my office as well.  If I am giving a presentation, I just load it on the drive and head to the meeting where I can easily enter my password on the flash drive and access the information I need, knowing that if I leave it behind it will lock itself using the timer function I have set.  I also travel a lot for my job so the piece of mind provided by a secure data storage solution is invaluable given the number of times I have left a flash drive behind and thus exposing all of the information stored on it.  Before using the iStorage data storage solutions, my strategy for protecting my data was simply hoping I wouldn't lose my flash drive or external hard drive.  That is not the most robust security protocol as none of us intentionally lose our devices or want to hand out our sensitive information.  I keep my storage devices in my briefcase but since I do not walk through airports with my briefcase handcuffed to my wrist or have a tether to my external storage device when it is plugged into a computer, the possibility always exists that I can be separated from them inadvertently.
The diskAshur2 offers all of the same security and functionality as its smaller sibling but provides much greater storage capacity.  With the diskAshur2 line, you have a lot of options to choose from.  They offer solid state drives (128GB-4TB) and hard disk drives (500GB-5TB) and come in black, blue, green and red for both the SSD and HDD.  You can set up administrator and user passwords on the drive to allow access to different people if needed.  You can also set a timer to lock the device after a predetermined amount of time even if the device is plugged in, adding a level of security if you leave the drive plugged in.  It automatically locks when it is disconnected from your computer, requiring the passcode to be entered when you want to access your information the next time.  There is also a self destruct feature that when set, allows you to enter a different customizable code that will wipe all of the data and reset the passwords back to the default settings.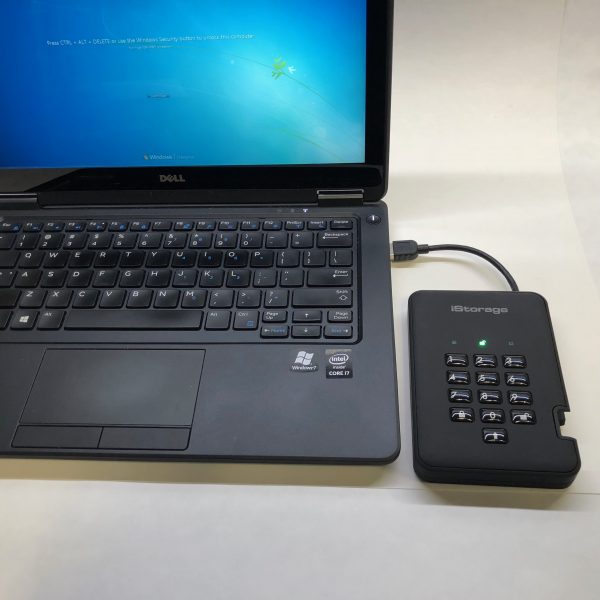 There is a built in rugged USB cable that stows away on the side of the drive when not in use.  This cable seems to be very secure and robust so I am not worried about it being pulled out or being damaged.  Included with the diskAshur2 is a nice protective carrying case to keep it protected when not in use.  With USB 3.1 your data transfer is extremely fast.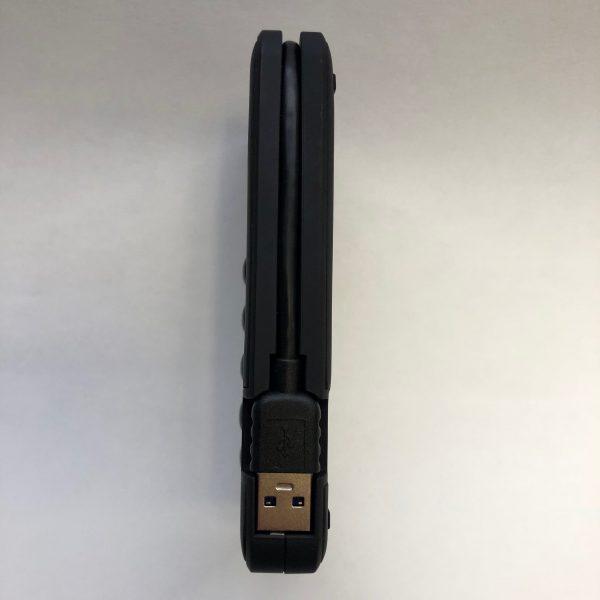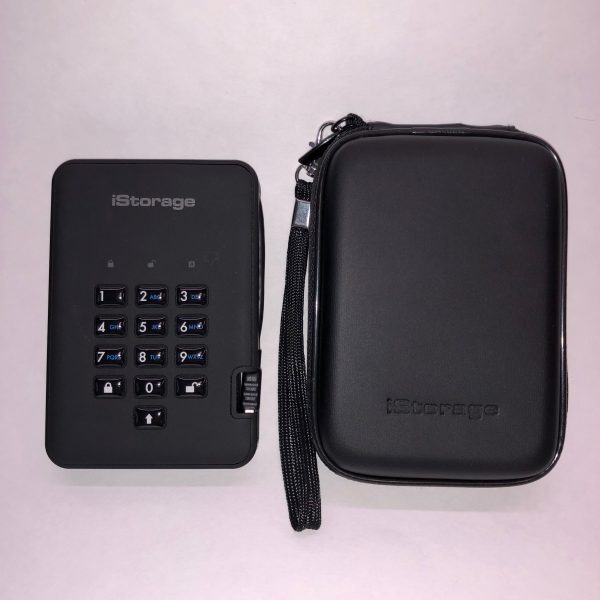 As with the datAshur PRO, I reviewed and the other offerings from iStorage, the diskAshur2 is secured by hardware encrypted passcodes, which doesn't require any additional software and can be used on any computer and operating system.  Being able to use your protected storage device on any computer or OS is not a feature that all password protected drives offer but iStorage has you covered.  There are so many security considerations and defenses for every kind of attack on the unit that it would be impossible to list them all here but if you want to know all of the details, I highly recommend that you check out the product page to read about all of the safeguards this product has to keep your information secure.  Bottom line is you can be supremely confident that this will stand up to any attempt to gain unauthorized access to the drive.
The most obvious feature of the diskAshur is the numeric keypad on the face of it.  There are lights to indicate the current state of the drive so you know when it is locked or unlocked.  The buttons have a great feel and give a feedback click when pressed so you know you have pressed the button.  I am a sucker for a good button (that may sound strange to those who don't have an appreciation for a good button) and this doesn't disappoint, it has the feel of high quality telling me that it was built to last.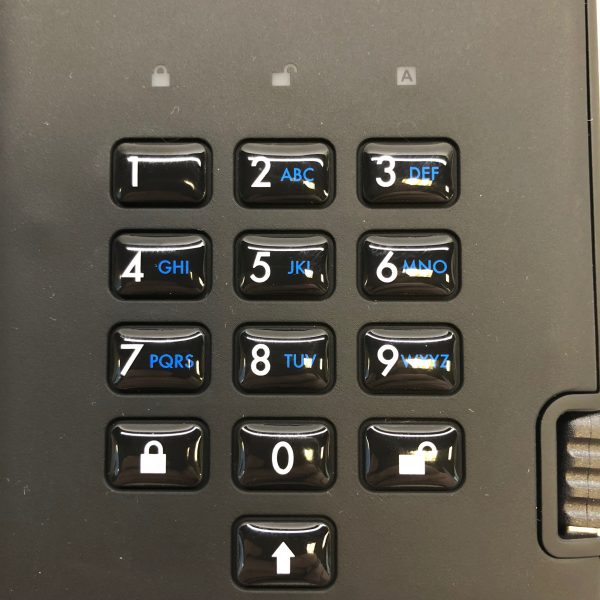 The diskAshur is offered with a solid state drive (SSD) or a hard disk drive (HDD).  The price for SSD's has been falling in recent times but because data is stored on microchips and there are no moving parts, SSD's are still considerably more expensive in a dollars per gigabyte metric than a HDD.  The SSD is similar to your memory stick or flash drive in how it stored data.  Advantages to a SSD is that there are no moving parts and the speed at which data can be retrieved.  The HDD is what is still found in many computers today even though it is technology that was introduced by IBM in the mid 1950's.  It relies on a mechanical arm to read/write information from/to the disk, much like a turntable's arm moves to capture information from different parts of a record.  This mechanical process is the cause for slower response times in accessing data.  The big advantage that HDD's have over SSD's is the ability to store a tremendous amount of data relatively cheaply.  If you are wanting a cheaper but equally secure storage solution, I would recommend checking out the iStorage diskAshur2 HDD where you will get more bang for your buck as far as that $/GB metric goes.  I have the 1TB SSD and love the speed of recall and the fact that there are no moving parts to break or wear out over time.  The great thing is you get the choice with this product and can decide whether SSD or HDD is right for you and how much memory you need.  iStorage seems to understand that one technology or storage solution does not fit all and have offered many options for your specific needs.
The rubberized surfaces, the solid buttons and the rugged USB cable all have the great feel of a very high quality product.  You can quickly see and feel that this product was designed to last for years, providing the peace of mind that your files, pictures or records will not fall into the wrong hands.  Until I received the first product from iStorage a couple months ago, I had never really considered how much of my personal information is on my computer and external hard drive.  I keep them on my desk at home or in the office and my flash drives in my briefcase and I have developed a false sense of security because nothing bad has happened to me yet.  I know of others who have lost their storage device and worried about identity theft, and others who have left sensitive information somewhere they shouldn't have and suffered the consequences.  These stories did nothing to make me actively protect myself from similar situations.  Now that I have passcode protected flash drive and a large capacity solid state drive, I feel protected for the first time.  In today's digital world, making the investment in a robust and secure data storage device should be a priority for anyone who keeps digital versions of sensitive personal or corporate information.  Investing in security is an insurance policy that will likely pay for itself many times over when you find yourself needing it.  After using the diskAshur2 SSD and the datAshur PRO, the feeling of protection and security is something that I will never again go without when it comes to my data.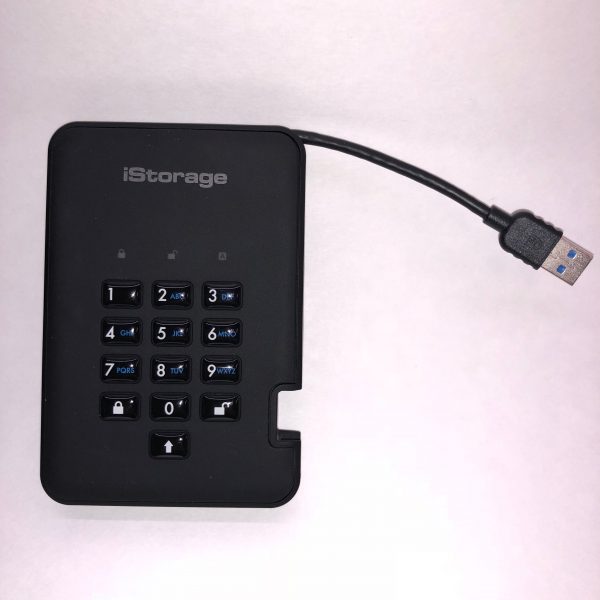 Price is always a consideration with any product but especially with such a technology and security packed device as this.  There are many options and I will list them off below with the pricing I have found on newegg.com:
diskAshur2 HDD: 500GB – $168, 1TB – $231, 2TB – $305, 3TB – $348, 4TB – $411, 5TB – $474
diskAshur2 SSD: 128GB – $147, 256GB – $231, 512GB – $400, 1TB – $569
The SSD is also available in 2TB and 4TB but are not currently on newegg or Amazon.  The price on the iStorage website is £999 (~$1346 at the time of this article) for the 2TB and £1,899 (~$2,558 at the time of this article) for the 4TB.  I believe these larger capacity models may be newer and may not have made their way to these secondary retailers.  If you are interested in the highest capacity SSD drives, I recommend you shopping around to make sure you can find the best price for these products.
The unit is 124mm x 84mm x 20mm (4.88″ x 3.31″ x 0.79″) and weighs approximately 180 grams (0.4 pounds).
I can wholeheartedly recommend this and the iStorage line of products for your data storage needs, whether they be large or small.  Not everyone reading this may have the need or think they have the need for securing their data so the increased price over unsecure drives may not be worth it to some readers and potential purchasers.  Products that offer functionality above and beyond what is common in the marketplace can often create a niche that only is appealing to a certain group of consumers and that is completely understandable.  I ask you to consider how it would affect you if your information fell into the hands of someone you don't know.  I didn't see the need for protecting my data until I owned these products.  Now I feel much more secure and protected knowing that I am the only one who can access this information and that creates value for me and justifies the increased cost of these products over your standard unsecured plug and play drives.  I am very grateful that I have seen the importance of this security but didn't have to go through the nightmare of my data falling into the wrong hands before making security a priority.  You will be impressed by the build quality and ruggedness of the device and like me will find comfort knowing that your information is secure.  After using the products from iStorage, I will never again keep any sensitive information on anything else.
Positives
Hardware passcode protected to provide the best defense for your data
Easy to set your passcodes and lock timer
Built in USB that stows away on the side of the device when not in use
Compact design
Protective carrying case
Various storage capacities to fit your needs; SSD or HDD options
Comes in 4 different colors.
Negatives
The $/GB for the SSD is quite a bit more expensive than the HDD given the difference in technology so if data recall speed isn't your top priority the HDD option will give you a better bang for the buck
Final thoughts
The bottom line is the iStorage diskAshur is an extremely high quality product that offers maximum security for your data.  If you decide to purchase one of these products I know that you will be impressed.
Now through the end of 2017, iStorage is providing a 1 year license to NERO BackItUp and iStorage DriveSecurity for securely backing up your data and providing powerful antivirus software for your qualifying iStorage device (the diskAshur2 is a qualifying device), a value of approximately of $65.
For more information on the diskAshur2 or their other password protected data solutions I encourage you to look at their website to find the product that is right for you.
Price: Varies depending on capacity of drive
Where to buy: Newegg, Amazon
Source: The sample for this review was provided by iStorage.