We use affiliate links. If you buy something through the links on this page, we may earn a commission at no cost to you. Learn more.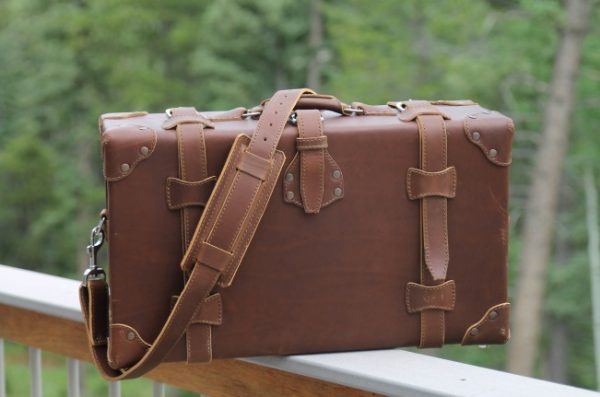 When looking for the right bag, I am as captured by form as I am by function, sometimes to the point of making concessions on function when I find a real head-turning item. This is exactly the state I find myself in after using the Hardside Leather Carry On from Saddleback Leather Company.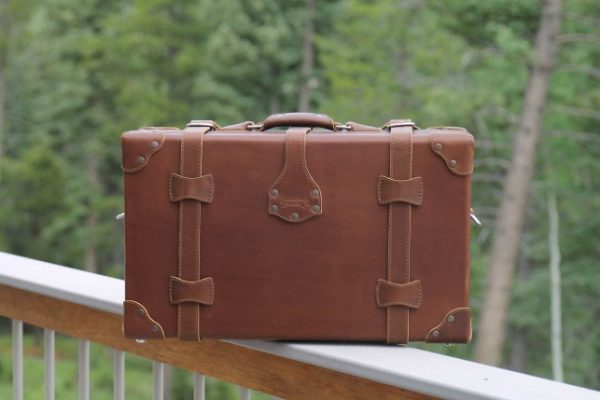 I have owned this bag for about six months and used it for both air and car travel. Out of the box, the first sense that is awoken is that of smell.  The plastic bag holding the suitcase emanates a woodsy, rustic, olfactory treat that only properly tanned full grain leather can produce.  Upon further inspection of the carry on I can immediately see the care and craftsmanship that went into creating this piece and have no doubt that the 100-year warranty that accompanies every piece of Saddleback Leather is not a marketing ploy or a gimmick, this thing was built to last generations.
The suitcase is free of breakable parts like zippers, snaps or a metal hinge and instead uses three leather straps as the closing system and thick leather securely riveted to the bottom that is the hinge for the lid. This is the first point where my love of form overrides my need for function.  These three straps create an elegant nod to the suitcases that paved the way for it.  It is not too busy looking and the straps hold the lid down very tightly.  The downside to this design is that you will not be quickly opening this suitcase to grab an item as you are running to catch a flight.  To open and close it again takes about 30 seconds so I would not be storing my passport or phone in here while traveling.  There is a top handle and a removable shoulder strap for side-body or over the shoulder carrying options.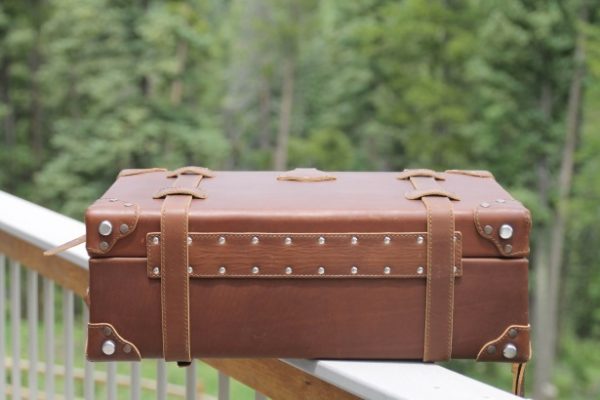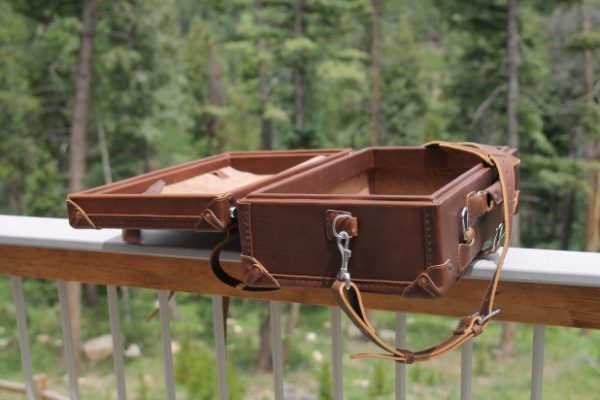 Inside this elegant yet rugged piece is a beautifully simplistic space. The main compartment is completely open, allowing for maximum packing capacity.  You can pack your clothes and gear directly or use your favorite cube system for organizing your items.  The underside of the lid is also an open space but is equipped with a pigskin flap that will hold your items in the lid area and not allow them to fall when the case is opened.  The flap is secured by two adjustable leather straps.  This space is perfect for keeping shoes separate from your other items, dress shirts, pants, or just about anything else you need for your trip.  There is no external storage on this bag, which for me, makes this suitcase exclusively for clothing and other items like toiletries that I will not need until I reach my destination.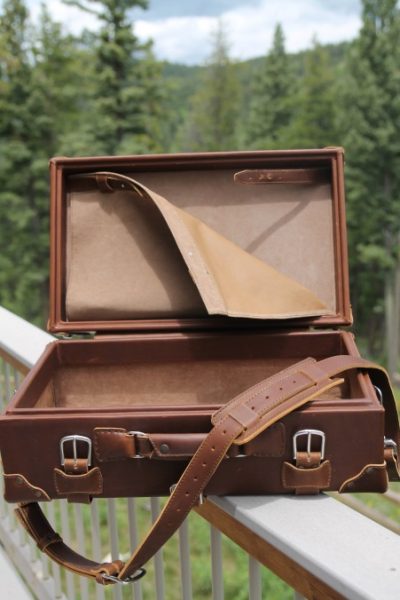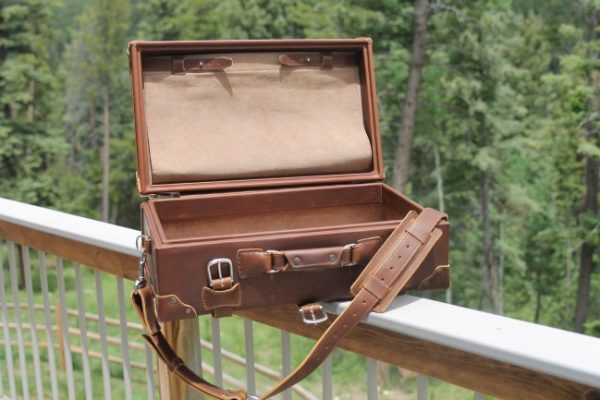 The dimensions (found below) of this bag comply with major airline size limits for carry-on luggage (Saddleback recommends you check with your airline before traveling) and fits in the overhead bin easily but sticks out a bit if trying to put it under the seat in front of you. This bag, like all of Saddleback's offerings, is not lightweight by any standard for luggage.  Empty, it weighs in at 10.8 pounds, which makes sense considering the all wood frame and full grain leather that it is encased in.  The suitcase is lined with pigskin (fun useless trivia: pigskin is the second strongest animal hide behind the only kangaroo).  All of the hardware is 316 stainless steel and will not rust.  All of the materials used in the construction of this and all of Saddleback's products are of the highest quality and are chosen to support their 100-year warranty and their motto of "They'll Fight Over It When You're Dead".
External: 21 ½ W x 13" H x 7 ¾" D     Internal: 20 ½ W x 11 ¼" H x 5 ½" D
This suitcase is not without its drawbacks. Some have been mentioned already but I will recap them and also discuss some issues with Saddleback in general right now.  First off, this item is priced at $1195, not exactly competing with the Samsonite you can pick up at Costco.  The materials and man-hours for this piece really drive up the cost but it also pushes this bag out of reach of many customers.  The weight.  10.8 pounds EMPTY!  You have to love this bag and want to have an eye-catching piece to carry this through an airport over your shoulder or in your hand to justify something that is designed to go in the opposite direction of most modern travel gear when it comes to zipping through the airport with ease.  For car travel, the weight isn't as much of a concern.  I have personally used it for both air and road travel and lugging it to the very end of Terminal B at Denver's airport had me wishing I had bought a small collapsible hand cart for it (not an offering from Saddleback but there are many options out there), converting it temporarily to a roller bag.
Saddleback has also been experimenting with different finishes of leather over the last year or so. Historically they have made changes to their leather finishes but recently those changes have been more dramatic and often.  All of their leather is still the highest quality full grain leather, what I'm talking about is how the leather is finished (texture, wax content, etc.).  Before ordering a product from Saddleback, you might want to use their online chat function to verify that the leather being shipped is the same that shows up on the website as these finishes continue to evolve.
This bag, carry on, suitcase, whatever you want to call it truly is a show stopper. I keep mine in my home office as a decorative piece when I'm not using it.  When I have used it, I have been stopped no less than three times on each trip to either ask where I got it or to compliment me on its uniqueness and handsome appearance.  If you are looking for a lightweight bag that is all about function and flies under the radar and can only be described as "luggage", I would not recommend this bag to you.  If, on the other hand, you are looking for a high-quality leather suitcase that can be carried onto a commercial airplane that makes a statement and you don't mind the extra weight and you are able to spend nearly $1200 on what can only be classified as a luxury item, I would highly recommend this bag.
Safe travels!
Source: The sample for this review was purchased using my own funds.  For more information on this bag please visit Saddleback Leather's product page.