We use affiliate links. If you buy something through the links on this page, we may earn a commission at no cost to you. Learn more.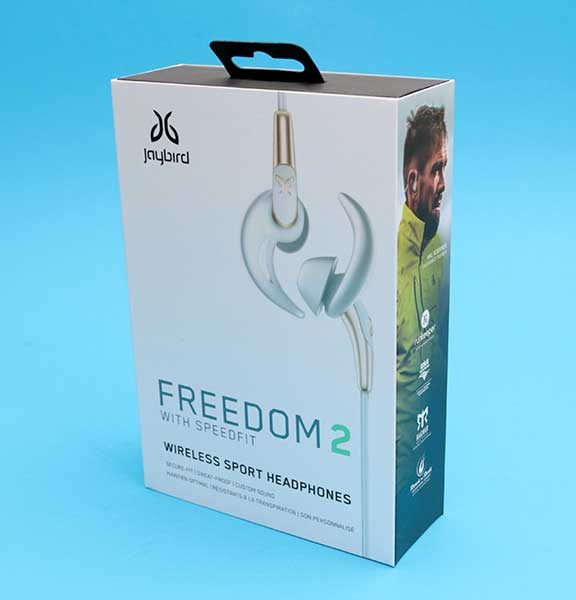 Now that smartphones like the latest iPhones and my new Pixel 2 XL have abandoned 3.5mm headphone jacks, the quest to find the perfect pair of Bluetooth earbuds has been high on my tech wish list. The latest test buds to show up on the Gadgeteer testing bench are the Freedom 2 wireless sport headphones from Jaybird.

What is it?
The Freedom 2 wireless sport headphones are earbuds that connect to a smartphone, tablet, or computer using Bluetooth.
What's in the box?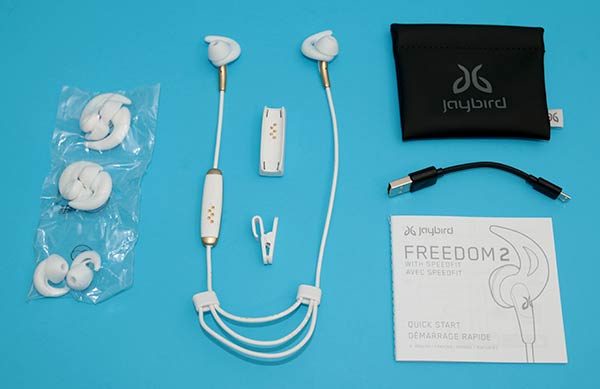 Freedom 2 buds
Charge clip/Battery pack
USB charging cable
4 pairs of silicone tip/fin combos
Shirt clip
Carry pouch
Quick start guide
Design and features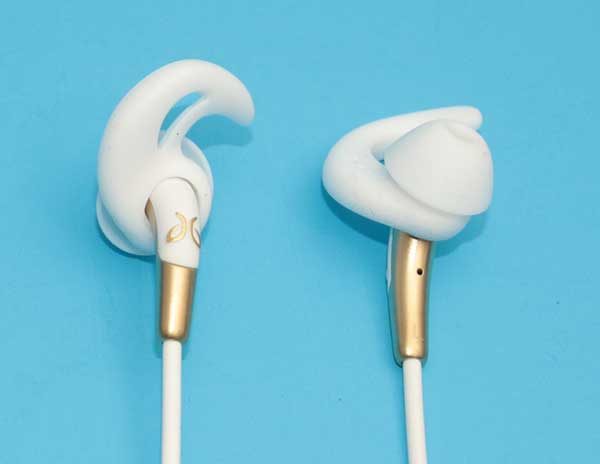 The Jaybird Freedom 2 wireless sport headphones are available in black and in white/gold like you see above.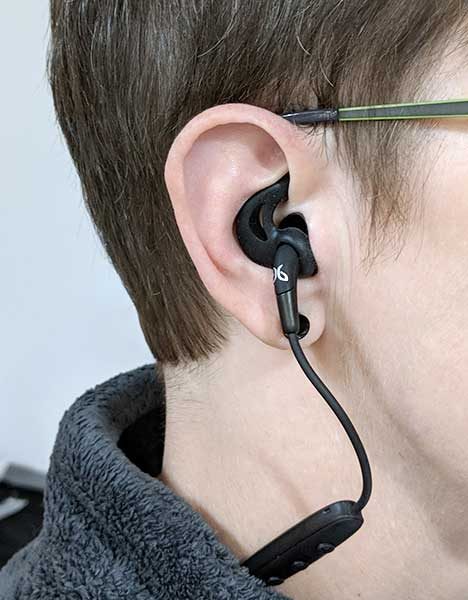 These are in-ear style headphones which come with 4 sets of ear tips with built-in fins that really help keep the earbuds in your ears even when you're working out or running. Speaking of which, the Freedom 2 headphones are water and sweat resistant, so you can get as icky as you like and the headphones won't skip a beat.
I found these headphones to be comfortable even for extended wear. I like the fin design of the ear tips because they never feel like they are about to fall out of my ears. They easily stayed put when I was sitting at my desk and when I was working out. I'm not a runner, so I didn't test how well they stay in your ears while pounding the pavement, but I am pretty confident that that won't fall out.

The headphones are small and compact and feature an inline controller and speedfit cord clips that allow you to customize the length of the cable for the perfect fit.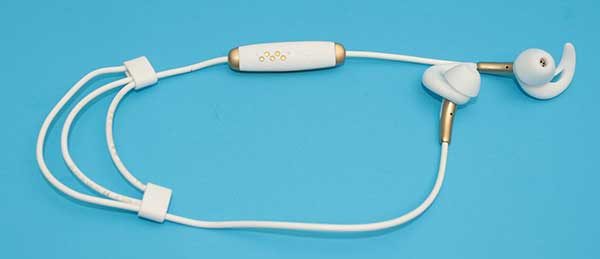 The inline controller has three buttons on one side that control volume and functions like power, pairing, play, pause, call answer, call end, and next track.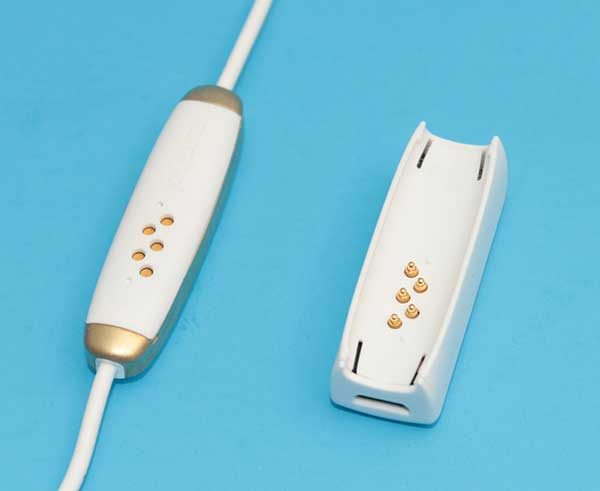 On the other side of the controller are electrical contacts that mate with contacts on the snap-on backup battery/charger.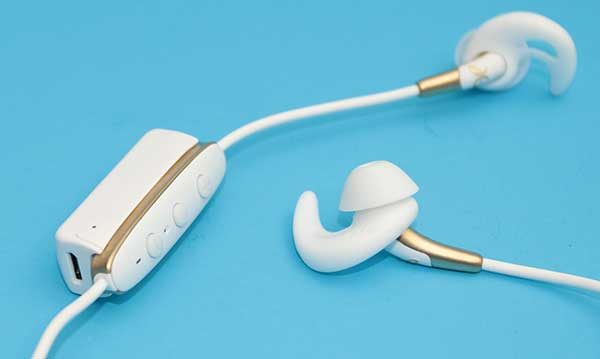 To charge the Freedom 2's battery, you snap on the charger and then connect it to a USB port or AC adapter.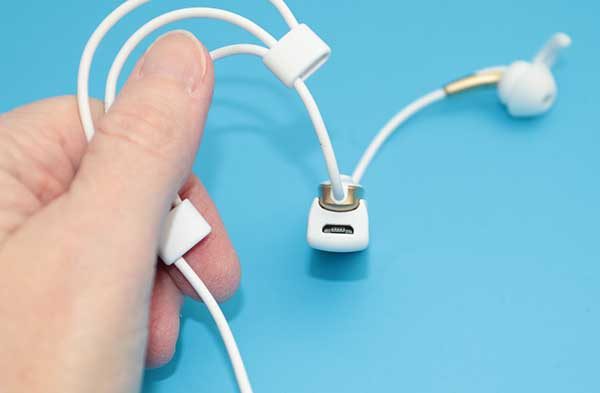 Yes, that means that you'll always need to carry the snap-on charger with you so you'll be able to charge the headphones where ever you are.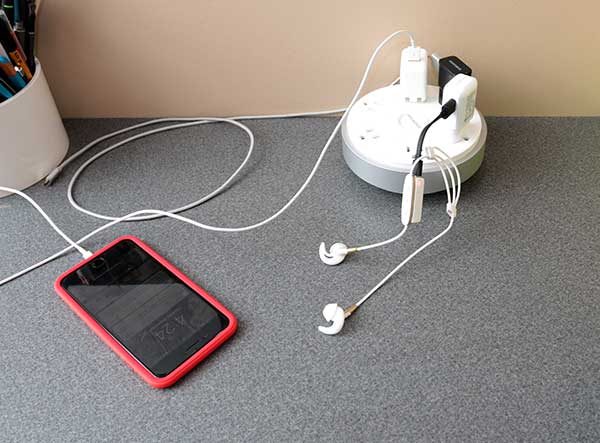 If that sounds like a hassle, I agree with you. But, the good news is that the snap-on charger is pretty small and easily fits in the included pouch. Even better news is that it doubles as a battery extender that will provide up to 4 hours of extra play time for the headphones. As you charge the headphones, the backup battery also charges.
Without the backup battery snapped to the controller, the Freedom 2 headphones will play for about 4 hours on their own. Snap on the charger/backup battery and they will play for an additional 4 hours, for a total of 8 hours of play time. Note, that when you connect the battery clip it will power off the headphones and you'll have to power them back on which is a little annoying.
I rarely listen to music for more than a couple of hours at a time, so 4 hour battery life isn't a problem for me.
Pairing the headphones
I had no problems pairing the Jaybird Freedom 2 headphones with my Pixel 2 XL Android smartphone and so far I've had no problems with the phone and headphones reconnecting after cycling power on both devices.
The headphones have a female voice that will tell you that the headphones are powering on, battery level, when they are connected, and when they are powering down.
These are multi-point headphones which means that you can pair them with two devices at the same time. You can have the headphones connected to your phone for calls and your computer for media. The headphones will also remember up to 8 devices.
How do the Jaybird Freedom 2 headphones sound for music?
I wasn't initially that impressed with the audio quality while listening to my favorite tunes through Spotify and Amazon Prime Music apps. But then I installed the Jaybird app on my Pixel 2 XL and customized the sound settings and was MUCH happier.
The app offers pre-configured sound settings or you can start from scratch to create your own. The app also offers music playlists that might help you find some new favorite tunes.
Depending on the sound setting that you choose (my current favorite is called Perfect Quality) through the Jaybird app, you should be happy with lows, mids, and highs.
I don't listen to just one type of music, I like almost all genres and so far the Jaybird Freedom 2 headphones have not disappointed me. If I don't think a particular type of music sounds as good as it can, I choose another setting in the app and am happy again. But honestly, the Perfect Quality sound customization pick has been the one I settle on about 95% of the time.
How do the Jaybird Freedom 2 headphones sound for calls?
I don't like taking calls with in-ear headphones because I feel like I'm talking in my head with the way my voice sounds. That said, using the Freedom 2 headphones to take calls is fine. I could clearly hear the person on the other end of the call and they said that they could hear me. Only one time did someone tell me that I sounded a little quiet.
Final thoughts
Right now the Jaybird Freedom 2 wireless sport headphones are my favorite Bluetooth headphones because they are comfortable to wear, sound great, and have the ability to play for up to 8hrs with the clip on battery. They get two thumbs up from me.
Source: The sample for this review was provided by Jaybird. Please visit their site for more info and Amazon to order.