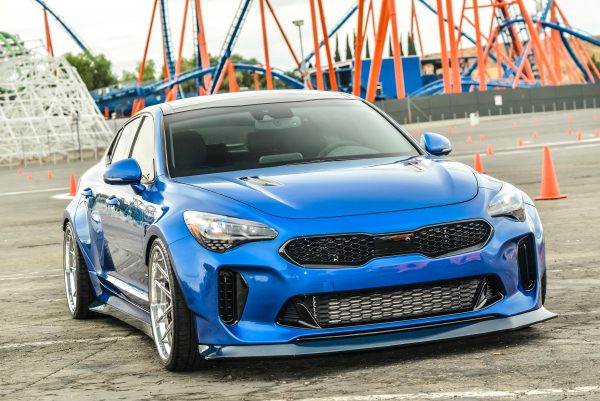 The Kia Stinger is a car that is practically 6 years in the making. It all started out as a Grand Turismo concept vehicle which evolved into a full-on passion project at Kia. The Stinger is actually Kia's first high-performance focused vehicle, but you'd hardly believe it because they've managed to knock it out of the park the first time around. 
The exterior of the Kia Stinger is so high-end looking that it almost had us mistaken for a Maserati the first time we saw it. Its design integrates Gran Turismo proportions with a fastback profile, long wheelbase, broad shoulders and a short front. The interior is equally impressive with hand-stitched components, an aircraft inspired cockpit, metal ringed gauges, and seats that can be customized with a choice of Napa leather (even in red) to compliment that high-end race car look and feel.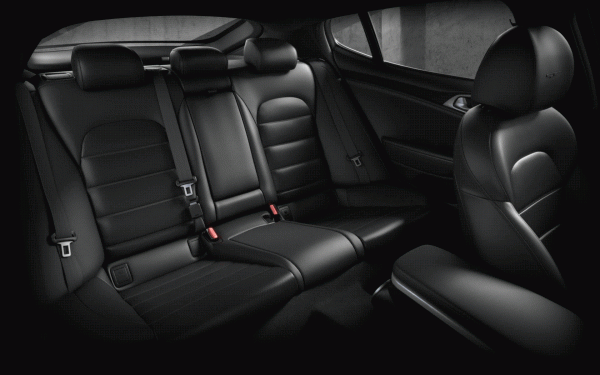 The interior is also very roomy – there is room to fit five comfortably. The driver seat is a 16 way driver seat, and the passenger a 12 way, so both driver and passenger alike will be able to attain that perfect driving position. And indeed that is the case, between all the position options and the longer wheelbase, the seats are superbly comfortable. There's also plenty of room for cargo. The Stinger is actually a 5 door car with a wide sport-back hatch. You'll be able to fit in 23.3 cubic feet with the seats up and 40.9 cubic feet with the seats down.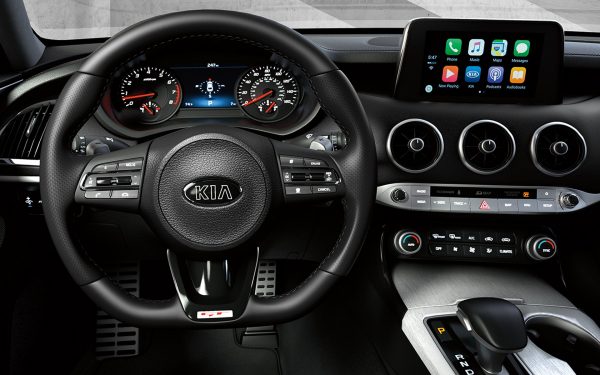 On the tech side, the Kia Stinger packs offers just about ever safety feature and tech amenity you can think off, including the likes of autonomous emergency breaking, dynamic bending headlights, a smart power trunk, power tilt and telescoping steering wheel, blind spot detection, rain sensor wipers, forward collision avoidance, lane departure warning, driver attention warning and high beam assist, and a head-up display that provides speed and turn by turn directions. The vehicle also comes with a large 8-inch touchscreen infotainment display (7-inch on the base model) with the latest versions of Android Auto and Apple CarPlay running on it. The built-in 720-watt Harman Kardon premium audio system packs in 15 speakers and it supports hi-res audio files. The audio system inside the Stinger is actually the best sounding speaker system we've ever listened to from all of Kia's vehicles.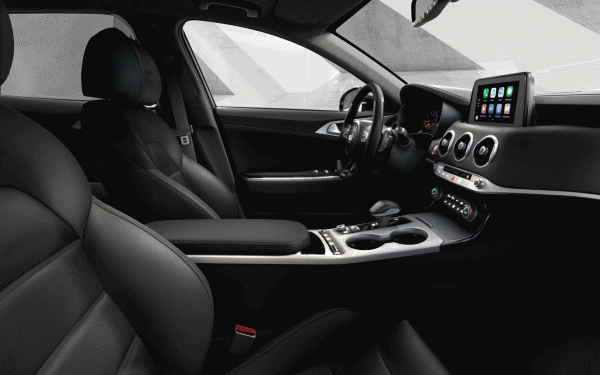 We took the Kia Stinger for a test drive around LA and it ended up being the most fun we've had on a test drive in a long time. That is because the Kia Stinger is simply a blast to drive and ride in. It truly drives like a sports car, especially in sports mode. The car is able to go from zero to sixty in 4.7 seconds, with a top speed of 167 mph. It offers the rush and "vroom" feeling you get from a typical race car, but with the welcome addition of lots of comfort and tech amenities.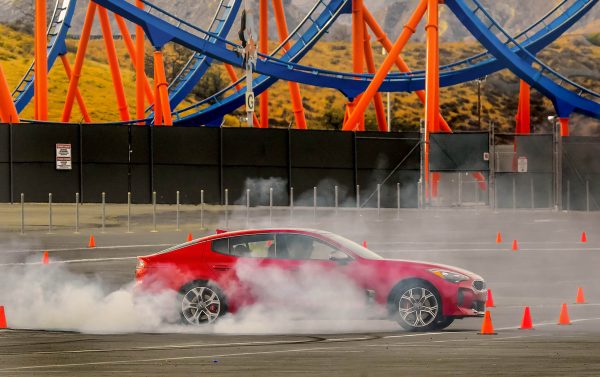 The car handles curves so well, that it practically feels like you're gliding along them. The steering control is excellent too. Personally, being prone to motion sickness, I often can't handle riding in sports cars, but with the Kia Stinger I never once felt sick – not while driving on the highway, or even through the windy and very narrow Hollywood Hills. I also appreciated how quiet the interior is.
When you take a look at the Stinger's competition, which includes the Audi A7 and the BMW 440i, the Stinger is actually faster. But what is really surprising is just how much more affordably priced the Stinger is in comparison to the competition. The base price for the lowest cost stinger model is $31,900. The Stinger comes standard as a rear wheel drive system, but it can be upgraded to an all wheel drive for an additional $2,200. The GT2 that we tested costs $49,200 and included pretty much all of the available upgrades. That is a pretty amazing deal when you consider that pricing for the competition starts at around $49k for their base models and typically rounds out to about $80k for what you can get from a $49k Kia Stinger.
Who is the Kia Stinger for? The Kia Stinger is as well-suited for the parent who always wanted a sports car, but needs room to fit the whole family, as it is for someone simply looking for a fun car to drive that won't totally break the bank. One thing is for sure, the Kia Stinger might be the first high performance vehicle from Kia, yet they've managed to hit a home-run. To that effect, not only is the Kia an attractive and incredibly fun car to drive, it manages to undercut the competition with its pricing. Overall, the Kia Stinger has managed to be the newcomer that has impressed us the most in 2017, and we're sure that it will impress you to.
Support The Gadgeteer
:
We may earn a small affiliate commission from purchases made from buying through links on our site. As an Amazon Associate I earn from qualifying purchases. Learn more.