We use affiliate links. If you buy something through the links on this page, we may earn a commission at no cost to you. Learn more.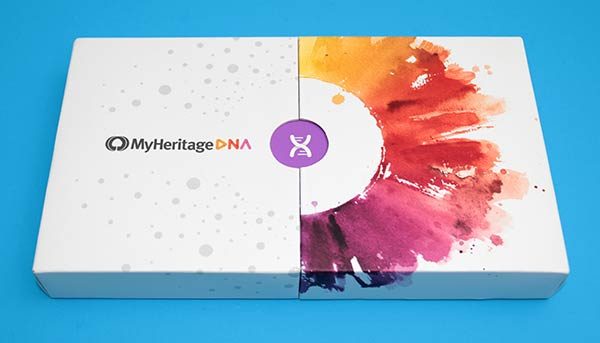 Due to my German last name, I've always been interested in my ancestry and would daydream what it might be like to visit Germany someday and look up Strietelmeiers in the phone book. I love the TV series Finding Your Roots and Who Do You Think You Are? When I was offered the chance to review the MyHeritage DNA kit, I was excited to find out my results.
What is it?
The MyHeritage DNA kit helps you collect your DNA to reveal where your ancestors came from and can help you create your family tree by finding DNA matches.
What's in the box?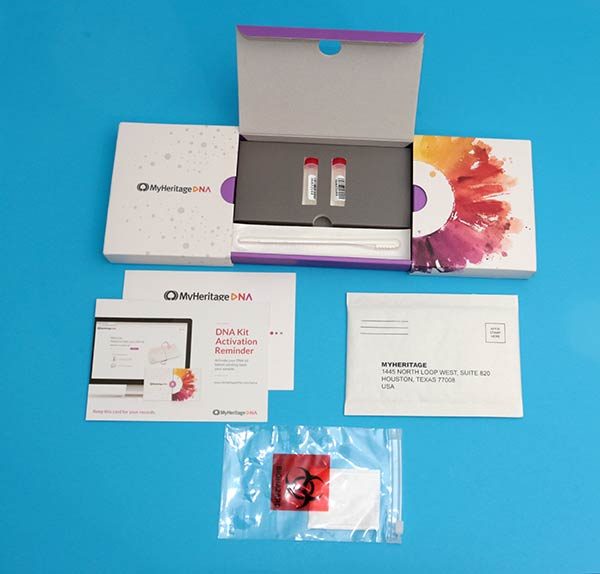 2 cheek swabs for DNA collection
2 vials to store the DNA
1 Ziploc baggie
1 padded envelope
Instructions
Activating and collecting DNA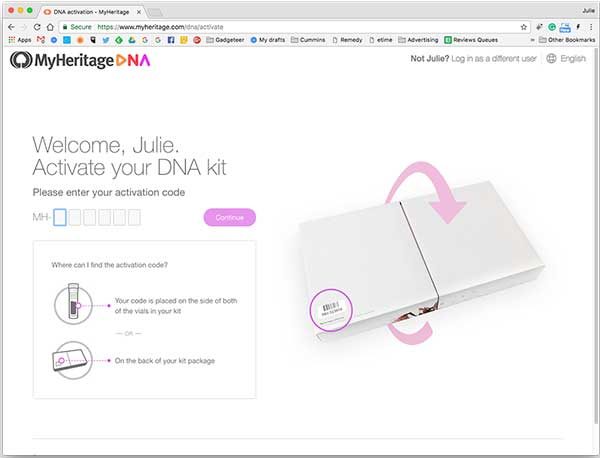 To get started, you first are instructed to activate the kit by going online and typing in a serial number that is unique to each kit.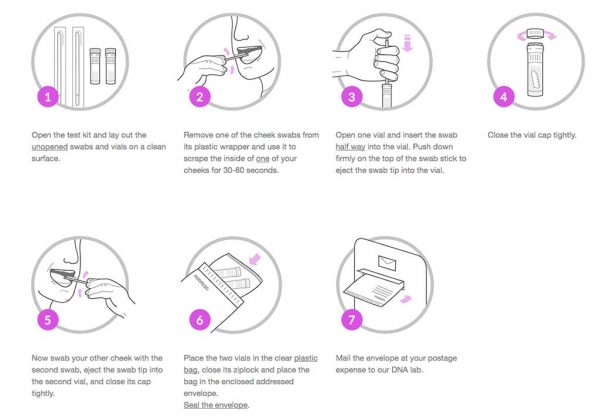 Then you just follow the simple instructions.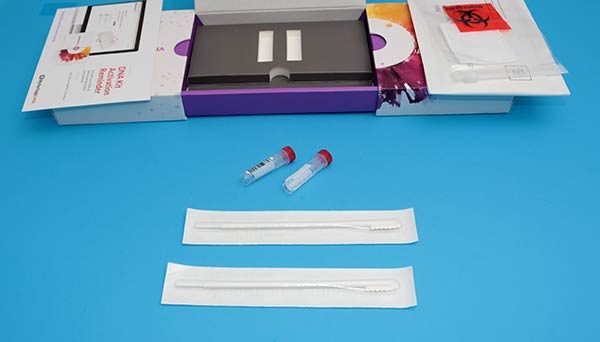 The MyHeritage DNA collection kit is very easy to use. It doesn't require you to collect blood or spit in a tube like other kits from competing DNA services. The MyHeritage kit has two swabs that you rub inside each cheek for 30 seconds each and then break off in each vial.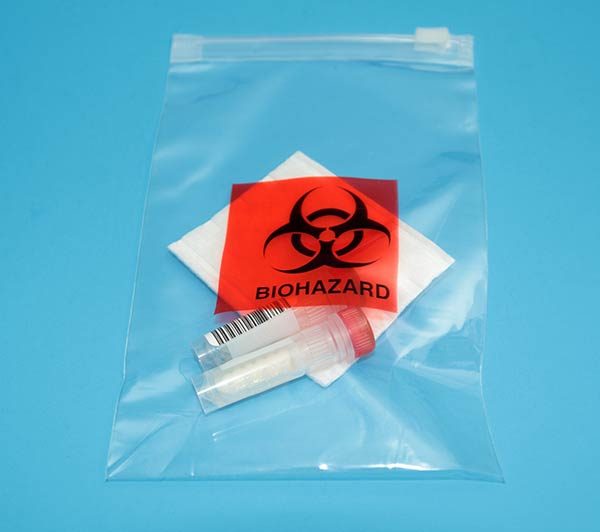 The vials then go inside the plastic bag.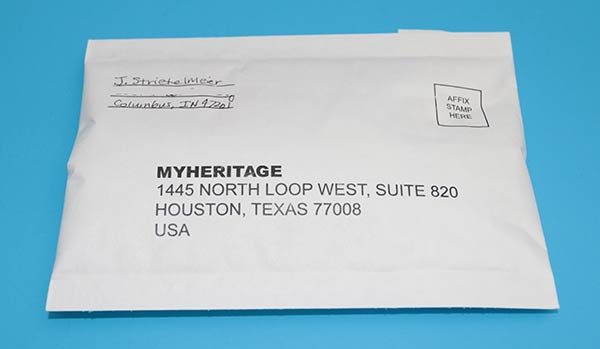 And the plastic bag goes inside the addressed mailer. I was surprised that the mailer requires that you have to pay the postage to ship it back to the MyHeritage labs.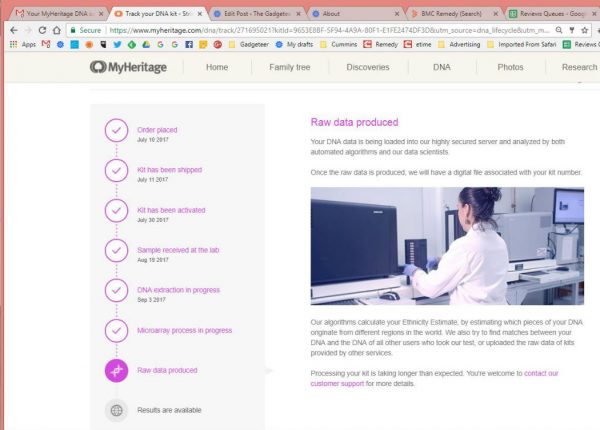 As you can see from the image above, your account on the MyHeritage site shows each step in the process from the time you order a kit, activate it, mail it and finally receive the results.
The worst part of the MyHeritage DNA service is waiting. Their website says that the results can take 3-4 weeks and their instructional video says the results can take 4-6 weeks. I mailed my test kit to MyHeritage on 7/31/17 and I finally received my test results on 10/20/17. That's 11 weeks and 4 days, which I think you would have to agree is insanely long. See update below.
Was it worth the wait?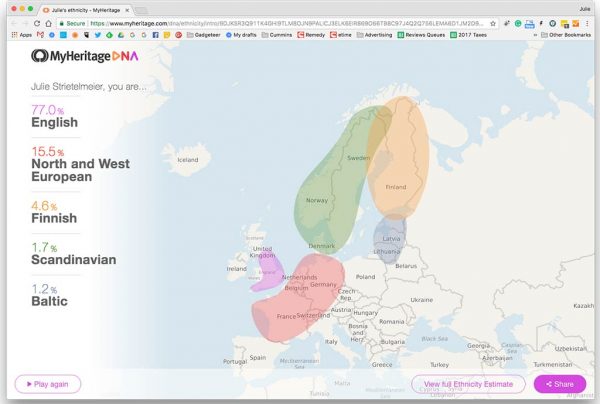 When you click on the link to view your results, there's a cool animation of the Earth that revolves around as it shows you where your ancestors are from. You are then presented with a top level list of regions and the percentage that makes up your DNA. No big surprises with my ancestry… darn it.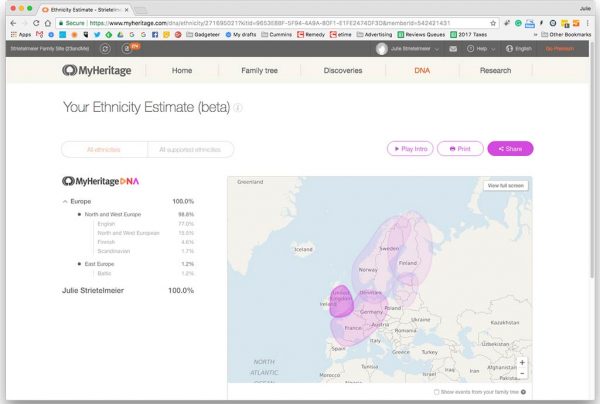 You can drill down even farther into each area.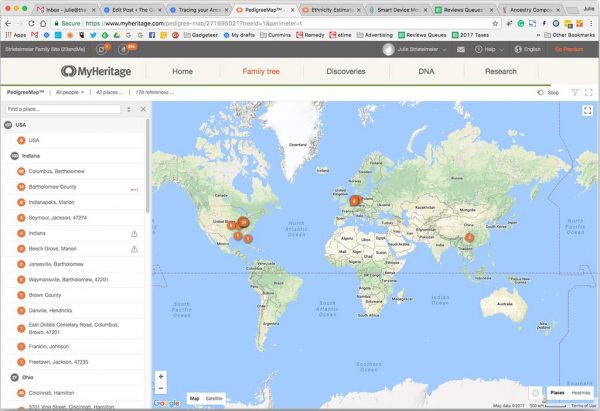 The MyHeritage DNA results include more than just showing you where your DNA comes from. It can also help you find relatives and build your family tree.

The site will pull up your DNA matches and review information about the matches and then add them to your family tree if they are actually part of your family.

Some of the information even includes pictures of long gone relatives.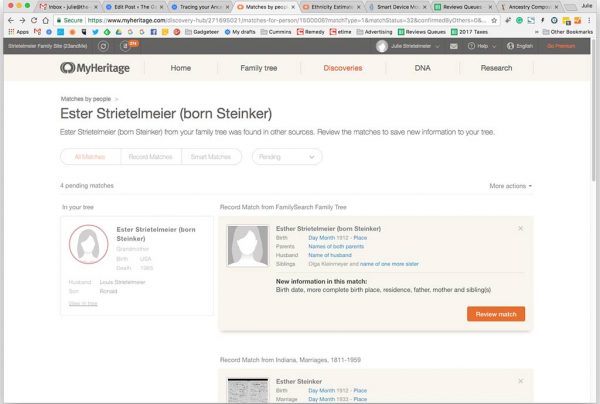 This information comes from a variety of sources and does not have to be from someone that has also done the MyHeritage DNA test. For example, the MyHeritage site had my grandmother who I don't even remember because she died when I was 1 year old. But her info was on the site so I could add it to my family tree.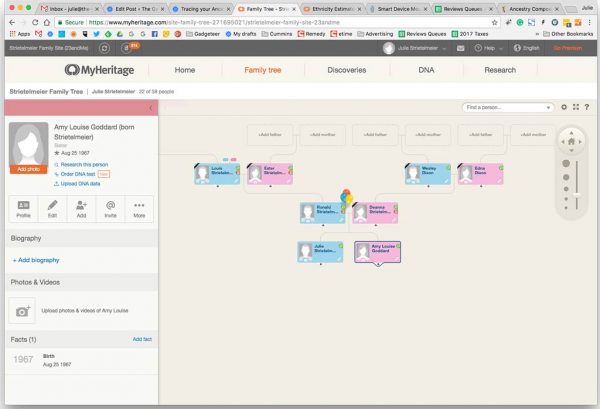 Researching genealogy is fun and fascinating. The MyHeritage site links out to census records and old newspaper clippings that you can search by name and year. But the only problem is that you have to pay extra if you want to view that info.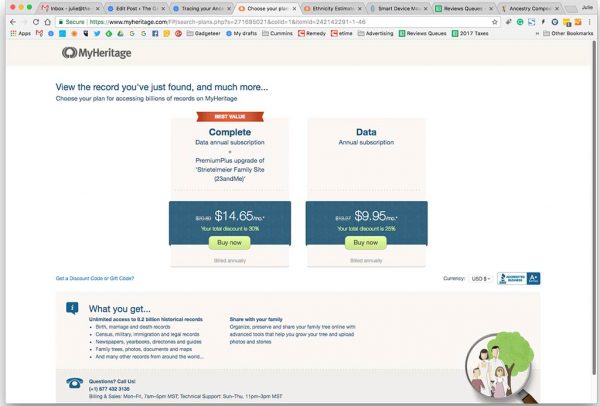 I think MyHeritage should give you a month or two of free data access to those extra services instead of requesting that you pay extra for them.
Final thoughts
If you're into genealogy, then you'll enjoy the information that you can get from the MyHeritage DNA kit. Just be prepared to wait a LONG time for the results and pay extra for features that will help you build your family tree.
Update 10/29/17
I've received an explanation about why it took so long to receive my results:
Dear Julie,
We really enjoyed reading your review of MyHeritage DNA.

Thanks so much for writing about your experience.

I also wanted to be in touch as you mentioned it took 11 weeks for you to receive your results. On average, it takes our users 2-3 weeks to receive their results. WIth your test, the main reason for the delay is that Hurricane Harvey hit Texas exactly during these dates. Our lab is based in Houston and was not directly affected by the hurricane, however, the lab itself was closed for a couple of weeks as it was not safe for staff to reach the lab. This then caused a delay for a small number of kits. Unfortunately, it looks your test was one of them.

If possible, it would be great if you could update your article to explain this unexpected, but thankfully rare, issue?

Thanks so much,

Rafi
Source: The sample for this review was provided by MyHeritage. Please visit their site for more info.
Product Information
Price:
$99.00
Manufacturer:
MyHeritage
Pros:

Easy and painless to collect DNA
Site has access to lots of genealogy information

Cons:

Takes a long time to get the results back (see update above)
Have to pay extra to access newspaper, military, census, and other records