We use affiliate links. If you buy something through the links on this page, we may earn a commission at no cost to you. Learn more.
ZTE has a new Axon phone to show off, and while it's not a follow up to last year's Axon flagship, it is pretty much one of the coolest devices we've encountered so far in 2017. That is because the new Axon M is a foldable dual screen phone. Because two screens are better than one! At least thats the concept behind the Axon M.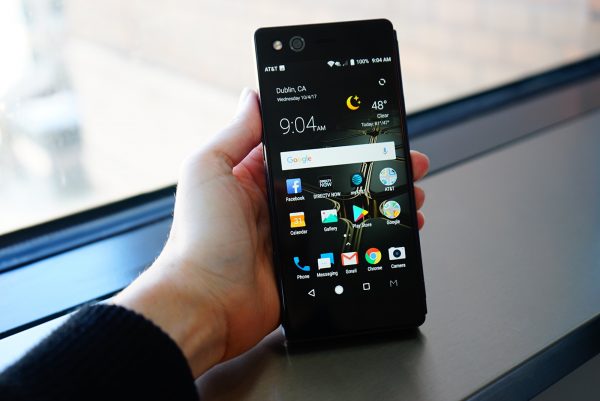 ZTE did research and learned that most folks do prefer larger screen phones, but that they top out at 6" when the phone stops becoming pocket friendly. Their solution is to provide users with not one, but two 5.2" screens in the Axon M. Each display is a 1080P TFT FHQ Gorilla Glass display with 426 PPI.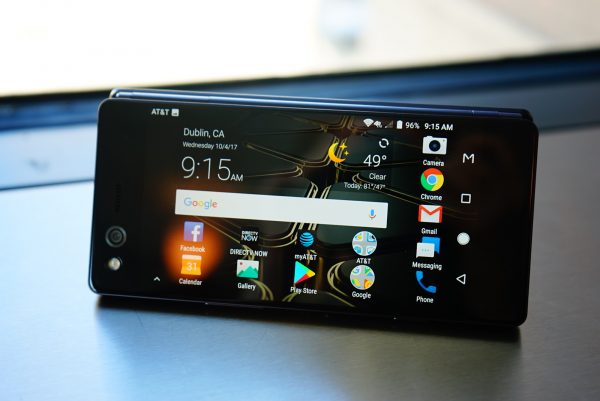 With the ZTE Axon M, the second screen is able fold out to a 180 degree angle, so the device can be used flat or in a laptop-like mode. And that's where the possibilities roll in – and oh, there are so, so many, for this form factor.
Mirror mode is useful for two people watching movies on either side, or playing a game like Battleship.
Extended mode takes a single application and extends it across 2 screens. For example, that means double the real estate for your Facebook News feed.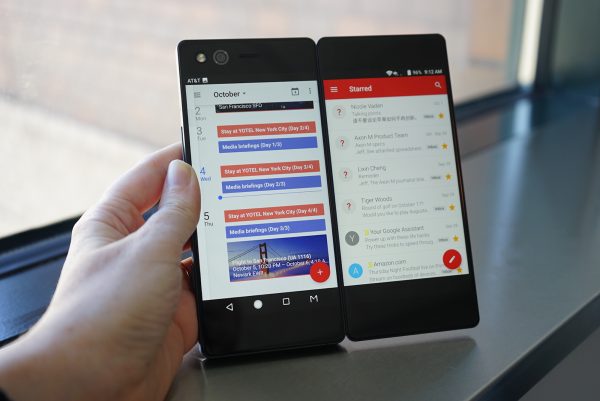 Dual (multitasking) mode lets you run a different application on each screen – so you can have your email opened on one display while viewing your calendar on the other. It's pretty much a multitasker's dream, and so much better than having just a split screen window mode on a single smartphone display. A simple 3 finger swipe moves an application over to the opposite display.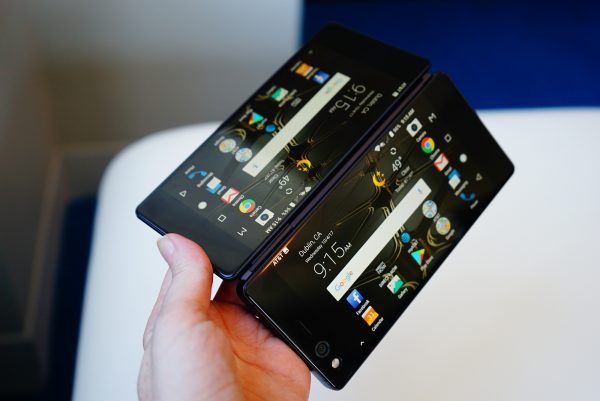 Under the hood, the ZTE Axon M is powered by an 821 Qualcomm Snapdragon processor and 4GB of RAM, and it comes running Android Nougat (7.1.2). The rear-facing camera sports a 20MP sensor with dual image stabilization, and a dual LED flash, and it can record 4k video at 30fps. Its aluminum full metal unibody weighs 230 grams, and it comes with a micro-SD card slot for expansion. The Axon M even includes a 3.5mm audio jack along with an AKM 4962 HiFi main chipset for HiFi listening and recording.
One thing is for sure – the ZTE Axon M is one of the most exciting and unique mobile devices we've seen in a while. Personally, it brought me back to my fond memories of using a Sidekick. Of course, it remains to be seen how many folks will gravitate to this kind of form factor, but from what we can tell, ZTE has done a great job with the first gen Axon M.
The ZTE Axon M will be available from  AT&T. We'll update this story once we have pricing and availability.
Update: The ZTE Axon M is an AT&T exclusive in the U.S. and it will retail for about $725, or 30 $24.99 payments. It will be available for the holidays and will also come with a generous 2 year warranty.