We use affiliate links. If you buy something through the links on this page, we may earn a commission at no cost to you. Learn more.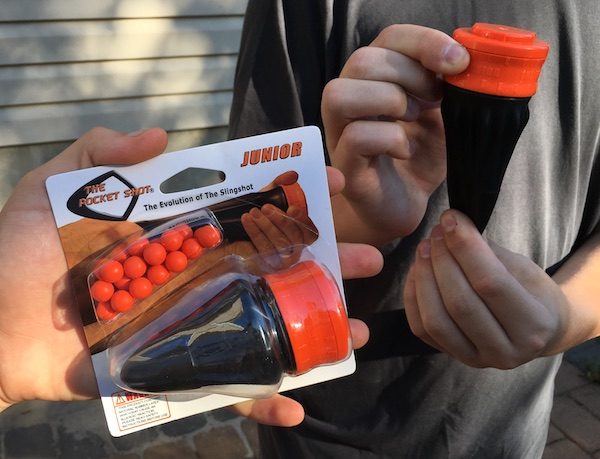 You're familiar with the classic slingshot design, right? Well, the gang at Pocket Shot has tossed that out the window, reimagining the slingshot concept with a completely new form factor. We've got the mini-sized version of their product, the Pocket Shot Jr., for testing. I also recruited a pair of teenagers to help with testing. Teens & slingshots: a perfect pairing. If you have kids, you know what I mean.
Let the adult-supervised mayhem begin!
Design and Construction
The Pocket Shot Jr. Doesn't look like any slingshot you've ever seen. There's no handle, no y-frame, and no rubber band. It's a ring attached to a latex pouch. The pouch itself tapers to a point where your ammo sits when shooting, and has a set of flanges (Pocket Shot calls these "power fins") that maximize power and accuracy. The whole design looks like something out of a dystopian sci-fi film… maybe the Hunger Games, or a Mad Max film. Whatever your genre preference, it's a slick looking design.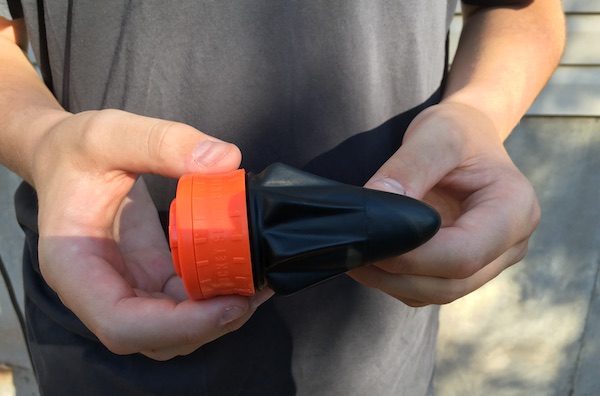 The Pocket Shot team didn't just stop with the new form factor; there's some nice engineering design going on in the finished product. The grip ring is composed of two parts: an internal threaded sleeve that the pouch snaps onto, and an external locking ring that tightens down to secure the pouch. This allows for quick and easy change-out when your latex pouch needs replacement (they are rated for 200-400 shots before wearing out). There's also an integrated screw-on lid that allows you to keep your ammo stored in the pouch when not in use, which also doubles as a wrench to tighten the locking ring. With the cap in place, you can stuff the pouch into a ring for super-compact (1/2" by 1-3/4") package that fits easily into a pocket. The ring components and lid are made from high-impact polycarbonate composite for extended durability. There's a lot of attention to detail in the design and materials here, and I have no doubt that these components will last a long time under extended use.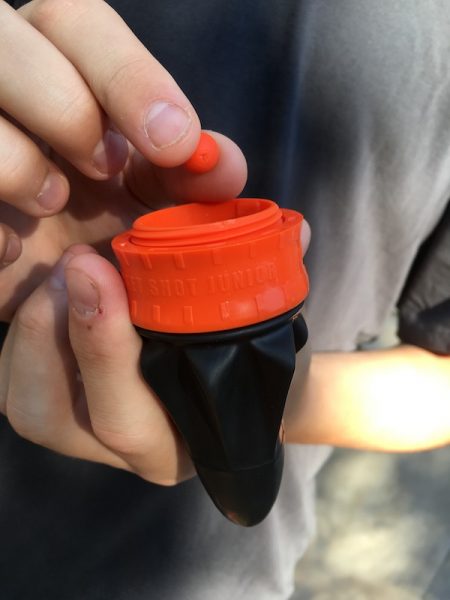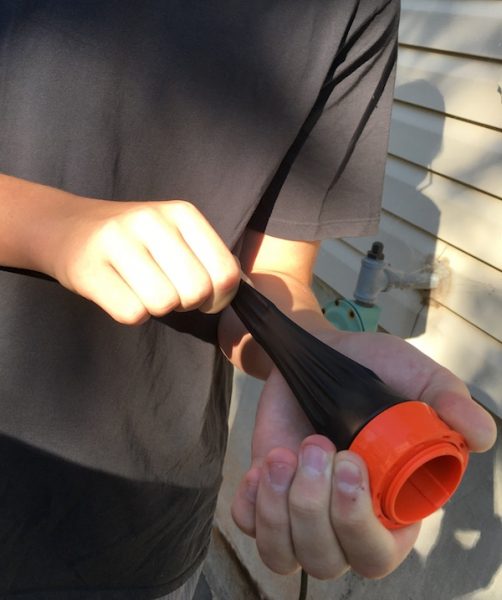 Time to Shoot Stuff!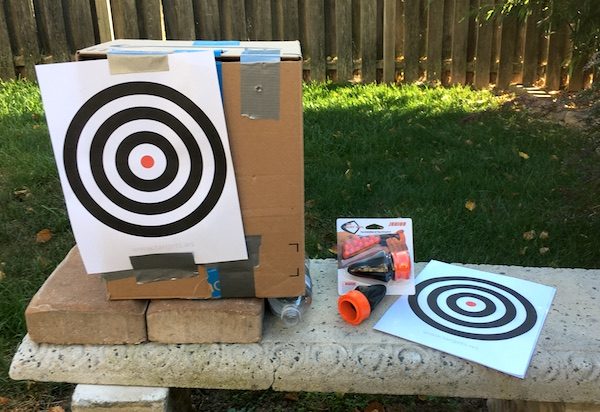 Speaking of use… operation is super-easy. The ammunition drops into the pouch. You hold the ring with one hand, pull back the pouch with the other hand behind the fins. Aim at your target, release, and you're shooting. We were firing at targets within moments of opening the packages. Reloading takes seconds. The lads both commented on how easy the Pocket Shot Jr. was to operate, and how much fun they were to play with.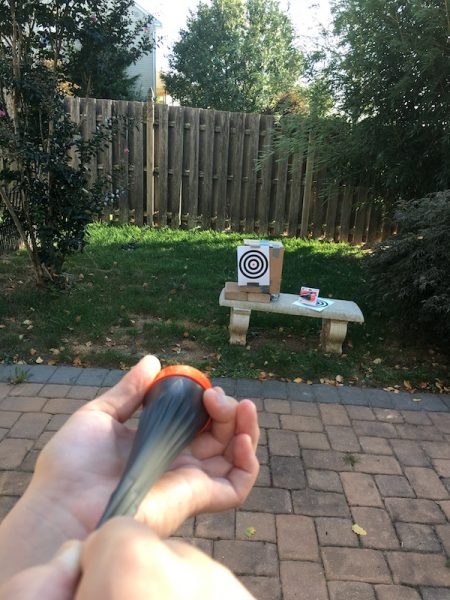 If there was one area that the boys had a bit of trouble with, it was learning how to shoot accurately with the Pocket Shot Jr. It takes some practice, and you have to resist the urge to pull the pouch back as far as you can (a short pull is recommended). The practice ammo supplied with the package is made from bright orange 10mm ABS plastic, designed for safety and findability. We had a tough time getting accurate shots from more than 10 feet away from our target setup. When we swapped out the practice ammo for smaller AirSoft pellets, we found that accuracy and distance were much improved. Pocket Shot also makes a variety of metal ammo for more serious applications (like hunting), but we were doing basic target practice here and did not test these alternatives.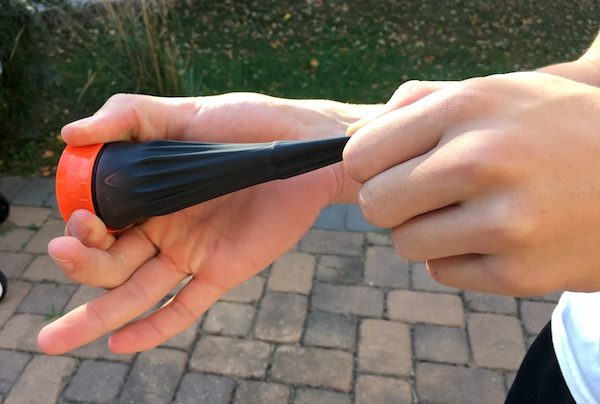 It's also important to note that the model we tested is the smaller model; the full-size Pocket Shot packs a lot more power and includes options for upgrading the pouch to a "pro" version for more power. The big-boy version also includes a variety of upgrade options that work with basic design, including an attachment to shoot arrows! You can check out the full lineup on the Pocket Shot web site, as well as a bunch of fun videos about the product… for kids, I think the Pocket Shot Jr. is an ideal place to start (with the practice ammo) to get all the fun. And it is fun to play with, indeed.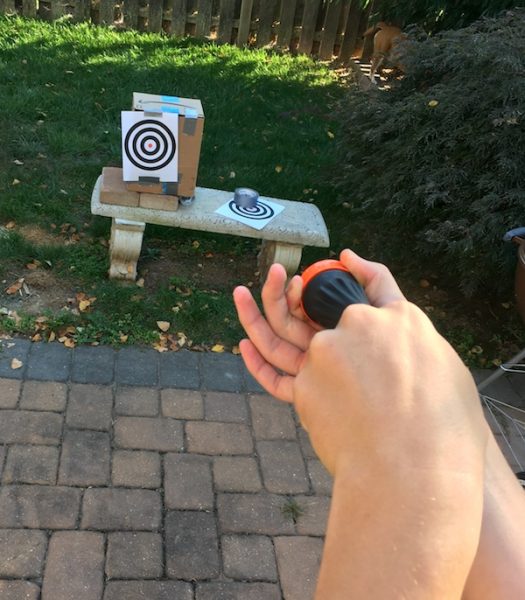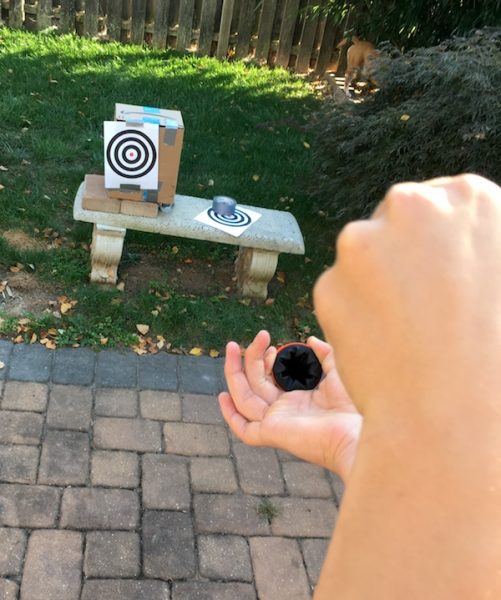 It's also important to note that the Pocket Shot, like any product in this category, can be dangerous. Our testers wore protective goggles throughout the evaluation and were under adult supervision for the whole process. These devices should never be aimed at other people, and appropriate caution should be used to ensure safe handling!
Conclusion
The Pocket Shot Jr. is an innovative, modern-day upgrade to the classic slingshot. It's also designed, manufactured, and shipped from right here in the USA. At a retail price of $12, it's a fun and inexpensive entry point to the world of Pocket Shot products. Replacement pouches and ammunition is inexpensive as well. Check out the Pocket Shot Jr. and the full lineup of Pocket Shot products at their website. You can also check out our review of the regular sized Pocket Shot, Pocket Shot Hammer, and the Pocket Shot Arrow kit.
Source: The sample for this review was provided by Pocket Shot. For more info visit their site and you can order one from Amazon.
Product Information
Price:
$12.00
Manufacturer:
Pocket Shot
Retailer:
Amazon
Pros:

Innovative design
Great construction and materials, all made in the USA
Easy to learn and use
Compacts nicely for pocket-sized storage
Included cap keeps all your ammo stored in the device when not in use

Cons:

Takes some practice to shoot accurately