We use affiliate links. If you buy something through the links on this page, we may earn a commission at no cost to you. Learn more.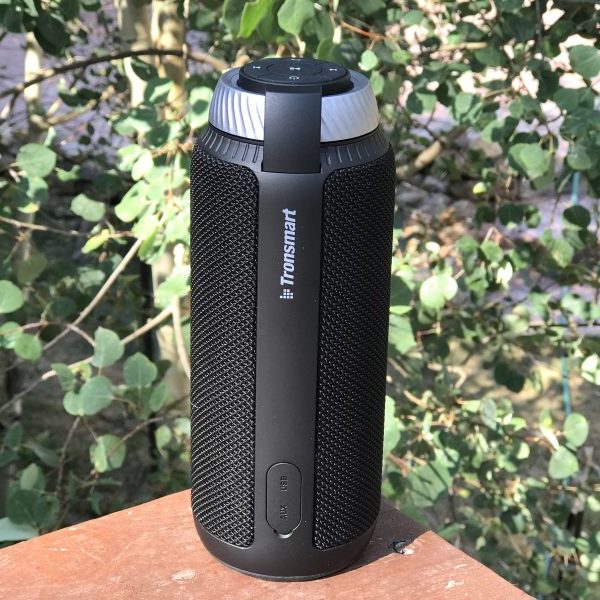 First off let me proudly say that my college days of throwing obnoxiously loud house parties where the sheer volume of the party may or may not have attracted the presence law enforcement are far behind me.  Because of this, I no longer need the biggest, loudest most industrial looking speakers that appear that they were taken out the back door of a Pearl Jam show.  I now look for speakers that are portable, have crisp sound with a balanced range of highs, mids, and lows, have a long battery life and pair easily with my phone.  Check, check, check and check. 
Out of the box, the Tronsmart Element T6 is attractive and has a nice weight to it.  Not too heavy to be a burden if you want to put it in a bag for an outing but heavy enough to have that good feel in your hand…you know what I'm talking about, right?  The size comes in at 7.68″ tall with a 2.95″ diameter with a weight of 19 ounces.  All about the same as a small water bottle.  The body of the speaker is wrapped in a soft woven mesh that has a nice texture but doesn't interfere with the sound of the speaker. Color options for the mesh covering are black as shown in this review and also red.
Pairing with my iPhone 7 plus was a breeze, just turn it on and it is already in Bluetooth pairing mode and quickly showed up on my phone's Bluetooth menu.  Once paired, it will pair with your phone automatically the next time you want to use it.  It also supports voice calls with its built-in microphone should you receive a call while listening to music.  Simply short press the phone button to answer and long press it to hang up and resume listening to music.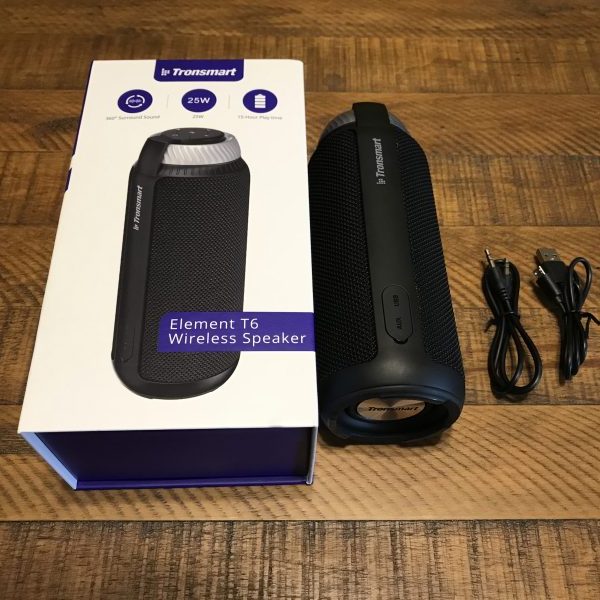 The design is very simple and elegant.  All of the controls are on the top of the speaker.  The gray, bezel-like ring at the top is actually the volume control, making it easy to adjust with a simple turn when needed.  The bottom of the speaker houses the subwoofer and is slightly raised by 3 rubberized feet to allow the sound waves to escape.  This feature gives a great low end if you are listening to anything with a little or a lot more bass.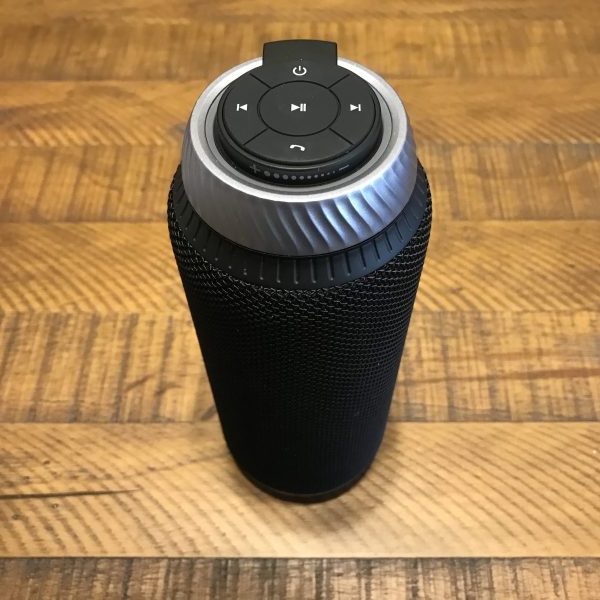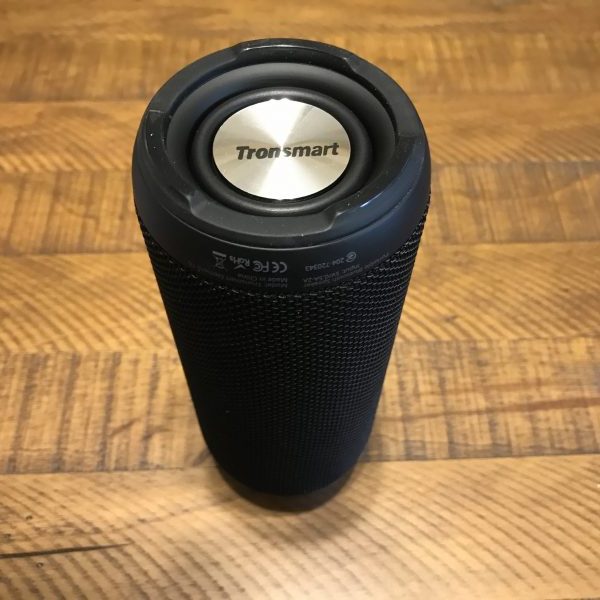 Powered by a 5200mAh battery, Tronsmart claims that the speakers will run up to 15 hours…I did not test this, I will take their word for it though.  Charging time is 3-4 hours for a full charge and is accomplished through a micro-USB cable (included).  The T6 does not support data transfer through the micro-USB so if you want to plug it into a device, you must use a 3.5mm audio cable (included).  Both of these ports are found in the same place on the side of the device and are protected by an attached rubberized cover.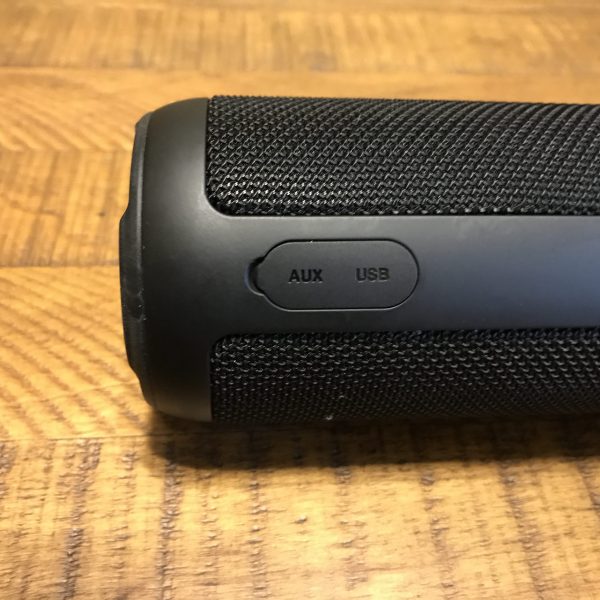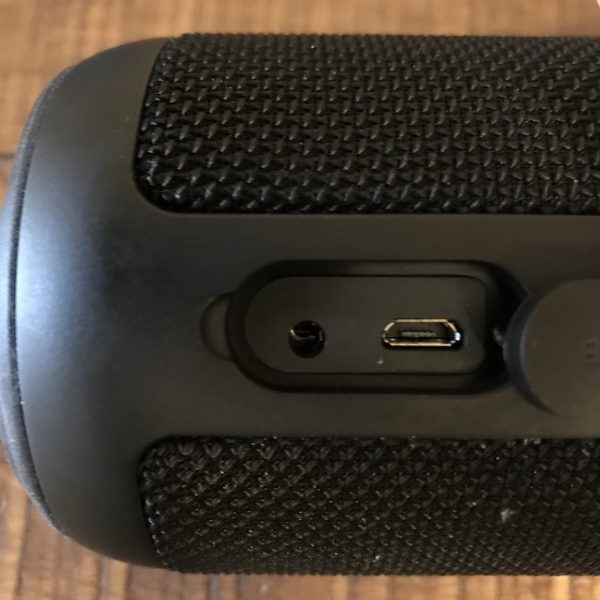 The 360° surround sound makes listening to music uniform, no matter your position in relation to the speakers.  I was pleased with the sound quality and range of sound I experienced both inside and out.  Are there crisper sounding speakers or ones that will direct sound further in an outdoor environment?  Sure.  But for the price point of $45.99 on Amazon, these would be hard to beat in my opinion.
Pros: Affordable price; very respectable sound quality, volume, and range; long battery life; simple controls and Bluetooth pairing; automatically reconnects to your device after initial pairing; attractive design.
Cons:  Does not support digital data transfer through the micro-USB, and instead relies on an analog 3.5mm audio jack, which reduces audio quality in the occasion you don't have Bluetooth; not water resistant; the User Manual recommends keeping the device out of direct sunlight or hot places (I don't know if this is just a precaution for an electronic device or if it is a real problem.  I know most of the time I am outdoors, I am in the sun but I still plan on using this).
Overall I think the T6 from Tronsmart is a great option for those looking for a very solid portable Bluetooth speaker but don't want to break the bank.  If you are in the market for a portable, easy to use Bluetooth speaker with very good sound quality, I would definitely recommend you consider the T6.
The sample for this review was provided by Tronsmart and can be purchased on Amazon.

Product Information
| | |
| --- | --- |
| Price: | $45.99 |
| Manufacturer: | Tronsmart |
| Retailer: | Amazon |
| Pros: | Affordable price; very respectable sound quality, volume, and range; long battery life; simple controls and Bluetooth pairing; automatically reconnects to your device after initial pairing; attractive design. |
| Cons: | Does not support digital data transfer through the micro-USB, and instead relies on an analog 3.5mm audio jack, which reduces audio quality in the occasion you don't have Bluetooth; not water resistant; the User Manual recommends keeping the device out of direct sunlight or hot places (I don't know if this is just a precaution for an electronic device or if it is a real problem.  I know most of the time I am outdoors, I am in the sun but I still plan on using this). |