We use affiliate links. If you buy something through the links on this page, we may earn a commission at no cost to you. Learn more.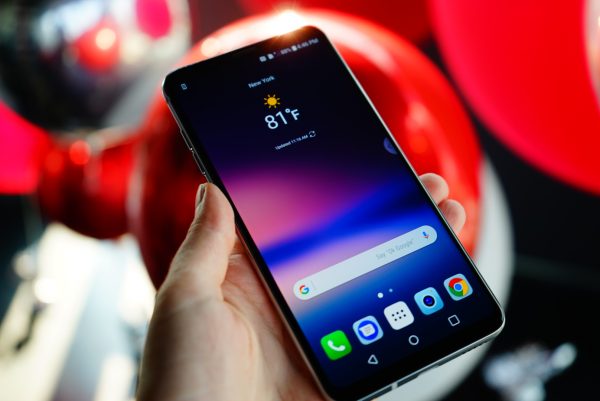 LG's follow up to the V20 is here, and the rumors and leaks were pretty spot on. To that effect, the new V30 packs in a stunning 6.0″ QHD+ OLED Display with a 2880 x 1440 resolution, but by the size of it you would never guess it was packing in such a large display. That's because it sports an 82% screen to body ratio (with a 18:9 aspect ratio), allowing the LG V30 to pull off a big screen in a relatively small body that measures just 5.96 x 2.96 x 0.29 inches. 
Design-wise, the LG V30 takes queues from the LG G6, not the V20. And in comparison to its predecessor, we wholeheartedly prefer the V30's new look, and find it to be more attractive this time around. Overall, the phone is gorgeous, thin, and weighing around 158g, it feels surprisingly lightweight to hold in your hand. The phone is also IP68 water and dust resistant, it's rocking Gorilla Glass 5 on the front and back, and it has passed 14 different military-standard durability tests – so not only is it pretty, but it's also pretty tough.
The LG V30 is heavily focused on imaging, optics and Hi-Fi audio. When it comes to filming video, you can smoothly zoom in on objects. We tried this out and were impressed with how smooth the zooming in is compared to most other phones. In addition to video recording with Hi-Fi audio, there's also a feature called Cine Effect which produces more cinematic videos. The phone also comes with a Quick Video Editor for easy editing on the fly.
For photos, the camera sports a crystal clear lens for capturing more light and more detailed images with improved dynamic range and darker darks, thanks to a 10-bit HDR image sensor. LG has also preloaded the phone with GRAPHY, which we'd best describe as part EYE.EM / part learning tool. Essentially, GRAPHY lets you browse through a catalog of photos taken by professional photographers. If you spot a photo you like and feel inspired to snap a similar photo, all you have to do is select the photo and you can import the manual camera settings that the original photographer used for that photo. This seems like a potentially great way to up the ante with your photos by cheating, and we wholeheartedly approve.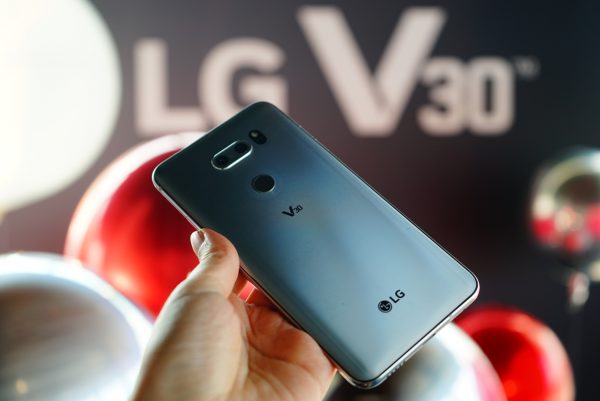 Fingerprint locks are soooo 2015. Fortunately there are various ways to wake-up the V30. In addition to using your fingerprint, you can use face recognition, voice recognition, or you can knock on the display with your fingers. Other notable specs of the V30 include an improved f1.9 wide angel camera, a 3,300 mAh battery, an SD card slot a Qualcomm Snapdragon 835 processor.
The biggest hurdle for the V30 is whether or not it can properly take on the recently announced Galaxy Note 8. Both devices sport a similar look and a similar large screen to body ratio, but the Note 8 has its iconic S Pen feature. The V30 on the other hand doesn't have a reputation for blowing up, so it will be interesting to see which device comes out on top with consumers.