We use affiliate links. If you buy something through the links on this page, we may earn a commission at no cost to you. Learn more.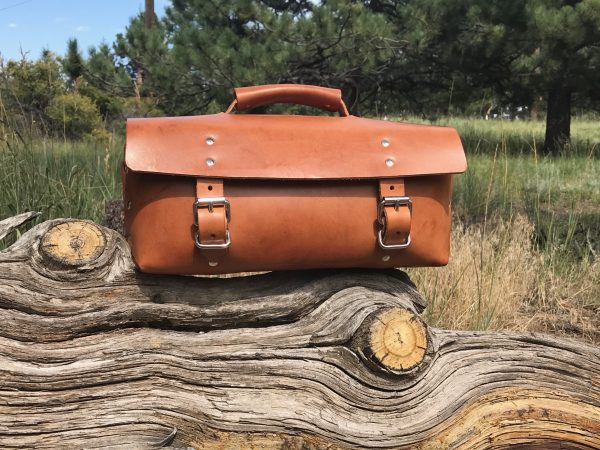 Let me begin by saying hello, my name is Ryan and I an a leather addict.  Admitting I have an obsession to leather products is about as far as I am willing to go in this 12 step program so with that out of the way, let's talk about Mr. Lentz and his Work Bag.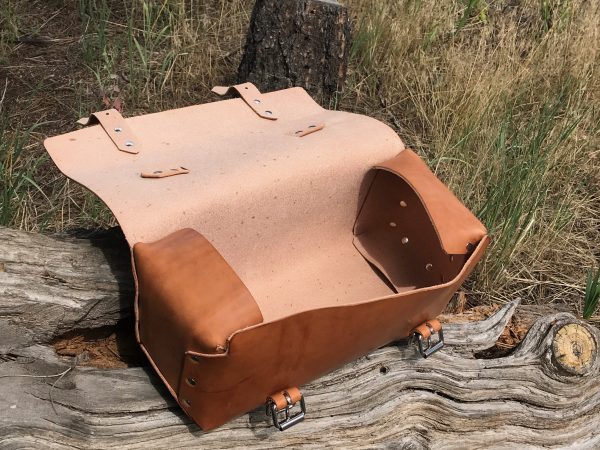 Opening the box, the olfactory hue of quality vegetable tanned leather reminds me of all the reasons I love leather products, especially vegetable tanned leather.  Upon first inspection of the bag, I can immediately see that these were designed and made by a true craftsman with an understanding of what is important in high quality leather bags that are meant to serve a utilitarian function.  The leather as I mentioned is 100% veg tanned leather that is made in the USA and has a wonderfully finished and smooth exterior with an unlined natural interior. The rivets are nickel over solid copper and the buckles are stainless steel, no pot metal or plastic here, the hardware is as solid as it gets.  Quality hardware is important for both the longevity of the product and rust/corrosion resistance and Mr. Lentz did not cut any corners when it came to selecting this aspect of the bag either.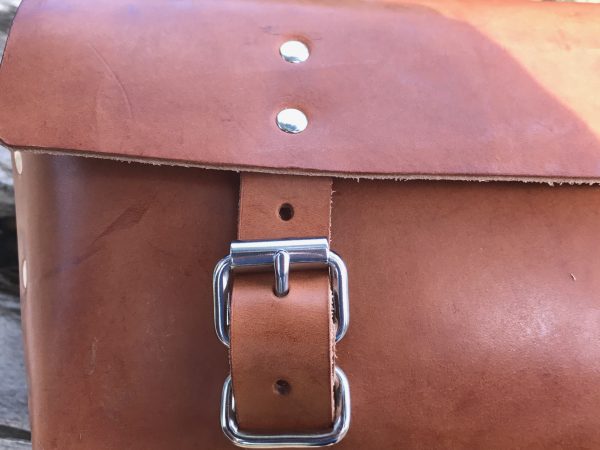 As someone with an admitted leather problem, I look for signs that the designer wanted to make something that will last and also be appealing to the eye.  There is no stitching on this bag whatsoever.  All of the seams, straps, buckles, and handle are riveted, producing a sturdy product with a very clean and unique look.  There is an optional shoulder strap for this bag for an additional cost but the one I am reviewing didn't come with that.  If your intent is to carry this bag for a long period of time, carry a bag full of steel tools or just want the freedom of having two free hands, the shoulder strap may be a good investment for you.  For me, I don't anticipate packing this with anything that I would need the strap for and with a bag this size it just seems at home in my hand.  The hardware to attach the strap to the bag is not included if you do not add the strap at the time of purchase.  You can request that the hardware be put on the bag if you think you want to buy the strap later but this would require contacting Mr. Lentz or making a customization request in the order, he even said you can send it back to have that option added, what a guy!  If you are on the fence, I would lean towards buying the strap , you can always disconnect it and store it when not in use.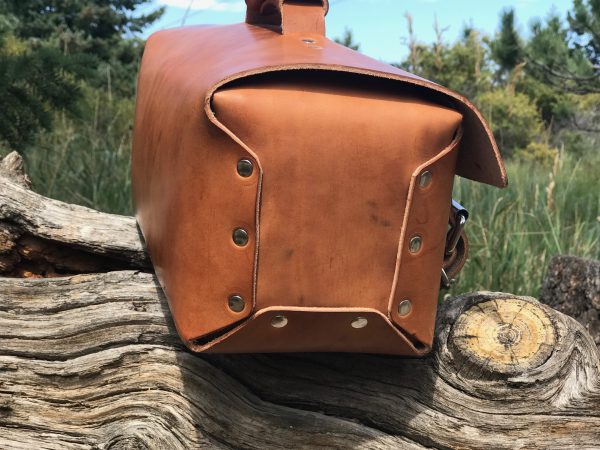 One of the first things I noticed about this bag is that the entire body (not including handles, straps and buckles) of the bag is made from only three pieces of leather.  The flap extends all the way around the back of the bag and back up the front, creating a cylinder of continuous leather when closed.  The two end caps are separate pieces of leather that are securely riveted in place.  The continuous piece that makes up the body of the bag is a sign of quality in a leather bag.  The fewer seams a bag has, the stronger it will be, having fewer places to fail.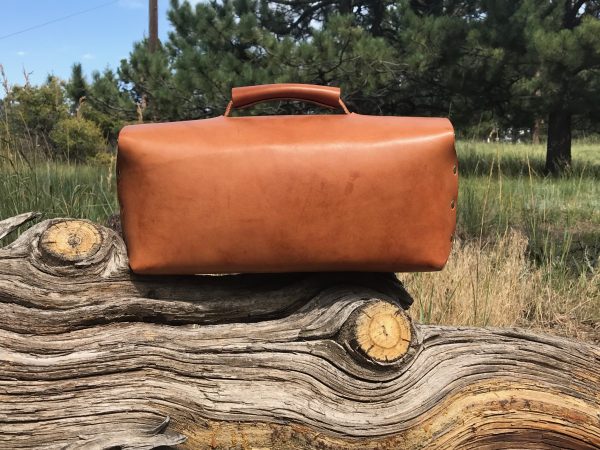 Never miss one of our posts again. Sent MON, WED, and FRI with the latest gadget reviews and news!
The size of this little duffel/work bag is fairly unique, in a very good way.  At 14.5″L x 7″D x 6″H, I was able to pack it with more tools than I would ever need for a project around the house with room to spare.  Other uses for this bag could include an overnight bag, an emergency kit for your car or home or even the coolest lunch box if you carry your lunch to work.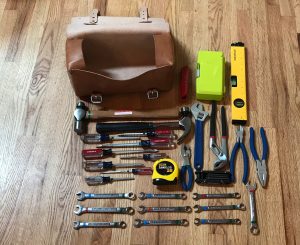 With a retail price of $280 (+$50 if you want the shoulder strap), the Work Bag is not inexpensive but within the first minute in your hands, you will see where your money has gone.  Straight into a quality leather bag that will outlast you, and if it doesn't the 100 year warranty is there to have your back.
Proes: Made from the highest quality materials, rugged and sturdy design, simple yet handsome appearance, unique sized bag to meet your needs for short trips or around the house/shop/ranch/whatever, small business so you can expect a rapid response to questions and he will work with you on helping make your bag right for you, free shipping in the USA, HANDMADE IN THE USA, 100 year warranty.
Cons: The $280 (+$50 for optional shoulder strap) price tag may push the Work Bag into the luxury category for some, one color of leather is offered currently (but it is beautiful!), high quality leather products like these are very addictive…seriously, you've been warned so please don't go writing angry letters to Julie demanding justice because you developed a leather problem because of me.
Overall I couldn't be happier with this little duffel bag.  I am looking forward to using it in all those situations where other leather bags are just too big and to just get another piece of leather into my daily life.    He offers a number of wallets and accessories if you want to start with something small to check out first and also offers a larger duffel that is a sized up version of the Work Bag and also a briefcase.  I highly recommend this bag to anyone interested in quality leather goods that are meant to be used.
Source: The sample for this review was provided by Mr. Lentz Leather Goods. Visit their site for more info.
Product Information
Price:
$280 (+$50 for optional shoulder strap)
Manufacturer:
Mr. Lentz Leather Goods
Pros:

100 yr warranty
Quality materials

Cons:

Price could be considered expensive to some