We use affiliate links. If you buy something through the links on this page, we may earn a commission at no cost to you. Learn more.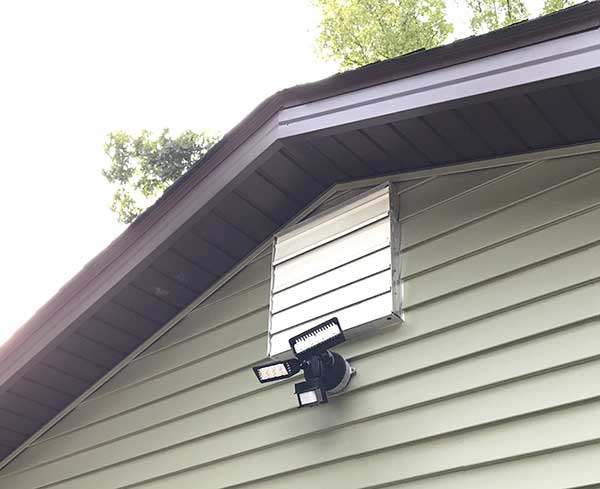 We're in the middle of remodeling the exterior of our house. It had wood painted wood siding and it's currently (I can hear the contractors hammering right now…) getting vinyl siding. As luck would have it, a few weeks ago SANSI contacting me to ask if I might like to review their 30W LED Security Motion Sensor Outdoor Light (model C2440-FW). Since we've been actively replacing all the indoor incandescent lights with LED lights, I was happy to start the process outdoors as well. Let's see how the update turned out.
What is it?
The SANSI 30W LED Security Motion Sensor Outdoor Light is a bright light that is designed to be installed outdoors and automatically turns on the light when motion is detected.
What's in the box?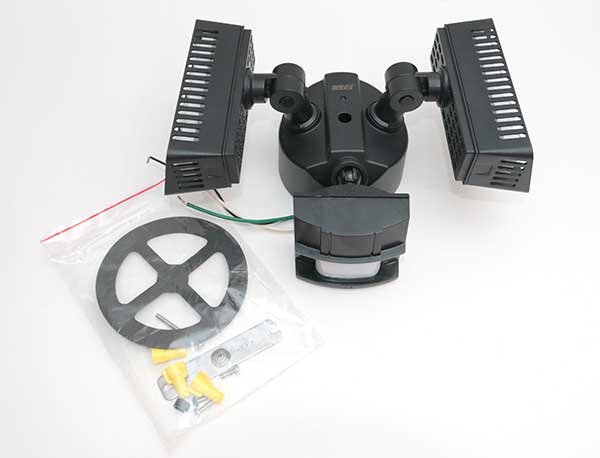 SANSI LED Security Light
Bar shaped mounting plate with 3 screws
Waterproof gasket
3 Wire connectors
Mounting bolt
Rubber screw plug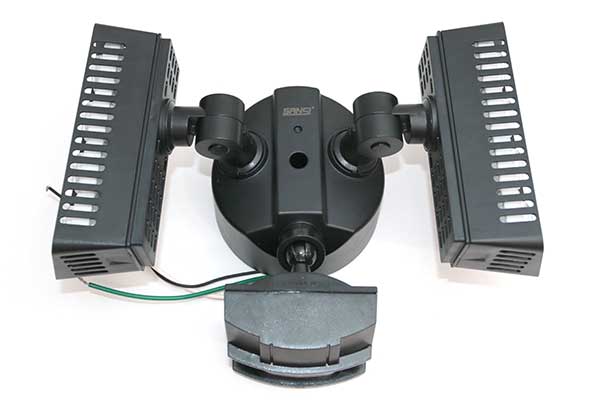 This outdoor security light looks similar to other motion activated security lights that I have on the outside of my house.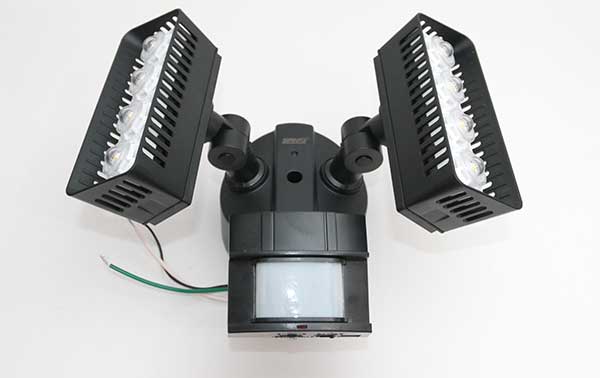 The SANSI has a swivel motion sensor in the center with two banks of lights on either side.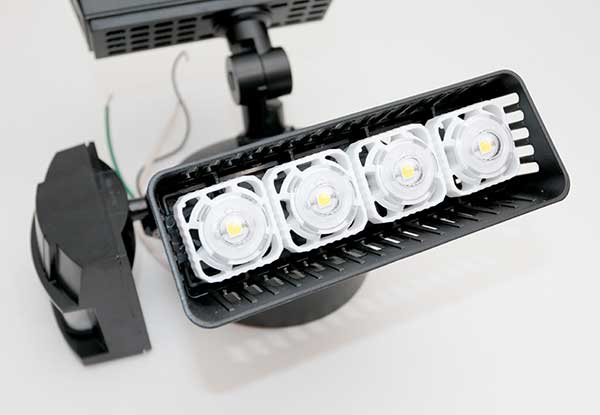 Where this security light differs from my others, is that the lights have LEDs instead of expensive halogen bulbs that can be a hassle to replace.
Each bank of lights has 4 LEDs arranged in a line. SANSI sells a different version of this light that has the lights in a 2×2 configuration instead of a 1×4 configuration like you see above.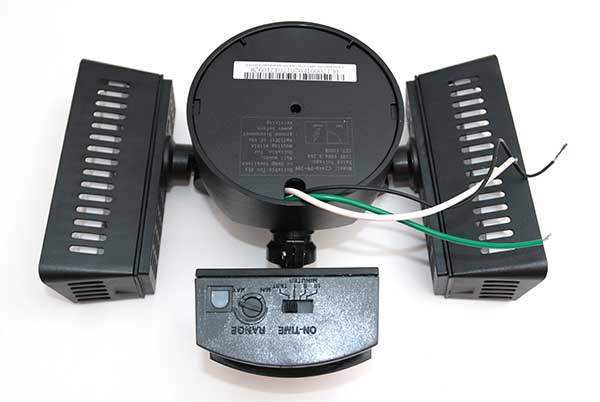 The light has 3 wires coming out of the base, and there are two switches and a light sensor on the bottom of the motion sensor.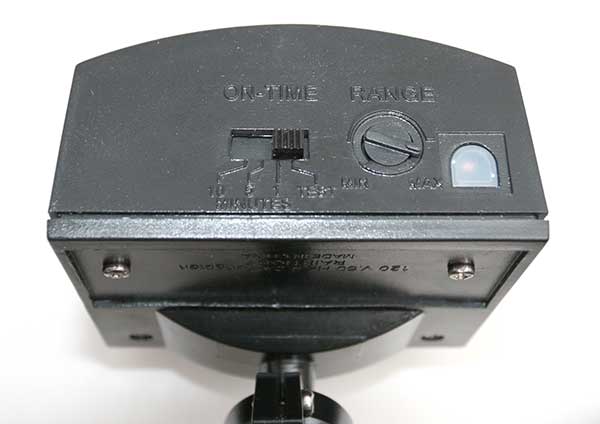 The switches can be configured to set how long the lights will stay on (1, 5, or 10 minutes) and the motion detection range.
Most people will want to use this as a motion activated light, but you can set it to manual mode which only works at night and can cause the light to be on for up to 6 hours at a time. When I asked for more details about this mode, here's what the SANSI rep told me:
Manual Mode (Working Mode) Which is similar to dusk to dawn mode, because the default mode of this product is the Motion Sensor Mode. If you need the Manual Mode, you may have to set it up to Manual Mode every time you need.
Set-up: Flip the light switch off for one second then back on to toggle between AUTO and MANUAL mode.
Function: Under Manual Mode, the light could be on at night for 6 hours.

*Note: Manual mode only works at night and with the ON-TIME switch in the 1, 5, or 10 minutes position.
Installation
I was going to install the SANSI light myself so I could write about any issues that came up while doing so. But the contractors saw the box and did the install before I even realized it. The included instructions are pretty straight forward and with only 3 wires it is probably hard to screw up the install, so let's just say it was really easy especially if you're replacing an existing light. Just know that the SANSI light has to be connected to a 120V power source.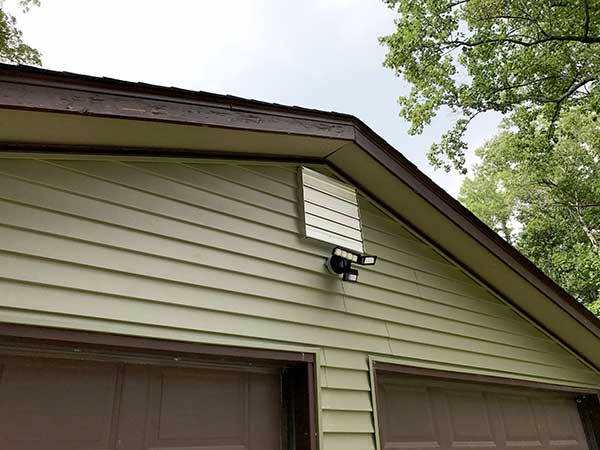 This is what the SANSI 30W LED Security Motion Sensor Outdoor Light looks like when it's installed.
You can adjust the angle of the motion detector as well as the lights.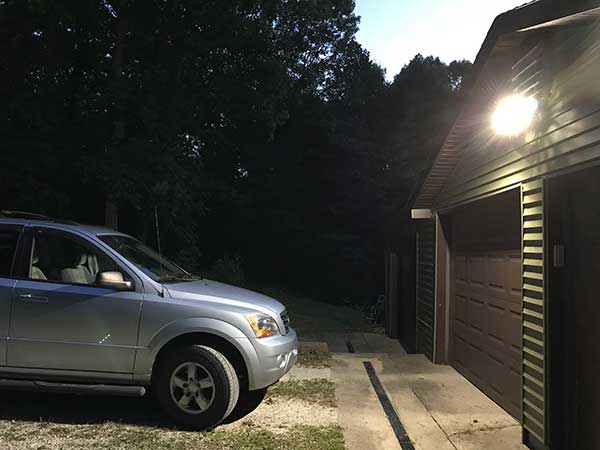 Although the image above doesn't really give a good indication of how bright the SANSI security light is, let me tell you, it's a very bright flood light! It's much brighter than the light I previously had in the same spot. The LEDs are equivalent to 250W incandescent light. I have noticed that the SANSI LEDs have a colder look instead of the warmer yellow light of my other security lights. The specs say that the SANSI LEDs are 5000K Daylight. All I know is that they are bright.
They've been installed for about a week and are working as expected. I have them set to come on when motion is detected and stay on for 1 minute. The motion sensor is triggered when I walk under the light and when I pull out of the garage every morning when it's still dark outside. The sensor has a range of 180 degrees and max 50 feet. I have it set for my short driveway and it's been working great.
Final thoughts
If you want to update your outdoor lighting to LED lights that are as bright (or brighter) than incandescents, but use less electricity, SANSI's 30W LED Security Motion Sensor Outdoor Light is a good choice.
Source: The sample for this review was provided by SANSI. Please visit their site for more info and Amazon to order.