We use affiliate links. If you buy something through the links on this page, we may earn a commission at no cost to you. Learn more.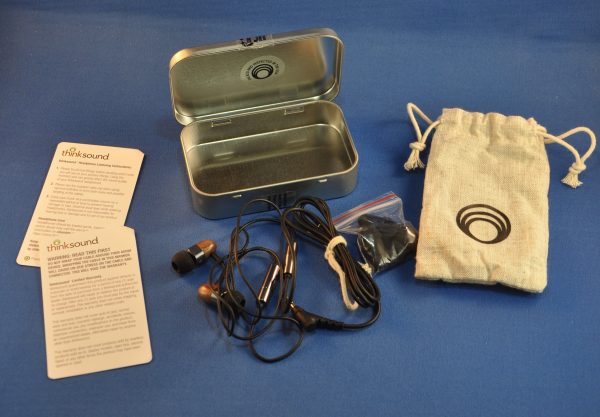 You Gadgeteers all remember wired earbuds, right? What am I saying – everyone gets a pair of these with their phone, even if it's an iPhone 7 with no headphone jack! The quality of those bundled earbuds, however, can vary widely. ThinkSound has been doing a lot of work on improving the sound of headphones and earbuds by incorporating wood enclosures into them, like fine speaker cabinets of old. Their latest creation is the ts03 + mic, which brings light weight and crisp bass together for your music and phone talking. Guess who got a pair to test. Yep. This guy!
Note: Photos may be tapped or clicked for a larger image.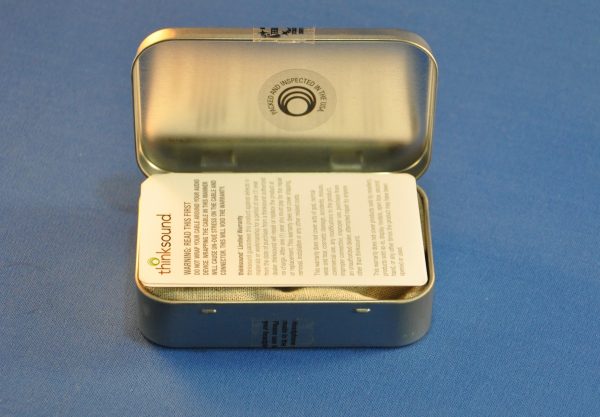 Here are the specifications from their website:
• Microphone + call/music control for mobile communication
• Compatible with iOS and Android devices
• Wooden housing for crisp, accurate music reproduction
• 20 Hz – 20 kHz frequency response
• 99 ±3 dB @ 1KHz 1mW sensitivity
• 16 ohm impedance
• 45˚ angled gold plated plug for increased clarity & durability
• Acoustically enhanced 8mm driver
• 10g Ultra-lightweight design
• Kevlar-reinforced, tangle-resistant 4 foot long cable
• Passive Noise Isolation minimizes ambient sounds
• Sweat-resistant design, perfect for the gym
• Four flexible silicon ear inserts for a secure fit (s/m/l/xl)
• Cord clip, cotton carrying pouch & hard case
• One (1) year limited warranty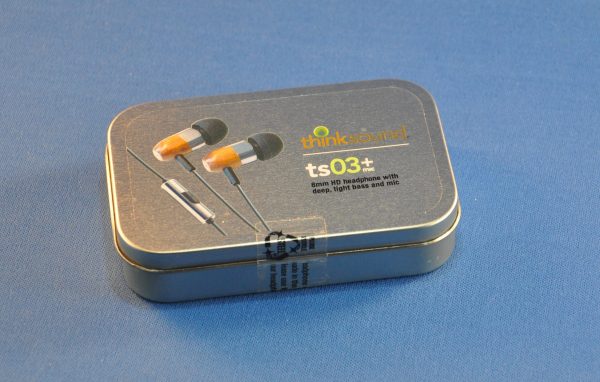 The earbuds arrived in ThinkSound's new "package-free" packaging: It's all packed into a tin box with clear labels that can be used to protect the ts03s in your bag or pocket. If you don't need that much protection, there's also a light cotton drawstring bag. I really like it, but I'm curious to see how this packaging design fits into brick and mortar stores. It's one thing for a $1 box of mints, but for a $200 set of earbuds, that's another story.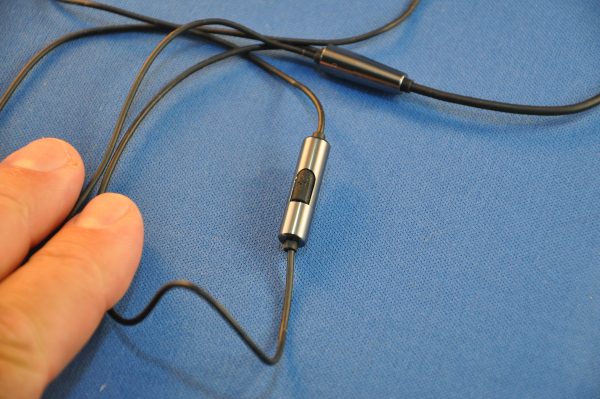 The angled plug is a nice touch, sticking out at 45° from the line of the jack. This gives a bit of strain relief. There are three feet of cord from the plug to the branded metal divider, and 15" of cord for each earbud from the divider. With lead-in cords this long, it's easy to route them behind your head, in case they would be in the way during exercise. There was a little ambient noise from touching or rubbing on the cable while wearing them, but not enough to be distracting. If you're doing highly active exercises, it may get in the way, but for biking, walking, or running, it shouldn't be an issue, once you turn on a little music. I found I could listen at about half volume on my iPhone 6s Plus for most music. Depending on mike placement and the audio engineering, many podcasts were listenable at this level as well.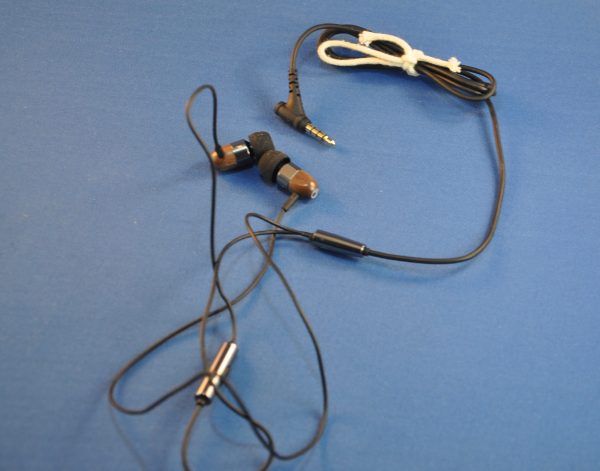 The fit of the ts03's is adjustable with 4 sizes of tips. The collar of silicon stands out from the central core, to isolate the speaker into the center of your ear canal. I was pleased with the sound space this provides. I listened through the ts03's for several hours via Spotify, including tunes from The Rescues, Joshua Radin, Van Morrison, Train, and Jeff Buckley. The acoustic pieces were like you were sitting in the front row of a live set. I tend to listen for little things, like turning on guitar pickups, turning pages of music, and the like. The scrape of a pick against the wrapping of a string, or an overdubbed vocal line. These buds let you dig into the picky little bits like that if you want to. Or you can just enjoy the feeling of being there. I never had the feeling that the earbuds were going to fall out. Once I started listening, everything else outside of the sound fell away.
I have really gotten used to wireless earbuds, but every now and again, usually when I'm reviewing a pair of wired earbuds, I'll remember how quick and easy it is to plug in a cable and immediately have the sound in my ear. There's no worry about video lag-time, where you hear the sound a split-second before you see what caused it. There are no batteries that may fail halfway through a listening session. (This is my current pet peeve for wireless earbuds!) The mic is right there on the cord by my jaw, rather than up on an earpiece, so if I want to have a quick aside with someone, or sneeze before I can get to the mute or whatever, I can grab the mic and block out my caller. Plus, wired headphones are never paired to another device that you have to go hunt down in another room or in your backpack, unpair, and re-pair to your current device. They just jack in and are playing, and that can be a good thing.
At $119.99, these are not throw-away units, by a long shot. They give you a truly deep experience of listening. If you want to hear the quality of what you're listening to, the ts03s are going to deliver it. Yes, they are still earbuds, but they give an incredible amount of sound to you through that form.
Source: The sample for this review was provided by ThinkSound. Please visit their site for more info and Amazon to order.
Product Information
Price:
$119.99
Manufacturer:
ThinkSound
Retailer:
Amazon
Requirements:
Pros:

Quality cables (wiring) and connectors
Great sound and isolation
Warm, low tech outer look belies high tech insides
Waste-free packaging

Cons: