We use affiliate links. If you buy something through the links on this page, we may earn a commission at no cost to you. Learn more.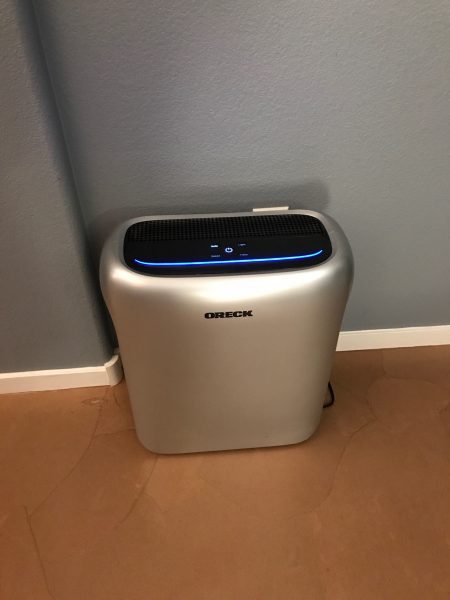 From allergens to smelly pets (or kids), we could all use a little fresh air now and then.  I'm one of those "misses work" type allergy sufferers. I've spent a lot of money over the years in an effort to get some relief, especially when I'm home and out of the deadly winds of the desert.  My latest weapon in the battle against airborne particulates?  The Oreck Air Response air purifier. How does it stack up?
To start with, let's talk indoor air purifier options.  For years, I've sworn by my Blueair Classic 505.  It's quiet, it's effective, it's big in a "we're gonna need a bigger boat" kind of way, and it's $800.  That's perhaps a worthwhile investment for a room like a bedroom where breathing is particularly helpful, but what about the rest of the house?  There are plenty of nooks and crannies in the average home that are just crying out for a little air-cleaning love, and I can say that this little Oreck does a heck of a job.
The Air Response I am reviewing is the medium size, weighing in at just under 12lbs compared to my Blueair 505's 33lbs. It's also less than half the size at 8.5″ x 16.3″ x 18.6″.  Don't let its small size fool you, however, as it can really move some air when you need it to.   This smaller unit is designed to completely recycle the air in a roughly 200 square foot room in 12 minutes when at its highest speed.   The unit uses a two-stage filtration system starting with an activated carbon filter for odor reduction, then a HEPA filter.  The cost to replace both is $29.99, which I don't feel is excessive for the performance.  The display on top of the unit will alert you when you need to order a new filter, and though I've thrown everything I can at it for a month, I haven't been asked to replace the filter.  Given that replacement filters is where most companies "get you," I'm encouraged by the low cost of replacements.
 I sense something. A presence I haven't felt since…

The Air Response features a particulate sensor that will automatically change the fan speed if there are more nasties in the air.   Simply set the unit to automatic and it will intelligently manage the air flow. While I initially feared that this was a mere gimmick, I've found it to be surprisingly accurate and useful. It was particularly fun when my Corgi decided to shake herself off after running around in the back yard for a bit.  The accent light on the Air Response immediately went from blue (a-ok, chief – no dust 'round here!) to red (I'm givin' her all she's got captain!) resulting in her jumping back as if she were under attack by the air police. Shortly after, the light switched down to purple (minor threat from airborne attackers) then finally back to blue.  I say this is a solid feature and not merely hype.  Well done, Oreck!
The Sound of Clean
Assuming you don't leave the unit in Automatic mode, the Air Response has three user selectable speeds, the lowest of which is essentially inaudible from any more than a meter away, while the highest is audible from the dark side of the moon.  In fact, I found myself needing to play Pink Floyd at eleven in order to drown out the guttural roar of this tiny giant.   If you've ever owned a quality Oreck vacuum cleaner, you know that some dark magic must be involved to generate so much air flow in such a small package, and this air purifier clearly shares some DNA with the decades of mini-monster vacuums Oreck has produced.
Summing up
I'm happy with the Air Response purifier.   It's quiet when it can be, a bit on the loud side when it needs to be, but very rarely stays loud for more than a minute or two.  Remember when your mom told you "It's good that your open wound hurts! That means it's healing!"  I'm sorry, but she was incorrect.  However, if your mom had said "It's good that your air purifier occasionally drowns out the Slayer album you have playing on your 1100 watt speaker system, that means it's working!" it would have been much closer to the truth.   I say it's a good thing, I sincerely hope I will not be sued by a particular home decor magnate for saying so.
Source: The sample for this review was provided by Oreck. Please visit their site for more info and Amazon to order.
Never miss one of our posts again. Sent MON, WED, and FRI with the latest gadget reviews and news!