We use affiliate links. If you buy something through the links on this page, we may earn a commission at no cost to you. Learn more.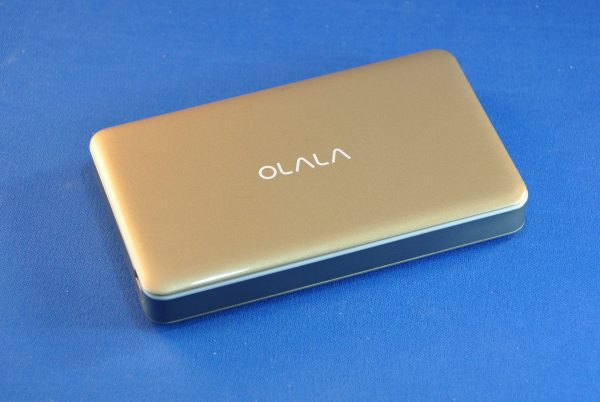 Carrying around enough potential energy to fuel our increasing appetite for connectivity is a never ending balancing act. Hardware engineers make energy-efficient phones and tablets, and Developers respond with ever-increasingly sticky apps and websites. Engineers make better, lighter, more efficient batteries, and we leave them on longer and whine that the device is larger. Into this mix walks the arbiter of fairness, the humble battery pack maker. "Here. If you need power, use one of these. When you don't, leave it home, or in your bag." Olala has even going a step further with their latest power bank by including cables and a sliding cover to hide them. They sent me a sample just before we left the country for two weeks.
Note: Photos may be tapped or clicked for a larger image.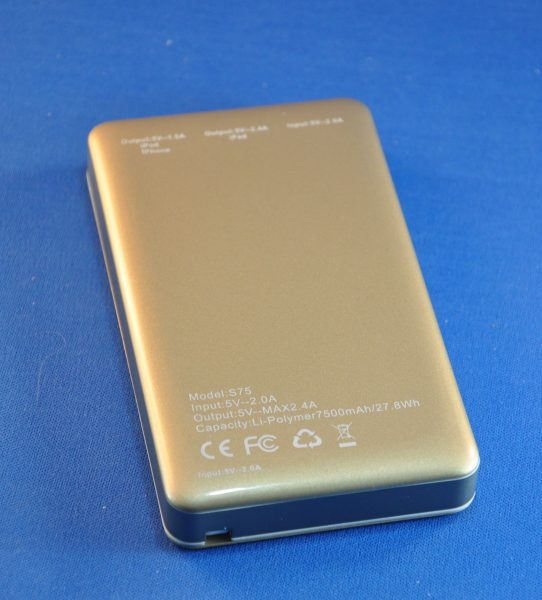 The Olala Power Bank will work for any USB powered device but is specially designed to look inconspicuous with recent Apple devices. It has a Gold case, which would perfectly match the Gold iPhone, but it looked fine, even though I have a Space Grey iPhone 6s, and my Lovely Bride has a silver iPhone 6 (shown below).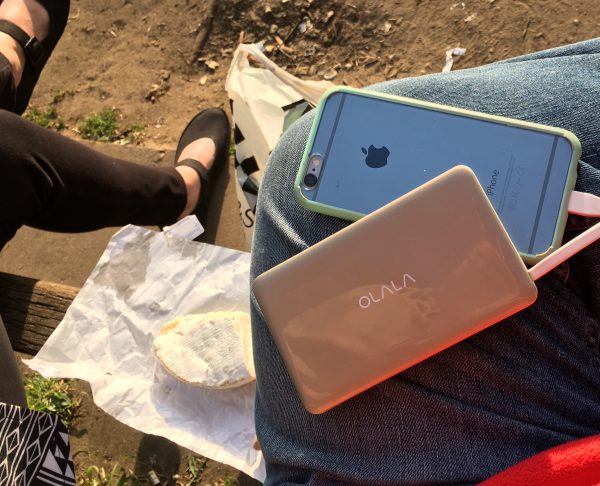 Overall, it's a 125 mm x 75 mm x 15mm (~5″x~3″x~.75″) rounded rectangle with smooth sparkly gold plastic panels on the larger sides and a metalized band around the narrow edges. The top has a white silk-screened Olala logo centered on it and hides the secret chamber with the hidden cables.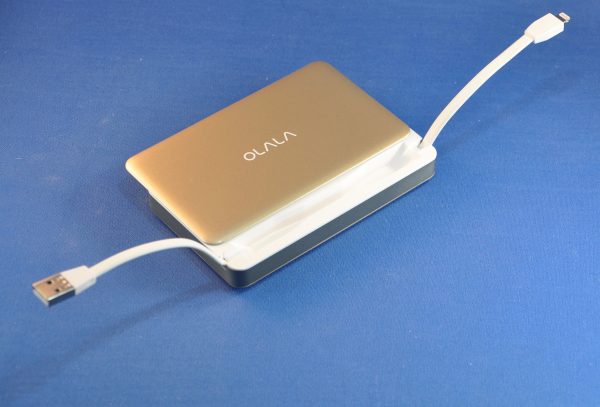 Sliding the top panel with the logo up reveals a cord on one side with a Lightning connector and one on the other with a standard USB connector. There is a slight click to hold it open or closed fully, as well as notches on each side to allow the cables to be extended while the cover is closed. The bottom has silk-screened legal registration info. The other surfaces are free of printing.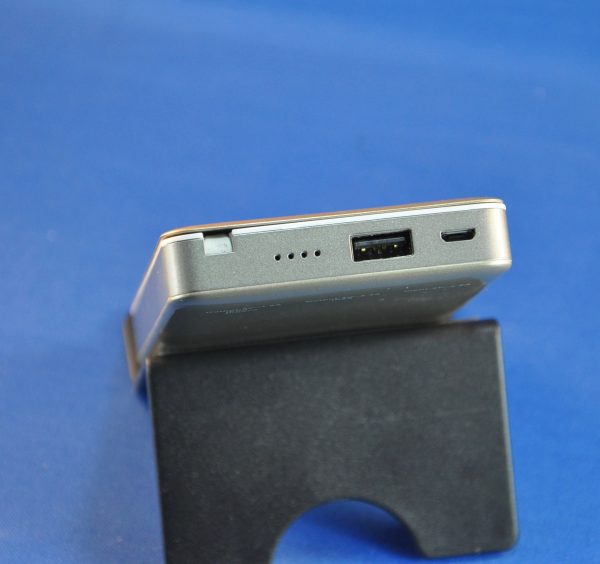 One short side has a standard USB jack for output to any device, and a microUSB port for charging. There are 4 battery level LEDs between the two.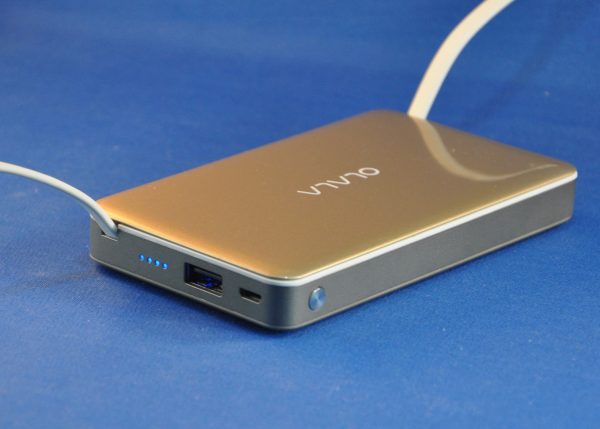 On one long edge, there is a button which activates charging or lets you see the battery level if there is no load on the outputs. While a hassle, the button is a nice protection from the device powering on due to a short across the connectors. And, being on the edge, it's not going to be easily pressed by something on top of the unit.
On our trip, this became our best tool for "topping up" our phones and iPads while out-and-about. Using the car's USB port meant audio only going through the car stereo, which caused us to miss a few turns. (We weren't listening to anything on the car stereo, and there was no "just play the GPS" setting on it.) Then, we decided to use this Olala pack between the car and the phone. Our phone got topped up, and so did the power bank, and we could hear the turn-by-turn directions of our phone's speaker.
When we left the car, we'd sometimes walk for a good long time, taking photos, doing walking tours, or exploring museums together. The Olala rescued us by letting us sit at a cafe for a cuppa and reorient our thoughts while charging. But it wasn't too much trouble to plug it in and have it charge our phones while we were taking photos, reading about various points of interest while walking, or writing Yelp reviews. The sleek profile and short cable made it an easy solution to the power battle we all face, and the 7500 mAh battery meant it could provide a full charge to both my Lovely Bride's iPhone 6 and my 6s, with enough left to make sure each of us got a little extra as well.
Source: The sample for this review was provided by Olala. Please visit their site for more info and Amazon to order.

Product Information
Price:
$32.99
Manufacturer:
Olala
Retailer:
Amazon
Requirements:

USB source for charging battery

Pros:

Integrated cables that hide away
Can be charged while charging a device
Holds 2+ full iPhone charges

Cons:

7500 mAh is not a multi-day multi-device capacity
Cords for non-Apple devices must be taken along
USB-to-microUSB cord for charging