We use affiliate links. If you buy something through the links on this page, we may earn a commission at no cost to you. Learn more.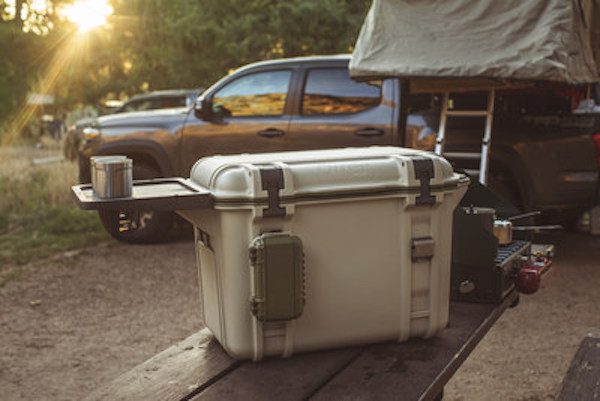 OtterBox, makers of super-durable phone and tablet cases, is entering a new product category with the Venture camping cooler and Elevation drink tumblers. It looks like they're bringing some next-level design thinking to the game in addition to the rugged durability OtterBox is known for. 
The standard features on the Venture cooler series look pretty solid. Three sizes are available (25, 45, and 65 quarts) that are true to size in terms of capacity. All models have been drop-tested for durability on all edges and sides and will hold ice for up to 14 days. Standard features include non-slip rubber feet, integrated handles that double as tie-down points for securing the cooler, and a slanted bottom for easy draining. Customization looks to be the secret sauce here; Otterbox has built in a series of organizational slots and attachment points for a line of accessories including cutting boards, internal organizers, custom compartments, cup holders, and more. And yes, there's a locking kit available that makes the whole setup certified bear resistant. Pricing is set at $249.99, $349.99 or $399.99 depending on size, with no additional accessory pricing information available at this time.
In addition to the Venture cooler, OtterBox is introducing a line of Elevation insulated drink tumblers. Available in 10 oz ($24.99), 20 oz ($29.99) and 64 oz ($89.99) sizes. Otterbox is also promising a bunch of accessory options here including french press attachments, tea/fruit infusers, and a shaker lid for whipping up campsite cocktails.
The Venture coolers and Elevation are not available yet, but you can sign up at otterbox.com for updates on when they are available. They will also be available at Best Buy in early June.