We use affiliate links. If you buy something through the links on this page, we may earn a commission at no cost to you. Learn more.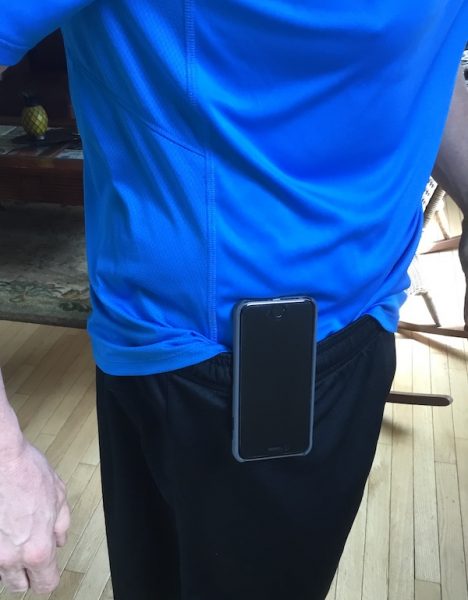 Most of us need to stay connected to their iPhones when we exercise. You shouldn't take calls and texts on the gym floor (except in emergencies), but music and workout apps are essential to many of our fitness regimens. The Wonderful Things Factory (WTFactory for short) has designed an iPhone case that's a unique alternative to the arm bands and waist packs that you see around the gym, track, or trail. They claim that it is the world's thinnest clip case for active lifestyles, and I have been testing SlimClip V4 Steady iPhone case for a month to see how it works in real-world situations.
Let's go get sweaty!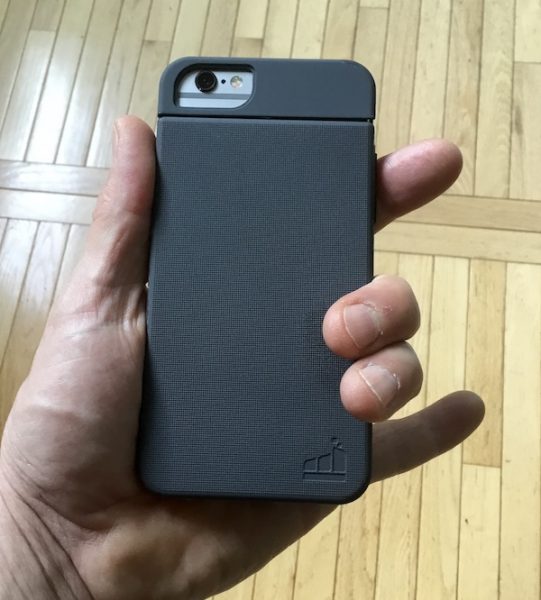 Design and Build
The SlimClip Case V4 boasts a simple and rugged design, made specifically for the iPhone 6/6S/7 and Plus models. It's a snap-on style sleeve made from a shock-proof, rubber coated plastic to provide impact protection during physical activities. The case is a bumper-style cover that wraps the back, corners, and sides of the phone. The rim of the bumper is raised to provide additional protection from drops & bumps. The base of the phone is open to allow full access to your audio and lightning ports, with enlarged openings for your camera lens and access to the iPhone silencer switch. Overall the build is tight and precise, with no stray bits of plastic or loose components. The cover snaps firmly into place when installed, and I haven't noticed any loosening after several weeks of taking the phone in and out of the case.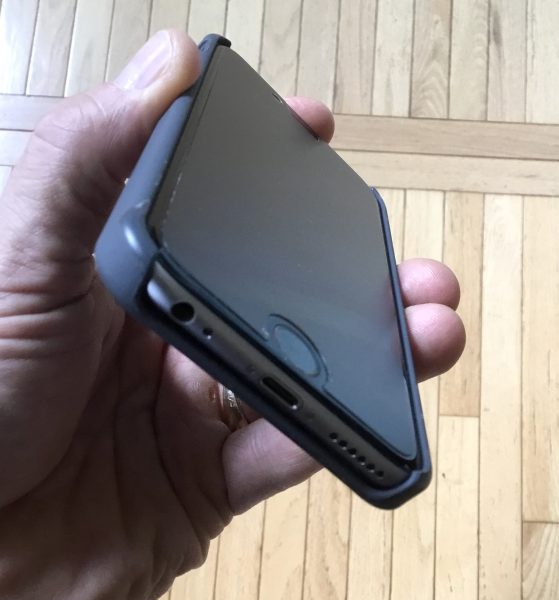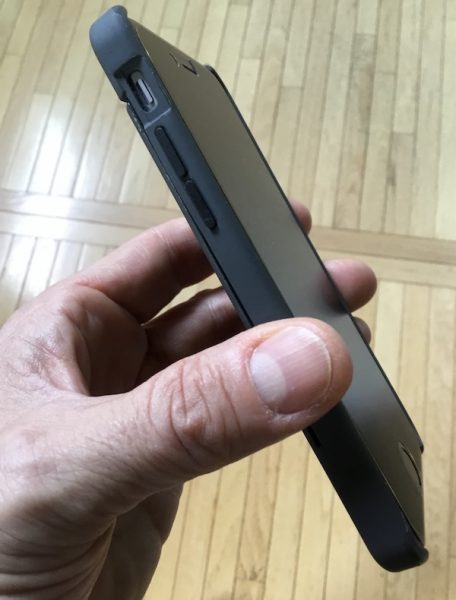 The SlimClip is a fitness accessory, and here is where its unique design features come into play. It is super thin, adding only 3mm to the overall depth of the phone. Even though it's thin, the shockproof material adds enough protection to survive bumps and drops (as I have found out in the gym, as you'll see below). The back panel is cut in such a way that it slides onto your waistband or pocket… kind of like a paper clip. When in place, the phone hangs upside down with the media plug is at the top, which makes it easier to manage your headphones. It makes for a very streamlined packaged that adds very little bulk or weight to your phone.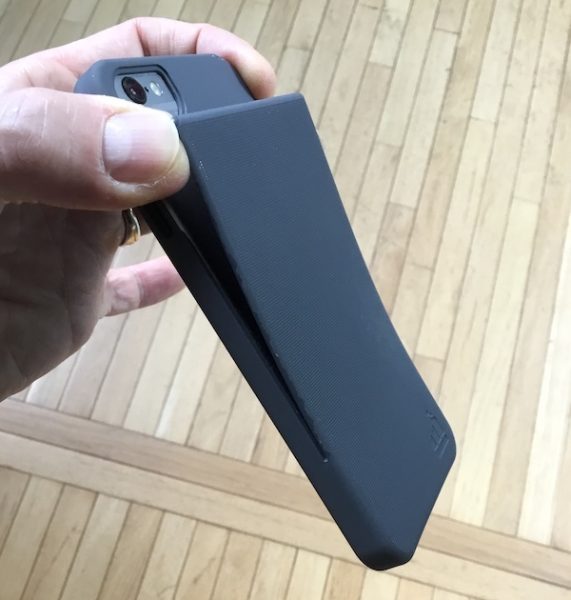 To the Gym!
I usually hit the gym 5-6 times a week for weight training, cardio, and isometric workouts. While I am not a runner, I am a daily dog-walker. After a month of putting the SlimClip through its paces, I think it does a good job of delivering on its intended purpose. It's minimalist, super-slim, and does a good job protecting your phone from accidental drops and bumps.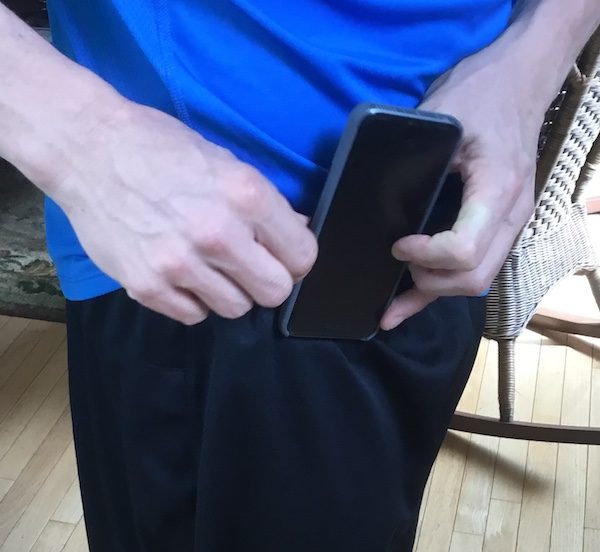 Where you attach the phone is important. There's no additional grip to the SlimClip to help it stay in place once attached, so it can come loose if you whack it during your workout. After bouncing my phone off the gym floor several times, I learned that it's a good idea to position it away from my elbows. I think this is really an adjustment issue because I am not used to this style of phone. Fortunately, the case does a good job of protecting the phone if it hits the ground.
There are a few usability issues that I discovered during extended use. Attaching the phone to your waistband is a two-handed exercise, which isn't as convenient as gator-style or raised clips you'll find on other cases. It's not too bad if you are attaching it at the hip, but takes some contortions if you want to clip it at the small of your back. Depending on how you wish to clip your phone (and how flexible you are) this may be a consideration.
As with most fixed-position clips, there's no easy way to access the phone controls without stopping, removing the phone, doing your thing, and re-clipping. It's a minor annoyance in practice that became more apparent over time, especially if I accidentally activated the voice controls in the middle of an exercise (I really wish Apple would give us a way to disable that!). This is a common issue with clip-style phones, however. If you are comfortable using voice controls to manage your phone or don't access your phone at all during workouts, I suspect that you'll never notice this.
>For outdoor use, you should know that the SlimClip does not provide any protection from the elements, nor is your screen protected. It's something to consider if you do a lot of rough outdoor activity or like to run when the weather turns nasty.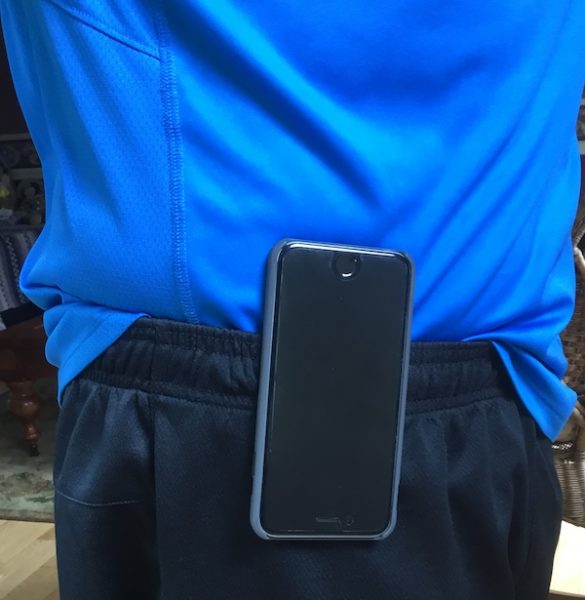 Conclusions and Pricing
After making some adjustments to the design, I'm very happy with the performance of the SlimClip Case. It's ridiculously thin, offers good protection, and stays out of the way during most fitness activities. If you are looking for a streamlined alternative to bulky armbands or waist packs, this may be a good choice for you if you don't need the additional protection for weather or really rough outdoor activities. I've also found it to be a great day-to-day phone case that slips easily into your pocket, yet offers the additional convenience to attach to your front pocket if needed.
The WTFactory SlimClip V4 Steady iPhone case retails for between $20 and $40 depending on the model. For more information, visit SlimClipCase.com.
Updates 05/25/17
I'll be honest: I'm finding that I like this case more for day-to-day use than I do in the gym. I find it difficult to find a comfortable, out-of-the-way spot to keep it from getting knocked loose during vigorous exercises that involve a wide range of motion. As a day-to-day case it's great, and the clip style gives you an option to secure it to the front of a jeans pocket if your pockets are full.
Updates 09/27/17
Good news and bad news here. The SlimClip case is really slim, and the clip comes in handy when you're at the gym. It's also saved my iPhone from a few unexpected drops. Unfortunately, the case has started to show the wear and tear from those drops and is starting to crack around the edges. Kind of a bummer for a case that is only a few months old.
Source: The sample for this review was provided by WTFactory. Visit their site for more info.
Product Information
Price:
$40.00
Manufacturer:
WTFactory
Pros:

Offers good protection for a minimalist case.
Slim and unobtrusive.
Designed for fitness fans, but just as well outside of the gym.

Cons:

Requires both hands to clip in place.
No protection from the elements for outdoor activities.
Can get knocked loose if not properly positioned.