We use affiliate links. If you buy something through the links on this page, we may earn a commission at no cost to you. Learn more.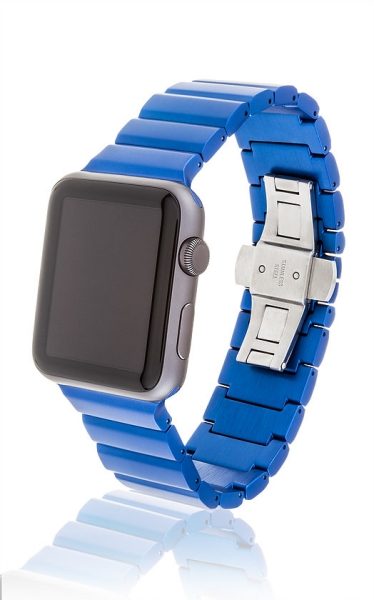 Ever since I purchased my Apple Watch I've become obsessed with watch bands for it.  Now, I don't own that many YET, but I love to peruse all of the new and unique designs that come out. Juuk has designed a band that's made of aircraft- grade aluminum. A watch band made out of the same material that's used to make planes! That caught my attention. 
Juuk Design's owner Eugene Ho thought that changing watch bands on the Apple Watch should be like changing songs on a jukebox, based on mood or preference. Hence the inspiration for the companies name Juuk (pronounced "juke") as in jukebox.
Ligero is the third and most recent of Juuk's Apple Watch band collection. It's an aircraft-grade 6061 series aluminum link band that comes in eight different vibrant finishes. Each a perfect compliment to the aluminum Apple Watch Series 1 and 2.
The robust 6061 series hard anodized aluminum is not only used in aircraft, its also used in the automotive, boating and diving industries, yet it's so lightweight that it weighs like plastic. And because Juuk uses aluminum instead of steel it allows them to more closely match the aluminum Apple Watches colors.
Juuk designed the bands so that they're easily customizable.  They customized their own concave capsa pins and adjustment tool, which comes with every band. This makes it easy to make size adjustments right out of the box. Juuk also includes a microfiber cloth for cleaning the band and Apple Watch.
With its horizontal single-link design and beveled edges, this band has real character. Perfect for going to the gym, office, or out to dinner.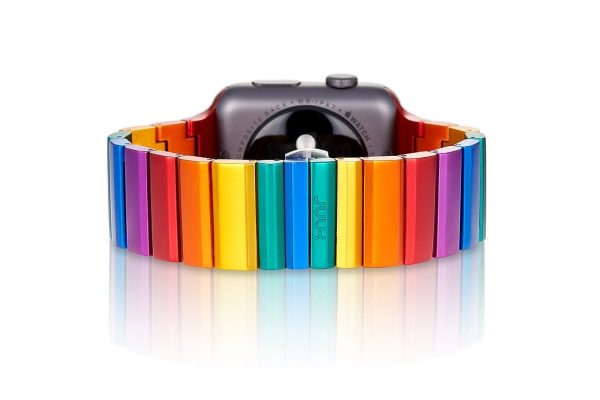 The Ligero is offered in Cosmic Grey, Silver, Ruby, Obsidian, Cobalt, Cadmium, Tyrian and Viridian. All bands are available in both 38mm which sells for $119 and 42mm which sells for $129. Juuk is also doing a real cool thing, for a limited time they're selling a Rainbow colored Ligero band. What makes it cool is that $20 from each band sold will go to Amnesty International Hong Kong to support their efforts to combat discrimination. So not only is it an awesome looking band it also supports a good cause. The Ligero Rainbow is only available thru juukdesign.com and is priced at $159 – $169
For more information or to check out the Ligero and other Apple Watch Bands Juuk has to offer, visit them at juukdesign.com  . Bands can be purchased on their site and on Amazon.