We use affiliate links. If you buy something through the links on this page, we may earn a commission at no cost to you. Learn more.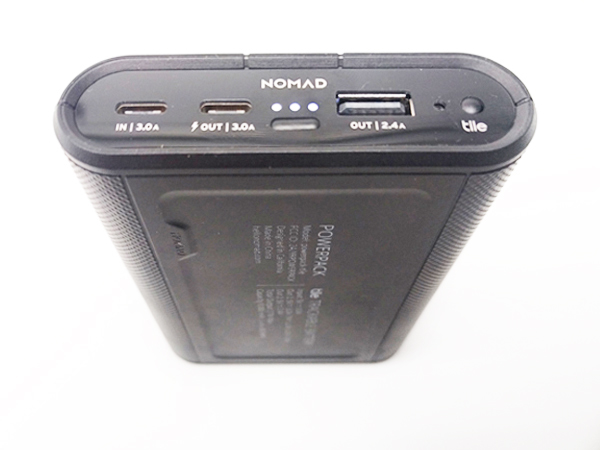 The Nomad Advanced Powerpack is a well-built, powerful, ruggedized external battery pack that is unique in that it has built-in Tile integration. Not only will it quickly charge your various devices, if it's ever misplaced you'll be able to find it easily using Bluetooth and the Tile app. The added features will cost you though.
The Nomad comes in very sturdy packaging that appears just about as rugged as the unit itself.
In the box:
Nomad Powerpack
USB-C to USB-A cable
User Manual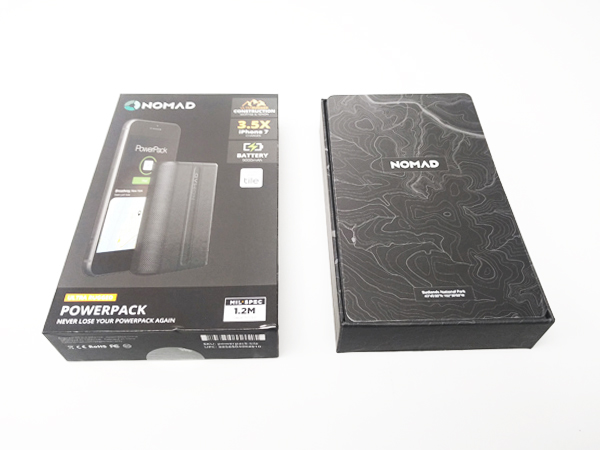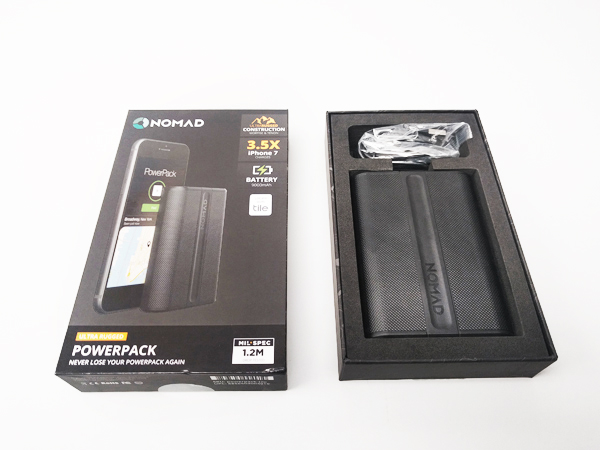 Inside the box, you'll find the Nomad Powerpack, a USB-C to USB-A cord and a small manual.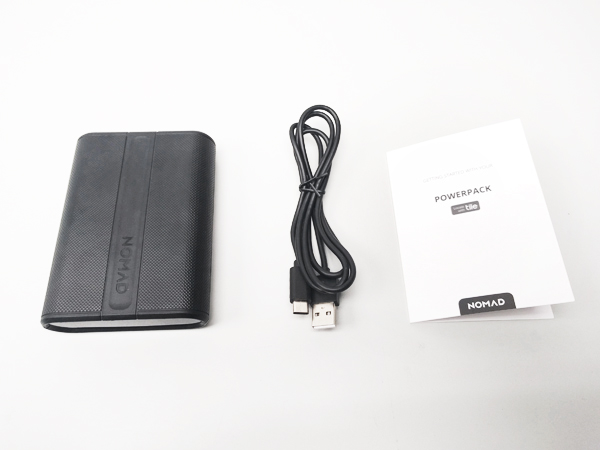 The overall design and look of the Nomad Powerpack is quite impressive. The Nomad has a very militarized, stealth aesthetic. The pack feels hefty in your hand, more like a weapon than a battery pack. The large size and weight is one of the Nomad's drawbacks. It has matte textured plastic bevels with the Nomad named imprinted in a groove down the top of the unit.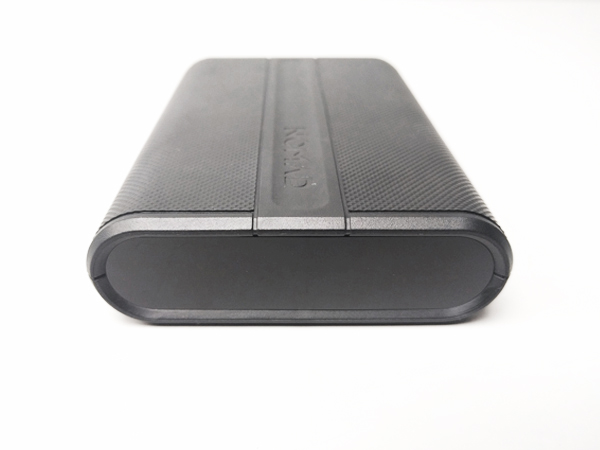 The unit is protected by a thick rubberized diamond plate-like texture. Furthering the military theme, the specifications say that has 1.2M Mil-spec drop protection. Basically, this means that it can be dropped from a height of 1.2M on to its edge without suffering damage.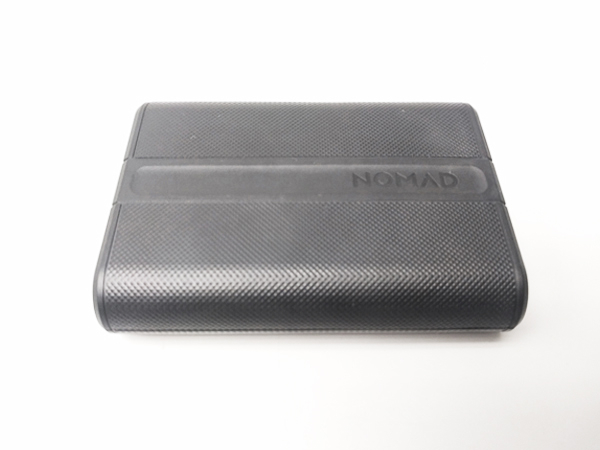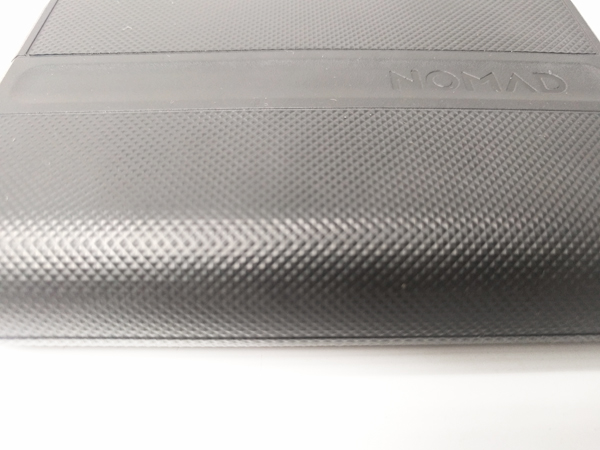 The Nomad comes uncharged. A low charge is indicated by a single orange light.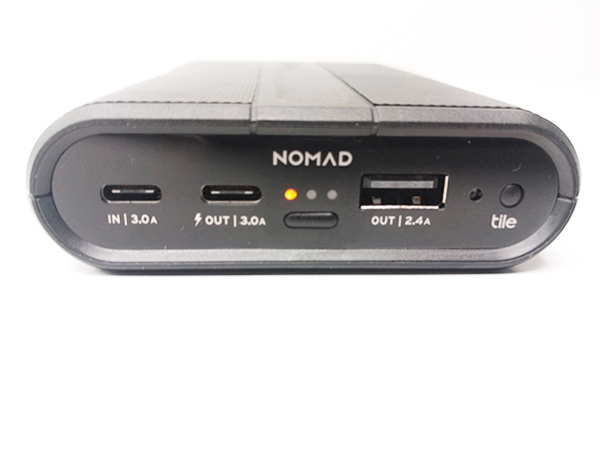 The unit charges by using the included USB-C to USB-A cord. Plug the USB-C end into the IN USB-C port on the Nomad and plug the USB-A end into a powered USB port or a USB-A wall charger. Plugged into my Anker powered USB hub using the included cable, the Nomad went from empty to full charge in about two hours.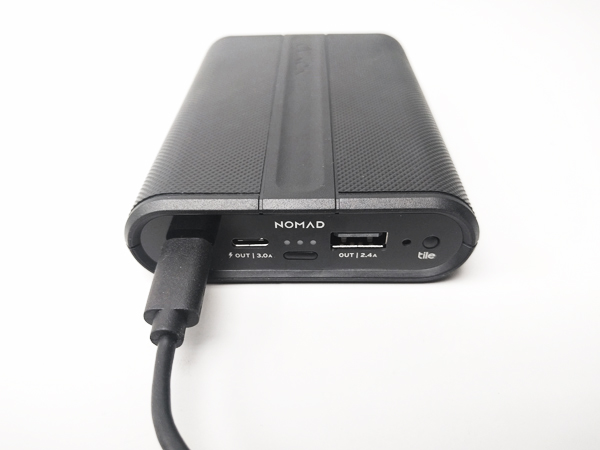 A full charge is indicated by three white lights. Interestingly enough, Nomad included an ambient light sensor on the powerpack right between the USB-A port and the Tile button. The unit will automatically dim the indicator lights in the dark preventing the bright lights from disturbing your sleep.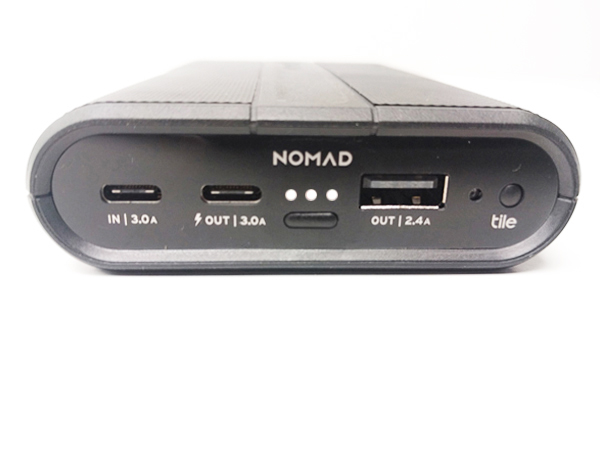 You power the unit on by pressing the small button under the charge indicator lights. I was able to charge my Android Nexus 5X from 10% to 100% in about two hours and thirty minutes using the USB-C to USB-A cable plugged into the USB-A out on the unit. I measured that charge at 5.08V / 1.05A / 5.334W; this was an average reading. Voltages always hovered around 5.00V. Amps averaged around 1.25A. Watts were anywhere from 5.25W all they way up to 8.75W.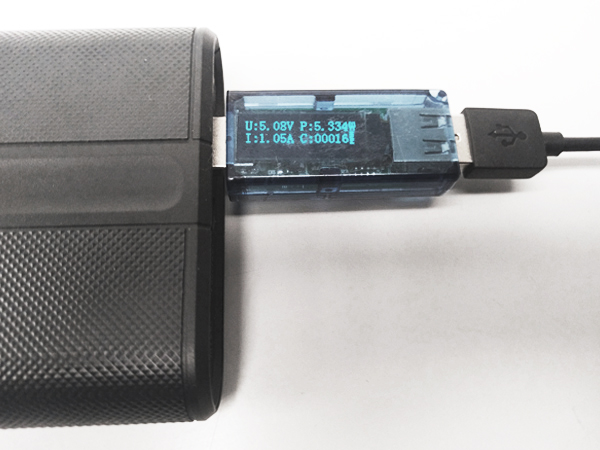 The USB-A port is indicated as providing 2.4A out although my testing came in a bit lower.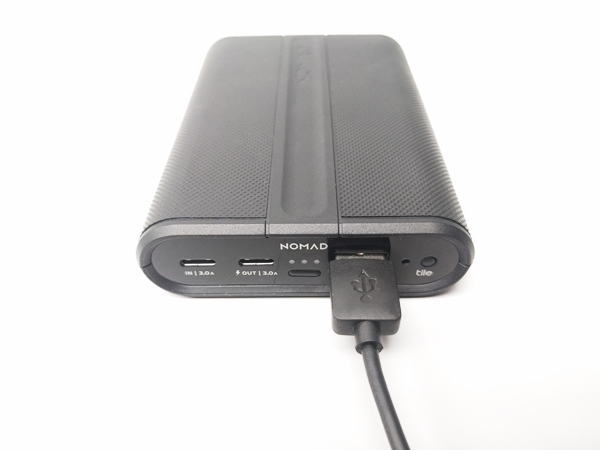 To get the full benefit of the quick charge capability you will need a USB-C to USB-C cable for newer Android phones or a USB-C to Lightning cable for iPhones.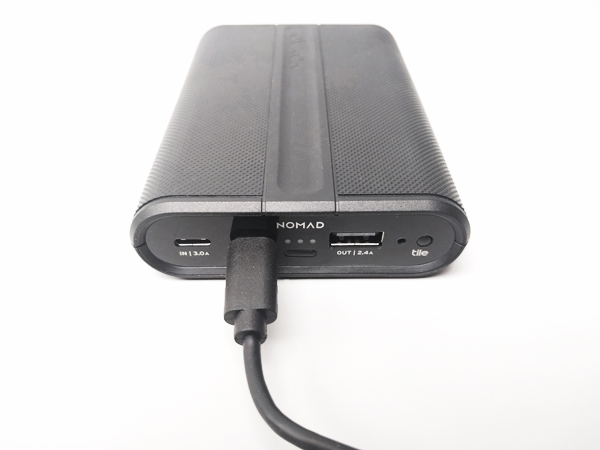 Setting the Nomad up to use the integrated Tile functionality is easy. Open the included user manual and scan the QR code to initiate the process and install the Tile app on your Android or iPhone. To find the Nomad using Tile simply select it in the Tile app and then select Find.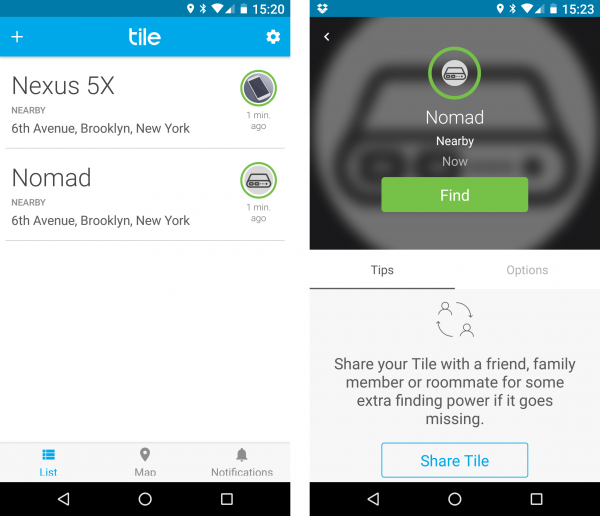 If your Nomad is within 100ft, it will start playing a little alarm tune repeatedly until you find it and press the Tile button. The alarm is a bit low so searching for the Nomad may take some time if it's hidden someplace deep in your backpack or behind a couch for example. If the Nomad is out of Bluetooth range you still may be able to locate it using Tile's community functions. If any other Tile user's device is within Bluetooth range of the Nomad, you will receive an update with its location.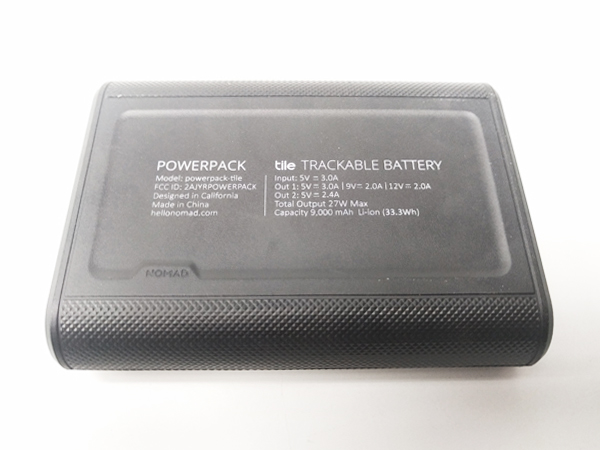 The Nomad Powerpack is a very powerful battery and the built-in Tile functionality is a great addition. It's a good deal more expensive than most battery packs and it has fewer ports than a lot of more inexpensive ones. But, if a seriously rugged design and the option to track its location is important to you then it's worth the higher price point.
Compatible Devices
iPhone 5 through 7/7Plus
iPad (4th Generation +)
iPad Mini (All generations)
iPod Touch
Android Type C and Micro USB phones and tablets
Most Micro USB Devices via USB-A port
PowerPack supports USB C, but it does not support USB PD (Power Delivery) so it will only trickle charge your 2016 Macbook.
Specifications
Capacity: 9,000mAh (29.6wh)
Input: USB C 5V/3.0A (cable included)
Output 1: USB A 5V/2.4A
Output 2: USB C 5V/3A – 12V/2A with Fast Charge technology
Panasonic lithium battery
5.31″ (13.5cm) x 2.9″ (7.5cm) x .78″ (2.5cm)
1.2M Mil-spec drop protection
Tile integration via Bluetooth
Source: The sample for this review was provided by Nomad. Please visit their website or Amazon to order.