We use affiliate links. If you buy something through the links on this page, we may earn a commission at no cost to you. Learn more.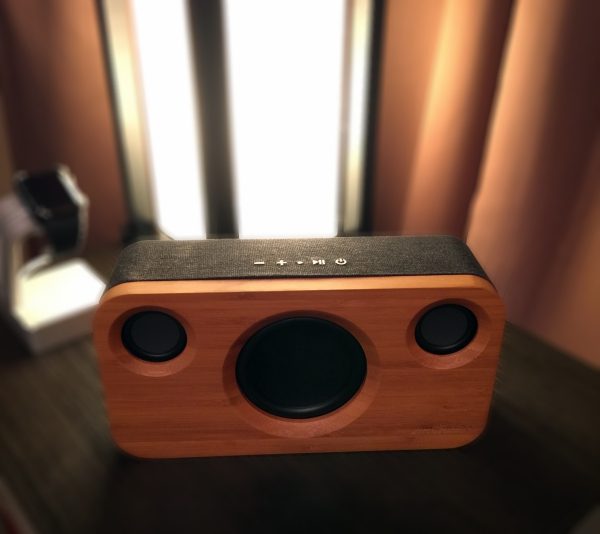 When you think furniture quality bamboo you probably don't think Bluetooth speakers, but with the A320 Bluetooth speaker from Archeer that's exactly what you get. The body of this speaker is actually made of bamboo, giving it a very unique and rich look. Add to that a skin – friendly rewind fabric material and you get one of the most beautiful looking Bluetooth speakers on the market. The Gadgeteer was fortunate to receive one for review. Is this a case of beauty only being skin deep or is there more to the A320 then just good looks? Time to find out if this Beauty really is a Beast.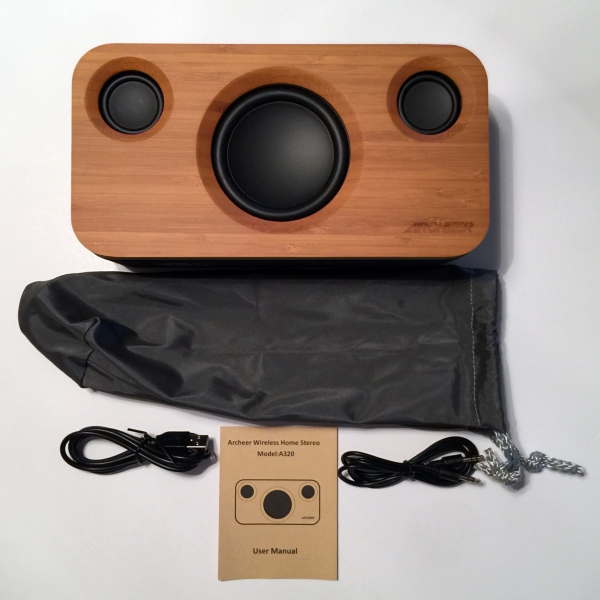 In the Box:
1- ARCHEER A320 Home Speaker
1- Micro USB Charging Cable
1- 3.5mm Audio Cable
1- User Manual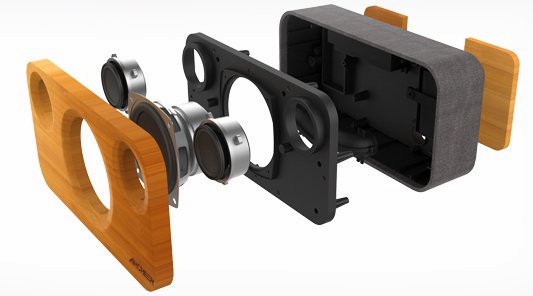 This speaker really is a stunner. Its classic design with dual exposed 5W tweeters and 15W subwoofer all set into warm colored bamboo make it a perfect complement to any room. I really like the solid build of this speaker. It has some heft to it but still maintains its portability. The universally understood symbol control buttons for play, pause and volume up/volume down located on top of the speaker are raised and have a rubber like coating.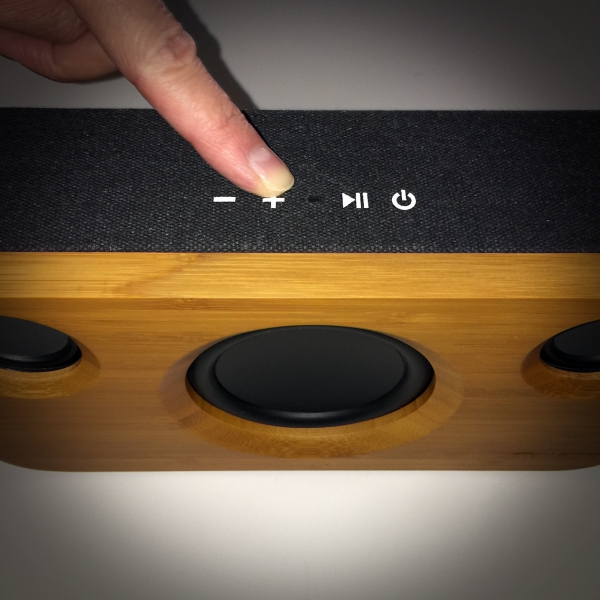 I also like the rewind fabric that wraps around the body of the speaker. Its gray color is in nice contrast with the warm color of the bamboo. Just another touch that adds to the unique design of the A320. My only concern about the fabric wrapping is that there could be some wear on the bottom of the speaker due to the fact that it comes in direct contact with any surface it's placed on. I remedied that by adding four rubber bumpers that I purchased for a couple of bucks at the store. One downside to the unit being made of bamboo and having exposed speakers is that it's not weather or water proof. So if it is used outside keep it out of the weather and away from pools or lakes. This may be a deal breaker for some. But it would make a nice addition to any deck or covered patio this summer.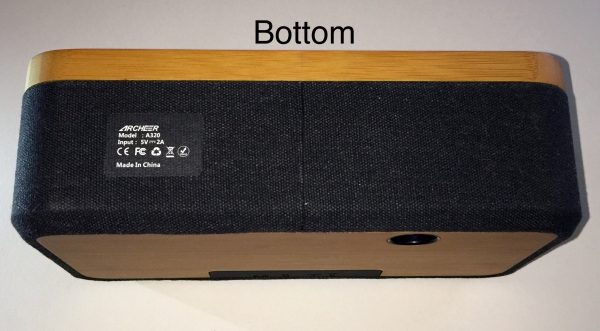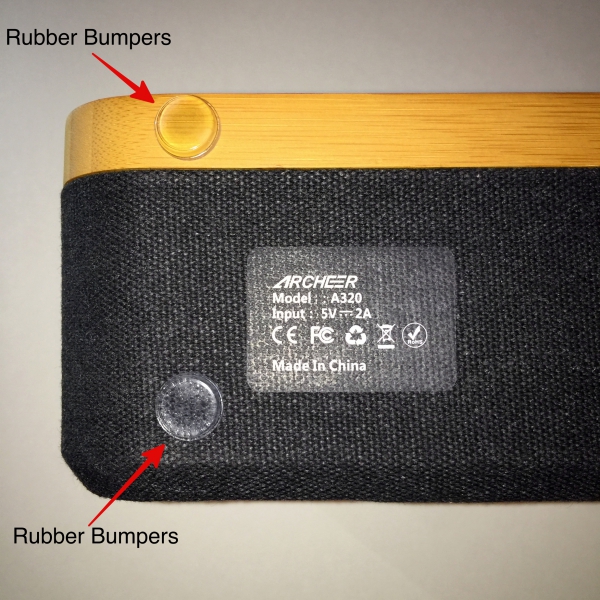 On the back you'll find the AUX Port, DC in via micro USB to standard USB, charge light and reset button. In addition, near the bottom of the back of the unit is the bass port.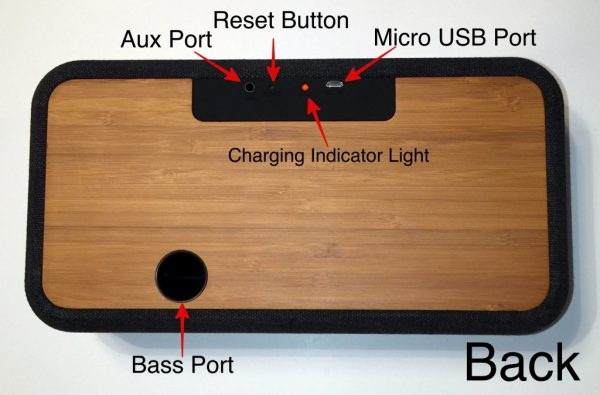 The A320 uses 4.0 Bluetooth to connect to your device of choice, or you can connect your non – Bluetooth device with the provided 3.5mm audio cable. Pairing the speaker is easy, it's done by holding down the power button until the power light (located between the volume up and play/pause buttons) flashes green. This means the A320 is in pairing mode, then simply select it from your device's Bluetooth menu. When connected you will hear a tone and the power button will flash blue.
The unit is powered by a rechargeable 5200mAh lithium-Ion battery. Listening time on a full charge is about 11 hours at 50% volume. It does take about 6 hours to fully charge the A320, however, you can use the unit while it's charging. Charging is done using the micro USB charging cable. Archeer doesn't provide an adaptor but you can use any 5V DC adaptor (I used one that I had from one of the many Apple devices I own) or a PC. If you don't have an adaptor you can purchase one on the Archeer website. While charging the charge indicator light on the back will glow red. Once fully charged the indicator light shuts off.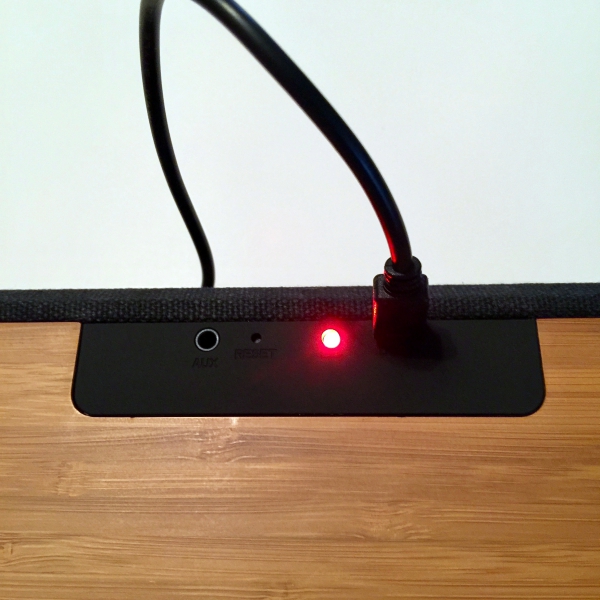 Archeer also provides a thick nylon carrying bag for the A320. It's nothing special but will definitely provide some protection for the speaker while traveling.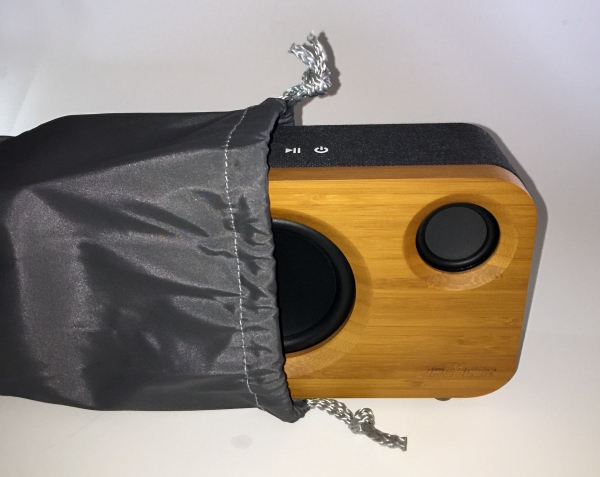 Remember when I asked whether this Beauty really is a Beast?  Well time to find out. I decided to use different genres of music to test the range of the A320's sound quality. For my tests, I listened to rock, rap, classical and pop. The A320 handled every genre I threw at it very well.  The bass was very prominent thanks to the 15W subwoofer, but not overwhelming. The highs and mid-range tones were very clean and clear. Lyrics were also very crisp and discernible. As you might guess rap benefited greatly from the added bass. The Beastie Boys 'Licensed to Ill' never sounded better. Even listening to orchestra music was a joy on this speaker. In fact, I was listening to the soundtrack from The Lord of the Rings as I was writing this review and it sounded fantastic. I also like to listen to podcasts from time to time so I tested out an episode of 'The Nerdist' podcast. The sound quality of the voice only content was great. And the A320 even replaced a ratty old boom box I was using to listen to sports talk radio with my morning coffee. So no matter what you like to listen to this Beauty truly is a Beast.
The other thing I like to use the A320 with is my Amazon Echo Dot. If you own or have seen the Dot you know that the built-in speaker doesn't get very loud, but pairing it to the A320 (which is very easy by the way) gave me a whole new Alexa experience.
In Conclusion:
I flat out LOVE this speaker. The Archeer A320 Bluetooth speaker is everything one could want in a wireless speaker. Classic good looks with sound to match. There are more expensive speakers out there, but you would be hard pressed to find one that matches the sound quality and design of this speaker, especially at a more than reasonable price of $79.99. So if you want a Bluetooth speaker with excellent room filling sound that also doubles as a great conversation piece the Archeer A320 is a no brainer.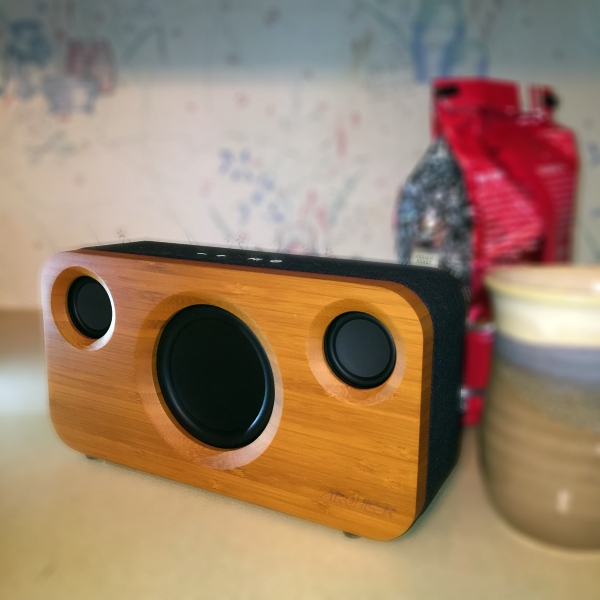 Warranty:
Archeer offers a 40-day money back guarantee along with a 18-month hassle-free warranty. From the date of purchase.
Updates 09/22/17
I really like the Archeer A320 Bluetooth speaker. Over the past five months it has been a great morning companion. I loved using it to listen to my favorite sports talk or podcasts while having my morning coffee. Alas, my poor speaker has died all too young. The battery on the unit completely died and will no longer take a charge. I tried everything I could even the reset button on the back of the speaker, but I couldn't save it.
If you own this speaker and this happens, you can take advantage of Archeer's 18-month warranty. You can contact their customer service at [email protected].
Hopefully this is just an isolated incident and I just received a bad unit. I still like the Archeer A320 Bluetooth speaker but, I miss my morning companion.
Source: The sample for this review was provided by Archeer. Please visit their website or Amazon to purchase.