We use affiliate links. If you buy something through the links on this page, we may earn a commission at no cost to you. Learn more.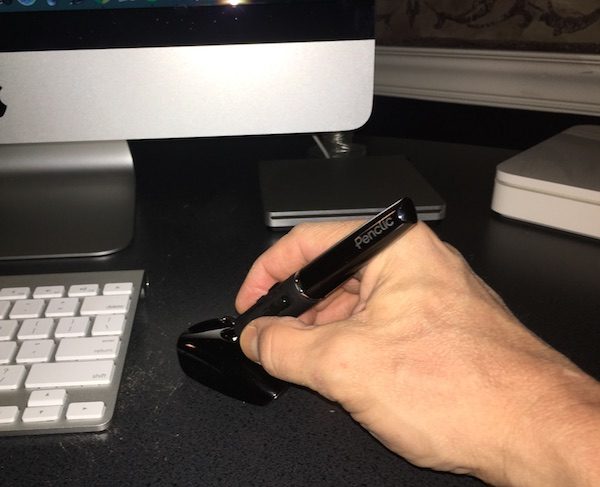 Workplace ergonomics have become a significant problem in the U.S., with repetitive strain and related injuries costing over $20 billion annually in healthcare costs and lost productivity. Swedish-based Penclic looks to combat this problem through design, producing ergonomic and comfortable computer accessories that emphasize comfort and productivity.
For this review, I am testing the Penclic Mouse R2 Wireless, the latest generation of their pen-style mouse. It's a slick little piece of engineering, with some additional productivity features on top of excellent ergonomics. Let's take a walk through the details and see if it's right for you.
First Impressions
The base of the unit is about a half the size of a traditional mouse, with a pen-style grip attached vertically to the base. A USB nano receiver is included for wireless use. A USB cable is also included for charging the rechargeable battery, and can also be used to drive the mouse while charging. The package includes a felt bag, a nice touch for traveling and commuting.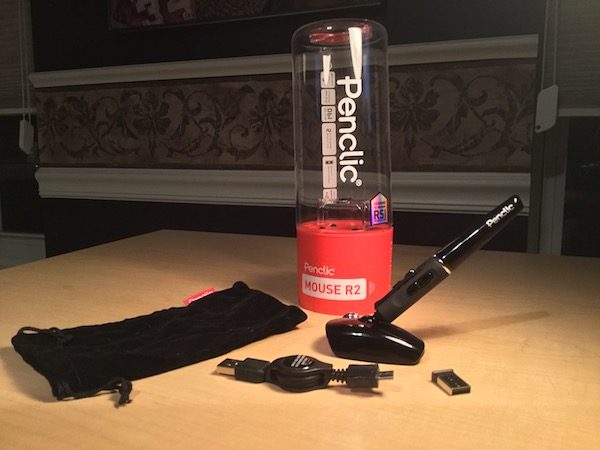 Out of the box, the Penclic Mouse shows its heritage in Scandinavian engineering. The design is compact, sleek, and balanced. Materials and build quality are excellent, with nice tactile feel to all the appropriate surfaces. There are no whimsical color schemes or artsy design flares here… it looks and feels like a business tool, ready for action.
Device Setup and Walkthrough
I tested the mouse on three devices (a 13″ MacBook, a 15″ Thinkpad, and an iMac desktop), and found that setup was seamless every time. You remove the protective tab to activate the rechargeable battery, plug in the USB receiver, and flip the "on" switch under the base. That's it. No drivers to install. You're off and running!
The pen itself is a bit thicker than a standard pen and attaches to the base via a ball joint that allows 360-degree rotation. There is a total of five buttons on the pen itself. The top of the pen sports a primary "left click" button and a set of rocker-panel-style buttons for "right click" and "middle click" actions. The thumb-side of the pen includes two additional buttons for "back click" and "forward click". A scroll wheel is positioned on the base, designed to be used with your pointer finger when holding the device is a classic pen-style grip.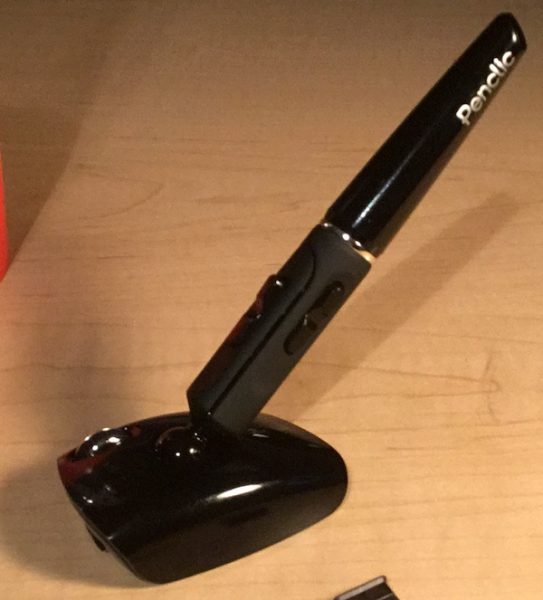 (Speaking of thumbs: I should note that the model I tested is only made for right-handed users. Penclic does offer left-handed models as well as ambidextrous models on their web site.)
Under the base, you'll find the on/off switch, a button to reset the wireless connection (typical on all wireless mice), and an access panel to get to the battery. There's a port on the front of the base to plug in the wired USB cable when a recharge is required.
Using the Penclic Mouse R2 Wireless
I quickly learned to appreciate the overall design of this mouse. You grip it and use it just like a traditional pen. You can position it at just about any angle that is comfortable for your hand and wrist, and the base stays solidly planted on your work surface. The base and pen are substantial enough that it doesn't feel like it's going to slip out of your hand, and rubberized grip surfaces ensure that you have steady control of the mouse through all ranges of motion. It really does feel good to use for extended periods of time.
As far as performance goes, I was pleasantly surprised by the fluidity of motion the mouse presents in actual use. Response is light and easy, requiring much less hand movement than a traditional mouse to get across the screen. Control is precise with smooth, fluid response to your hand gestures without any additional calibration or adjustments. You can tweak the control for different screen resolutions, but I never had to make an adjustment switching between laptops and desktops. It also works consistently on just about any surface without a dedicated pad, which is great for work on-the-go.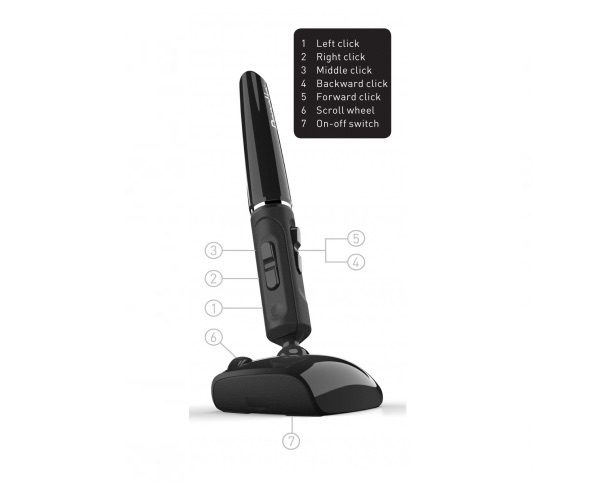 The buttons and scroll wheel took a little more time to get used to. I've included an illustration from the Penclic web site so you can see how the arrangement works. Everything is positioned naturally where your thumb and pointer finger fall when you grip the barrel, and tactile feel is excellent. It is different from a traditional mouse or track pad, however, and takes some practice to adjust to the configuration. I would expect that you would have a much faster adjustment if you are used to other stylus-type pointing devices.
Battery use is very efficient. The product claims that it can last 3 months on a single charge. Another nice touch: battery life is improved by an automatic shut-down after 10 minutes, and re- activates on first click. There's an LED indicator on the base that glows red when recharge is required and switched to green when fully charged. I did have to charge it after the first day of use but haven't had to charge in two weeks of regular activity.
Overall, I would say that it took a couple of hours before I was completely comfortable with using the Penclic. Once I got there, I actually found it to be easier to perform all the usual tasks (web browsing, working in spreadsheets, traversing e-mail, etc.) with significantly improved comfort and less strain on my hand and wrists. I'm a believer.
Conclusions and Pricing
After two weeks of constant use, I completely appreciate the benefits of the Penclic R2 Wireless Mouse. Not only does it deliver on comfort and ergonomics, but it's clear that Penclic has carefully examined all aspects of the device to improve your day-to-day performance. If you're having trouble with strain or discomfort related to using a traditional mouse, the Penclic R2 Wireless Mouse may be right for you. In fact, I would say that the ergonomics and design make it worth a look even if you don't have these issues.
Penclic offers a series of models and options ranging in price from $70 to $100 USD, in addition to some great information about office ergonomics on their web site. Visit the penclic web site to learn more!
Updates 05/25/17
I really like the form factor and ergonomics for his mouse, and I use it almost exclusively at home and on the road. It's really comfortable, especially for longer computing sessions. It still feels a bit awkward at times, because I have used a traditional mouse for so long. Old habits die hard, but I still like it!
Source: The sample for this review was provided by Penclic. For more info visit their site and Amazon to check prices and order.